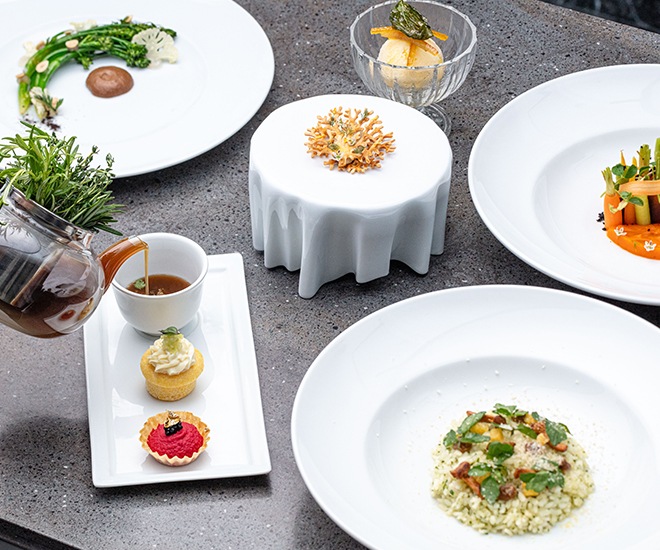 These amazing restaurants provide the finest plant-based dishes with distinctive tastes.
Iketeru, Hilton Kuala Lumpur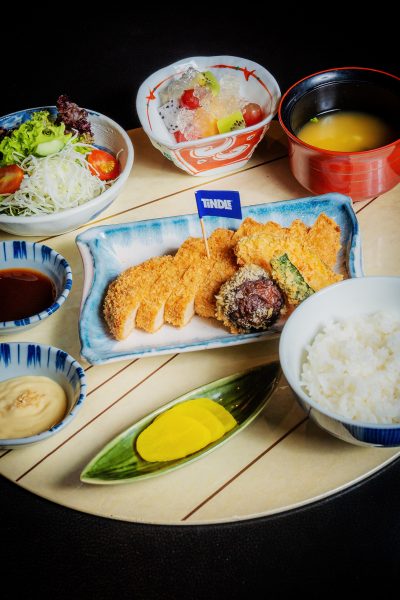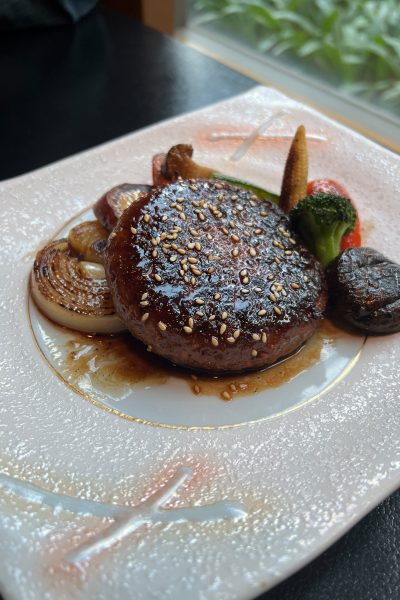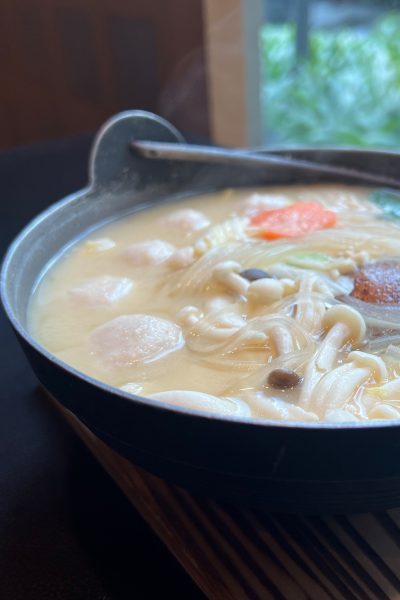 Japanese cuisine: subtle flavours mix with that of classic dishes that you will love when you've tried them. Although it's one of the cuisines you may not suggest to a vegetarian audience, but at Iketeru Hilton, everything can be done tastefully. Located in Hilton Kuala Lumpur Hotel, Iketeru is situated at the corner of Level 8, where getting to the place requires you to walk through a beautifully coordinated landscape of rocks, ponds and greeneries, giving you a sense of tranquility. Sounds of appease samisen welcome as you enter the space with warm and cosy light filling up the room.
Boasting its first ever comprehensive menu by Executive Chef Kazi Hassan made with plant-based ingredients and nutritious hybrid meats – Beyond Meat and TiNDLE, the selections come in generous portion and humble presentation. We started with Beyond Teppanyaki cooked over a hot steel plate where the chicken was nicely fried while retaining its moisture. The pan-fried portobello mushrooms, onions and baby corns added hints of savoury for balance. Homegrown ingredients, mushrooms, carrots, tofu and chicken-ball-sized TiNDLE meat created the classic and straightforward presentation of our next dish TiNDLE Chicken Miso Hotpot. The meat had a nice soybean note that shun through every bite, and tasted best when munch with the vegetables. Finally, it was the TiNDLE Chicken Katsu Set which came in set of a steamed rice bowl, salad, miso, and special sauces. We were flabbergasted by how amazingly the plant-based chicken meat tasted with soft and tinder texture on the inside and slightly crispy on the outside, and how similar it was to a real chicken meat.
Call +603 2264 2264 or email [email protected]
The Brasserie, The St. Regis Kuala Lumpur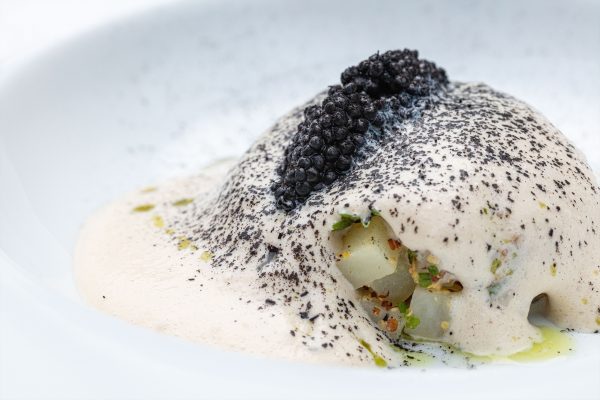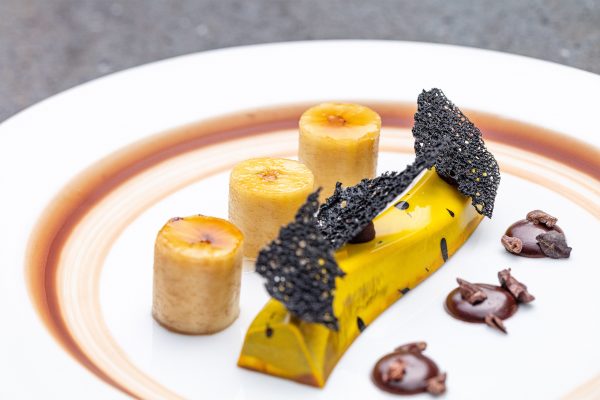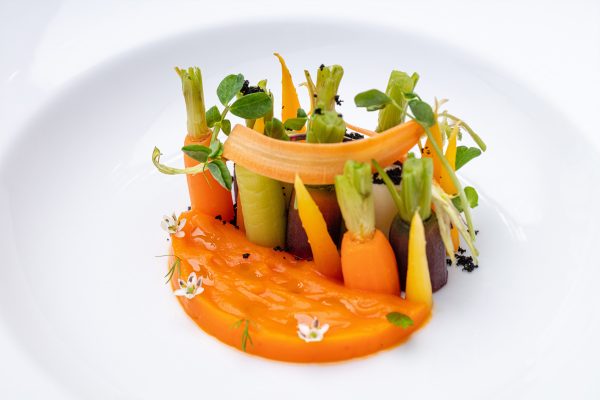 The refrigerated cases in The Brasserie kitchens are once again fully stocked. This time, instead of ducks and chickens, there are rows of containers with leafy green tops sticking out of them. You could be in a florist but you are not. You're in one of the most famous restaurants in the city and there's a waiting list to experience the fresh locally sourced vegetables being carved up, mixed with other equally tasty ingredients and served in their most creative iterations. What sets Executive Chef Keith Hooker's specially curated menu apart from others that we have tried is 90% of the meals are made with farm-fresh produce, without having to rely now-trending plant-based meats. Reasons being some plant-based meats include ingredients that vegans cannot take and also the bigger picture behind going plant-based should be about sustainability.
If there is one item in the new menu that represents precision and distinction, it is the unassuming Afternoon Tea which looks simple yet has a very intricate story behind it. The trio mushroom tea arrived with a glass teapot filled with mushroom stock and a handful of fragrant herbs peeking at the top, a sweet corn and cucumber fairy cakes, and celeriac tarts. Our sweet treat continued with Roasted Jurusalem Artichoke Skin, which resembled an ombre brown ferns placed atop artichoke ice cream with hazelnut and truffle drizzles. The exception was Hooker's Baked Potato – truffle pearls which looked like caviars, served on a bed of hot-baked potato foam with cold potato salad. Following this meal was Cameron Highlands Barbecued Carrots with an assortment of carrots, charred baby leeks and miso puree that were carefully placed into a form of landscape, with a spoonful of truffle jus on top. What followed was the Vialone Nano Risotto – a creamy and savoury degustation that if you don't look into the ingredients, you won't know that it is a vegetarian-based dish. Mandarin and Bergamot Sorbet were presented as a palate cleanser before Valrhona Amatika 46% Chocolate Bar took the dessert centre stage; it was a vegan chocolate with praliné feuilleté, banana amatika, tonka bean that perfectly ended the wholesome journey.
Call +603 2727 6696 or email [email protected]
Oro Café & The Lounge, Hilton Kuala Lumpur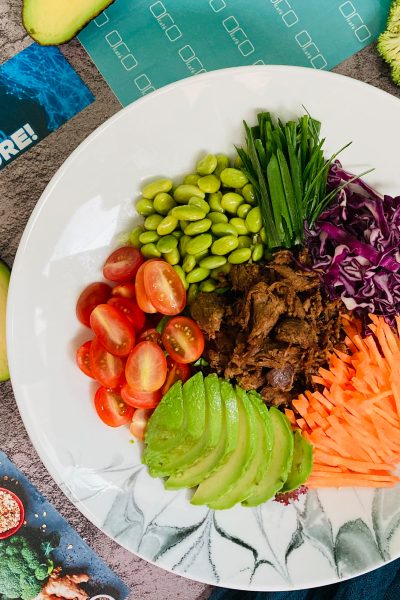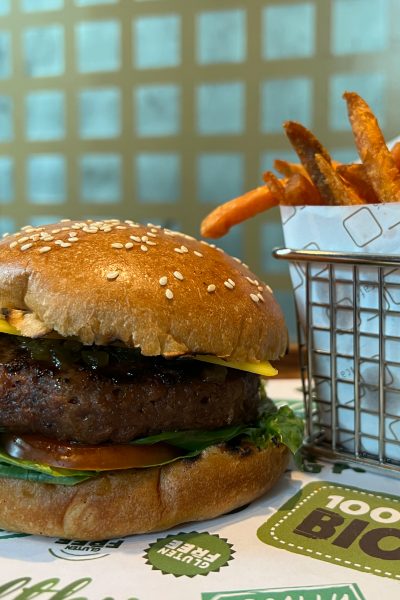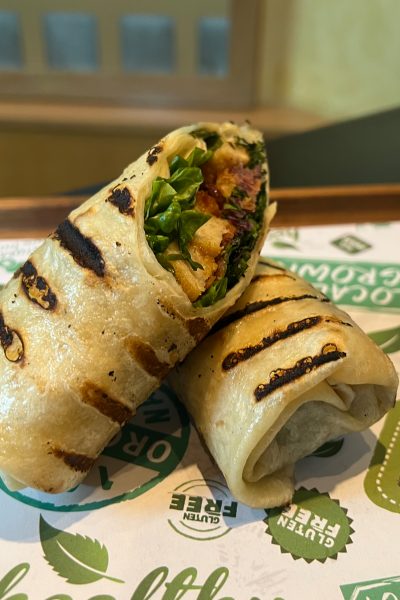 As one of the biggest hospitality-chain companies worldwide, it's no surprise that Hilton has pioneered some of the biggest trends that many hotels and restaurants are adapting today, including the special services, custom facilities and delicacies such as Red Velvet cake (firstly introduced in 1920s at the Waldorf-Astoria Hotel, New York) and Pina Colada (invented in 1954 by Ramón "Monchito" Marrero who worked as a Caribe Hilton bartender in San Juan, Puerto Rico). Staying true to the spirit of exploration and innovation, the hotel proudly presents an array of plant-based culinary creations using local produce in partnership with three award-winning meat substitute brands – TiNDLE, Beyond Meat and Fable.
The Oro Café & Lounge at Hilton Kuala Lumpur offers four hearty menus packed with herbivorous meats. The first dish presented to us was a juicy, meaty patty stacked with crunchy speck, plant-based cheese, salad, tomato and sour cream. The buns were thick and sturdy, providing strong arms to embrace the filings. One bite and it already secured its spot as the best burger we have ever tried this year. Followed by TiNDLE Chicken Gochujang Wrap, stuffed full of fresh ingredients that blended in so well with the spicy and nutty notes of the Gochujang sauce, delivering burst of incredible flavours. Hilton's Teriyaki-Glazed Pulled Fable Meat Baguettes were big mouthfuls with big flavours, putting together mushrooms, teriyaki sauce, sliced tomatoes and cheese, with soft yet all-embracing-of-its-contents buns. They disappeared all too quickly. We ended our tasteful gastronomic experience with an All Goodness in a Bowl salad comprised of sliced avocados, green peas, red cabbages, carrots, and cherry tomatoes accompanied by small chunks of Fable meat with and salad dressing. Together they provided a harmonious tang and goodness which tingled our palate long after devouring the last bite.
Call +603 2264 2264 or email [email protected]
Atas, The RuMa Hotel and Residences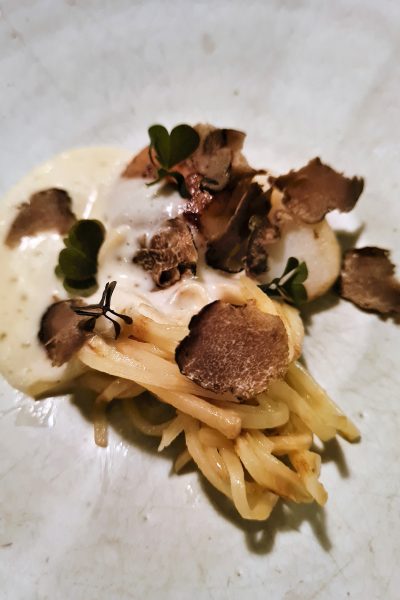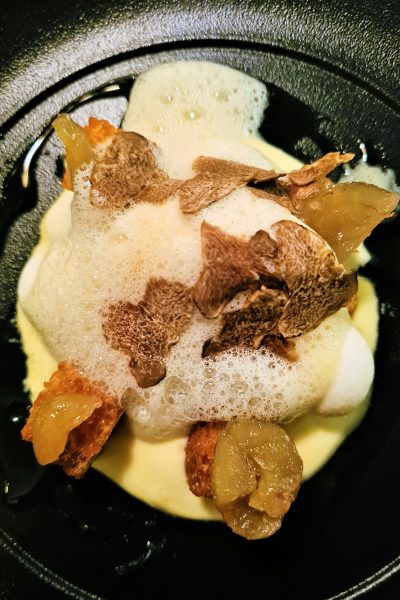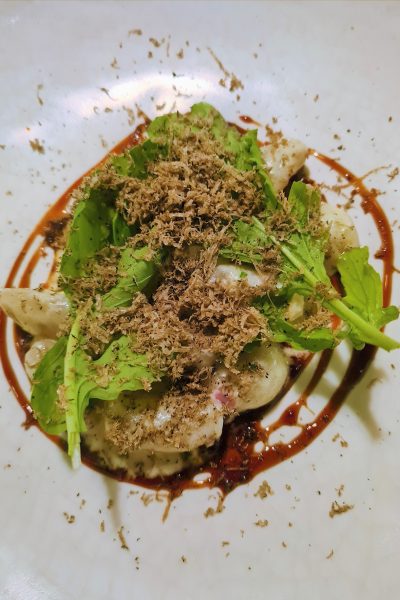 There is something incredibly infectious about Executive Chef Tyson Gee's demeanour. It could be his warm smile. Or maybe, it's the radiant plates illustrating his awareness of texture. Sustainable produce and distinctive tastes. Or perhaps, it's his wonderful discourse about what is up and coming in the Southeast Asian food scene that could fire up new recipes in Atas. Whatever it may be, a visit to this warm eatery with exclusive profile is an essential dining experience in 2021, and a chat with Chef Tyson Gee is a privilege for anyone interested in pushing boundaries of the "casual fine dining" cuisine.
A space where the kitchen is organically integrated into the restaurant with features and aesthetic that celebrate local artisans and traditions, soft brown leather seating and chestnut brown art deco chairs against well suited warm light plunging in the space – Atas is a dreamscape.
In honour of its third-year anniversary, Tyson Gee presented us with a six-course truffle-based menu with specially curated wine pairing. The tasteful voyage began with chopped scallops served with celery roots and thinly sliced truffle on a sea of caramelised butter. What stood out from this dish was the smoothness plate without it tasting textureless. Tyson Gee and his chefs were able to blend myriad of flavours in a subtly layered and luscious, warm temperature dish. The soft and smooth texture of the next dish – Jerusalem artichoke soup with white truffle foam was to die for, and the way it was placed in between two of much savoury dishes was just brilliant. What followed was again a dish in rich flavours with parsnip gnocchi and split gill mushrooms overflowed by creamy sherry reduction and black ruffle sliced atop. If you are lucky in life, you have memorable meal experiences that you can't stop talking about. We have not been able to get this dish out of our heads and have mentioned it in conversations at least four times within the week. Winning the award for fusion on the ephemeral menu was the roasted black angus beef further enhanced by perigeaux sauce. The light sauce married juicy meats with madeira and pungent undertones and the occasional burst of black truffles. Delicious. Served at the end of these comfort food was our dessert – a heavy panettone with chestnut and coconut flakes and white truffle drizzles sending a parade of different excitements around our mouths.
Call +603 2778 0735 or email [email protected]
This story first appeared in the December 2021 issue of Men's Folio Malaysia.