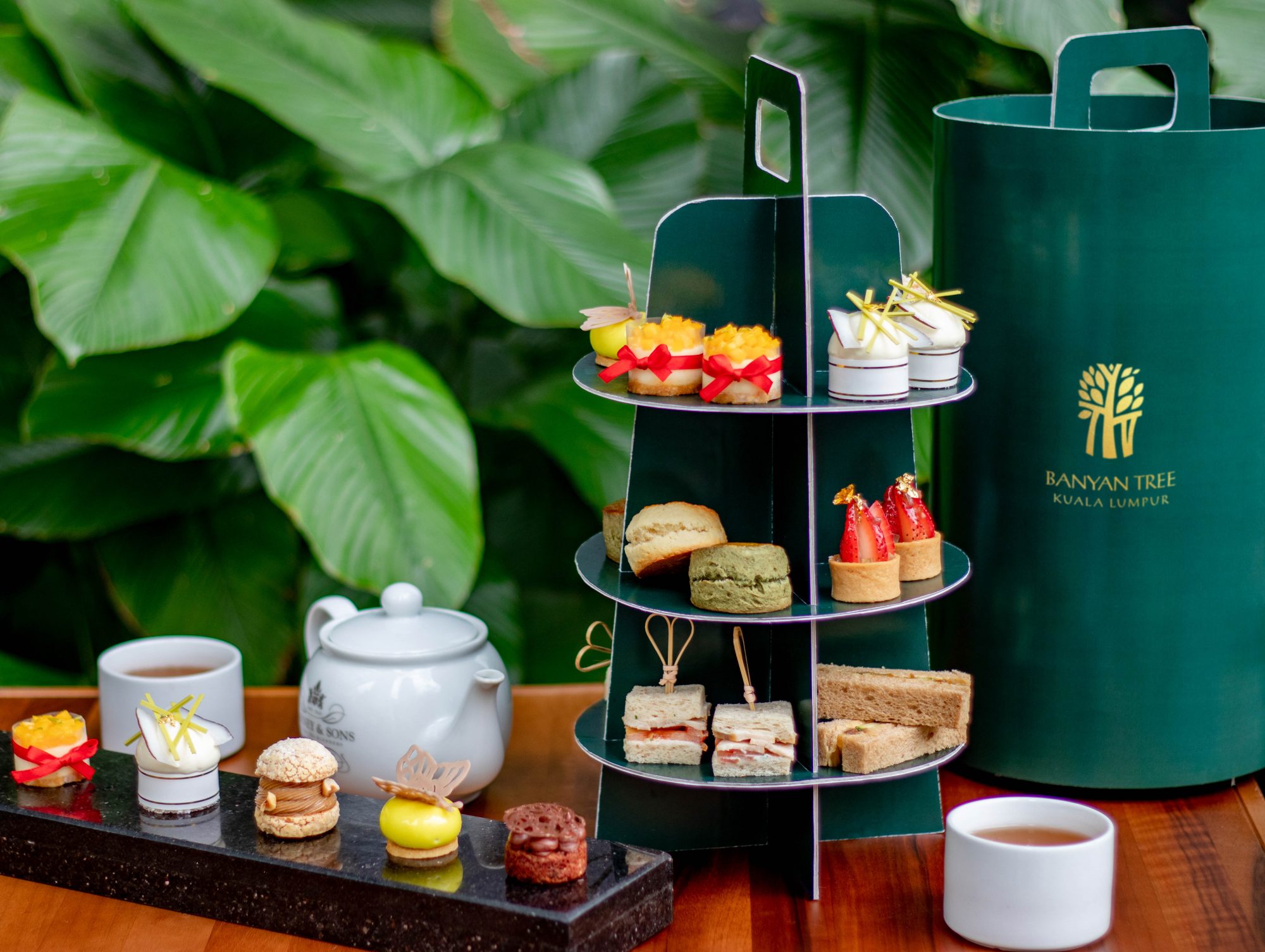 So, you want to have a blast with your family? You're in luck. These hotels and cafes whipping up tasty afternoon tea delicacies now do delivery. All you need to do is place an order, set up your table and enjoy. If you are planning to give your loved one a surprise, make sure to send a love note too.
Banyan Tree Kuala Lumpur
View this post on Instagram
Curated by Fodil Baghal and team, the Altitude Afternoon Tea Box will tickle your fancy if you're browsing for something unconventional. Given a local twist, the set comes with both savoury and sweet dainties. For the savoury ones, you will be pampered with various sandwiches including Tuna Mayo Sandwich, Mediterranean Sandwich and Roast Angus Beef Sandwich. You can also expect some desserts made to suit the Malaysian taste buds like Durian Cheesecake, Emotion (coconut cake with lemon cream) and Butterfly (with lemongrass mousse and hazelnut sponge).
WhatsApp or call +6012 2882135 to order
The St. Regis Kuala Lumpur
View this post on Instagram
Inspired by Caroline's Four Hundred, the St. Regis scent that adorned 'The' Mrs Astor's ballroom in the 1900s, The Drawing Room of St. Regis Kuala Lumpur proffers a classic afternoon tea set. Like what you would anticipate from a renowned, 5-star hotel, you will be only served with the finest gastronomic crafts such as King Crab, Foie Gras and Boston Lobster Roll as well as desserts like New York Cheesecake and Chocolate Praline Cake.
Order via "Order Food" button on their Instagram profile
The Majestic Hotel Kuala Lumpur
View this post on Instagram
Treat yourself and your family to a delightful weekend with the limited edition "A Summer Rendition Majestic Afternoon Tea". Offering a pure decadence of taste to enjoy during family time, the set comes with a mix of goodness like finger sandwiches, scones with clotted cream and a selection of delectable sweet treats.
WhatsApp +014 6471060 to order
Encore
View this post on Instagram
As its name suggests, the hidden gem at Taman Bukit Desa serves up irresistible pastries that keep you craving for more. During this NRP, the cafe introduces "The Pretty Box & Dirty Tiramisu", a set that includes mille-feuille, Paris-Brest, Oreo marble cheesecake and chocolate truffle. If you are a big fan of mini tarts, opt for the mini tart bundle package that will spoil you with 12 different flavours of tidbits.
Pre-order by messaging via Instagram
Tim's Teapot Terrace
View this post on Instagram
Pull a Alice in Wonderland tea party moment and bring some fun to your family time with Tim's Teapot Terrace. From savouries to scones to sweets, their afternoon tea menu groans with all things indulging such as Mini Mac & Cheese, Blueberry & White Chocolate Scones, Mini Pavlova and Mini Burnt Cheese Cake. Be sure to check out before ordering as they will update their menu from time to time.
Call or WhatsApp +6012 2237042 to pre-order