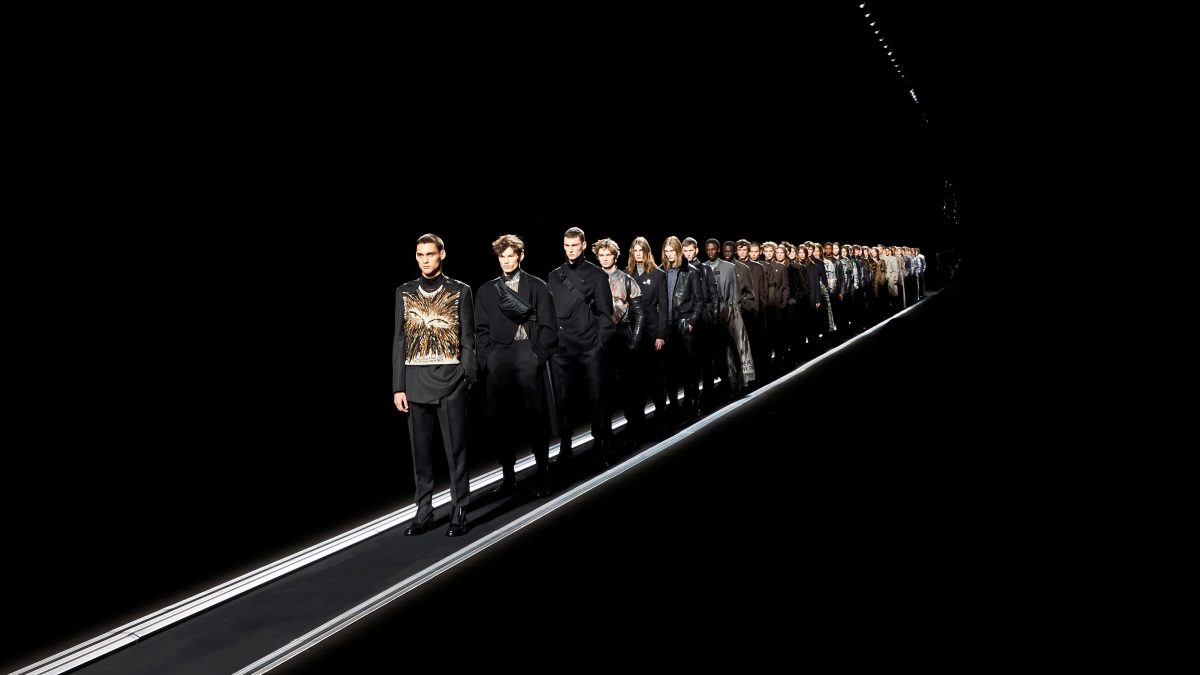 There were no massive statutes by KAWS or Hajime Soyama this time round. Instead, for his third Dior Men show, Kim Jones shined the spotlight right on the clothes – which featured a collaboration with punk illustrator Raymond Pettibon whose designs interwove effortlessly with the collection – presented on static models ferried past guests on a 250-foot-long conveyor belt to the beat of Daft Punk's Musique .
As the show notes put it, the Dior Men Autumn/Winter 2019 collection: "… draws on the attitudes and imprints of the house of Dior's couture heritage – shapes, techniques, materials, ethos – then reinvents them anew, alongside this continues Kim Jones' examination of Christian Dior the man – namely, his background as a gallerist of the avant-garde of his time." Looking at the Dior archives and history of punk, Jones examined the past to make it speak to the future.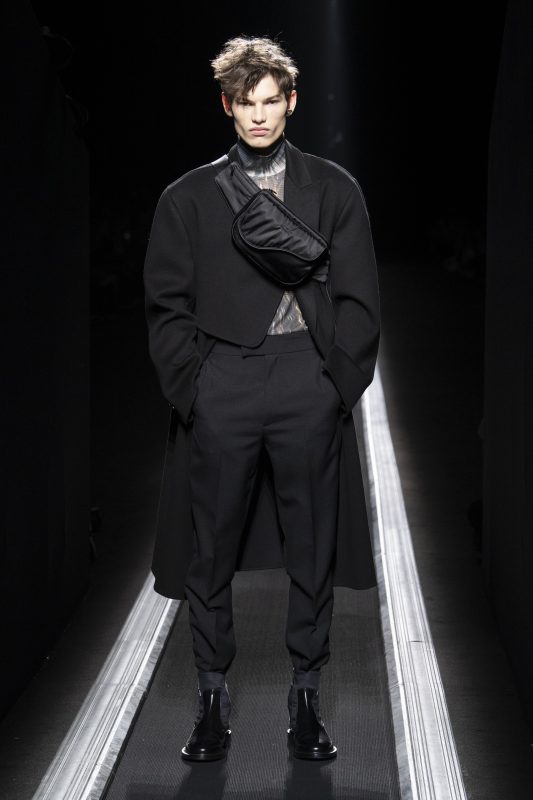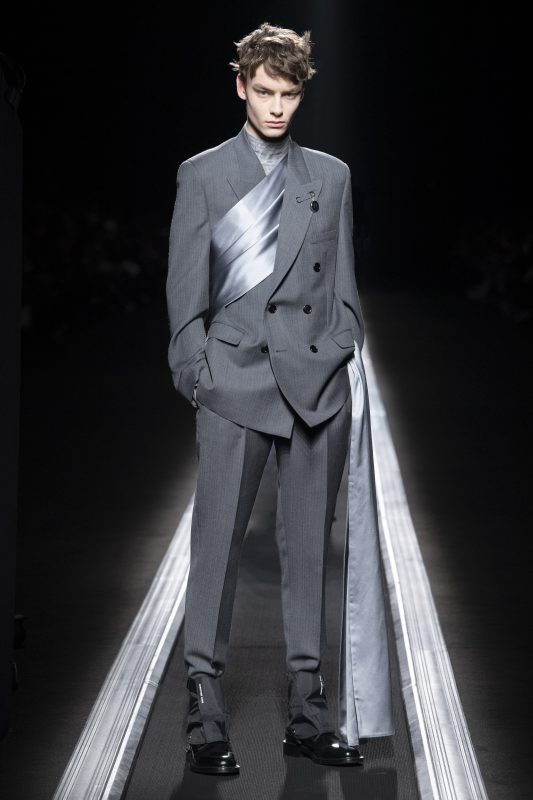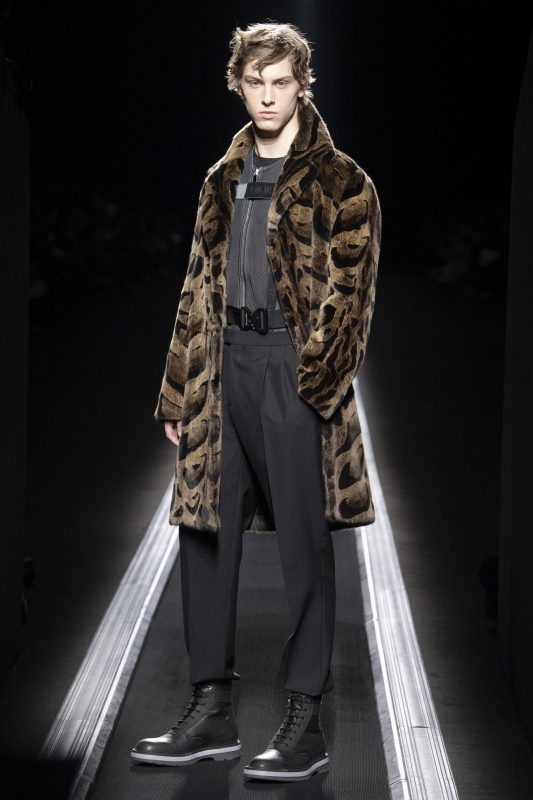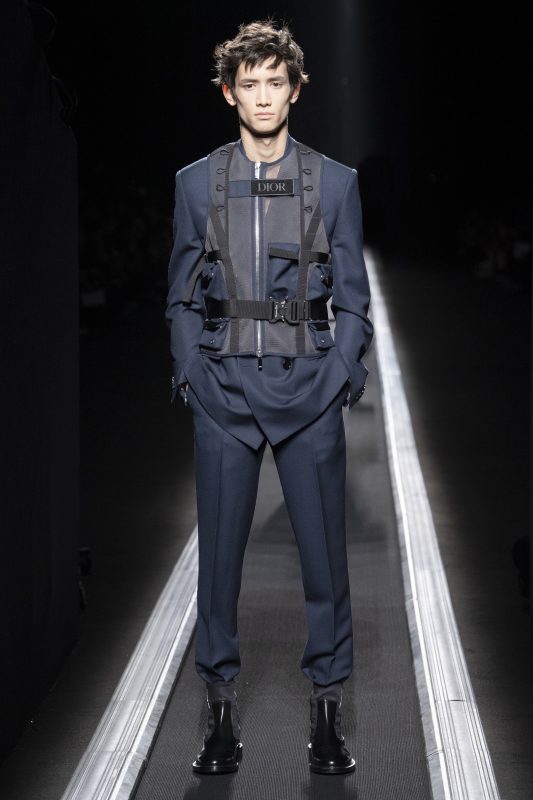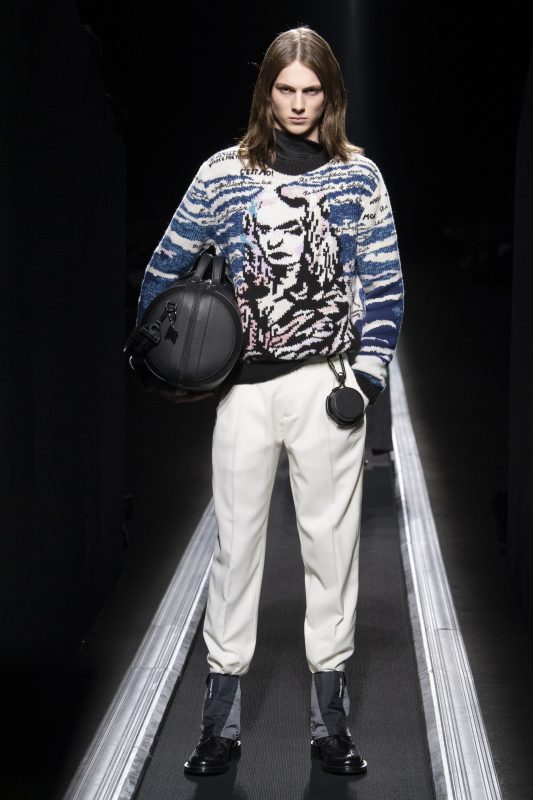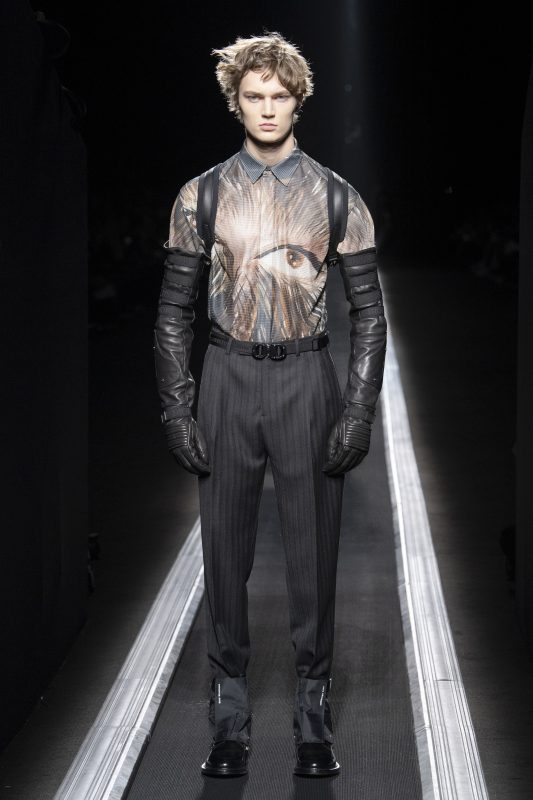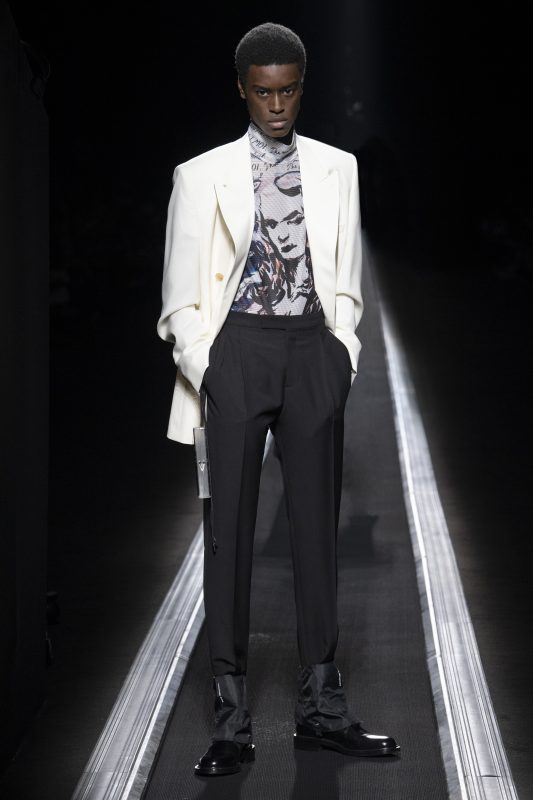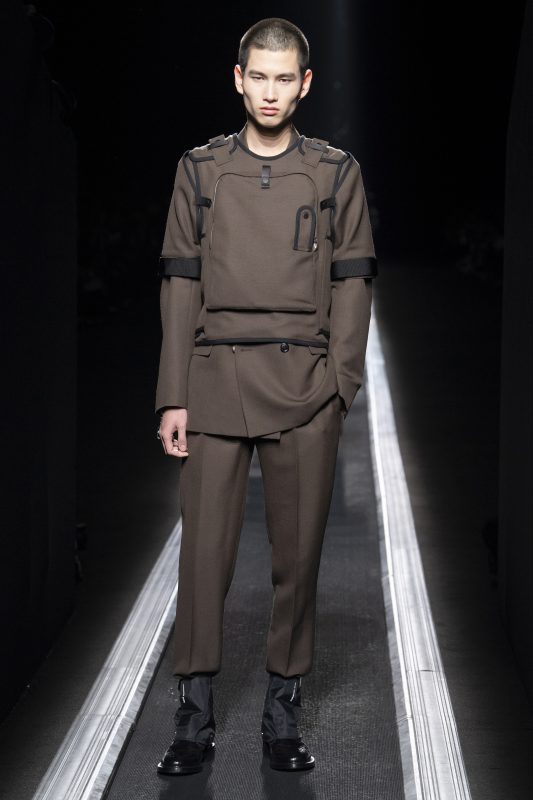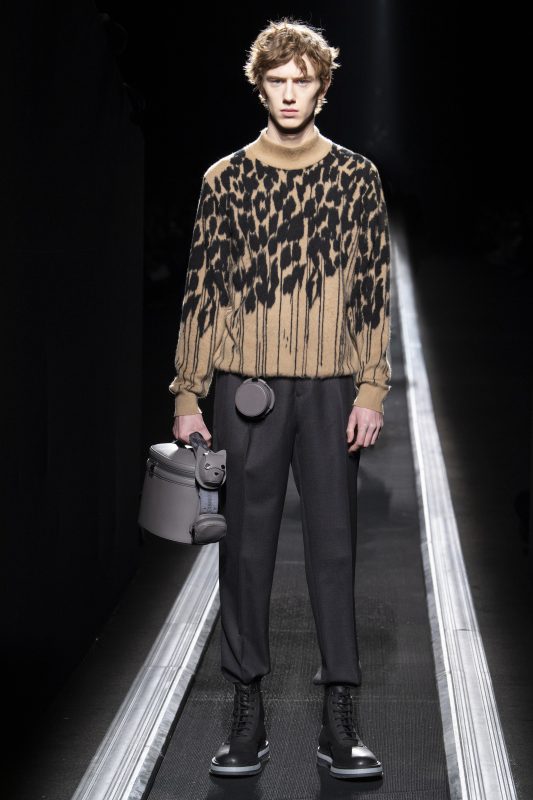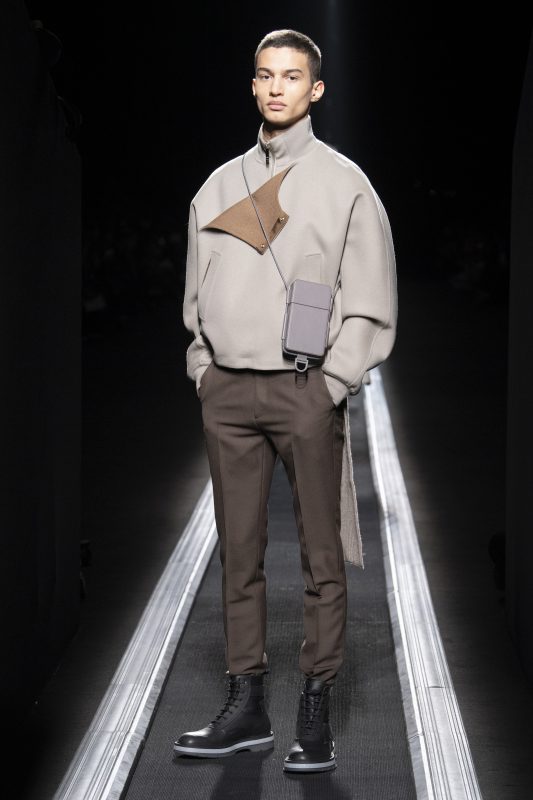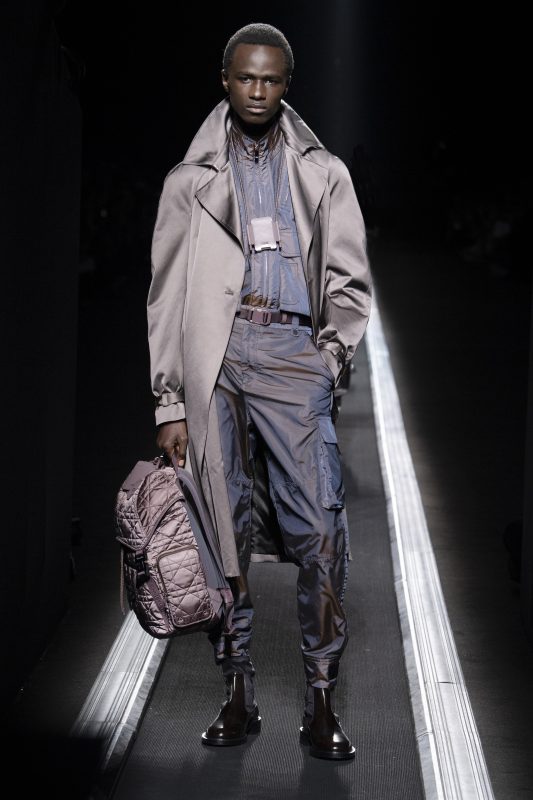 The panthére print – first introduced in 1947 – is joined by the on-trend tiger and leopard patterns in knitwear and intarsia furs. The couture concept is evident from the tailoring – for examples, sometimes inlaid with satin panels as though the lining is visible. The entirely reversible suit style – which conveys the idea that couture should be as perfect inside as out – from his debut collection reappears, albeit this season is accompanied with topcoats and winter-appropriate fabrics, uniting wools with satins for a luxurious distinction. In addition, the utilitarian harness and vests further reinforce the notion of couture as a craft.
It's one thing to incorporate animalier, architectural tailoring and haute couture materials into a collection, but another – as least in the case of Jones – to opt for the more muted (and mostly dark) spectrum of the colour palette, which is daringly dynamised by the bursts of tones in the form of graphics, patterns and technical materials. The colours are used on menswear staples (with a contemporary twist) like the trench coats and sweaters, involving technical nylon and well executed colour-blocking to achieve a seamless combination of classic pieces with streamlined detailing.
Aside from the trim suits, oversized outerwear, tailored leather jackets, puffers and occasional statement pieces, the tactical inspiration extends to accessories such as the Dior Saddle bag in upscale nylon. The others that run the gamut comprise of technical hiking sneakers as well as new iterations of the B23 (including one which incorporates a Matthew Williams-designed buckle closure), and Yoon Ahn's latest jewellery offerings: safety pins, chain necklaces and a stylised "DIOR" pendant.
Jones has always liked his clothes to be left open to interpretation and allowing wearers to make it their own – and this collection is an obvious manifestation of just that.