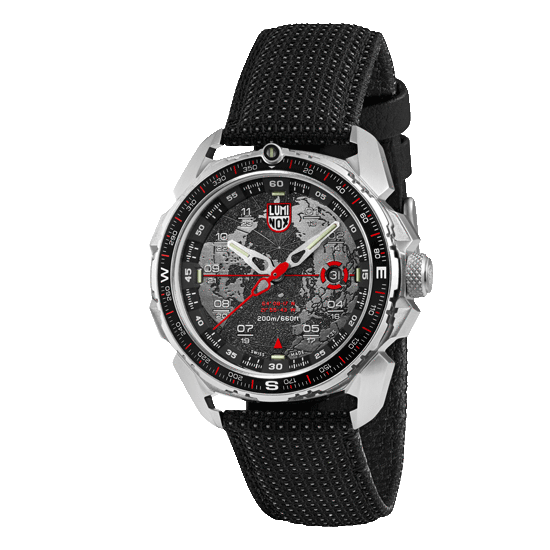 30 years ago, Luminox was established with a forward-thinking mission of creating the toughest and most durable Swiss watches using a self-powered illumination system for easy readability even in low light situations. It has been approved and validated by the US Navy SEALs as well as law enforcement, first responders and military units around the world since then. 
Sport Timer 30th Anniversary 0900 Series
In celebrating its 30th anniversary this year, Luminox has launched an incredible timepiece inspired by one of the brand's predecessors – namely, the Luminox Sport Timer 1540 Series from 1990. Limited to 730 pieces, the Sport Timer 30th Anniversary 0900 Series watch features vintage and contemporary design elements, using the advanced technology of today such as Luminox's proprietary luminous technology (LLT) which doesn't rely on anything external to ensure that the watch is always visible. Although "730" may seem like a random figure, there is actually a reason for it: "7" refers to the month of July, in which the Luminox was formed in the United States, and "30" refers to the number of years it has been in the world of watchmaking.
Outfitted by a Ronda quartz movement, this 42mm stainless steel watch – with a sapphire crystal with anti-reflective coating and a unidirectional ceramic bezel – is incredibly sturdy and water-resistant up to 200 metres. It boasts a screw down crown and a case-back, which spots a star inspired by a sheriff's badge, and the years "1989-2019" and the legend "Invented in the USA. Swiss Made" emblazoned on it. In addition, it comes with a metal bracelet as well as a NATO strap, making it suitable for just about every occasion.
ICE-SAR Arctic 1200 Series
If you haven't already realised, Luminox is the official partner of the Icelandic Association for Search and Rescue (ICE-SAR). Whether it is dealing with volcanic eruptions, avalanches, shipwrecks or mega storms, this is the brand which the ICE-SAR teams know they can depend on in order for them to conduct their missions. 
Riding the wave of last year's feat, Luminox introduces the new ICE-SAR Arctic 1200 Series stainless steel models with exciting details and colours. The collection offers five variations: black on textile strap, black on steel bracelet, white on textile strap, white on a steel bracelet, and our favourite, blue on a textile strap. Mirroring the clothing of the ICE-SAR teams, the textile strap is imbedded with reflective material to ensure visibility in the dark. 
Details are key with this range. All three hands influenced by the carabiners the teams use, while the red graphic around the date window is taken from the ICE-SAR logo. The dial, featuring a world map with the coordinates of the ICE-SAR headquarters in Reykjavik in the middle, is protected by a sapphire crystal with anti-reflective coating and framed by a bi-directional turning bezel. And with the bezel, you can navigate using your watch Arctic 1200 Series watch as a sun compass. Equipped with a Ronda quartz movement, the watches are water-resistant up to 200 metres.
Navy SEAL 3600 Series
Last but not least, this year, Luminox also unveils the 3600 Series – a new collection of Navy SEAL watches. The first-ever vertically mounted LLT opens up the hydraulically-stamped dial, which is protected by a sapphire crystal with anti-reflective coating and a magnifying loupe at the date window. The main highlight has got to be the visually arresting Carbonox – a carbon-based material exclusive to Luminox that is light, hypoallergenic and extremely durable and resistant – case. Available in black with yellow accents; olive green with red accents; and blue with orange accents, and with either a rubber or NATO strap, the Ronda quartz movement-powered watches are water-resistant up to 200 metres.