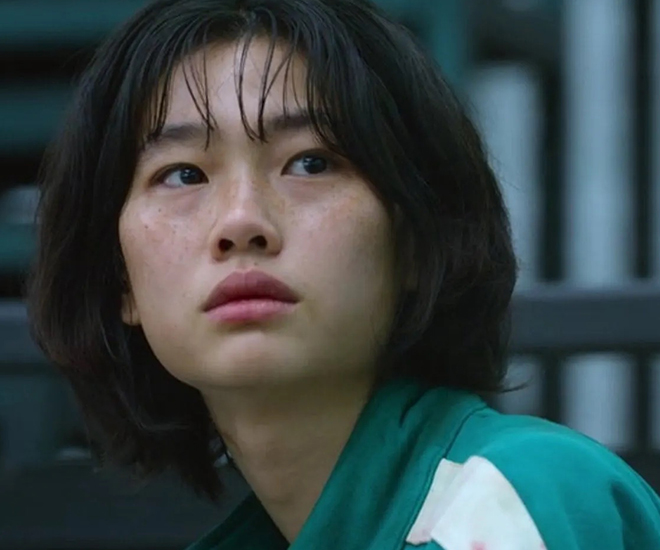 Last year, model Jung Ho-yeon (@hoooooyeony) traded her signature long, flaming red hair for a fluffy mid-length cut, and that's her transformation for Sae-byeok, her acting debut role in Netflix's Squid Game (오징어게임).
"I knew that she's going to play Sae-byeok as soon as I watched her audition tape," said director Hwang Dong-hyuk. "Her tone, her glare and her aura make her the Sae-byeok we're looking for."
In Squid Game, innocent childhood games turn into bloody games of survival as a group of people whose life is on the verge of collapsing are assembled at a mystery place to win a huge sum of money. Jung Ho-yeon's Kang Sae-byeok, one of the players in the game, is a character of paradox. Like other players, Sae-byeok is not afraid to put her life on the line to win, she has her own rules for living yet she also has a soft spot in her heart. Her identity as a North Korean defector also offers a different tone in this brilliant metaphor of the capitalist world we're living in.
"Sae-byeok is always crouching," says Jung Ho-yeon when asked if she could think of a pose that speaks to her character the most, striking a pose with her elbows resting on her knees, ten fingers clasped, and glares straight into the camera.
Jung Ho-yeon's modelling career officially took off when she participated in the fourth season of Korea's Next Top Model. In 2016, she joins Park Soo-joo and other models  in survival audition program Devil's Runway as the contestants' mentor, once again catching attentions to her exuberance and charismatic body language. Following her breakout in Korean fashion industry, she takes the global fashion week runways by storm.
View this post on Instagram
Here, Jung Ho-yeon shares more on her acting debut in Netflix's Squid Game:
ON GETTING THE ROLE
I was in New York preparing for fashion week when I received a call from my agency asking me to film an audition tape. I have been putting a lot of effort and energy in practising acting and I was really excited when director Hwang said he wanted to meet me in person after he watched my audition tape, so I packed my stuff, flew back to Korea straight from my NYFW schedule. I took the job.
When I first received the script, I read it all in one sitting. I just stayed up all night reading it. That's how awesome the story is. I have been a fan of director Hwang's previous works as well so I was really excited to be part of this production.
ON YOUR CHARACTER
Sae-byeok pickpockets for a living and she has this dream to reunite with her family. That's why she joins the game without hesitation. She is a North Korean defector and I've learned North Korean dialect during my preparation for the role. I can still remember my first line on the first day of filming, which was "Why? I thought you wanted the ice-cream." [giggles] That's the line I remember the most.
ON THE STORY
I was so awestruck by set design, especially the dormitory set. I remember actor Oh Young-soo, who plays Il-nam in the series, said that the set reminded him of the Colosseum and I was feeling that too. It was so grand in scale, fascinating, and it has some eeriness to it.
To me, I think it's not about the money or prize. The experience of putting your life at risk is just not comparable to anything else. Lee Jung-jae's Ki-hun is actually my favourite character in the story. I find the changes he goes through in the series is really fascinating and you will understand what I mean when you watch it!
Watch Squid Game on netflix.com.