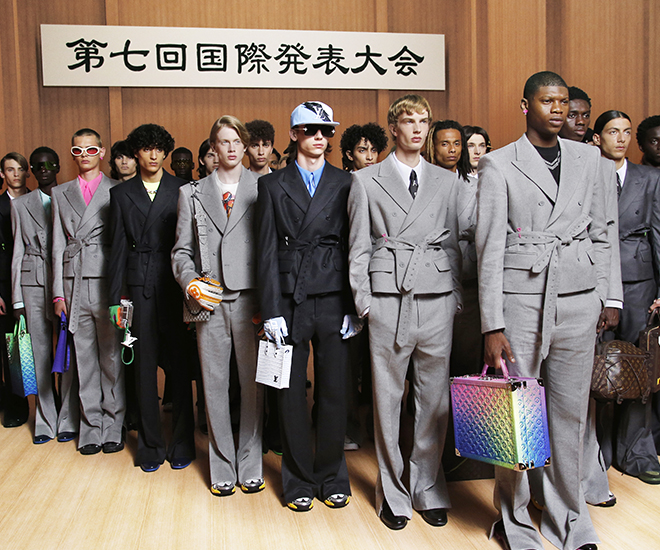 Virgil Abloh has a "new ambiance" on his mind for the Louis Vuitton Men's Spring Summer 2022 Collection. Not so much because he has the Midas touch when it comes to menswear or because he's trying to get with the kids. This "new ambiance" he has in mind is how he has completely flipped the script on what a virtual runway presentation can do.
It has to have narrative, choreography and a kind of cinematography so intense that it's like the viewer has been dropped into a universe. In layman terms, you're going to rewatch it again and again to really appreciate its nuances. But don't just assume that Abloh's vision for each collection — the film kids call it "world building" — is merely about an attitude or a lifestyle. It's what Abloh literally calls a "new ambiance", a Louis Vuitton way of doing anything that makes you the swerviest dude in any room.
For the Louis Vuitton Men's Spring Summer 2022 Collection, we're calling it the second episode of his cinematic journey. The first was a heady mixture of surrealism and futurism while being peppered with odes to Hip Hop. For this second parter (fyi, it's also his seventh showing), the plot loosely follows Liquid Swords, the 1995 album by GZA where a young swordsman wanders through a desert, artificial birch forest and a kendo studio. But let's talk about what you're here for — the fashion. Abloh literally does not hold back on how far we can experiment with fashion.
You can wear boxing gloves with blazers and put on swishy skater track pants. A jaunty beret with appliqués worn the French way? Cool, props to you. Audaciously coloured furs, 1990s inflected rave culture colours and a knife pleat skirt? Even better. Also, because Abloh is able to tap into the zeitgeist, a new expression of the iconic Nike Air Force 1s in 21 colourways.
Here, our 10 favourites looks.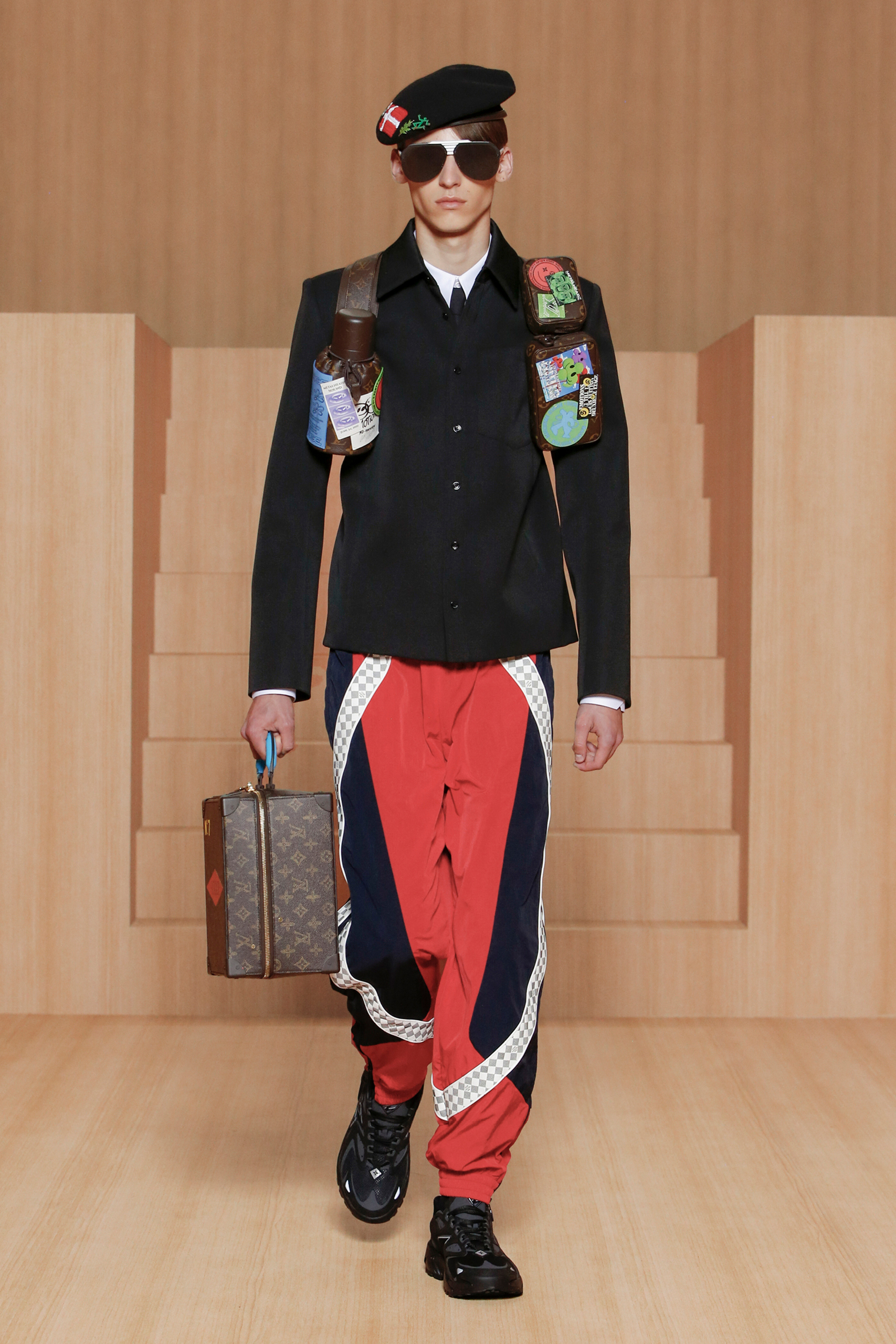 Look 5: Like we mentioned above, the Louis Vuitton Men's Spring Summer 2022 is all about clashing things that ironically, makes sense if you don't lean into it that hard.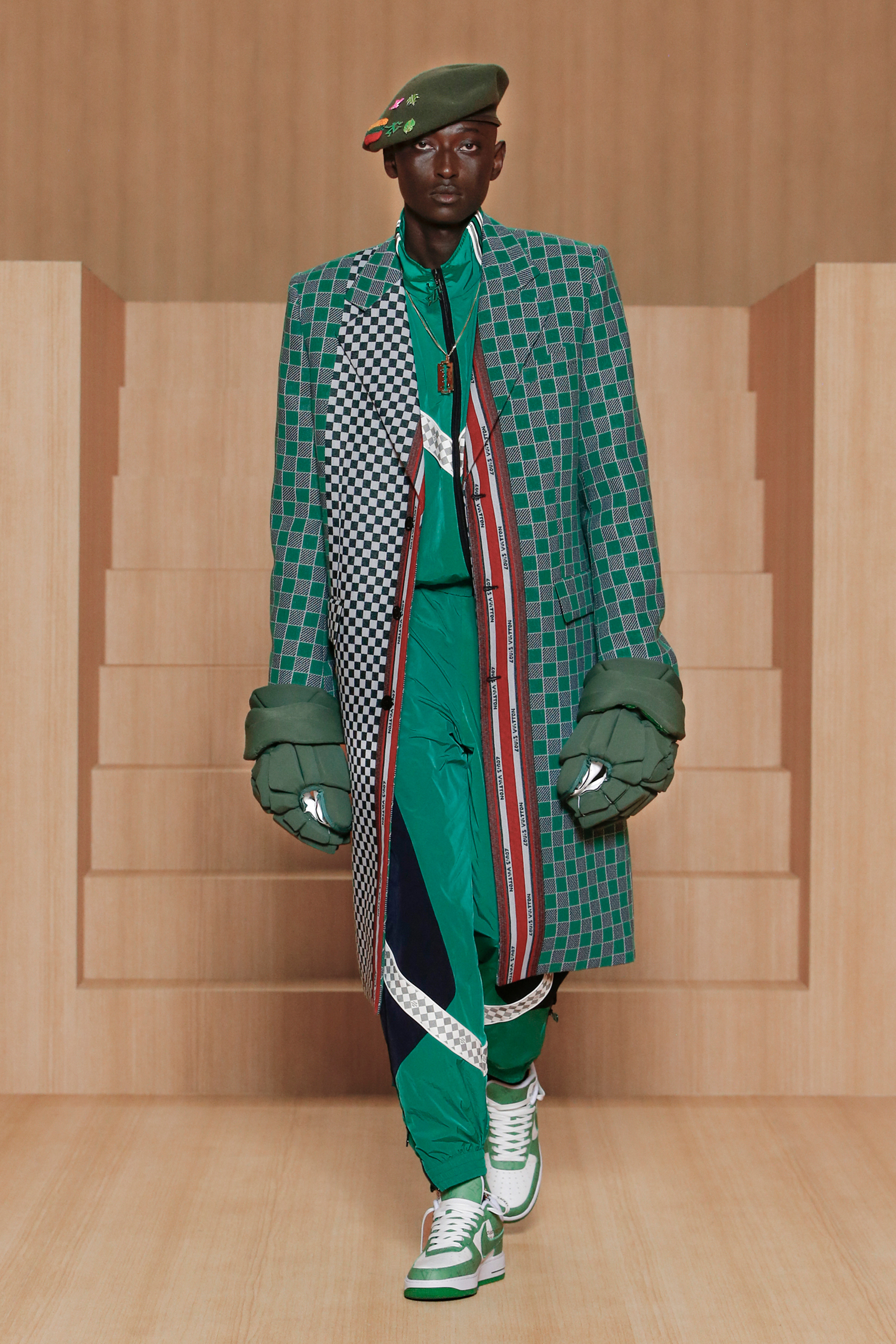 Look 7: Magazine editors like us are excited about the styling potentials while customers will hanker for the Nike Air Force 1s. And the track suit… and the boxing gloves… and the jewellery.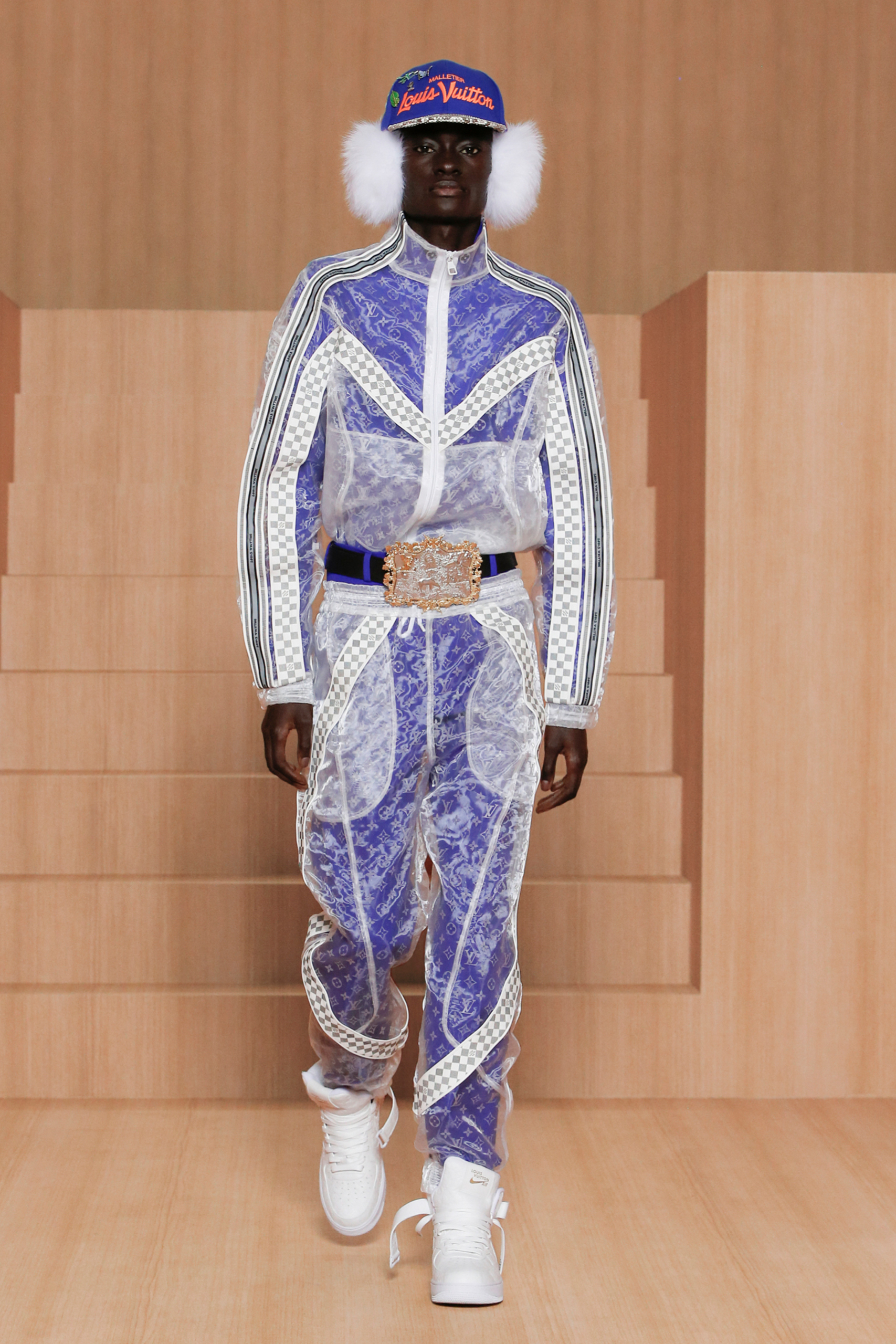 Look 15: Another Midas-touch by Abloh, the track suit comes with a gauze-layer and cinched in the waist with a WWF-like belt. Another micro-trend we're expecting next season would be undone shoe laces. You heard it here first.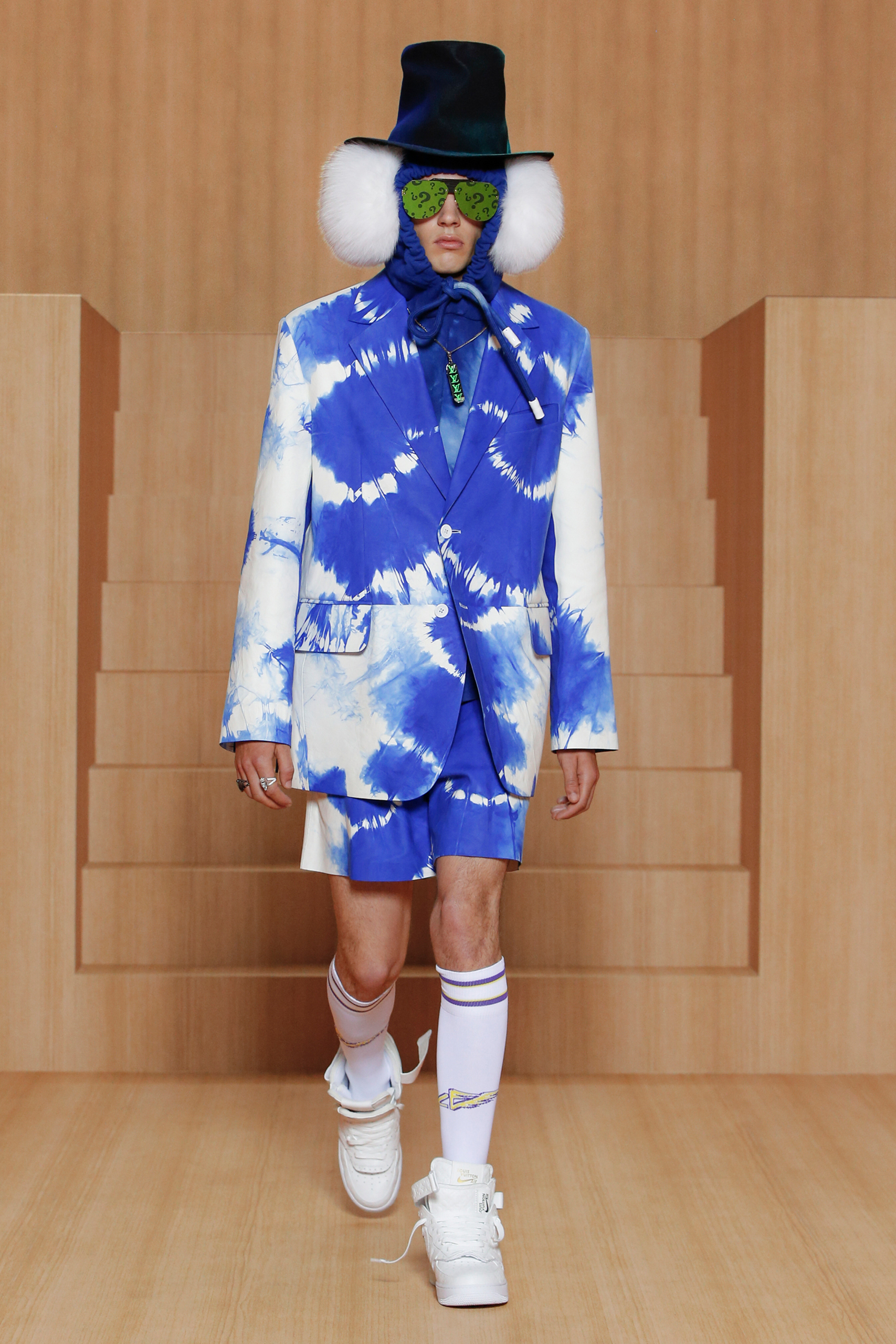 Look 28: Of course, it wouldn't be a Spring Summer 2022 show without shorts. The Louis Vuitton menswear version is perhaps, the most wearable even as a two-piece. Perhaps, a nod to Abloh's rapper friends.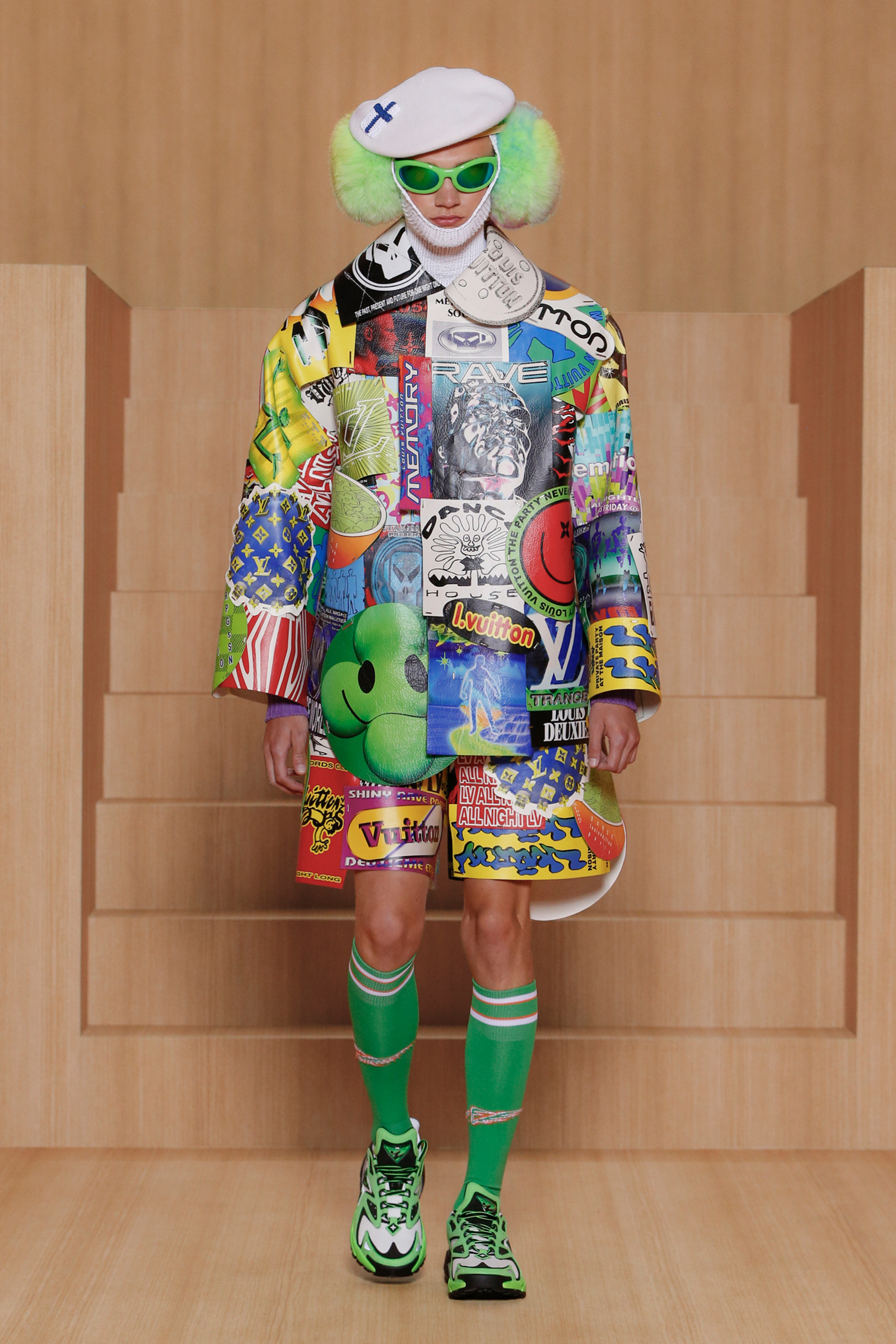 Look 32: If anybody was into Kera magazine (the legendary Japanese streetstyle magazine) in the early noughties, this look would deserve a whole page by itself.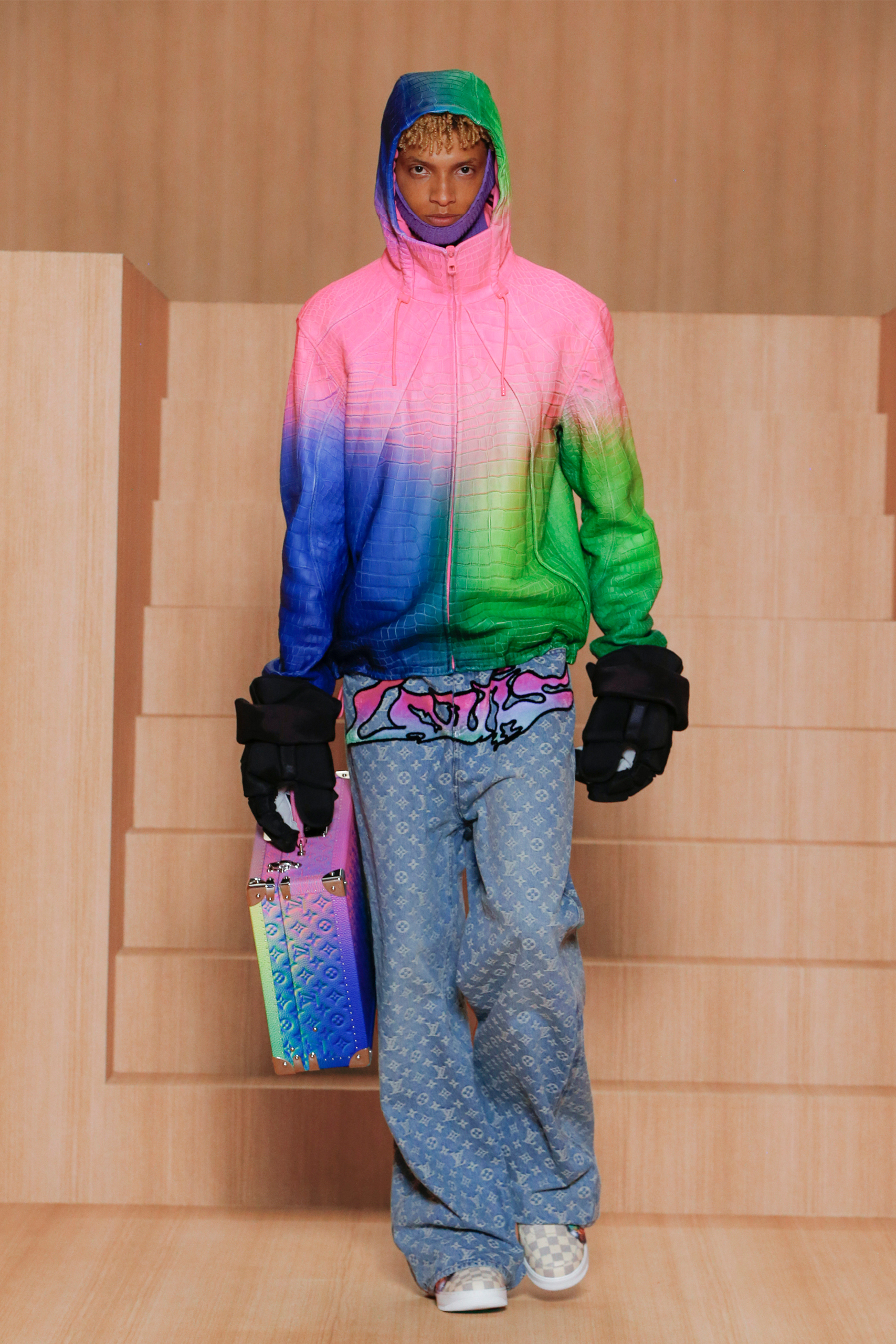 Look 36: These Louis Vuitton monogram jeans go real hard. In fact, we predict it's going to be one of the collectible pieces of the season besides the boxing gloves and furry earmuffs.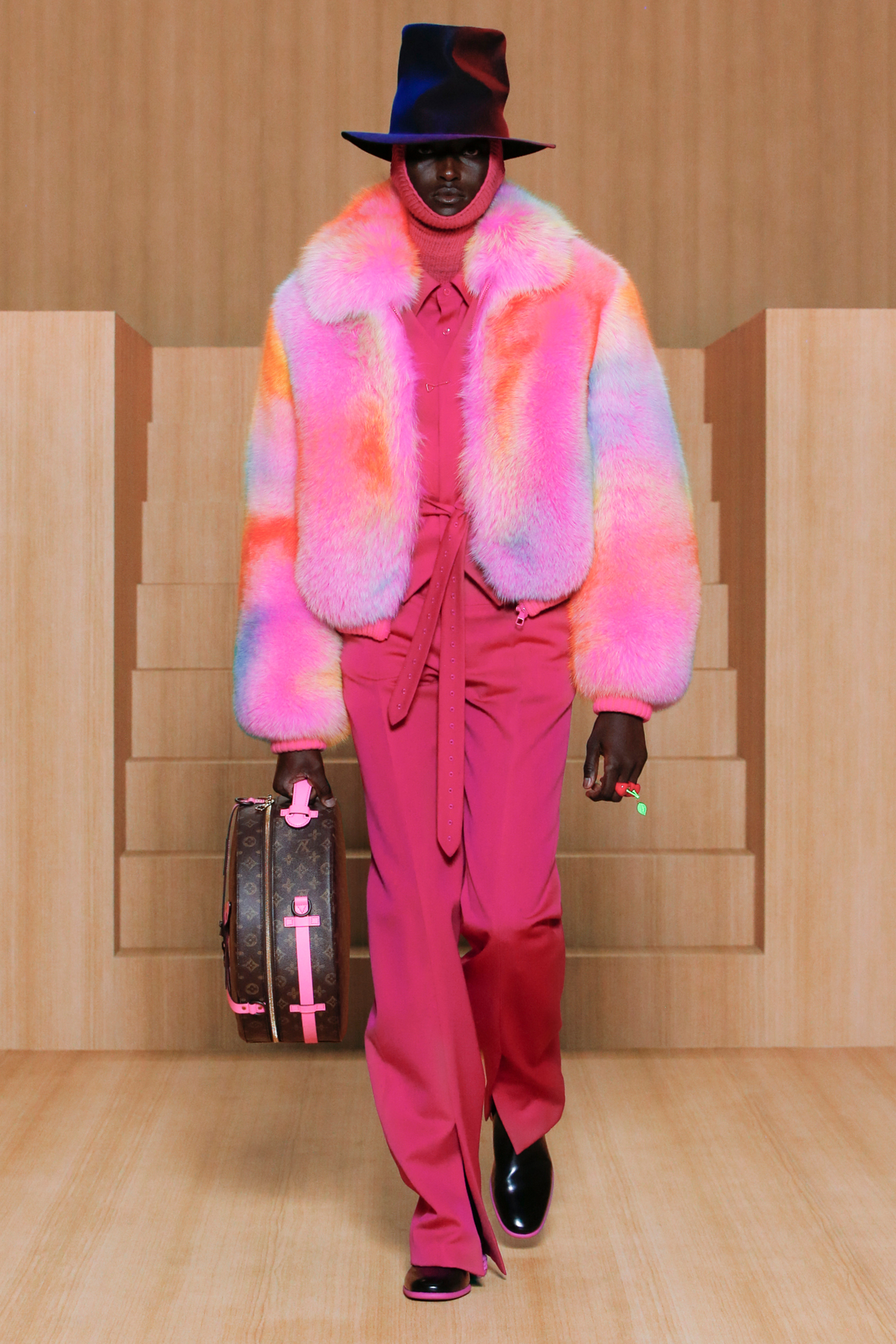 Look 38: Another collectible we spotted from the Louis Vuitton Men's Spring Summer 2022 show — fruit- and vegetable-like jewellery. As for the hat box bags, perhaps it's time to call your friendly SA now.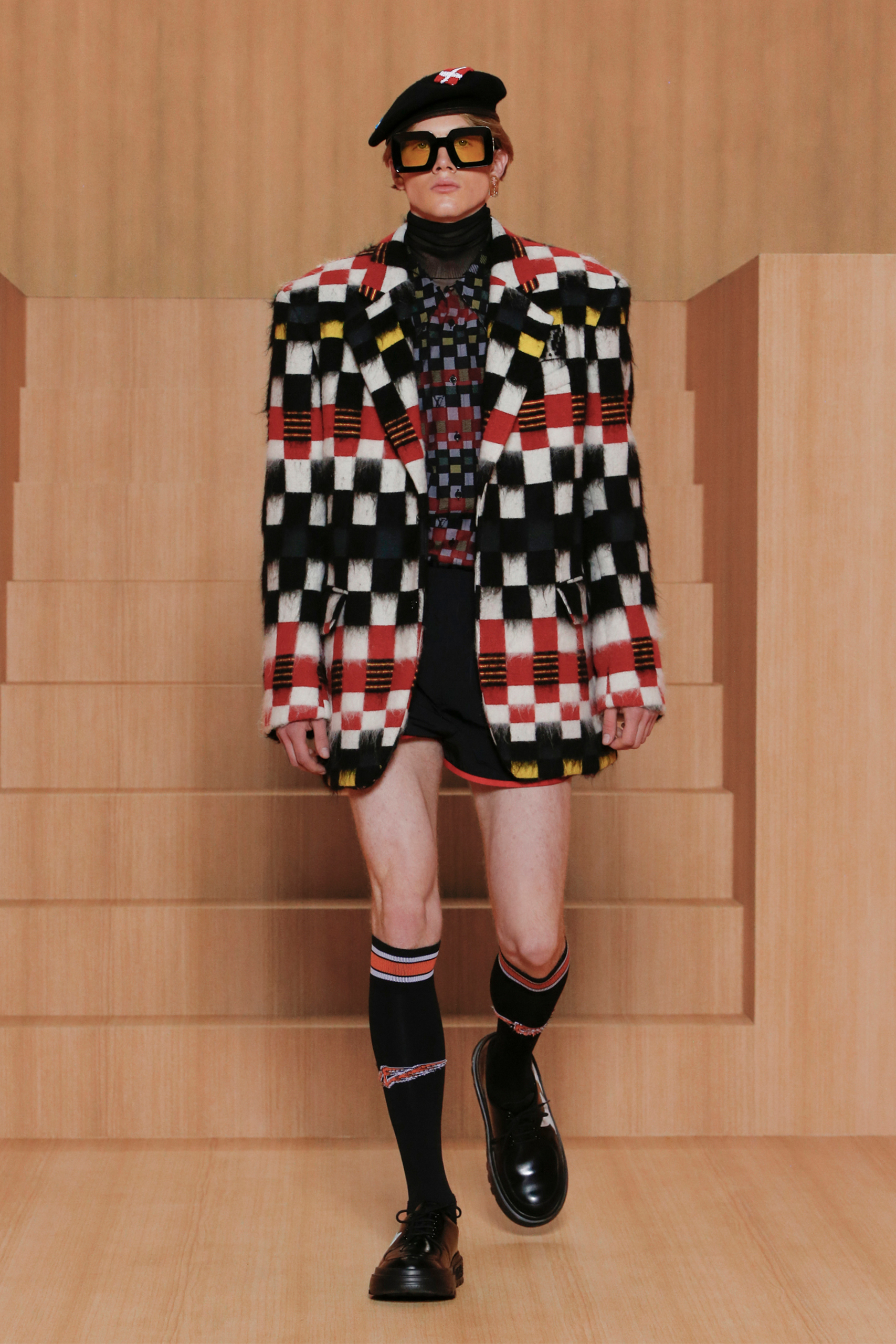 Look 45: A nod to the checkerboard-like print of the iconic Louis Vuitton monogram. As for the season's guide to shorts, the length has now risen to a whole palm above one's knee caps.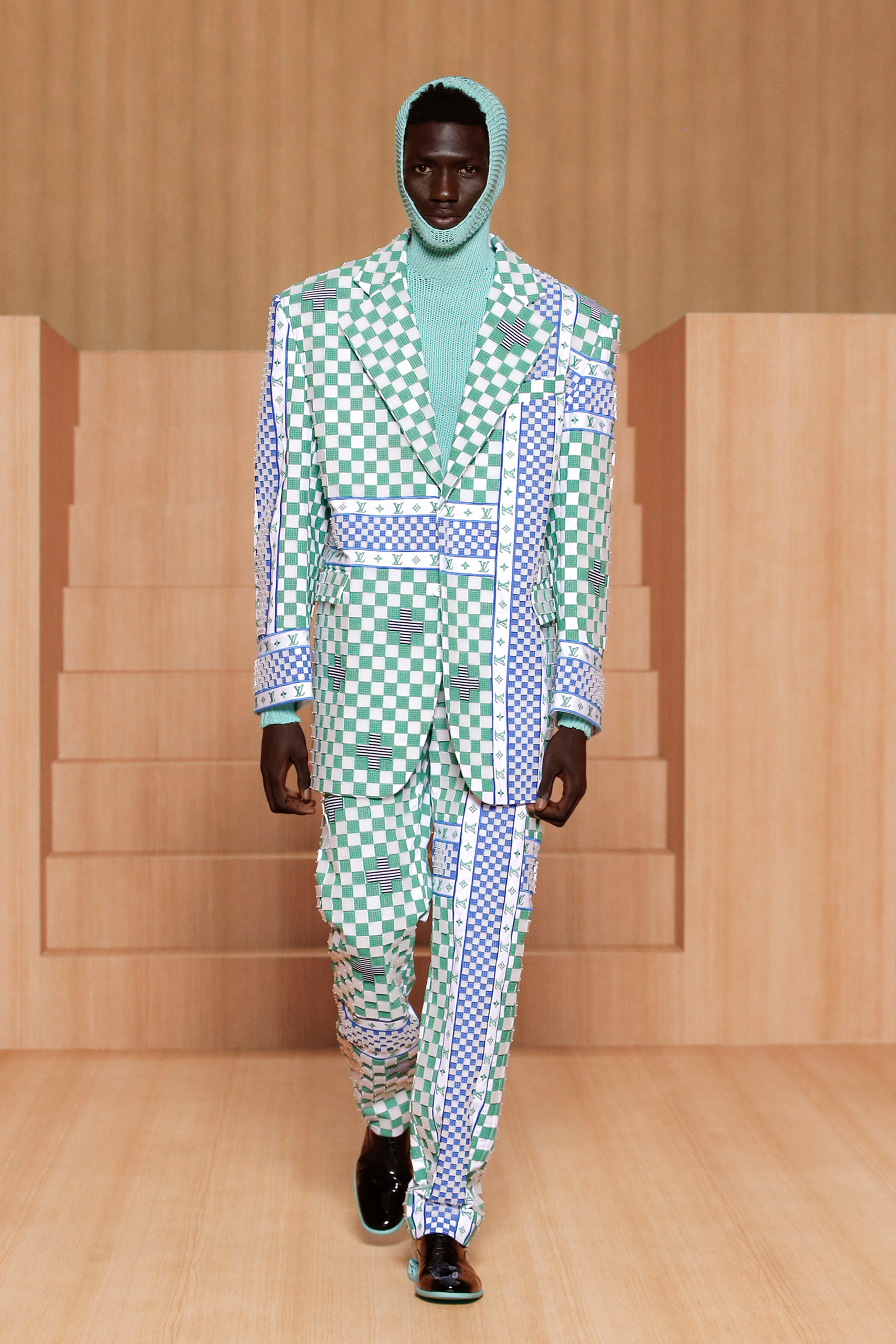 Look 63: Another nod to the checkboard-like print albeit this time anchored with loafers.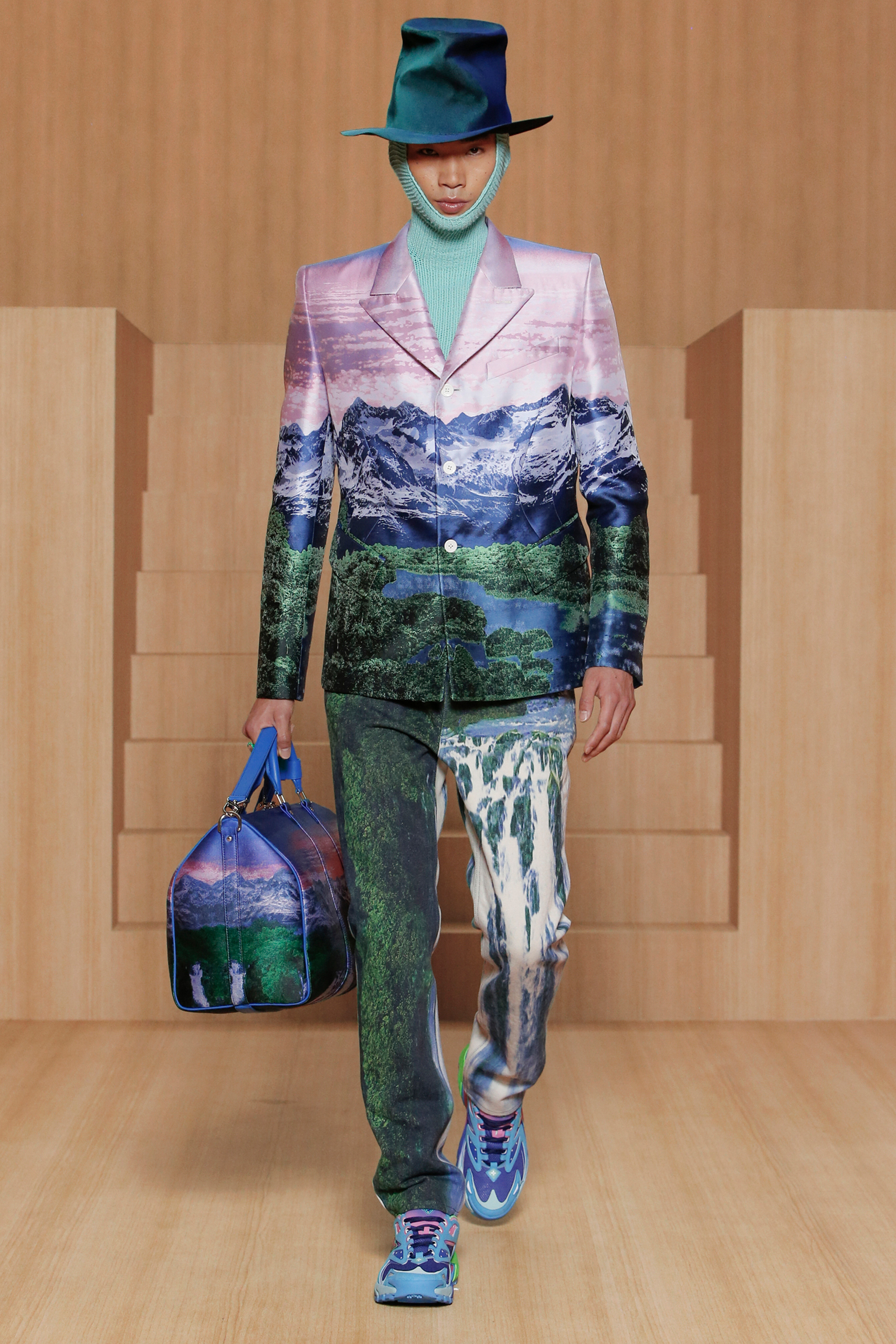 Look 71: It is with some regret that we could only feature 10 looks from the Louis Vuitton Men's Spring Summer 2022 show (there are a whopping 73) but we're ending with this one. The look you're going to see on your favourite musicians come February 2022.
This story first appeared on Men's Folio.