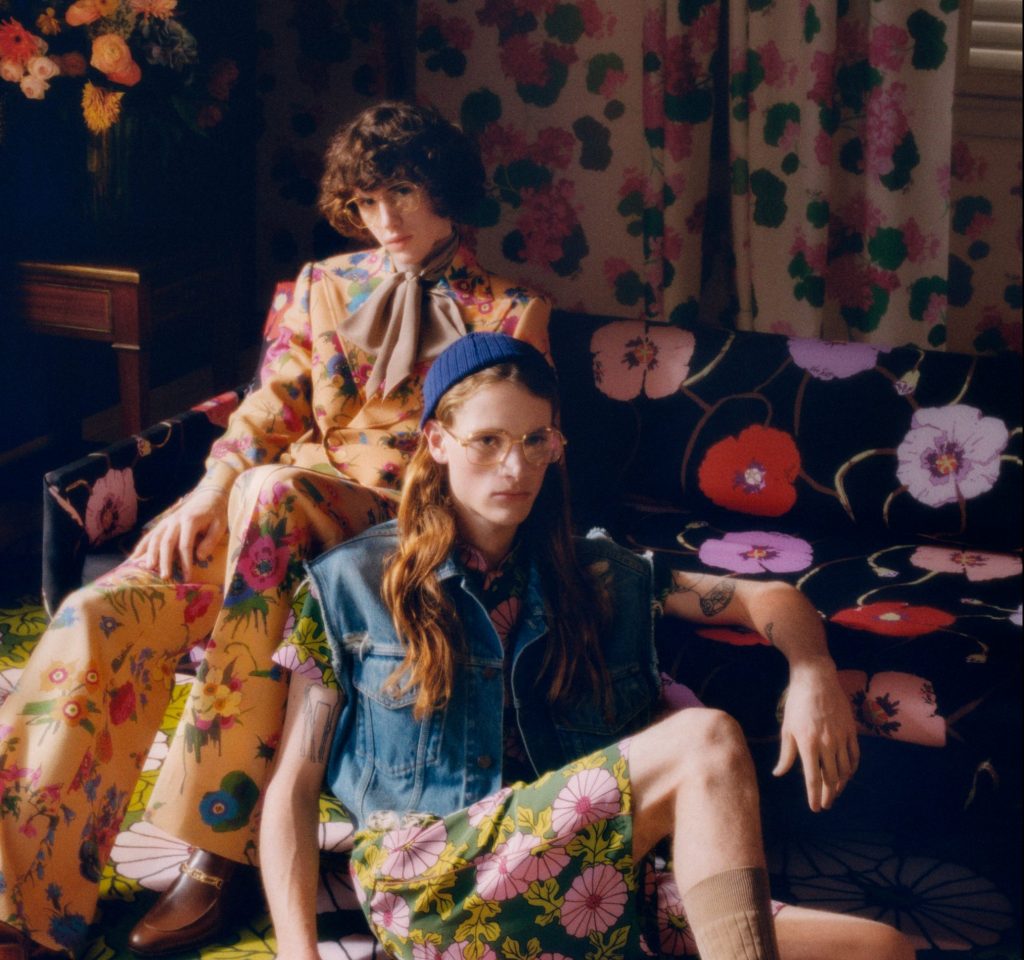 Named "Epilogue", the co-ed collection is Gucci Alessandro Michele's first outing since the creative director announced that he'd be "abandon[ing] the worn-out ritual of  seasonalities and shows to regain a new cadence, closer to my expressive call" in a post on the brand's Instagram account. Instead of a pre-recorded presentation, the digital narrative, which was live-streamed from Rome's late-Renaissance jewel, the Palazzo Sacchetti, ran over a period of 12 hours showing Big Brother- style behind-the-scenes on a campaign shoot, the lookbook shoots plus the show planning as it happened. The process turned the creators into the performers thus demonstrating Michele's all-inclusive notion of beauty.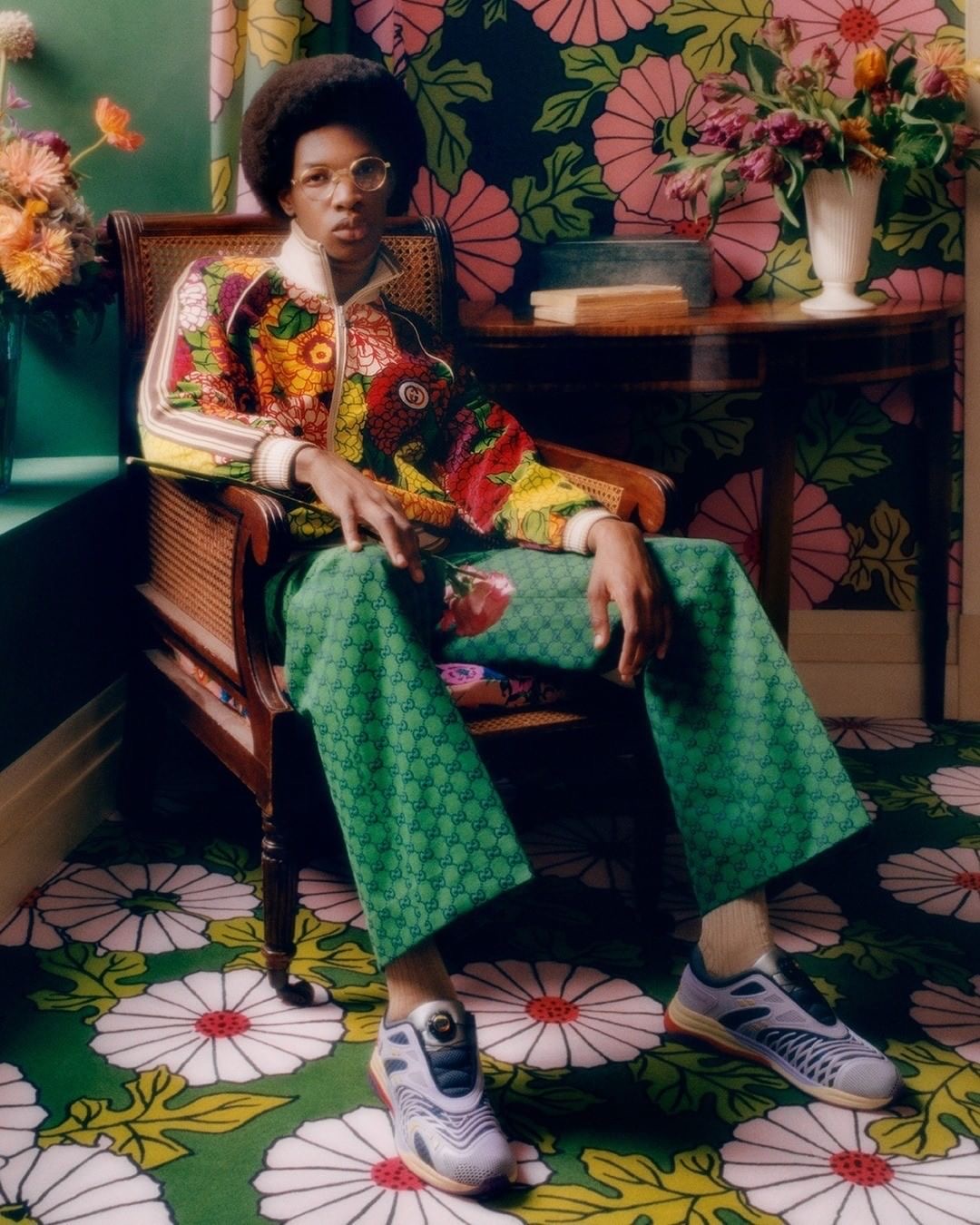 The wild, wonderful works of Ken Scott appear throughout the collection. Known as "Fashion Gardener", the American fashion designer who resided in Milan in the 60s and 70s was famed for favouring colourful patterned fabrics teeming with large scale flowers such as peonies, roses, poppies and sunflowers. Today, Ken Scott is a textile brand of Mantero – and designs from his rich archive preserved by the Ken Scott Foundation is incorporated in the Epilogue's clothing and silk and soft accessories and applied to a variety of pieces where colour and floral patterns are the main protagonists.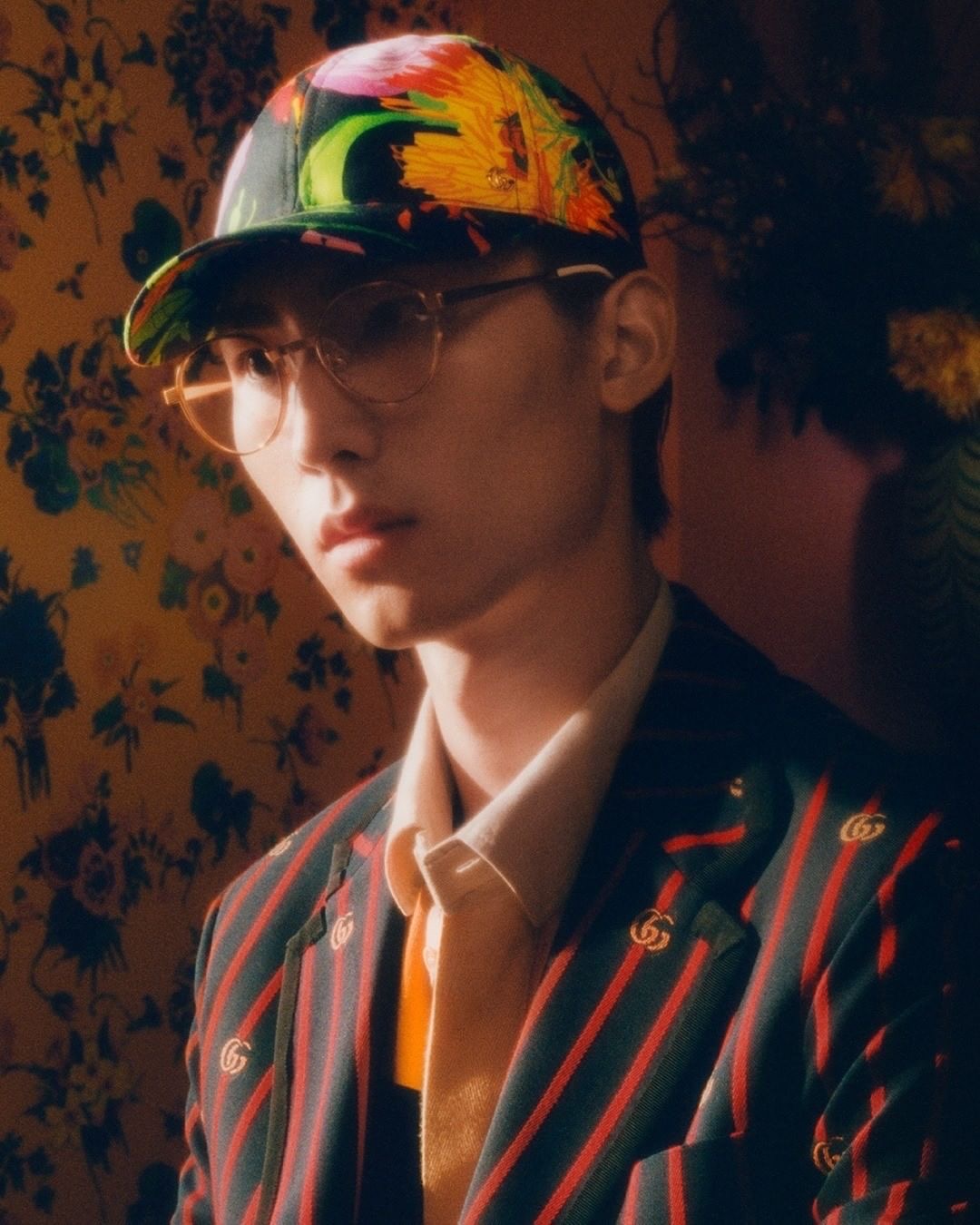 "Ken Scott was a really great creator of fabrics," Michele stated in the press notes, "he mapped out flowers with romanticism and flowers into pop culture. He treated flowers like shop signs, he multiplied them, turned them into something that stood out. I like his work because I am obsessed with floral prints." The collection continues the narrative that of Michele ever since he took the reins as the creative director of Gucci. Typical quirkiness and colourful aesthetics materialised: the pieces featuring motifs from Scott's archive include a coat, T-shirts, sweatshirts, underwear, a top, pants, skirts, two blazers, shirts and a number of flowing dresses, while the menswear includes a coat, palace jacket, suit, down-padded outerwear,
bowling set and tracksuit sets.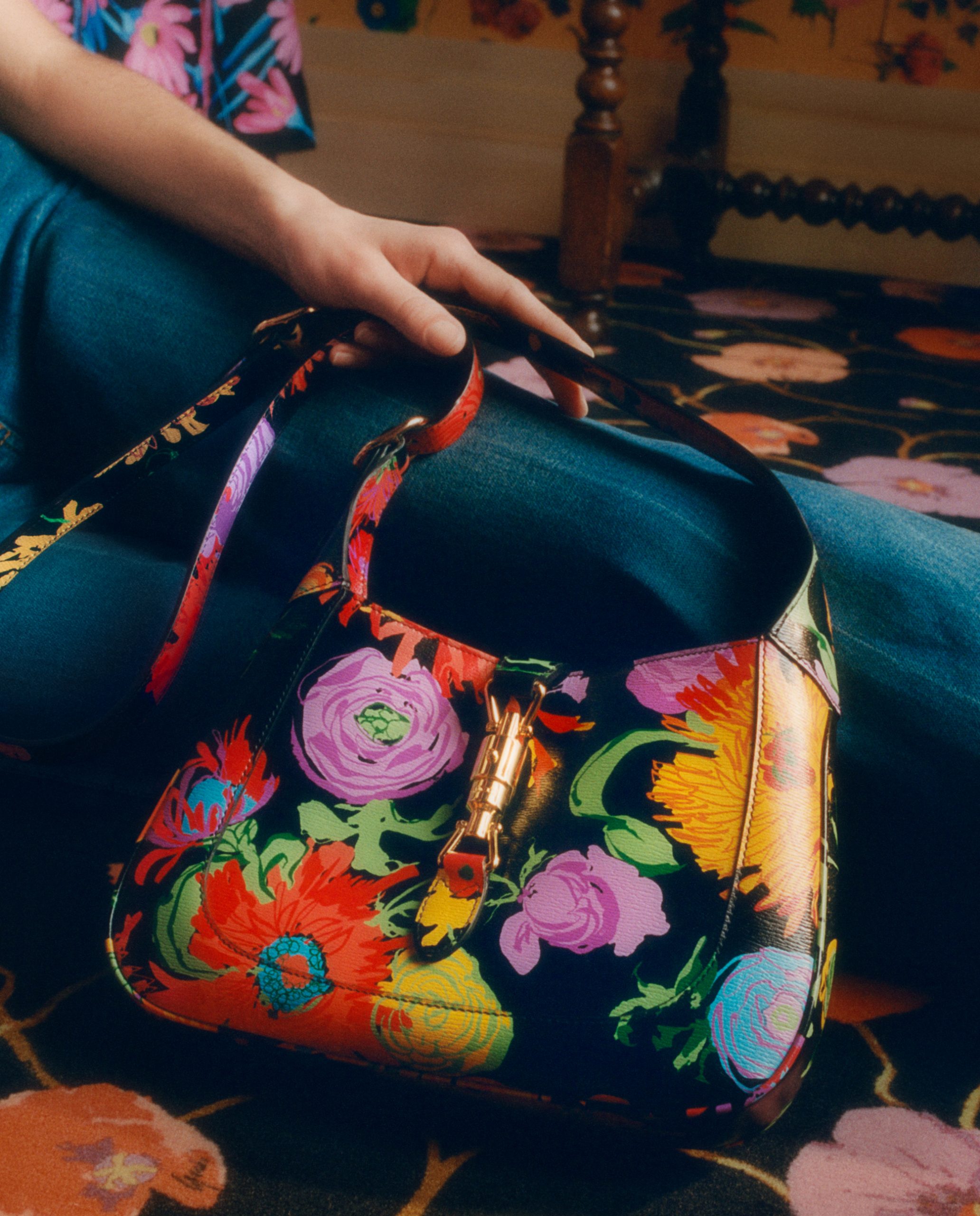 And that's not it. The collaboration extends to footwear. For men, it is relaxed and sporty with a black cotton base fabric printed with gold lettering and gold and silver flowers. This material also features for the Gucci Tennis 1977 in lace-up and slip-on models, as well as the Pursuit slide. Another variant of the Pursuit, and a Screener sneaker, comes in the form of a bright Ken Scott floral print called Giardino d'Aprile (translated as "April Garden") boasting various vibrant flowers for maximum impact. As for the women, there are four different Ken Scott prints in combinations of flowers and detailed with Ken Scott and Gucci script logos.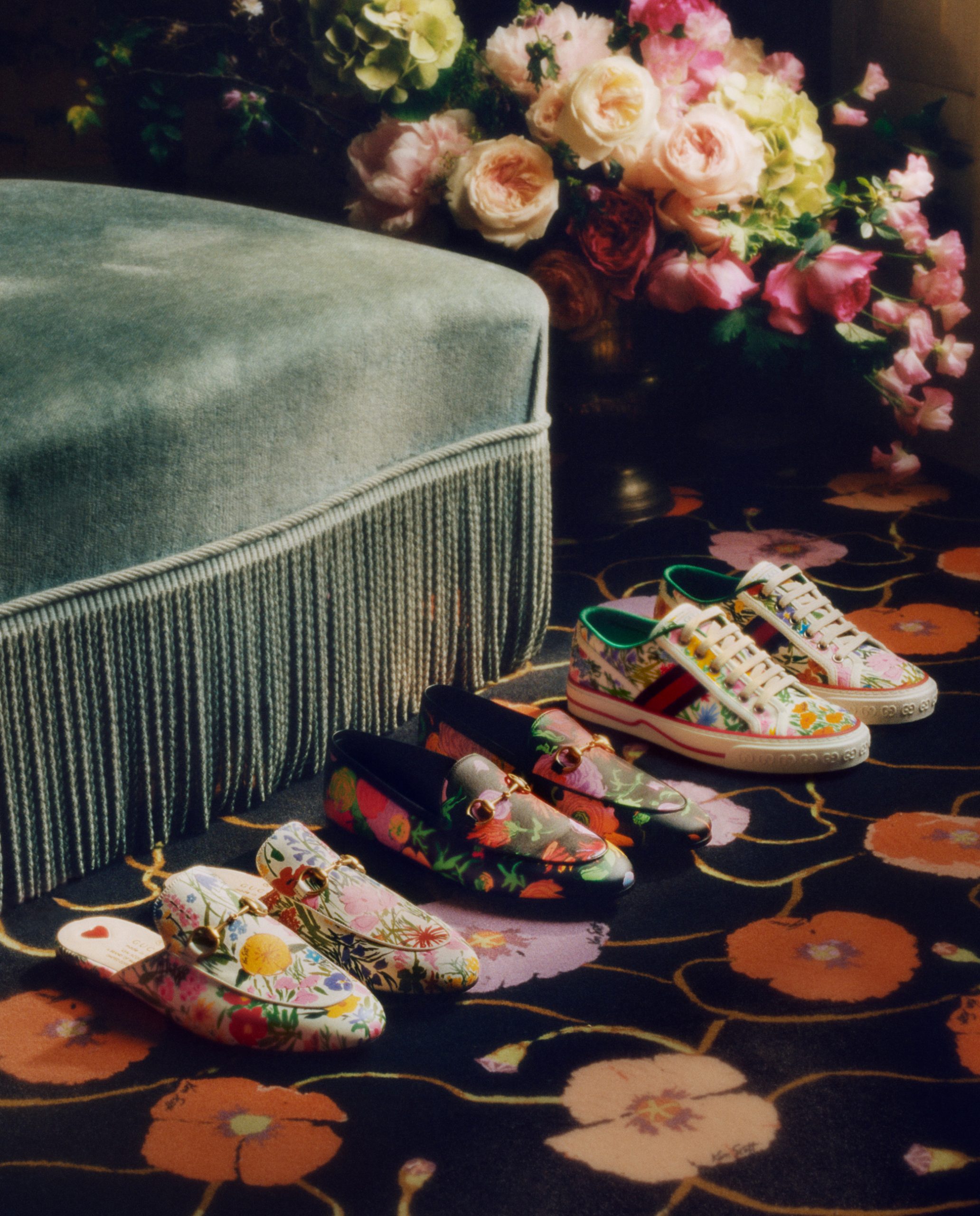 With this collection, Gucci once again cements itself as a brand that elevates and takes forward-thinking fashion to the next level.
CAMPAIGN CREDITS
Creative Director: Alessandro Michele
Art Director: Christopher Simmonds
Photographer & Director: Mark Peckmezian
Hair Stylist:  Alex Brownsell
Make Up: Thomas De Kluyver
Visit gucci.com to find out more.