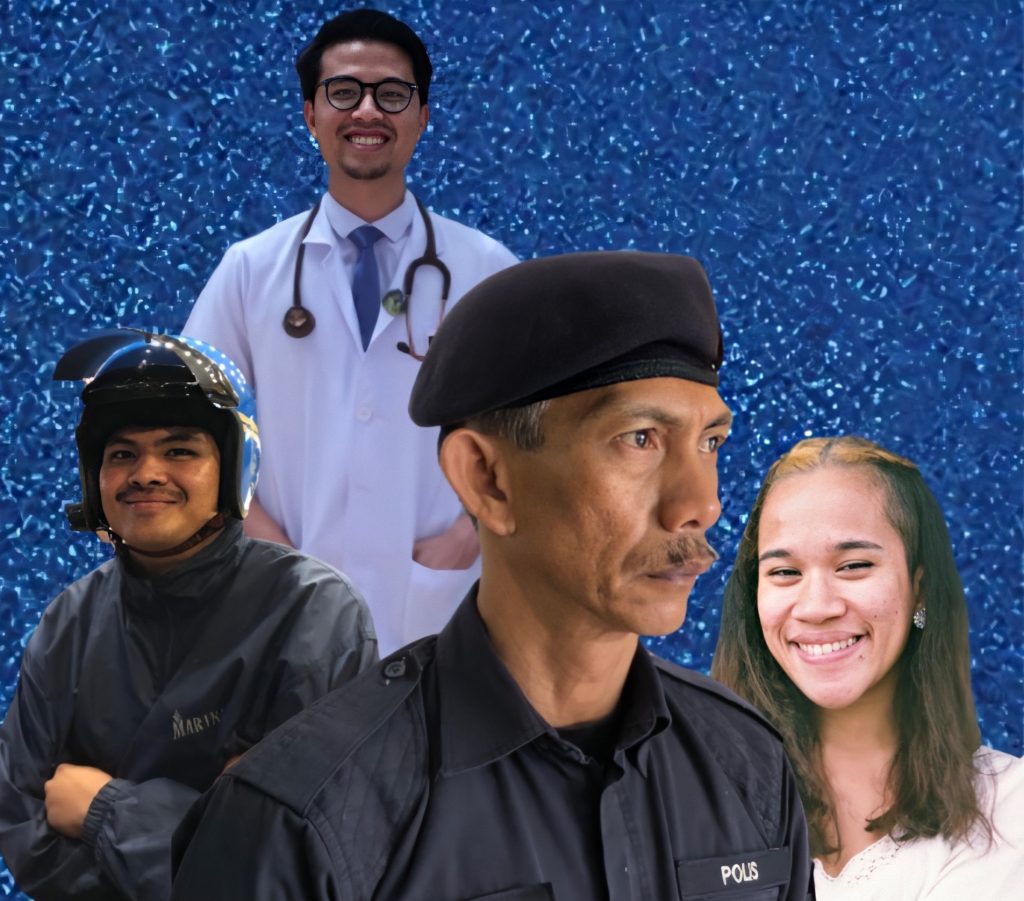 It's an understatement to say the COVID-19 pandemic has been very challenging. While we whine about the most trivial matters, the frontliners are working tirelessly so that we can get our normal life back. As we continue in the battle against the virus, we talk with four individuals working above and beyond their call of order about life in the vanguard of the fight.

Azhari B. Abu Bakar, Police Sergeant
What were the challenges you faced at the beginning of the MCO?
Since the outbreak escalated very quickly, things progressed so fast that there was no scope to conduct orientation, drill, simulation, training or whatever. We had to quickly learn, consult and adapt with our counterparts in medicine and other services. Leaves were cancelled. The messages and instructions trickled down from the hierarchy to each police station, and everyone just followed it.
Another thing was the fact that our enemy was invincible made things more difficult. Our duty was increased; our roles was required everywhere; and our responses and enforcement procedures kept changing according to the status of the pandemic. Of course, there were also the long shifts and worrying about bringing the virus home and exposing our family to it.
The virus aside, what have you found to be the single toughest nut to crack in this crisis?
To educate the public to follow the SOPs. We have to ensure that social distancing is maintained, but we also have to ensure that people are not deprived of their essential needs.
Is there anything good that you've noticed coming out of the situation?
The public has become more disciplined and aware of their hygiene. I can see many Malaysians are becoming more responsible by keeping a safe distance in queue as they do their part in breaking the chain of infections. We were also grateful that when people started to understand the purpose of the MCO, compliance became better.
What keeps you going in tough times such as this?
All the thank-yous and words of gratitude from the public. I think the positive public sentiment towards PDRM during this trying time is what motivates us. We've received a lot of donations from NGOs and individuals wanting to offer support and relief efforts for all the officers which make us feel appreciated. We know our efforts did not go unnoticed.
In retrospect, what advice would you have given our government?
Be prepared and plan ahead. We need an early warning system for future crises. Having a system that we can trust is critical because only with such a system in place will citizens have trust in the government and continue to act as they do now. We shouldn't have to wait for COVID-19 to know this is how we're supposed to run a country.
What do you wish the public understood about your work?
We have always been more at risk to violence because of our profession and now viruses too, so understand that we're not trying to create unnecessary disturbance – and follow the SOPs. I hope the public also understand that the responsibility does not just fall on the shoulders of the police. It's #kitajagakita, not #polisjagakita.
We know the crisis is far from over but what are your biggest takeaways from this wild ride of an experience so far?
Well, no one can claim to be an expert in dealing with this situation yet. We're still learning, unlearning and adapting. Probably when all of this is over, we can all sit together and share information and lessons that COVID-19 has taught us. For example, we definitely have to update our PPE inventory beyond a simple first aid kit. So far, it has helped us establish greater coordination in our teams. More humane approach in enforcement of lockdown has met with equal cooperation from the public. Also, the importance of self-discipline.
Have you ever regretted choosing this line of job?
Not at all. I've been serving the nation for 39 years; I'll be retiring next year and I've never felt regret working as a police officer. To be honest, this outbreak is definitely one of the toughest experiences in my whole career, but it has taught me and the PDRM to be extra prepared for every situation in the future.

Dr Mohd Adli Zil-Ikram, Doctor
How are things now that we've entered RMCO?
I believe that it is a good thing now that we are in the RMCO stage, and by looking at how our Health Director-General, Dato' Seri Dr Noor Hisham handles press conferences and how efficient our healthcare system is, I can reassure you that we are doing much better than any other countries. I really hope that all of this will end, and the vaccine can be found soon.
How is a typical day now different from the beginning of the outbreak?
The world will never be the same again. To me, when COVID-19 struck, it really made a big impact on us and the whole world generally. It has always been about providing patients with our best service and assuring that they are in the best hands, and that will carry on. With the current situation, there are more precautionary measures that have been set up at hospital to ensure the safety of patients and all staff.
Apart from that, we have to be mentally prepared at all levels. We have to be very vigilant about our hygiene including wearing masks, washing hands and checking our patients in terms of their travel history and taking temperatures.
What are the biggest challenges you face at a time like this?
In the beginning, I struggled with all the adjustments, but as time passes I have adapted to them well. During this pandemic, changes are quick and unexpected, and we have to get familiar with to them instantly.
What has been the one good thing that came out from this ordeal?
The understanding of disease and hygiene levels have improved tremendously. We now pay more attention to a proper hand washing regime and mask-wearing when we are ill. There is immense goodwill among Malaysians, and we see countless examples of people helping and encouraging each other on various media platforms, and of how everyone is working hard to combat this disease as a community.
Any other bright moments you've noticed?
The togetherness of all Malaysians. My colleagues and I feel the support from the public especially when they sent food donations and PPE supplies to our hospital.
What advice would you give our readers on staying positive?
If things like this were to happen again in the future, it is important to all of us to stay positive and calm, and put our trust in our frontliners. Because we as frontliners, we have been briefed on what to do, and we're going to do the best we could for your healthy, safety and welfare.
If there's one thing you want the public to know, it is…
We can only help you when you're completely honest to us when you come to the hospital. This is a new virus we have never dealt with, and have limited understanding of, coupled with dealing with it at this scale.
Is there a moment you wish you were in different field?
I have never regretted being a doctor. I love doing what I am doing. It's a real privilege and honour to be able to contribute to help alleviate the sufferings of others.

Firzana Redzuan, Founder of Monsters Among Us: Youth Advocates
Can you share with us how MAU has helped those in need during MCO?
Even though we're focused more towards child abuse advocacy, we feel we should use our platform and play our part to help the underprivileged families during these trying times. So we launched a COVID-19 aid fund to help B40 communities whose families with an OKU family member, more than four dependencies, one or more sick family members, one of more elderly family members and single breadwinner, or other implications that have been brought on by the outbreak by donating food supplies and basic necessities. This initiative enables a lot of generous individuals to donate and make their contributions.
To date, we've accumulated more than RM10,000 and has worked with few Program Perumahan Rakyat (PPR) liaisons to distribute food supplies to close to 70 underprivileged families in Klang Valley, Malacca and Negeri Sembilan. In partnership with Rumah Pelangi Kasih, we also contributed food supplies and groceries to 10 Rohingya families in Selayang. Each family has received basic necessities such as rice, packed noodles, flour, oil, sugar and tea.
Along with these efforts, we also provided few reliefs to other B40 groups such as old folks, students and jobless persons that've reached out to us asking for help like cash, bill payments, baby and medical supplies, which added up to more than 100 beneficiaries.
How are you feeling now that we're in the RMCO stage?
Overwhelming, suffocating, taxing and nerve-racking, you name it. MAU launched our donation drive for COVID-19, and personally, it took a toll on my mental health. On a daily basis, my team and I were receiving desperate cries and pleads for extra food or money. But as things started to firm up, with less and less cases per day, I feel more at ease now. I feel like I have my life back again, where going to cafes is actually okay. Kudos to MKN and KKM for their hard work and also civil societies who has been supporting our dear ones on the ground; let's not forget their efforts and contributions too.
What are the most challenging obstacles that you and your organisation face?
MAU dived right into MCO with a donation drive for B40 communities all over Malaysia. It was certainly quite a ride because we interacted with so many people who were really struggling to make ends meet yet we couldn't help them directly. It was during the peak of MCO, our movement was limited due to the rules, so we had to use runners to deliver food supplies to the families. We also received a lot of calls on child abuses, but again, we were stuck at home so there was nothing we could do except forwarding all the calls and complaints to Talian Nur Kasih. Sometimes, lending mental support is just as important.
What has been the one positive thing that you noticed during this outbreak?
Malaysians are and will forever be willing to help those in need. Running our own donation drive for COVID-19 gave us a chance to see this beautiful sight of compassion and solidarity. Despite everyone being socially distanced from one another, many Malaysians came to us and asked for ways for them to help the cause, even from afar. It was a moment of "faith in humanity restored".
Any advice to our readers on how to stay positive during a pandemic?
Be aware of your mental state. If things get too overwhelming, remind yourself that it is okay to give yourself a break. Being aware of your emotions, mental health and thoughts is one of the best ways to keep yourself in check. Stay away from Twitter for a week if need be. Just mute and block if things get too toxic. You decide on your own happiness and tranquillity.
Other than the COVID-19 virus, what have you found to be the single toughest nut to crack?
To make people understand us Malaysians is a daily struggle. It's beyond hard to penetrate into people's minds that our leaders must serve the country and not the other way around. It's hard to convince people that other than being thankful of the financial aids given and applaud the government for it, we must also play our role as a check and balance of the government so that they are constantly on their toes. It's so easy to please the citizen sometimes, when in reality, the rate at where we are now is really just bare minimum.
What are the most valuable lessons you've learned so far?
To always be strategic and visionary. Everyone at this point is forced to predict the unpredictable – and it's a good thing. Everyone now sees the importance of thinking ahead, the importance of savings and having reservoirs for emergencies like this.
Have you ever thought of just throwing in the towel?
Not at all. I regret not starting earlier.
Haris Izzuddin, GrabFood rider
What are some of the challenges you face during MCO?
Honestly, I'm not afraid of being infected. But I am afraid of bringing the virus home to my family – and also to my customers. Although strict regulations like safe distancing while waiting for orders, roadblocks and temperature checks are needed, they slow down our work processes as GrabFood rider a great deal.
What was the one good thing that benefitted you directly during the start of the lockdown?
The traffic. Because that time, there weren't a lot of cars on the road, so the risk of accident during delivery was very low, which allowed us to deliver food on time. Because truthfully, the challenge for us riders is always road safety and traffic.
Where do you find strength in tough times like now?
This is my livelihood. I know I have to keep going because I have a family to support. Of course, there is a sense of fear but I follow the government's advice to always be careful, to keep hands sanitised, to wear a mask and to keep a distance. All the fears are gone when you're the sole breadwinner.
Did you experience any heartening moments?
I am touched by customer appreciation of us riders during this difficult time. We have received tips, snacks, drinks and even full meals from customers. It is not about the money or free food but the gratitude they have been showing us. It gives us the motivation to carry on.
Besides the virus, what were your other worries?
The weather. Braving the heat is one thing, but riding in the rain poses a high safety risk. There are times when I had to wait out the rain. My main concern was that I might get involved in road accident. It isn't exactly ideal when you have to rush deliveries on wet roads and the thought of hungry, angry customers waiting for their food to arrive doesn't help [laughs].
What do you wish the public know more about your work?
I hope the public can be more understanding when a delivery order is late. Delivery orders, especially during peak hours, have become hectic since MCO. Like you, we're people with families to provide for and are working just as hard to make ends meet. A smile and a simply "thank you" work wonders in these difficult times.
What are your biggest takeaways from this experience so far?
Take care of your hygiene. I also realise that apart from making a living, my job of offering service to the people is crucial in times of crises
Do you regret being a GrabFood rider?
No! Because being a rider is so fun. I'm proud to be able to serve our community as a frontline worker. Through this job, I also know how to prioritise and manage my time by strategising the sequence of the deliveries.
This story first appeared in the August 2020 issue of Men's Folio Malaysia.