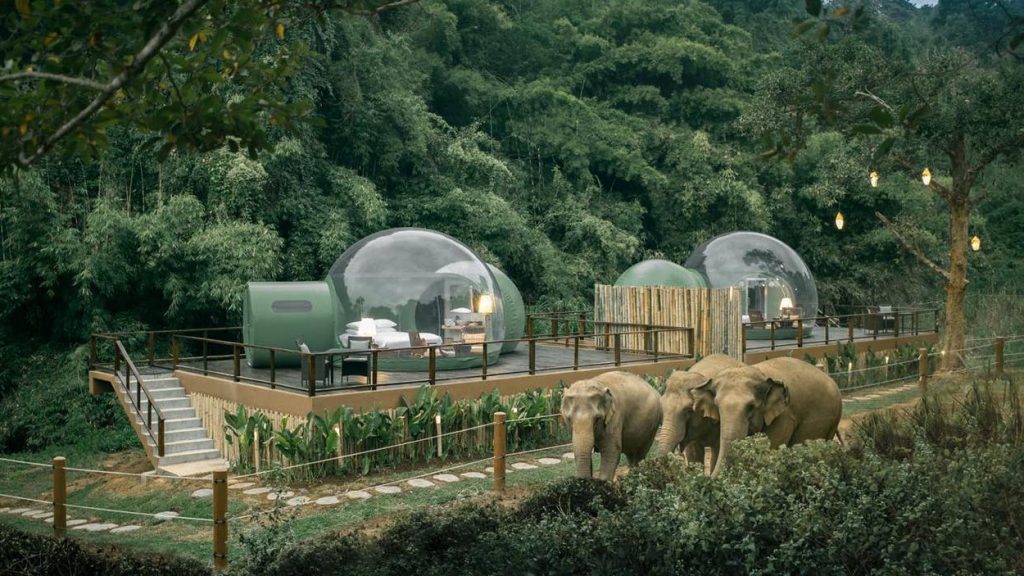 In video games, taking the road less travelled means you get better spoils — better equipment that might give you a +20 strength boost, tougher remote-smashing worthy bosses and the odd experiences along the way. Though in real life, it's thankfully less life threatening — think long forest walks with elephants in Thailand, ayurvedic treatments by the beach or or a hike up a snowy mountain.
Anantara Golden Triangle Elephant Camp & Resort
Anantara Golden Triangle is a renowned hotel and resort in Northern Thailand, part of the Anantara luxury hospitality brand that provides world-class service, spa treatments, city-view suites and river dining. What makes this hotel different from others of its ilk is the offer of its unique transportation.
Guests can explore beyond the borders of the luxury resort on two Royal Enfield Classic 500 sidecars, exploring Thailand's fabled Golden Triangle, which is Asia's premier elephant camp, or drive to the mystical mountainous area of Doi Tung. The motorcycle tour allows guests to go on a great journey through Thailand's border in-between their time spent at a luxurious hotel. It is not often that both excitement and relaxation can be had in a single vacation.
Northern Thailand's temperature will average out to 26 degree celsius, potentially chillier than the average day in Singapore.
Anantara Golden Triangle Elephant Camp & Resortis located at 229 Moo 1, Wiang, Chiang Saen District, Chiang Rai 57150, Thailand.
Budapest Road Trip
The capital of Hungary is not only a fine place to visit in of itself, but you also have the option of buying Budapest Cards online — which under a specific amount of time depending on how much you spend — allow you to travel in the city for free, see attractions for no charge, and enjoy discounts for prices at different attractions. What to do when you are actually in Budapest though?
You would be remiss not to visit landmarks such as Chain Bridge, which is Hungary's first capital bridge, and now a monument that serves as a top tourist attraction. If you want to step into a piece of Hungarian history, then pay a visit to The Church of Our Lady, also known as Matthias Church, with its richly decorated walls and gothic windows that depict the lives of Hungarian national heroes and saints. Beyond that, you must include the flashy experience of Andrassy Avenue — a 2,310-mere boulevard lined with buildings and establishments, where you'll be tempted to spend your money every step of the way.
Budapest temperatures average out to 11 degree celsius, so it will be a fairly cold journey.
The Chain Bridge is located at Széchenyi Lánchíd, 1051 Hungary. The Matthias Church is located at Szentháromság tér 2, 1014 Hungary.
CGH Earth – SwaSwara
When we think of taking a vacation to another country, we usually think of spoiling ourselves in luxury and decadence before coming back home and feeling utterly drained, but that doesn't necessarily have to be the case. CGH Earth is an award-winning hospitality group in India that owns several wellness retreats, one of them being SwaSwara.
SwaSwara is the perfect sanctuary nestled in the pristine Om beach for you to disconnect from the busyness of urban life. The retreat offers art therapy in the form of pottery and painting to express your creativity, yoga sessions  and ayurveda treatments to treat your body, and easy access to both a beautiful beach and relaxing swimming pool.
deExpect temperatures averaging 32 degree celsius, which is all the more reason to pay a visit to the pool or the beach.
SwaSwara is located at Om Beach, Donibhail, Gokarn, Karnataka 581326, India.
CGH Earth – Prakti Shakti
Another of CGH Earth's retreats is Prakriti Shakti, located within the hills of Panchalimedu. This establishment offers a naturopathic approach, surrounded by an atmosphere of tranquil plants and waters so as to better your mind, body and spirit. There are fewer places in the world for more ideal self-reflection and healing than atop a nature-filled hill.
If you have been feeling drained or sluggish all year, then recharge yourself before heading into the new year with massage treatments and raw food gourmet from traditional Kerala Sadya to a delicious brownie.
Panchalimedu temperatures will average around 27 degree celsius, but there will be plenty to keep yourself warm with in Prakriti Shakti.
Prakriti Shakti is located at Panchalimedu, Kerala 685532, India.
Grande Rockies Resort
This resort hotel in Canmore, Alberta is set amidst majestic mountains with scenic skies and mountains on all sides. The resort is also only minutes worth of travel away from the world-famous Banff National Park. If you're looking for a getaway that takes you closer to the clouds, there isn't much better than to set forth for this destination. Though you won't do any hiking yourself, there will be a sense of triumph upon coming upon the entrance of this place so high among the mountains.

Along with its high-class rooms and suites, the resort also includes an onsite restaurant featuring delights like Canadian back bacon and smoked salmon omelettes. Furthermore, there is also a waterpark within the resort itself, with a three-storey water slide, if you're looking for excitement on the side.
The temperatures can go down to negative two degree celsius, so make sure to prepare as warmly as possible.
Grande Rockies Resort is located at 901 Mountain St, Canmore, AB T1W 0C9, Canada.
Radisson Blu Resort & Spa Karjat
If you're looking for a more traditional vacation spot in India, you would be doing good with Radisson Blu Resort & Spa Karjat. Situated between Mumbai and Pune, it is an ideal destination for weekend getaways and of course, the holidays.
With a view of the beautiful Sahyadri Mountains and the Ulhas River from almost every one of the 102 rooms, it simply invites you to to relax the moment you step inside. You can recline by the outdoor pool while you sip cool cocktails from the bar, or visit the spa for rejuvenating therapies like massages or skin treatments. 

With temperatures averaging around 32 degree celsius, you'll want to make sure to get comfortable with a cocktail at some point.
Radisson Blu Resort & Spa Karjat is located at Khandpe, District Raigad, Karjat, Maharashtra 410201, India.
Serbia Road Trip
Rather than focusing on any one destination in the world, consider a country-spanning trip to Serbia. Learn about Serbia's rich history and culture first through Lepenski Vir, an archaeological site showcasing remains of religious architecture from 6500 to 5500BC.
If you'd rather take a more personal look at the culture instead of something curated, then visit the river Studenica, which is home to establishments such as mausoleums and frescos — which are paintings from the 13th century that trace back to Serbian mediaeval art. For a more scenic experience, consider visiting National Park Đerdap. The main feature of this park is the Djerdap Gorge, known as the Iron Gate, which stretches nearly 100 kilometers alongside the slopes of the Carpathian Mountains and where one of the deepest rivers in the world can be found. Serbia has many establishments made to showcase the heritage and culture in a digestible lens, so it makes for an ideal learning experience alongside your vacation.
Temperatures will range from seven to 11 degree celsius, which means much chillier than a stroll through Singapore.
National Park Đerdap and Lepenski Vir are located at Boljetin, 19220 Donji Milanovac.
Le Club Mougins by Diamond Resorts
Should you wish to journey through the French countryside, you will find the streets of Mougins which feature a picturesque scenery of stunning vistas and sun-drenched hills, and deeper within is Le Club Mougins, nestled among lush green foliage. The resort offers decorated accommodations such as a fitness center and tennis court.

All this beautiful nature in fresh weather is certain to encourage a desire to be up and about, exercising and playing with the large and colourful open spaces. When you're not enjoying yourself there, you can dine at the restaurant for refined dishes like beef fillet with red wine sauce, or salmon steak.
Temperatures will average to 10 degree celsius. If you're not keeping yourself warm through exercise, then prepare to bundle up.
Le Club Mougins by Diamond Resorts is located at 199 Chemin du Val Fleuri, 06250 Mougins, France.