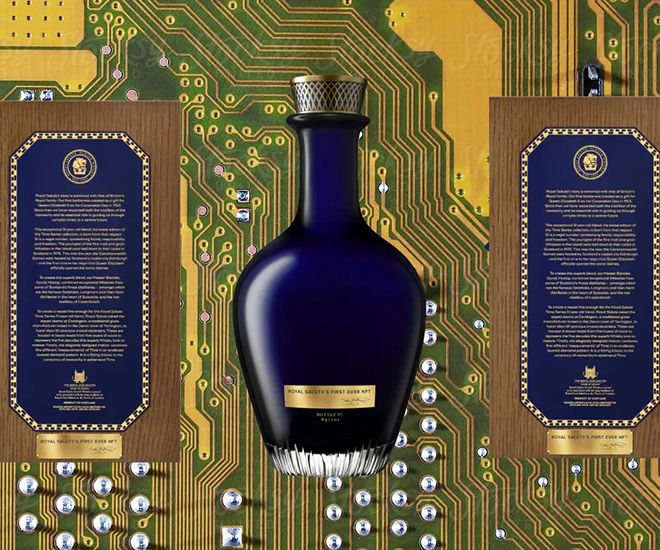 Pernod Ricard's first ever NFT is by no means boring (you know the kind…) because firstly, it's done in partnership with BlockBar, an online marketplace where consumers can purchase NFTs directly from luxury wines and spirits brands. Secondly, each NFT you buy (of which will set you back $35,000 USD but wait for us to get to the good part) can be "burned" or exchanged for a physical bottle it corresponds to. If need be, it can be resold.
What are you buying then? Well, it's Royal Salute Time Series 51 Year Old 2021 Release and Pernod Ricard's first NFT will be the oldest Scotch whisky expression ever released on BlockBar itself. But more than just being one of the rarest expressions in the entire Royal Salute portfolio, the bottle comes housed in a one-off crystal decanter adorned with a 24-carat gold plaque with Master Blender Sandy Hyslop's signature (aka the man responsible for creating the first Royal Salute whisky fully finished in Malbec wine cask), a 5cl mini in a gift box for an exclusive one-on-one tasting with a Master Blender and get this, an overnight experience in Scotland with flights not withstanding.
You can purchase Pernod Ricard's first NFT here today.