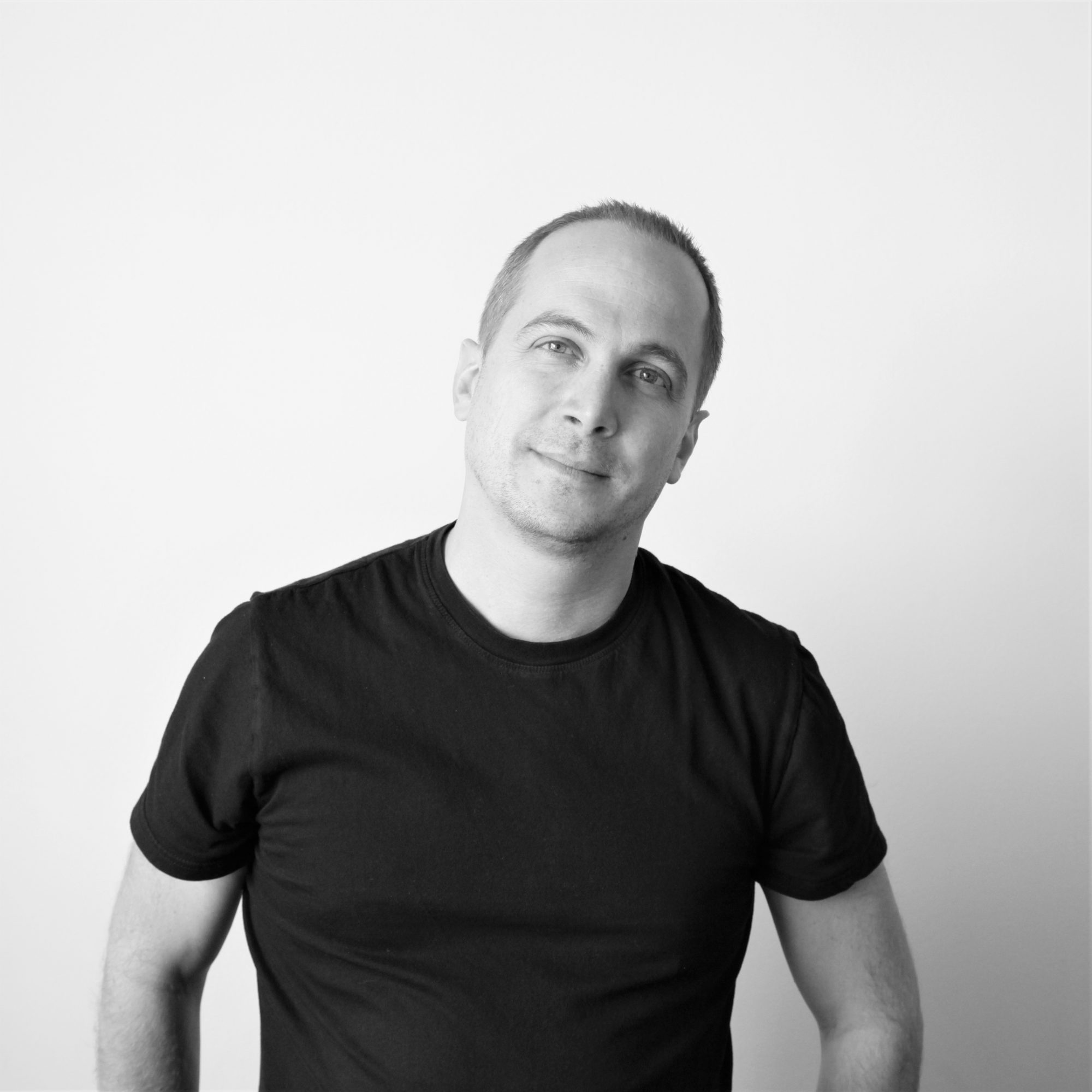 Started with only four products, the Australian skincare brand Aesop is now a cult brand with over 200 unique standalone stores, offering almost 100 range in its lineup with one Parsley Seed Anti-Oxidant Serum sold every nine minutes and its handwash is the soap du jour for fancy and hipster restaurant toilets.
Constantly developing and creating exceptional creations with great care and attention, the brand has recently launched Parsley Seed Anti-Oxidant Intense Serum, the latest addition to its well-beloved Parsley Seed Skin Care range. An intensified version of the original serum, the new product is targeted at urban dwellers and works harder to hydrate the skin while protecting the skin from airborne pollutants.
In this exclusive interview, we unravel the star product with Samy Hamada, Head of Research & Development and Compliance of Aesop Skincare where we delve deep into its formulations, how can one make the most of this powerful serum and Hamada's personal thoughts on notion of beauty.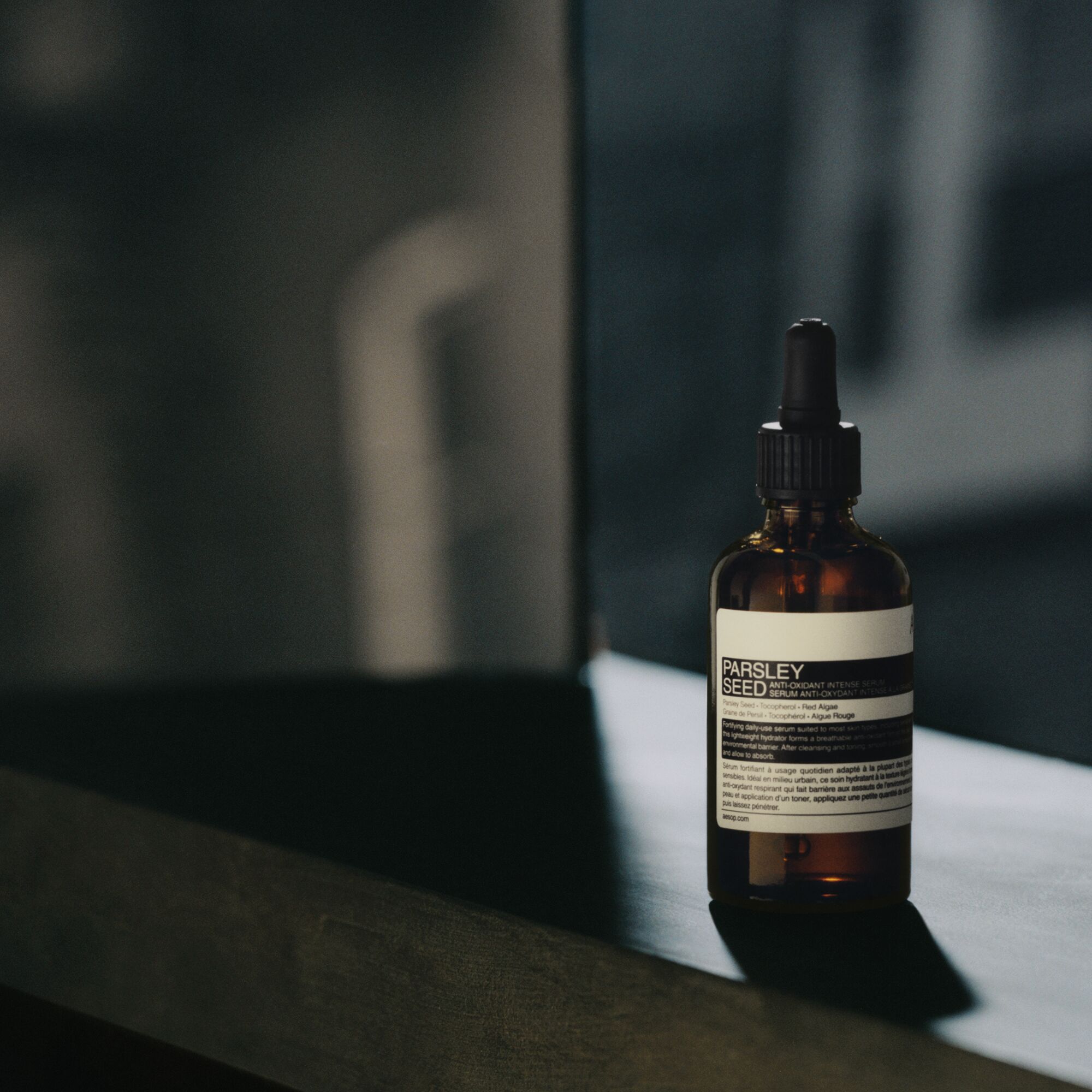 Parsley Seed Anti-Oxidant Intense Serum
Tell us about the latest Parsley Seed Anti-Oxidant Intense Serum and how it's developed.
With increased awareness of the influence of our environment and how this may affect the skin, we saw an opportunity to build in additional layers of efficacy to support and complement the key anti-oxidant benefits that are a central part of the Parsley Seed Skin Care range. Parsley Seed Anti-Oxidant Intense Serum is a fortifying daily-use hydrating serum suited to normal, combination and sensitive skin. Imparting a lightweight and breathable anti-oxidant film on the skin—imperceptibly guarding against airborne particulates—Parsley Seed Anti-Oxidant Intense Serum is ideal for city dwellers and those seeking an alternative to cream or oil-based moisturisers.
For those new to the range, what is your recommended use for this serum and what other Aesop products would you say complement it best?
It lends itself to both day-time and night-time usage. We recommend applying at the time of day that works for you and your needs. During the day, the serum's breathable film provides an effective environmental barrier and is flexible enough to cope with the rigours of a day's wear. Nor does it need to be reapplied during the day—application in the morning should last until the evening on a typical working day. At night-time, the serum's sustained hydration benefits come into play. Uninterrupted exposure and prolonged skin contact offer the optimal chance of delivering the best possible results for the skin.
This serum can certainly play a central role in a Parsley Seed Skin Care daily regimen;
Gentle preparation:
Morning and evening, cleanse the skin with either Parsley Seed Facial Cleanser or Parsley Seed Facial Cleansing Oil. Substitute twice-weekly with Purifying Facial Exfoliant Paste and Parsley Seed Cleansing Masque to lift impurities, decongest the skin and leave it refreshed for application of subsequent hydrating products—Parsley Seed Anti-Oxidant Intense Serum included.
For comprehensive fortification:
Bolster the skin by layering Protective Facial Lotion SPF25 over Parsley Seed Anti-Oxidant Intense Serum each morning.
For a nourishing boost:
Nightly application of Parsley Seed Anti-Oxidant Intense Serum immediately after Parsley Seed Anti-Oxidant Facial Treatment—or blended with it—increases emollience to impart a nourishing boost. Follow with your choice of Parsley Seed Anti-Oxidant Eye Serum for lighter hydration or Parsley Seed Anti-Oxidant Eye Cream for a richer skin feel.
View this post on Instagram
What makes it an ideal product for the city dweller? What can they expect from the product?
As a standalone hydrator, it is particularly suited to those residing in hot, humid environs who favour a lightweight texture, and for those with sensitive skin who similarly prefer a serum over richer, heavier creams. The formulation delivers impressive anti-oxidant benefits, with heightened relevance for use in urban environments, where the skin can come under stress. A considered combination of Grape Seed, Green Tea and Parsley Seed extracts, supported by nourishing Tocopherol (Vitamin E), works to fortify and nurture the skin. The product also delivers sustained moisture-binding efficacy, conferring greater levels of hydration than would perhaps be expected based on its light texture.
While beauty companies generally launch things on a monthly basis, Aesop launches them simply when they're ready. From conceptualising a product to launching it, how long does it usually take? What is the most important step in the process?
It typically takes two years to fully realise a product, with much collaborative effort and many iterations between concept, development, testing, manufacture and launch. Our approach is to take the time needed to ensure each new formulation we create is of the highest quality, safety and efficacy. Those are assessed for each new product through a rigorous schedule of testing.
Our highly skilled in-house chemists scrutinise and perfect every aspect of the formula. At any one time, we may have a number of products at various stages of development, though perhaps only a few will make it to market—we refuse to develop products because of a perceived marketing requirement to have a new launch.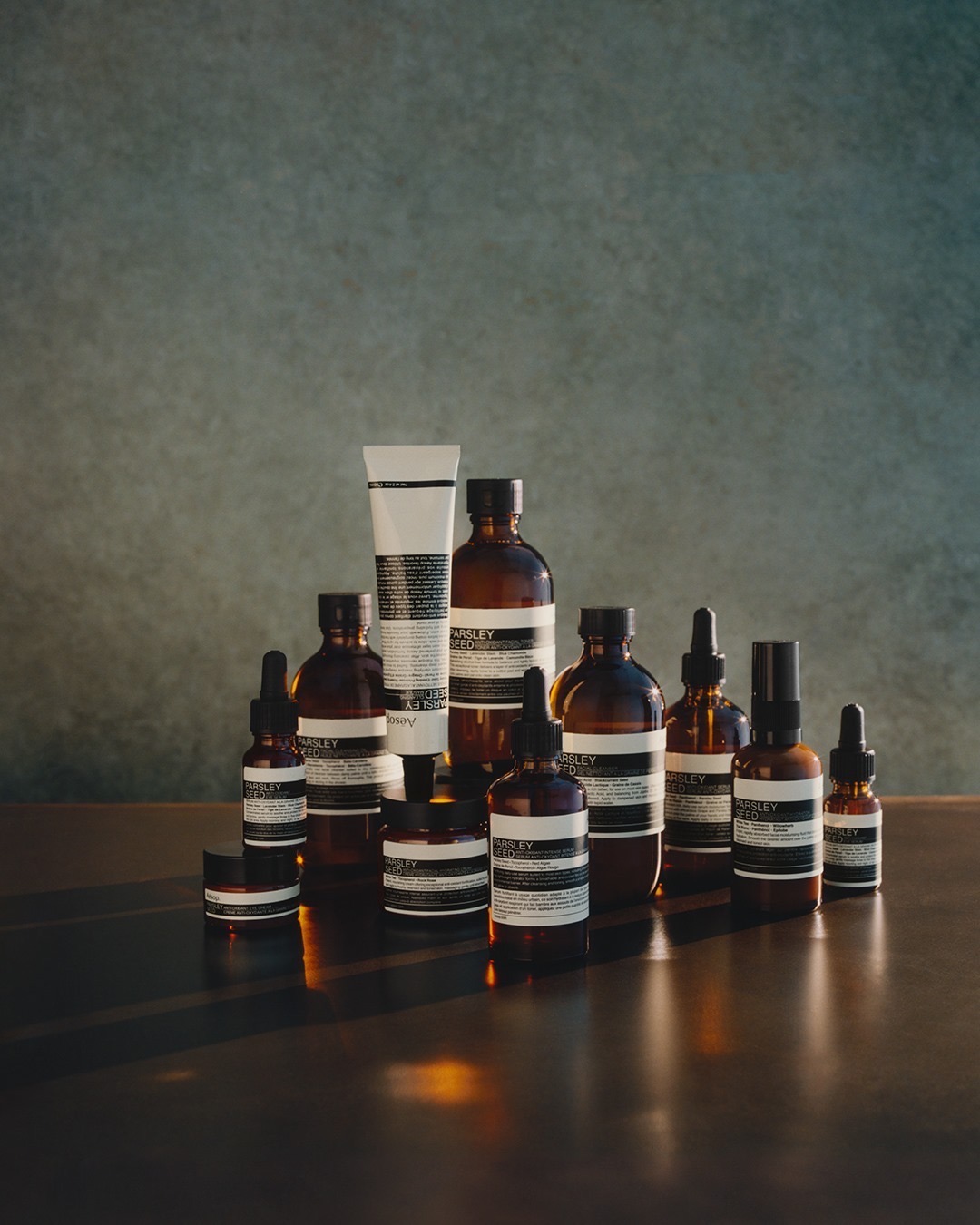 Parsley Seed Skin Care range
Besides parsley seed, what are other underrated hero ingredients that we should know?
Panthenol (Pro-vitamin B5), Niacinamide (Vitamin B3), Biosaccharide Gum-1 and Bisabolol—also well known for its soothing properties—deliver exceptional moisture-binding, hydrating efficacy. Niacinamide also confers barrier-supportive properties, while Bisabolol works to nourish and calm the skin. The careful combination of these ingredients results in a serum that offers much greater levels of sustained hydration than would perhaps be expected based on its light serum texture.
A suite of anti-oxidants is delivered by way of Grape Seed, Green Tea and Parsley Seed extracts, alongside nourishing Tocopherol (Vitamin E), which work together to fortify the skin, supporting and nurturing it.
It's a known fact that your brand celebrates science. What can you tell us about the way that science and beauty interact in the current commercial climate? What is Aesop doing differently?
Remaining relevant to an ever-growing audience for over thirty years, without succumbing to industry trends, is something we can be proud of—all the more so as this was done without compromising on our values, as recently recognised by achieving B Corp™ certification. As a Certified B Corporation®, we meet the highest verified standards of social and environmental performance, transparency and accountability—balancing purpose and profit to a greater end.
This continued relevance derives from the consistent safety and efficacy of our formulations, which is based on our fiercely independent approach to product development, all of which happens in our in-house laboratory—a rarity in the industry. The strength of our approach relies on combining the best that plants and science have to offer, mixing generous doses of botanical extracts with laboratory-made ingredients. Beyond the quality of our formulations, we also take great pride in the skilled, knowledgeable and gracious hosting extended by our consultants to an ever more diverse audience across the globe.
In a world where we confronted with everyone's idea of beauty (real or curated) from every direction through mainstream and social media, it'd be interesting to hear what your notion of "beauty" is.
With an approach to beauty that is inclusive and all-embracing, we view ageing as a dignified process: the marks of its progress should be embraced as signs of wisdom, not obscured as shameful stigma. Besides, any promise of regaining youthful-looking skin is not just predatory: it is also patently false. Ageing and individuality—rather than an unattainable, digitally engineered uniformity—are seen as elements of a life well lived.
View this post on Instagram
What's your go-to advice when it comes to skincare?
We believe in an uncomplicated approach to skin care, focusing on the health of the skin. We advocate the daily use of our formulations as part of a healthy, balanced lifestyle that includes a nutritious diet, daily exercise and a moderate intake of red wine.
We ignore product trends and industry conventions by formulating products with a clearly identified purpose, such as our anti-oxidant-rich Parsley Seed range, developed in response to the needs of urban-dwellers whose skin is exposed to environmental stressors daily.
We emphasise the efficacy of twice-daily cleansing, toning and moisturising, along with regular deep-cleansing and facial treatments. We advocate generous application of our hydrating products, and encourage blending—for example, of exfoliating products and masques—for a complete, optimal regimen.
There are still a lot of men who are resistant to engaging in skincare. What advice would you give to non-believer or to someone who just starting out? What are the three or (five) must-have products?
Aesop's co-founder Suzanne Santos:  Regardless of age or gender, we view cleansing as a critical step to maintaining healthy skin. We advocate twice-daily cleansing complemented by regular exfoliation and use of a deep-cleansing masque. The skin on the face is more delicate than that of the rest of the body; moreover, it is exposed to our environs constantly. For this reason, we need to treat it with utmost care and respect—ensuring that cleansing is thorough and efficient yet non-perturbing; crucial is the selection of the most appropriate cleanser for your skin type. The breadth of our cleansing range—we offer products to suit both skin type and textural preference—is testament to the importance we place upon this simple, everyday act.
Apart from skin type, where beards are concerned gel-format cleansers may prove easier to rinse as compared with either emulsions (cream, milk) or oils. Parsley Seed Facial Cleanser has been formulated to effectively lift and remove excess sebum and surface impurities, and is ideal for maintaining immaculately clean skin in urban environments. This gel-based cleanser is a fine example of Aesop's commitment to providing significant cleansing solutions. The ingredients in Parsley Seed Facial Cleanser have tangible benefits for most skin types, bringing pleasure each time you wash your face.
Aesop Parsley Seed Anti-Oxidant Intense Serum is available to purchase online at RM320.