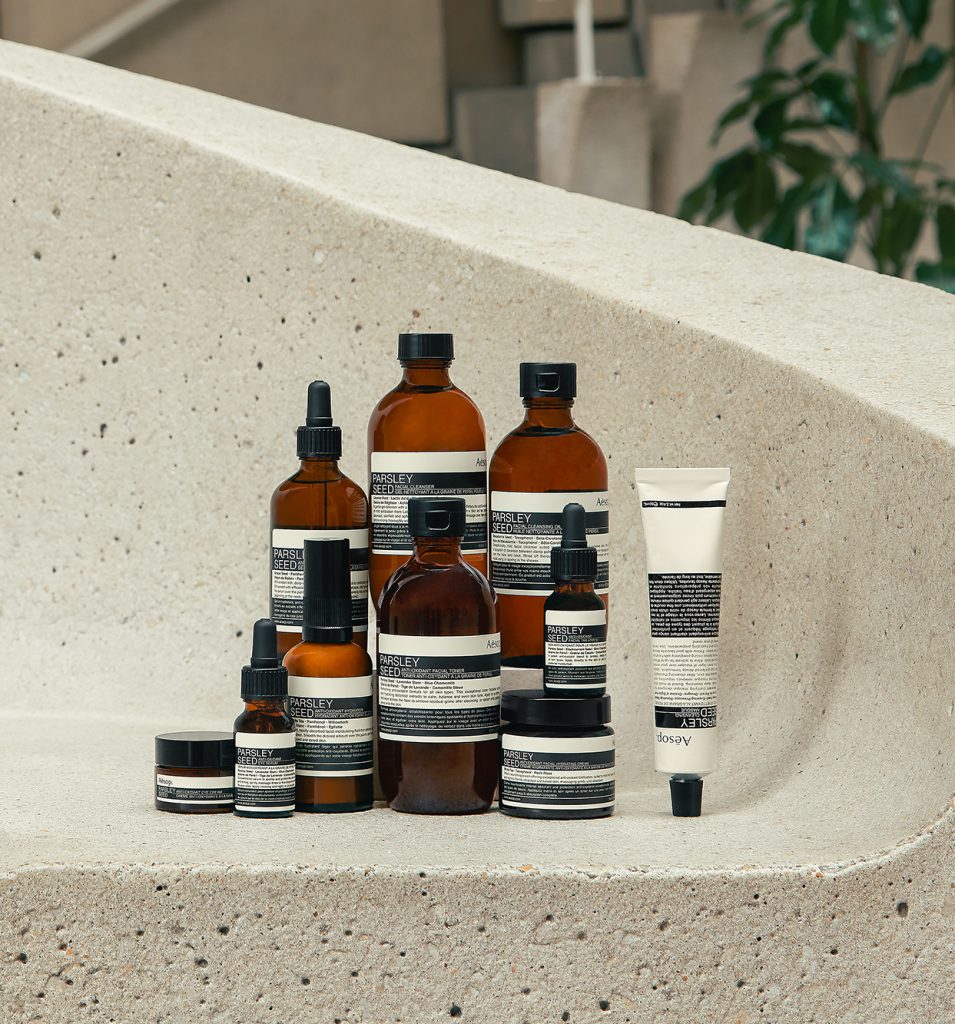 Parsley isn't called a superfood for nothing. It turns out that this trendy ingredient with an amped-up antioxidant profile is not only good for your body, but also your face – and Aesop is fast to make use the seed to formulate Parsley Seed Anti-Oxidant Skin Care Kit, an effective antidote to the pollution that is an unavoidable downer to city dwelling.
Originally, this range is specifically targeted at urban pollutants, which includes a cleanser, a toner and a finishing serum with additional impurity-removing and balancing properties. Featuring seed oil and other botanical ingredients, the brand has updated the range with new products to better defend the skin from impurities as well as stress of city life. Meet the five key products of the range below.
Parsley Seed Facial Cleanser
This is a clarifying face wash that removes surface impurities and pollutants with licorice and blackcurrant seed, while lactic acid offers mild exfoliation to smooth skin. This clear, moderately foaming gel helps to maintain immaculately clean skin in polluted urban areas.
Parsley Seed Anti-Oxidant Facial Toner
It features an antioxidant-rich, alcohol-free formula, infused with lavender stem and blue chamomile to soothe and balance the skin while preparing it for hydration. This aqueous toner provides an herbaceous, fresh floral aroma, while calming, softening and hydrating the skin with a light finish.
Parsley Seed Anti-Oxidant Serum
A lightweight formulation of antioxidant-rich ingredients, including grape seed and panthenol, in a soothing aloe vera base to improve skin softness, fortify and provide maximum hydration. This serum is an appealing alternative to a cream or a oil-based hydrator.
Parsley Seed Anti-Oxidant Eye Cream
This potent cream gently protects against daily wear and tear with the help of ingredients like grapefruit seed, carrot juice, lavender, chamomile and parsley seed. These, along with sodium lactate, promote balance and soothe irritation to reduce any appearance of tiredness around the eyes. Vitamins E and C brighten your complexion, injecting extra energy and life into your look, no matter your skin type.
Parsley Seed Anti-Oxidant Facial Hydrating Cream
A lightweight, soothing moisturiser that works to restore soft, supple skin without greasy or sticky residue. Harnessing the powers of white tea, rock rose and sweet almond oil, the ultra-nourishing formula deeply replenishes and rejuvenates, whilst strengthening the skin's natural barrier function and defending against free radicals to delay signs of ageing.
For more information about the range, click here.