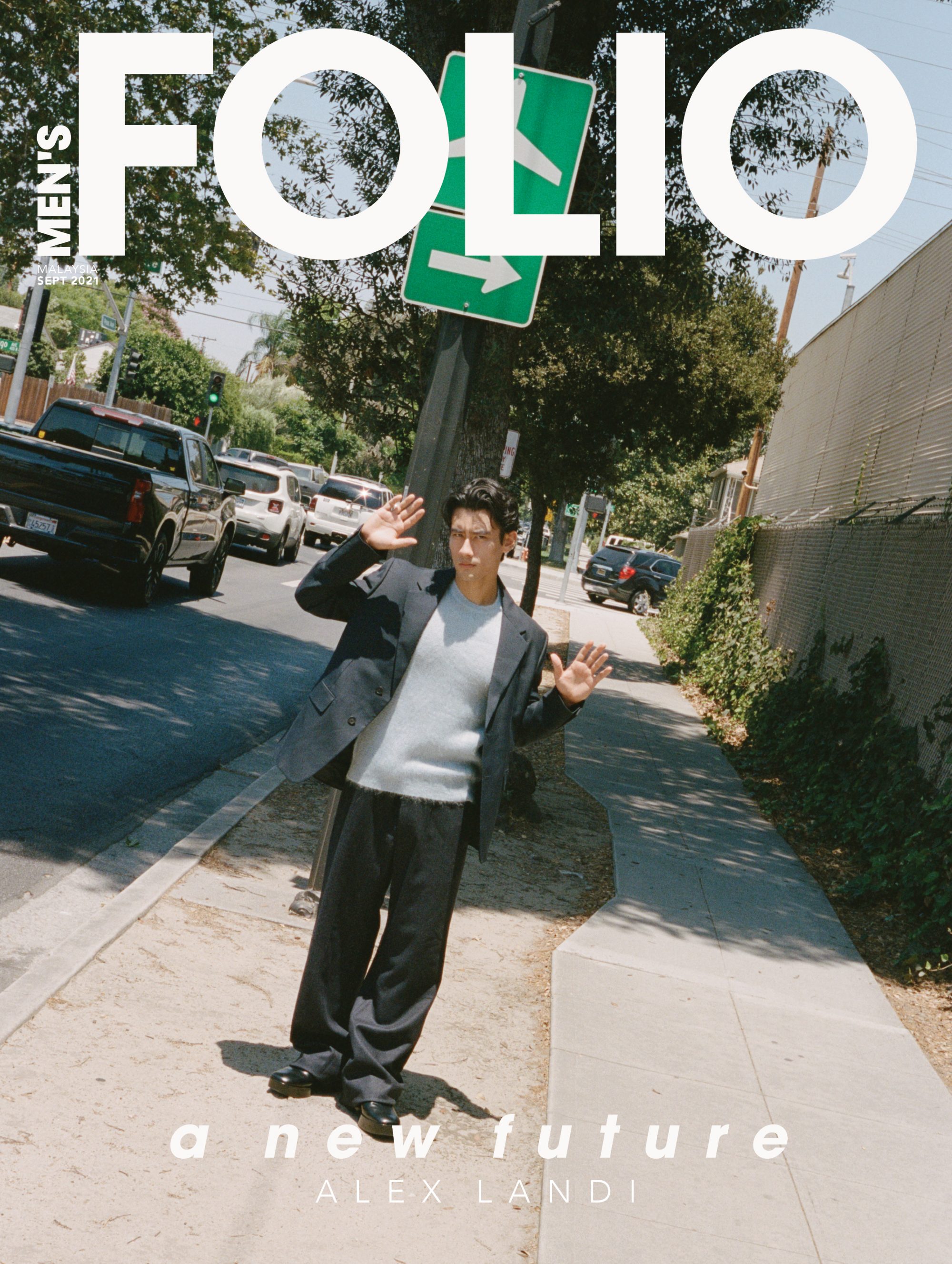 A warm summer breeze catches Alex Landi's longer-than-usual coiffed hairdo as he adjusts his poses effortlessly. In the length of the midday Californian heat, Landi ups the temperature a couple of notches with his smouldering gaze as he poses for our Men's Folio cover shoot. With a towering figure and features that stand out — sculpted jawline and cheekbones sunkissed to perfection — the budding actor could be easily mistaken as a supermodel shooting a summer fragrance commercial. Oh, dare one forget those soft curls that would make any Sicilian proud?
"First off, to anyone reading this: I hope you and your loved ones have been safe and are in good health," beams Landi. After months devoid of life, Burbank, California is beginning to bustle once again amidst gradual recovery as lockdown restrictions ease up. There is a buzz of excitement in the city centre and the liveliness is palpable. The shift in mood is welcoming, especially for Landi who found himself isolated from his family mostly in the past year.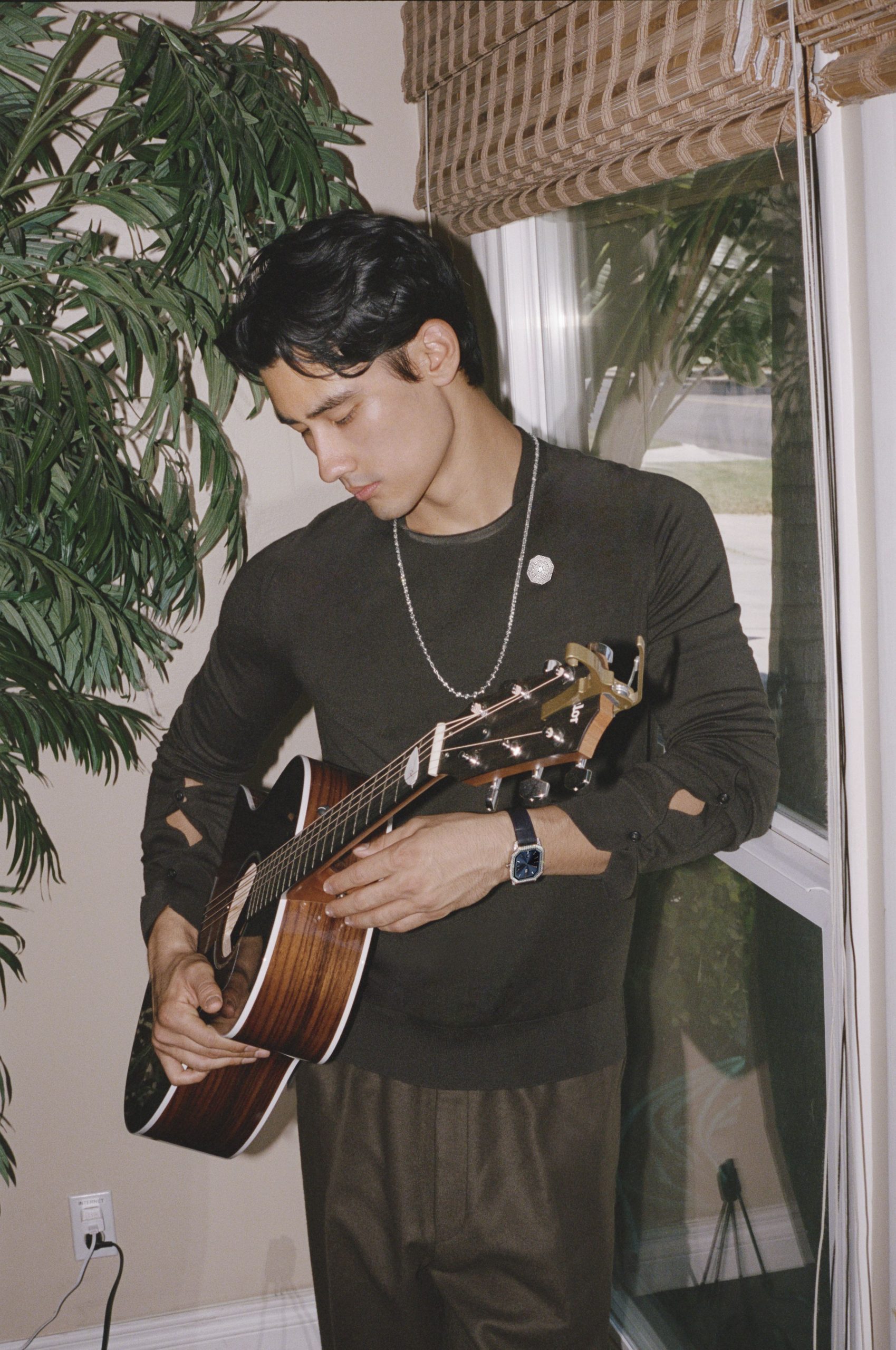 Harry Winston Emerald in white gold case with alligator strap, Straight Line Marquise diamonds set in platinum necklace, Emerald Signature in 18k white gold case (worn as brooch); Ermenegildo Zegna XXX Sweater, pants
"It has been a very tough year for everyone for obvious reasons. I wasn't able to see my family for most of 2020, which was tough. I found myself feeling pretty homesick. Home for me is New York City, so it was hard to be in Los Angeles the whole time. The high was finally being able to see my parents and sister."
Golf and books were temporary respites as Landi sought to make the most of the extra time on hand. Apart from perfecting his drives and learning the differences between woods and irons, Landi devoted time to read more. "I started taking [golf ] lessons since my mom is a huge golf fanatic," quips Landi. "I had a lot more free time due to COVID-19 so I decided to make use of that time and try to learn new skills." "My dad is a great writer and published poet. He's always recommending new books for me to read. The last book I read was The Subtle Art of Not Giving a F*** by Mark Manson. I highly recommend it."
You probably would not have noticed but a fresh IMDb filmography credit was added to Landi's profile as he played the single lead in Doja Cat's latest hit single music video Kiss Me More. The actor who confesses that he is one of those who has to turn around and go back home if he forgets his headphones plays an astronaut meandering through a mysterious pastel-coloured planet to the hypnotising voices of alien queens Doja Cat and SZA.

"Yes, it's my first time in a music video!" exclaimed Landi who was topless in a sultry kissing room sandwiched between Doja Cat and SZA at one point. "Doja Cat and SZA were both very kind and welcoming, the entire experience was surreal!" "I was amazed to see how much work goes into the production behind the scenes. Warren Fu, the director did a brilliant job and it was awesome to see how versatile an artiste Doja Cat is. It was an honour to be the first Asian actor to appear in a western mainstream music video as the leading male. It's refreshing to see them portray an Asian guy in a masculine light and I'm glad the fans felt the same way."
For someone who cannot walk or drive around without music, Lil Baby, the Kid LAROI, Travis Scott, Migos tops Landi's playlist at the moment. "I've been listening to a lot of hip hop and have been bumping a lot of BTS lately. As a half Korean myself, I have so much respect for what they [BTS] have done in the music industry. I've seen Korean culture and food represented a lot more in mainstream media. I would love to be in one of their music videos!"
While we were beginning to scratch the idea of space travel with Jeff Bezos's and Richard Branson's space voyages, Landi was a little apprehensive about the possibility of travelling beyond the atmosphere. "I'm not sure if I'm ready to go to space just yet. I'm pretty cautious about my safety. Maybe I would try it when I'm a lot older. I'd like to live a little bit more before I try doing something like that. I went skydiving, though!"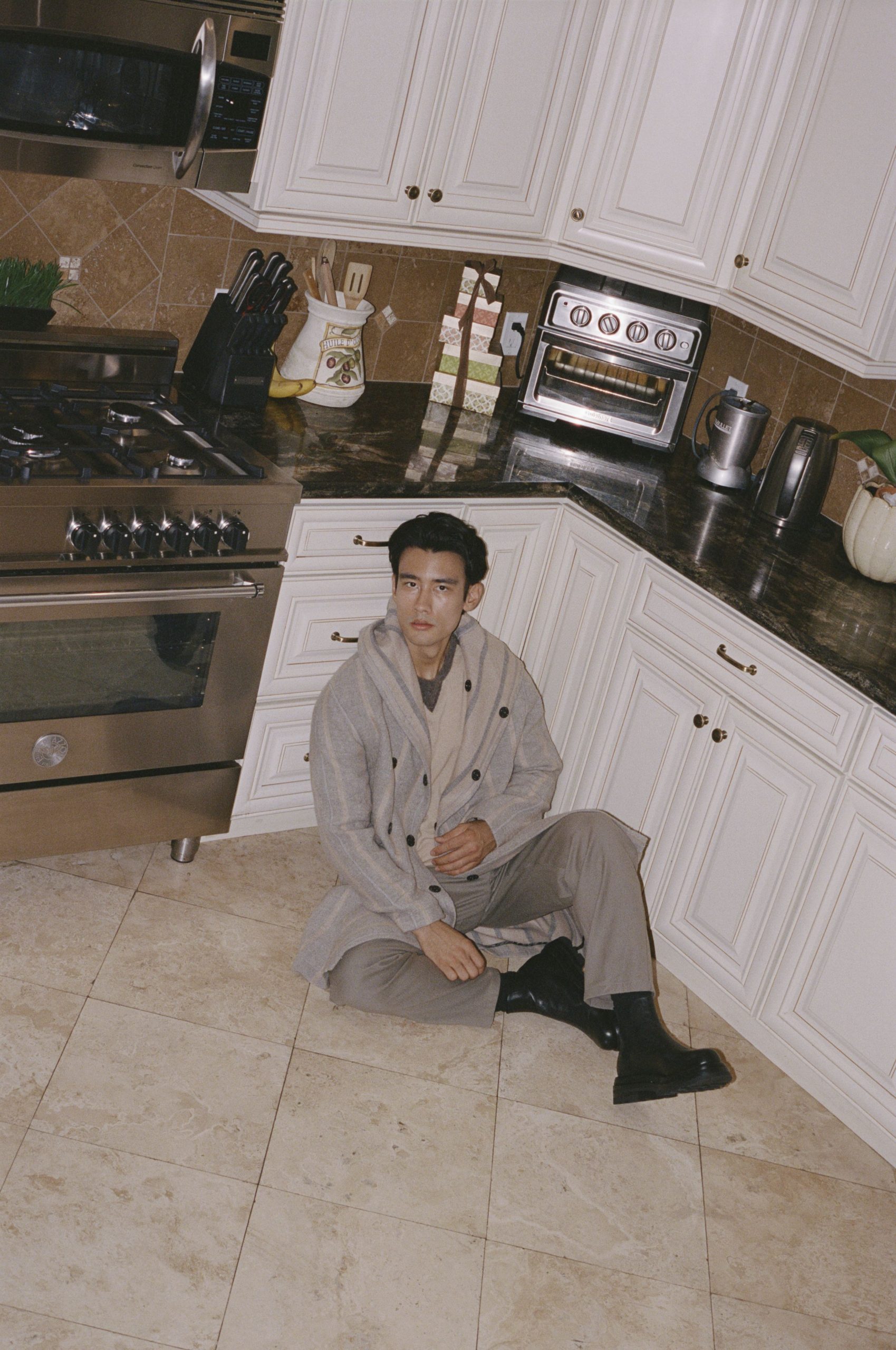 Giorgio Armani Jacket, sweater, turtleneck sweater, pants, boots
It is hard not to mention Dr. Nico Kim when interviewing Landi as it is the breakout character of his career thus far. Between himself and Kim, Landi sees similarities between the two. "I am blunt and straightforward sometimes. Just like Nico, it takes a while for me to trust and open up to people. Because we now live in a world where some people get offended very easily, I appreciate people's honesty and I welcome criticism. That's how we improve ourselves," shares Landi. "A part of me that people don't see in Nico yet is how goofy I am in real life. I love pranking people, especially my best friend. Of course, it sounds silly but I think it's important to laugh and have a good time. I'm a child at heart."
"First off, to anyone reading this: I hope you and your loved ones have been safe and are in good health."
Armed with nothing more than a few small features under his belt, Landi made his Grey's Anatomy debut in the 2018 episode "With a Wonder and a Wild Desire". Plucked from obscurity and tossed straight into one of ABC's most endearing series, the young actor found himself treading water in the deep end alongside Ellen Pompeo and James Pickens Jr. on the set of Grey Sloan Memorial Hospital. Since then, Dr Nico Kim has endeared himself to fans of the series and earned himself the title of Dr McSteamy.
"I had booked a red-eye flight immediately from NYC to LA because I knew there was a chance they would pick someone else. It was only a few hours after the callback when I received the news," recalls Landi. "It was a feeling of euphoria like all my hard work has finally paid off. I went to LA with only a backpack so I had to buy all my clothes again since we started shooting the following week! I am extremely grateful for what Grey's Anatomy has done for me.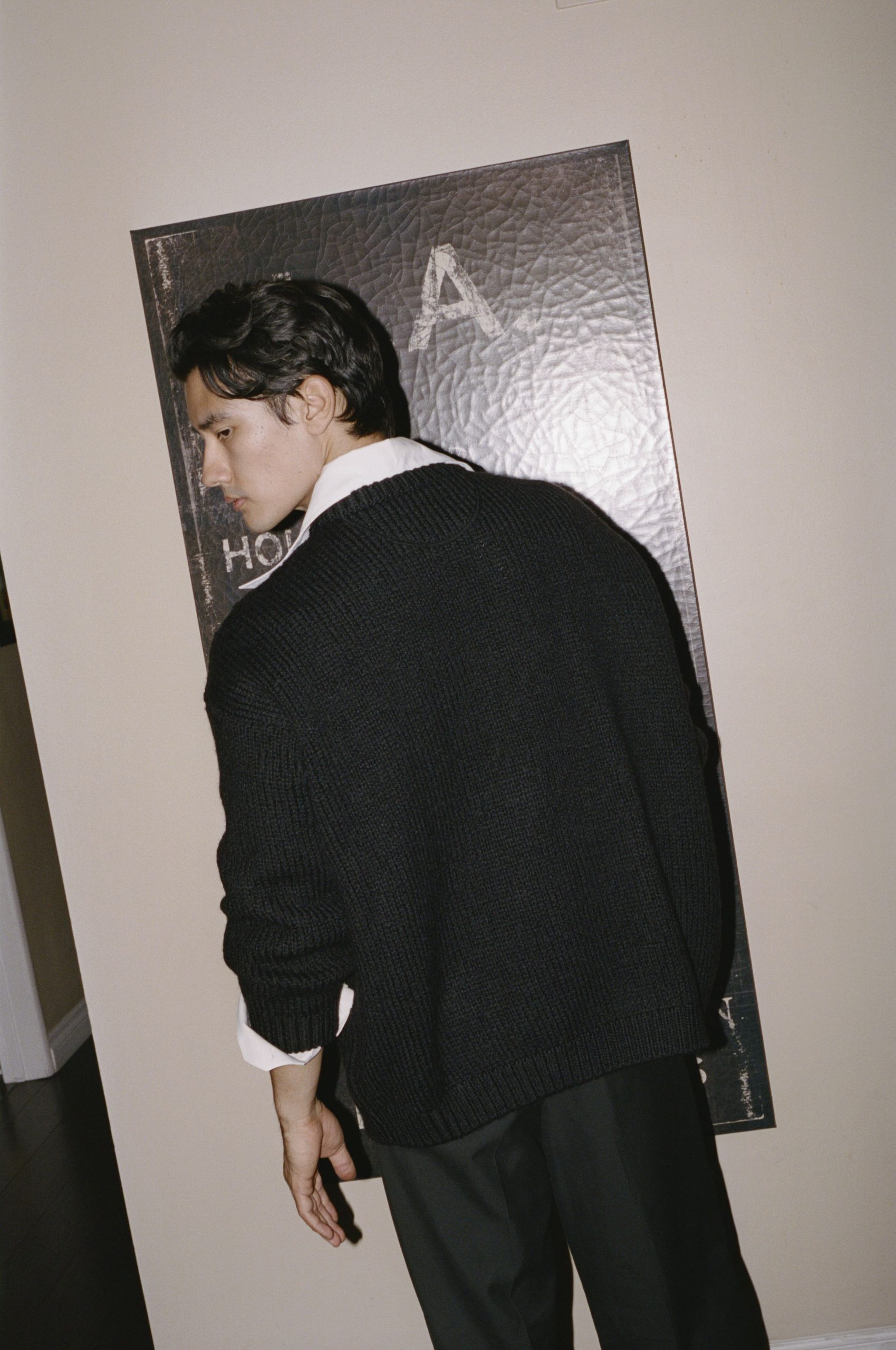 Valentino Sweater, shirt, pants
The introduction of Dr Nico Kim was lauded as a turning point for LGBTQ+ exposure in television as he was portrayed as an openly male gay character in a relationship with Dr Schmitt. "I certainly hope it opens the path for more LGBTQ+ exposure," remarks Landi. "It's crucial for everyone to be represented in the media. Let's also not forget about Callie and Arizona. They did an amazing job as well!"
36 episodes into Landi's Grey's Anatomy journey, he still pinches himself at times after being cast as an Asian doctor in the series. Following Sandra Oh's departure after amassing 221 episodes, garnering numerous nominations and winning multiple awards including the Screen Actors Guild Awards and Golden Globes while playing Dr Christina Yang, there was a diversity gap in the series. Landi's arrival was meant he was Dr Yang's successor in the series.
"I'm going into my fourth season and I don't think it has sunk in yet. I'm proud and honoured to represent our Asian community. I want to thank the cast, crew and fans for such a warm welcome." "I noticed an increase in opportunities after the release of Crazy Rich Asians back in 2018. I think the success of that movie helped Hollywood understand that there is a real immense interest in Asian storytelling and culture. Jon Chu, Kevin Kwan and the whole cast did an amazing job. I'm glad to be a part of the movement and I would certainly love to be in the sequel."
Hermès Shirt, trousers; Salvatore Ferragamo Boots; Harry Winston Watch, necklace, brooch
Since scoring Grey's Anatomy, the part Korean and Italian actor has made appearances in its spinoff Station 19, ditched his medical scrubs in an American crime drama reboot Walker and flaunted his chiselled body as a pre-med and pre-law student/stripper in Insatiable. "My parents have been supportive of me since day one. They are my #1 fans — I can't thank them enough for what they've provided for me. On the other hand, I did face some scrutiny from a few of my so-called friends growing up. A couple of them laughed when I told them about my dreams, so I cut them out of my life and pursued them anyway. And here we are now."
"There are a few projects in the mix right now, but of course, I can't say anything!" "I'm particularly interested in playing a villain in the next project I do. It'd be different and exciting. I think I will make a great bad buy! [Smirks]"
Credits:
Photography: Cameron Postforoosh; Words: Asaph Low; Styling: Jungle Lin; Grooming; Tami El Sombati
Alex Bandi wears Prada on the cover.
In the light of the current lockdown in Malaysia, we would like to extend a free subscription to our latest issue on Magzter.com. You can redeem with the code [MFMY21] on www.magzter.com/coupon/redeem now.