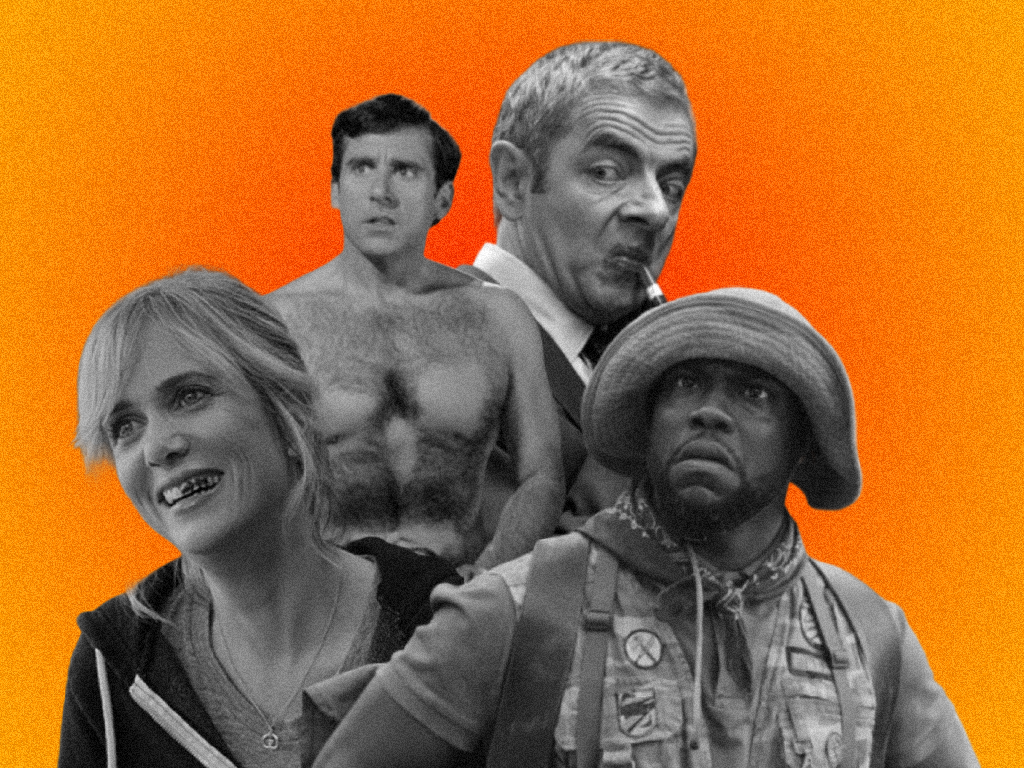 This carefully curated list of the best comedy movies on Netflix will offer you the laughter you need right now. The thing is, let's keep it 100, we could all do with a bit of sunshine. From parody comedies that will leave you laughing until you cry out at gross out antics to rom-coms that set you chuckling politely at a witty satire, this is your to-watch list.
Get Smart
In the world of covert intelligence, only one man is Smart. Maxwell Smart, the novice agent, is often out of his depths but never out of option in this action comedy. Starring Steve Carmelo, Dwayne Johnson and the one and only, Anne Hathaway.
Jumanji  Welcome to The Jungle
This American fantasy adventure comedy film plays with a lot of emotions, but mostly it keeps you in stitches. The new take of the 1995's Jumanji explores four students who are trapped as their avatars in a magical video game world, and to escape they must finish the game. 
About Time
What would you do if you had the power to travel back in time? For Tim, he uses this special ability to pursue his romantic interest, Mary. But don't get fooled by the poster, this movie is nothing like other typical rom-com movies you have watched. 
White Chicks
No matter how many times you've watched this movie, the jokes never get old. From the director of Scary Movie, this gender-bending, gut-busting comedy is going to, and will always get you split your sides. 
Bridesmaids
The 2011 comedy starring Kristen Wiig and a group of equally hilarious actresses, takes you to the life of Annie, a jobless woman who is asked by her best friend, Lilian to be her maid of honour. Issues evolve, when she ruins the wedding events in a rage due to her conflict with one of the bridesmaids.
Johnny English Reborn
Parodying the secret agent genre and James Bond franchise, Johnny English Reborn is the sequel to Johnny English (2003), and stars Rowan Atkinson, reprising his role as the titular character as a bumbling British top spy. Just saying, Gillian Anderson is also one of the cast.
Sex Tape
Just because they want to get their affection to one another heated up again after 10 years of marriage, Annie and Jay decided to record themselves trying out every position in "The Joy of Sex," which seems like a great idea at that time – until they discover that their private recording has gone wild on the internet. 
The Babysitter: Killer Queen
Yes, you got that right. That's Emily Alya Lind from Gossip Girl, but her character in this movie is nothing near to Audrey. In the second chapter of the black comedy horror film, she plays Melanie, a former best friend and love interest turned arch-nemesis of Cole Johnson.
The 40 Year-old Virgin
At age 40, there's one thing Andy hasn't done, and it's really bothering the sex-obsessed guys at work, who then set out to help him to get laid. Starring Steve Carmelo (again), Catherine Keener and Paul Rudd.
The Tourist
Some say that this movie is never intended to have any value. It's role purpose was to cash in on the star power of Johnny Depp and Angelina Jolie. Ignore the reviews, anything that has both Johnny Depp or Angelina Jolie in the same poster, we're happy.