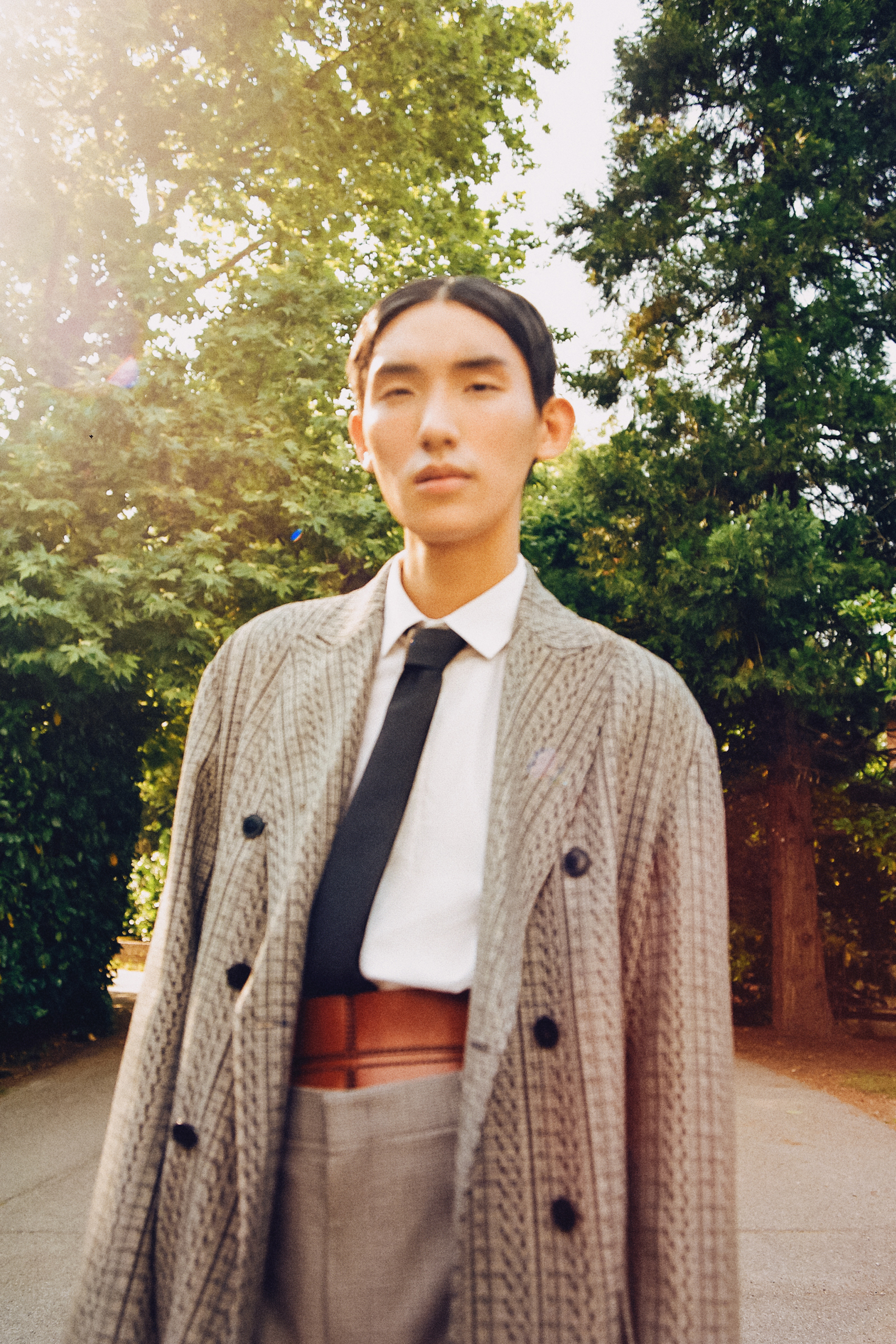 Gracing our cover this month is Jun Young, a rising star among the new wave of Korean models who's taking the international runways by storm. Cited as one of the 16 breakout male models in 2019 by models.com, his career has propelled to new heights ever since, commanding the runways of Dior, Hermès, Loewe, Berluti and Stella McCartney, just to name a few.
We asked him 20 quick-fire questions about his favourite fashion photographer, skincare tips and more.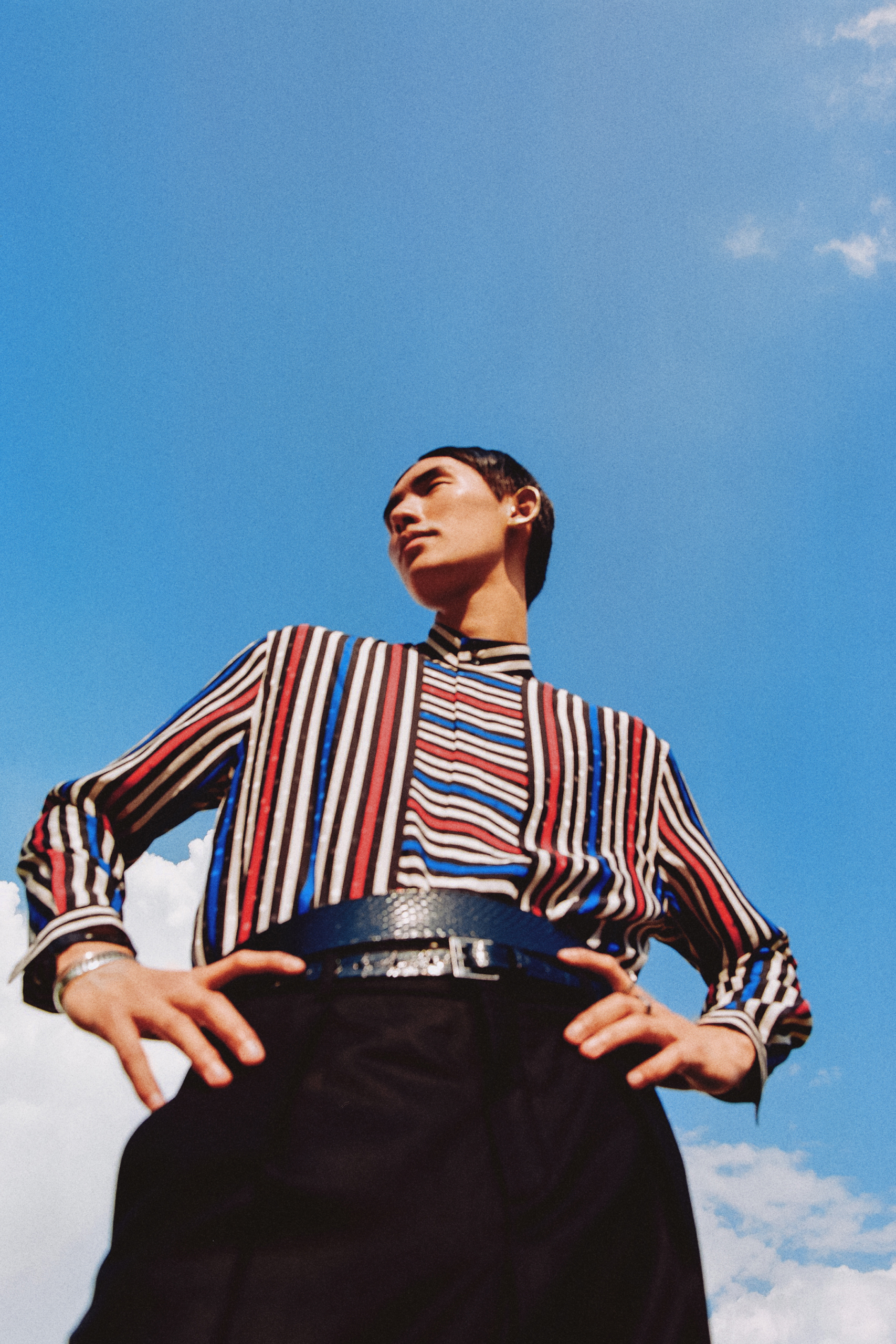 Saint Laurent by Anthony Vaccarello Shirt, trousers, belt, bracelets, rings; Inan Studio Belt
How were you discovered?
My middle school teacher suggested that I give modelling a try.
What is your biggest gig to date?
Zara campaigns, I have done three so far.
When was your first major fashion show?
In 2019, I walked for Ermenegildo Zegna show at Milan Central Station. It was an amazing experience.
What is one piece of advice you would give to someone about to begin a career in modelling?
Be confident and surround yourself with positive people.
What has been the most rewarding moment in your career?
The time when I went to the department store with my parents and my picture was hanging up on the wall.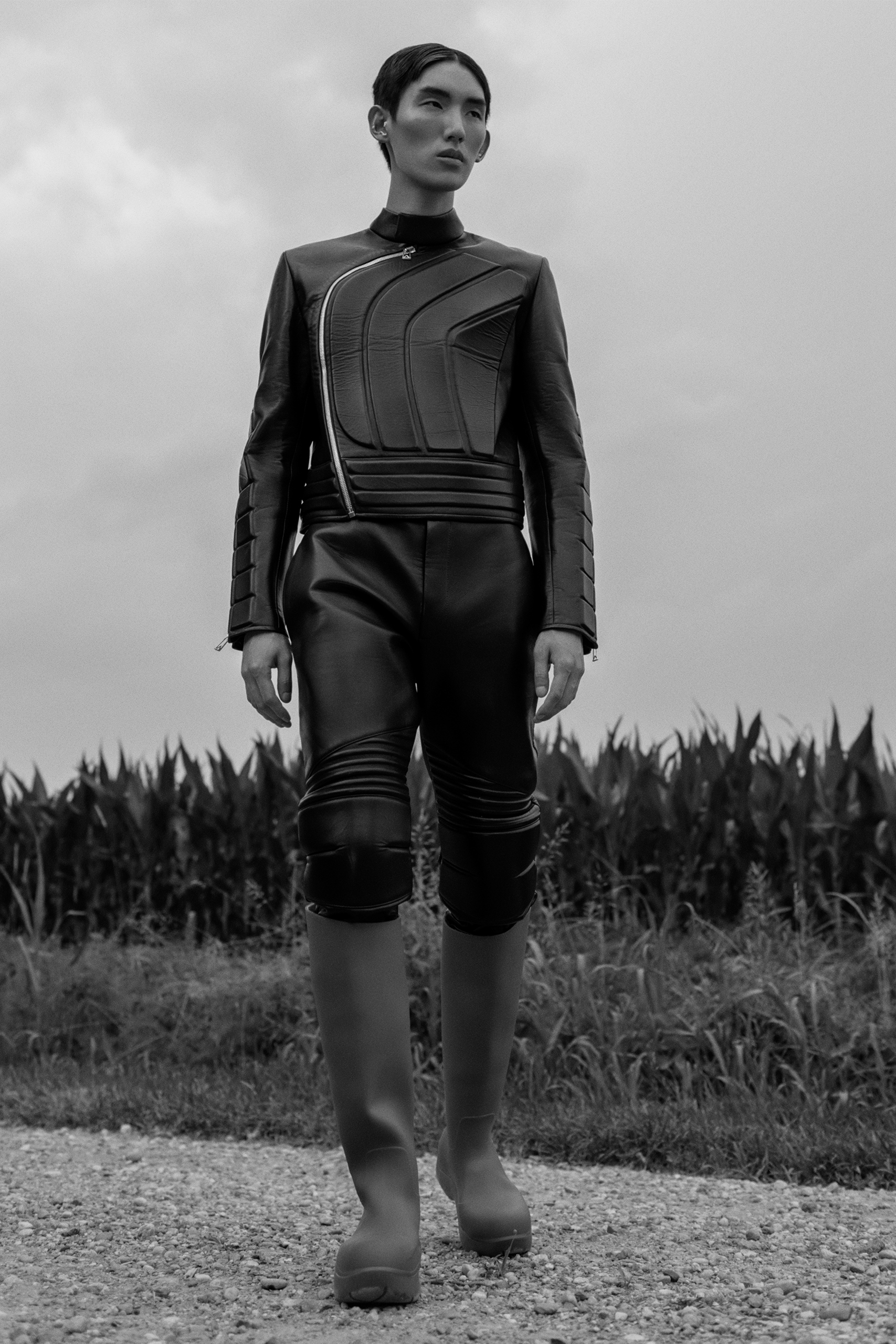 Bottega Veneta Jacket, trousers, boots
Who is your favourite photographer – and why?
My favourite photographer is Craig McDean because he is so kind and has so much energy.
Has your passion for modelling changed over time, especially since the pandemic?
I still love what I do a lot, although I haven't been able to do as many shows as I'd like to.
Describe your perfect day off when you're not modelling.
Meet up with my friends for drinks or go out with my girlfriend.
What is the one skincare tip you swear by?
I don't eat chocolate because it makes my skin feel irritated.
What do you do to stay fit and healthy?
I ride a bicycle or play soccer at least twice a week.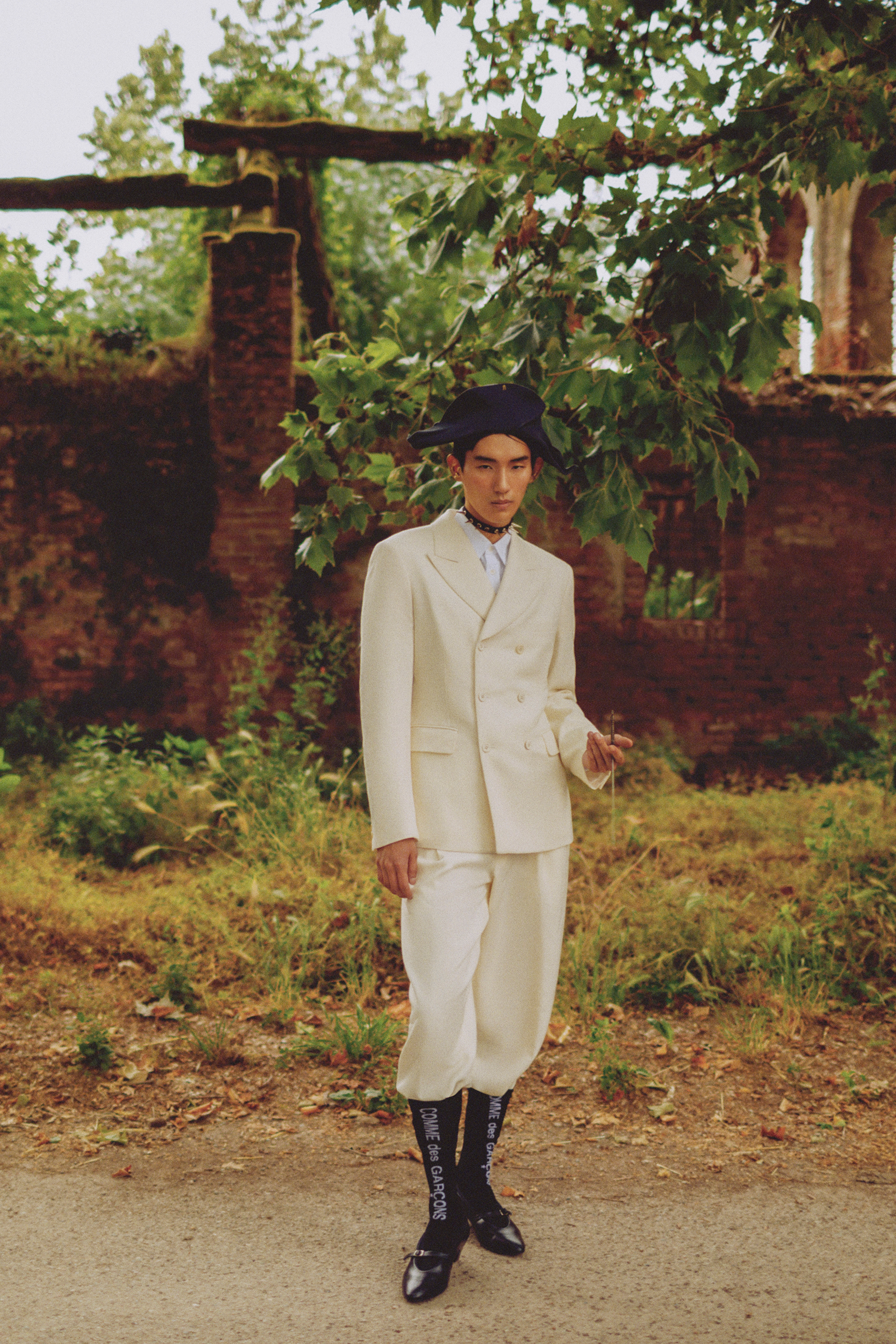 Comme des Garcons Jacket, shirt, trousers, socks, shoes; Atelier Amaya Choker; Bonfilio Hats Hat
What is your go-to daytime outfit?
A simple, clean, crisp shirt.
Name three things on your bucket list.
Watch a Champions League final live, travel to Europe with my parents, try skydiving.
What are your three favourite places in Korea?
Seoul because there are so many things to do there, the beautiful Dokdo Island, cafes.
Which three songs are you listening to on repeat right now?
Dynamite by BTS, Kill This Love by Blackpink, Break My Heart by Dua Lipa.
Which three Instagram accounts should we be following?
@modelsdot, @433, @youjustcallmejun.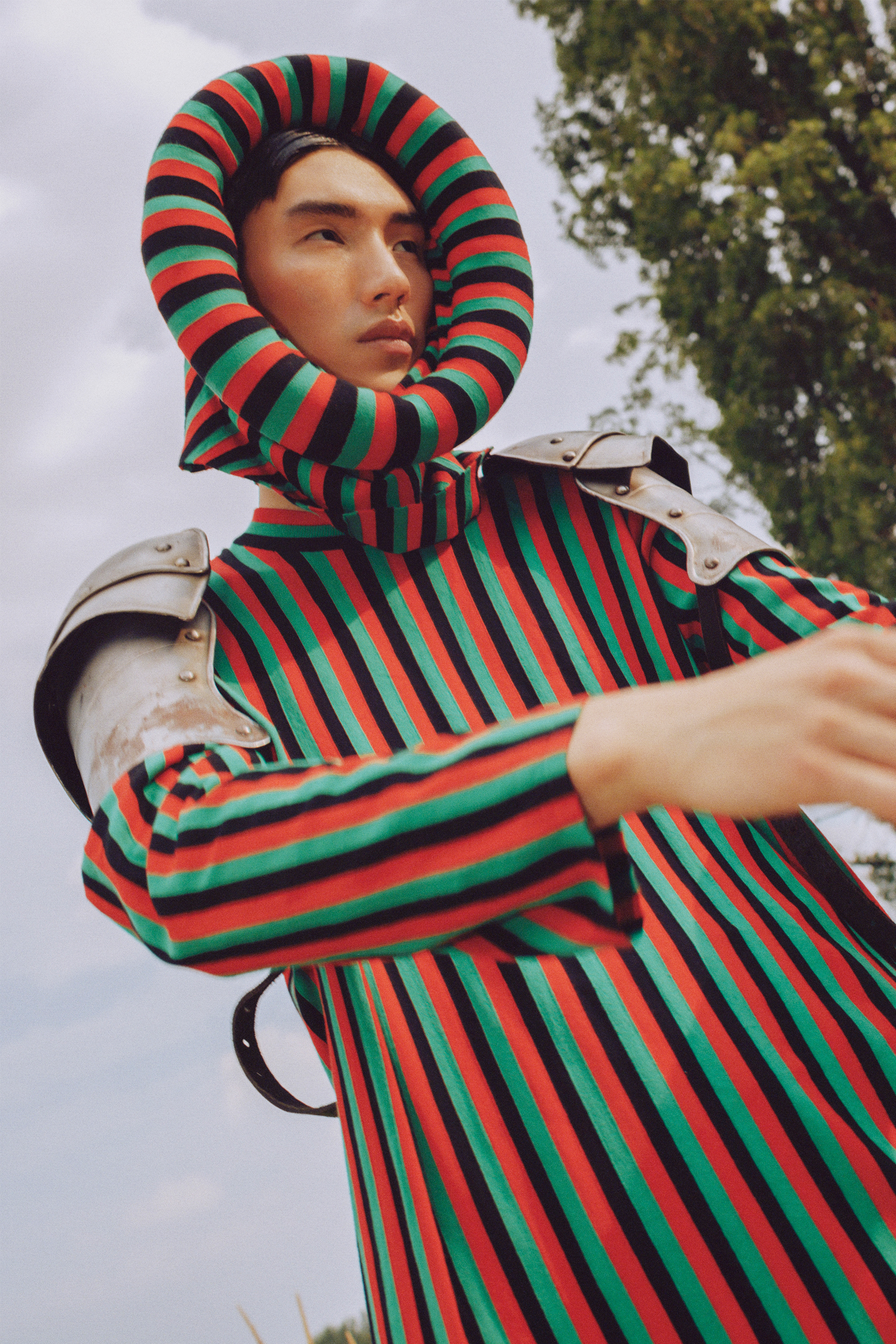 Kenzo Jumper, shorts, boots, snood; Atelier Amaya Pauldron
Do you collect anything?
I buy a soccer uniform every time I come to Europe.
What is your favourite season?
I love winter because I get to dress up.
What is your favourite drink?
Latte.
What about food?
It's got to be Korean barbecue.
If you could go back to the past, would you?
Yes. I want to go back to when I was in high school because it was so much fun.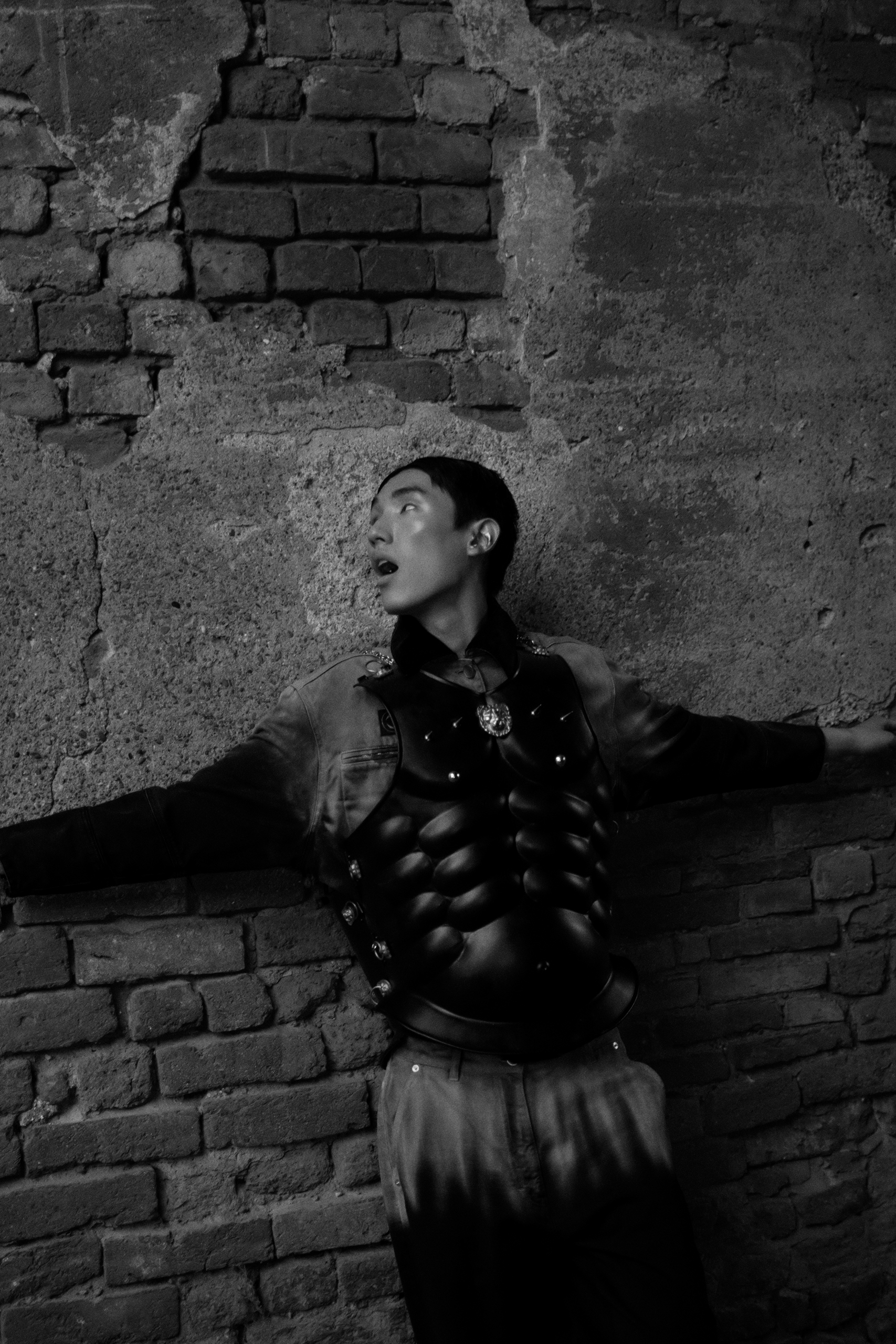 Roberto Cavalli Jacket, trousers; Atelier Amaya Corset
Credits:
Photography: Giuseppe Vaccaro (@gvcr_photographer); Styling: Mirko De Propris (@mirkodepro); Creative Direction: Ivano Mansueto (@ivanomansueto_); Words: John Ng; Hair: Piera Berdicchia (@pierab_hair_); Make-up Artist: Nicolò Iovino (@nick.chiron); Casting: Mattia Marazzi (@mattiamatthewmarazzi); Booker: Marianna Raota; Retouch: Alberto Maro (@alberto__maro); Stylist Assistants: Domiziana D'Onghia (@domizianadonghia), Simone Morelli (@simoneemme), Silvia Marri (@silvia_marri); Movement Assistant: Adriana Recchia (@adriana_recchia);Model: Jun Young (@youjustcallmejun ) / Why Not Models; Location: Peschiera Borromeo – Piazza Castello
In the light of the current lockdown in Malaysia, we would like to extend a free subscription to our latest issue on Magzter.com. You can redeem with the code [MFMY21] on www.magzter.com/coupon/redeem.