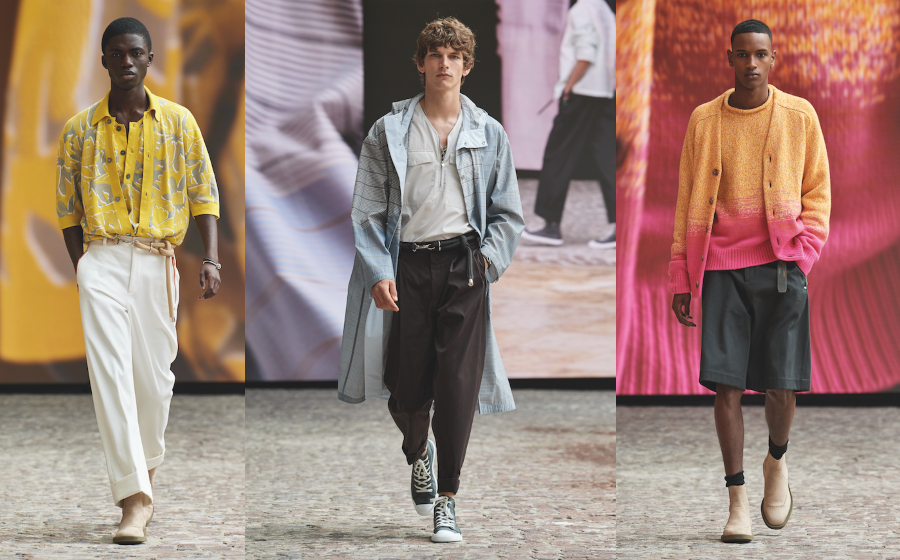 Lingering shots, smooth pans and an in-the-flesh-like appearance, French director Cyril Teste, is back for the Hermès Men Summer 2022 show.

Let it be frankly known that we don't watch Hermès shows for big grand ideas, we watch it to telegraph what everybody wants to wear next season instead. In magazine terms, it's the "solid menswear ideas" that will literally fly off our pages (or site, actually) into shopping bags and into wardrobes. However, that is not to say that Véronique Nichanian — the artistic director behind Hermès's menswear — is not capable of the fit and flou of doing menswear.
We'd like to think that the Hermès Men Summer 2022 show is a palate cleanser of sorts. A refreshing shot of Crème de menthe after a particularly heavy meal or jumping into a cold body of water on a hot Summer day. Think of it this way, it's like listening to Claude Debussy after going to an EDM concert. If Prada was all about thumping warehouse beats and Dolce&Gabanna, a kaleidoscope of noughties pop music, then Hermès is akin to the gentle tinkering of ivory keys. Some of the menswear shows this season were a joult and a slap but the Hermès Men Summer 2022 show was a tender kiss.
—
View this post on Instagram

"Suffused with optimism and energy, this creative collection is bursting with the vitality of a world reclaimed," reads a statement from the show notes. This vitality however, isn't tied down to youth. Instead, it's a vitality that comes from the micro trends in the Hermès Men Summer 2022 show — small little details in a tight curation of 41 looks that are as novel as they are game-changing. One's eye has to travel though. While materials like toilovent (tightly woven nylons), cottons, lambskin and plume calfskin are the usual fare, the devil is in the details.
A pullover comes with a Tunisian collar in linen and silk, soft structures that gently caress the neck. Parkas are reversible like last-season, a nod to last season's jackets and the theme of the Hermès Men Summer 2022 show — Double Game. Also consider the appeal of micro trends that change up one's silhouette like a shirt tucked laissez-faire or socks bunched nonchalantly over a pair of boots. Each look has a simple secret, invisible to the eye (but really, we recommend watching the show at least thrice) but if one has harnessed this Hermès way of living, he's guaranteed a closet of the breeziest separates from the season.
Here, our 10 favourite looks.
—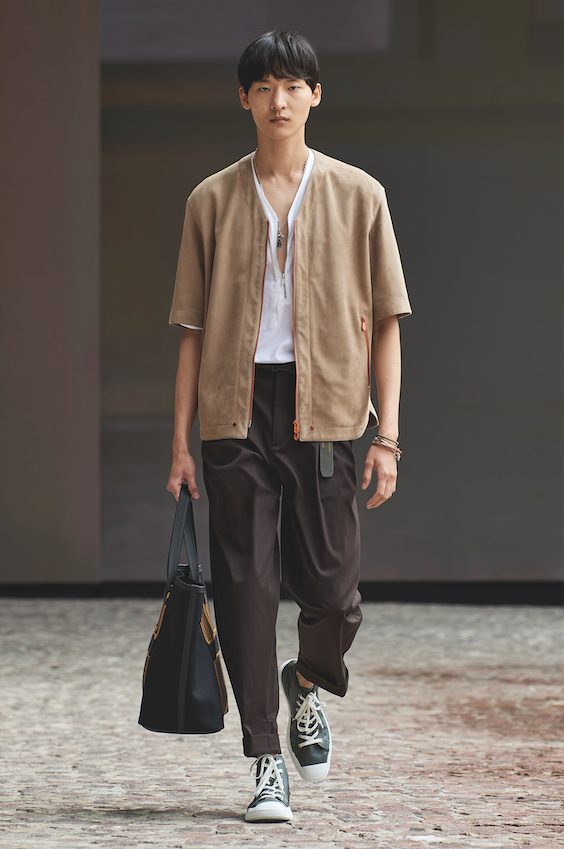 Look 2: Like we mentioned, the Hermès Men Summer 2022 show is all about micro trends. In the case of this look, it's the collarless jacket that doubles up as a shirt.
—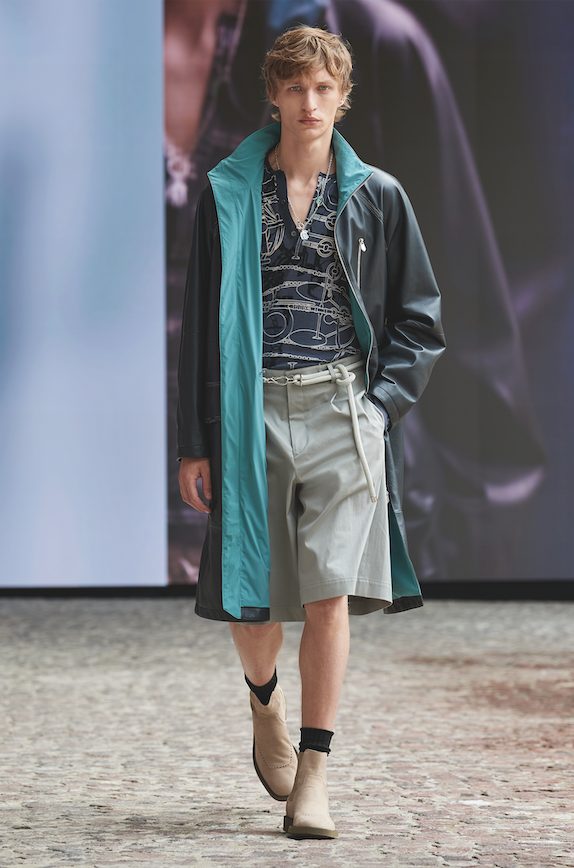 Look 7: Another micro trend (or two) spotted, the sailor rope belt and shorts that actually make sense. For the latter, we believe they're called bermudas.
—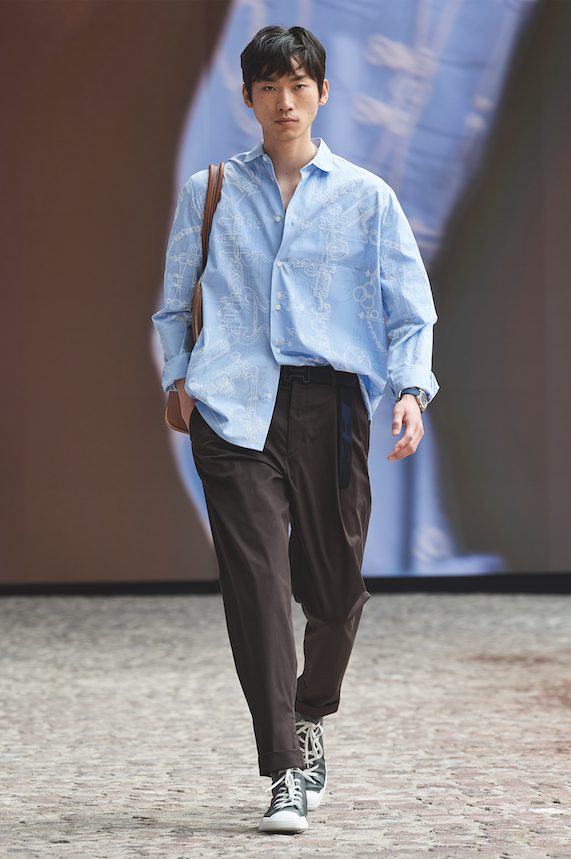 Look 10: The Hermès man this season has no time for precision or fussiness, he half tucks his shirt in and slings a bag on his way out — a modern attitude for a modern man.
—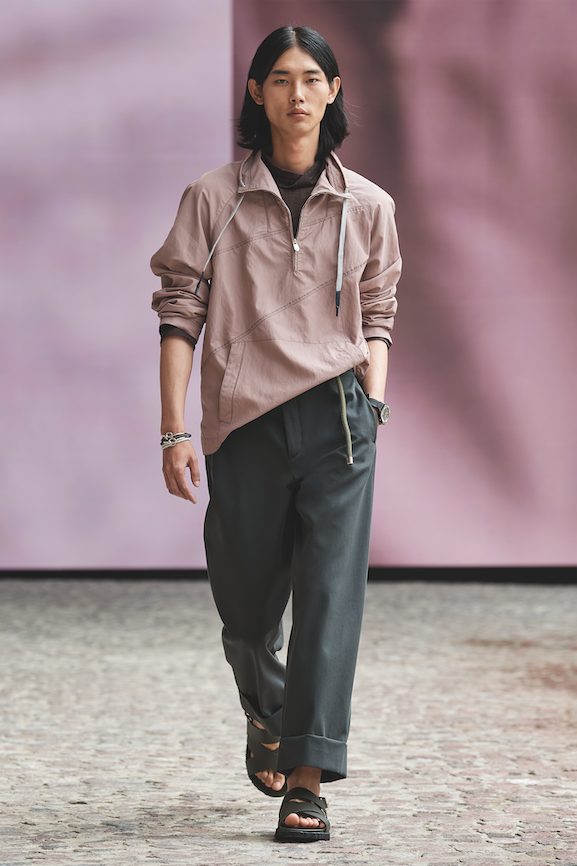 Look 13: The specific colour of this hoodie is "greyish pink", a new neutral of sorts proposed by Nichanian that plays well along with "tender green", "celadon-green", "pale blue" and "bright yellow."
—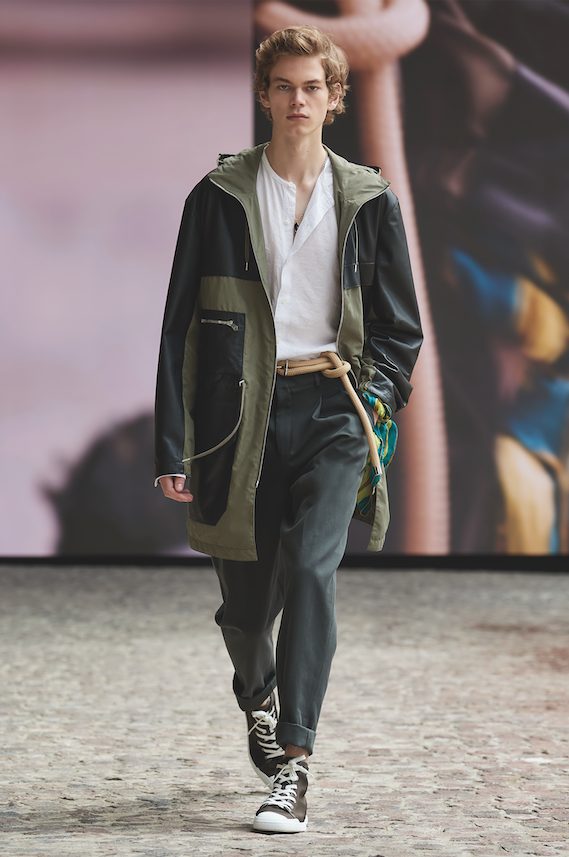 Look 19: Every season, we look to Hermès for an idea on silhouettes. Come Summer 2022, you're going to be wearing a lot of parkas and louche trousers rolled up at their hems.
—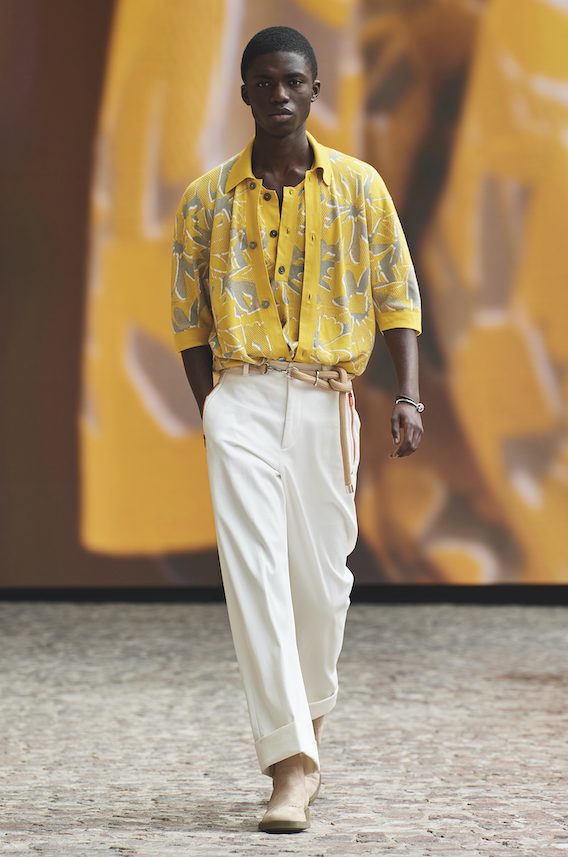 Look 22: Another genius of Nichanian is her ability to subtly story tell in her clothing. This look in particular works in "Stealing Beauty" as it will in "A Day In the Country".
—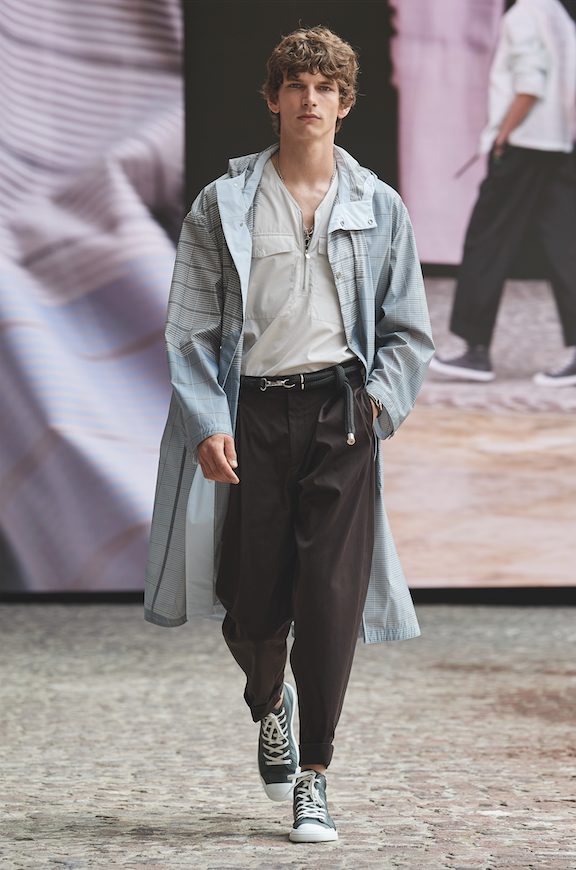 Look 26: Another micro trend from the Hermès Men Summer 2022, a gossamer-thin parka that's friendly in the tropics but hard-wearing when rainfall comes.
–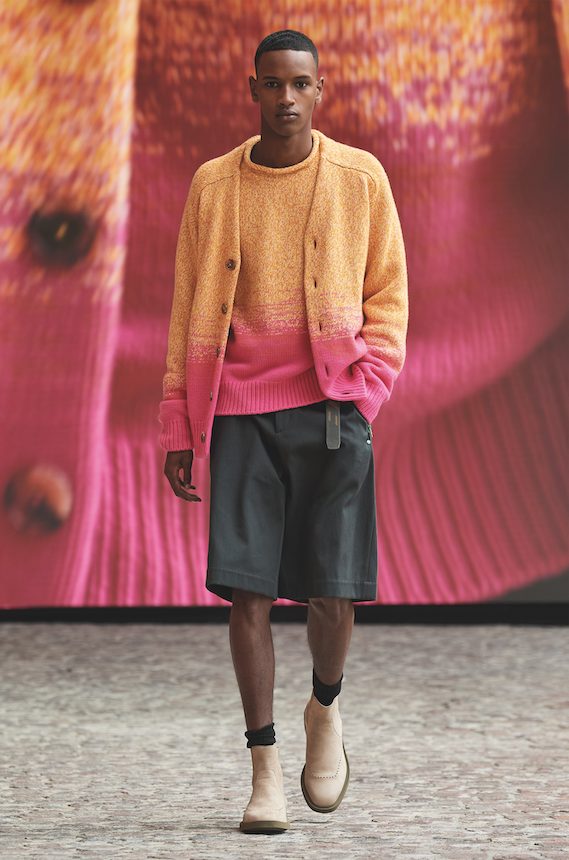 Look 28: The optimistic colours of the horizon once the dust settles, a creamy orange and a fuchsia pink.
—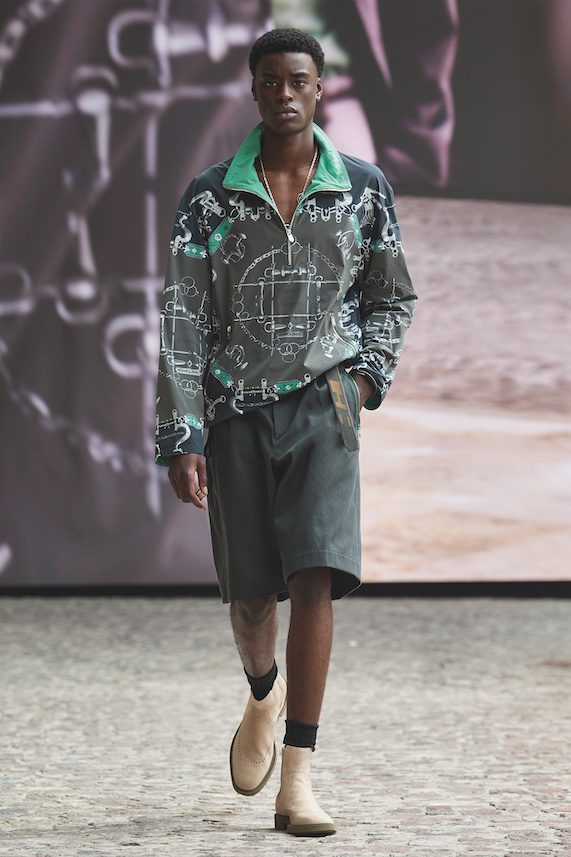 Look 30: One of the micro details from the Hermès Men Summer 2022 show that lives up to its name is the peek of a belt under an oversized upper-something.
—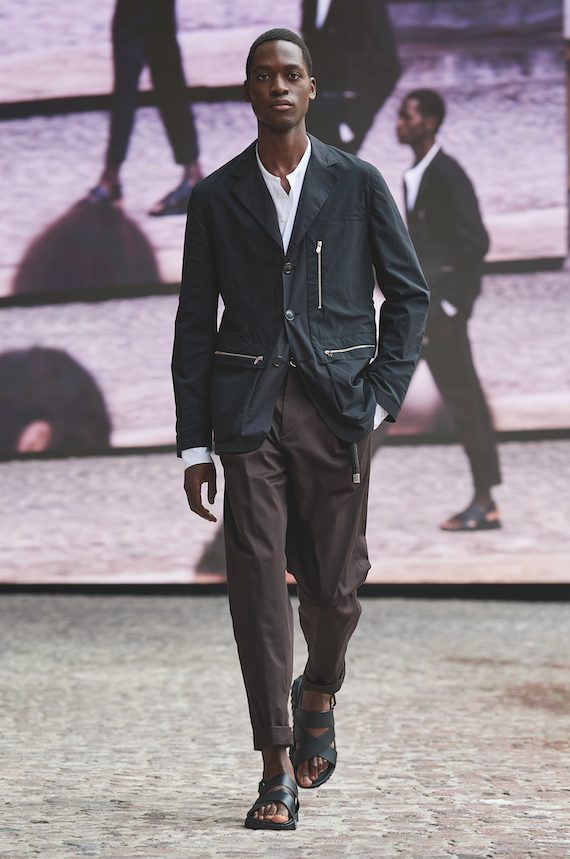 Look 41: We saved the best for last, this jacket is reversible for one's needs. Worn as it is to go hands-free and inverted if one wants a dialed-down look.
Runway image credits Filippo Fior. 
Once you're done with our review of the Hermès Men Summer 2022 show, click here to catch up with our June/July 2022 issue.