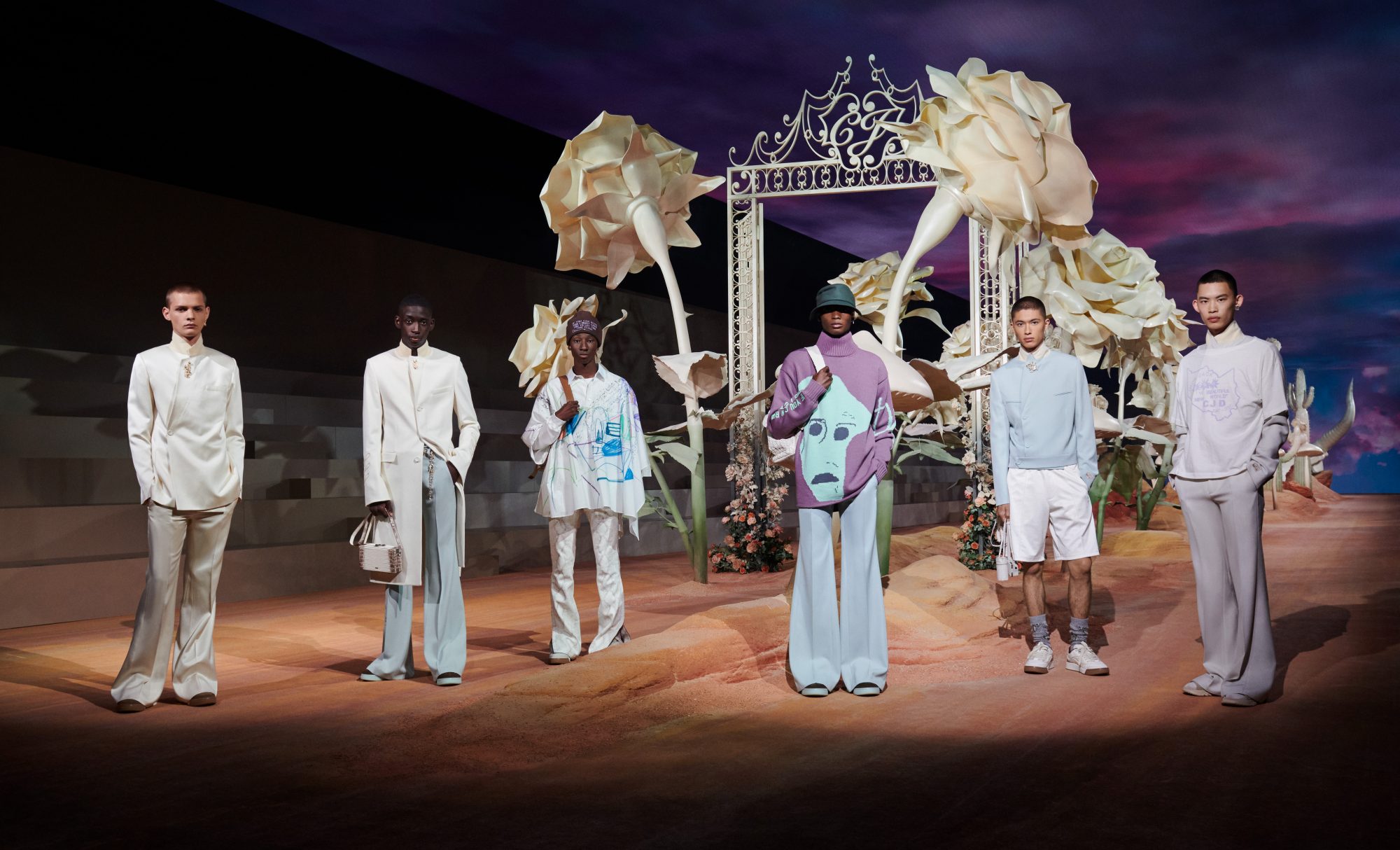 Dior Men is no stranger to artist collaborations in their collections — Amoako Boafo, Daniel Arsham and Shawn Stussy to name a few — but the Dior Men Summer 2022 collection might just be the most fully-developed one the House has seen. Bringing to centerstage is Travis Scott, the American rapper who has become one of the most forefront global cultural icons.
Dior Men artistic director, Kim Jones has been contemporising the storied French Maison with American influences since his appointment while the collections consistently hark back to the founder, Monsieur Christian Dior's history of business in America. However for the Dior Men Summer 2022 collection, the source of inspiration is exacting — Texas, one of Monsieur Christian Dior's stop in his journey to America to celebrate his debut collection in 1947. The narrative clicks right away with Texan-born Scott — bringing contemporary Texas to Paris.
The Dior Men Summer 2022 show takes place in a recreation of Monsieur Christian Dior's childhood rose that transits into a cactus garden to reflect Scott's native landscape. The soundtrack that provided the ambience to the collection is also a tease to several of Scott's upcoming releases.
"Cactus Jack Dior" is the title of this Dior Men Summer 2022 collection, which draws its name from Scott's Cactus Jack Records label. As per previous collections, the artist-in-residence brings some art into the collaboration. Scott reworked the iconic Dior Oblique to spell out "Jack" and introduced several ghoulish motifs. Continuing on the trajectory of traditions, the monogram has also been reimagined for the Dior Men Summer 2022 collection — a diamond "CD" monogram, which can be traced back to the 1960s archives. The iconic Toile de Jouy has also been thematically reimagined with cactus.
At this point, one might think the Dior Men Summer 2022 collection is a reiteration of the classic American West but he could not be more wrong. Tailoring underpins the collection (as it should to reflect the savoir-faire of the House) where a modern rapper's wardrobe clashes with his traditional roots — track pants are cut slim at the thighs and flared downwards to the leg, then embellished with couture detailing; T-shirts are washed to resemble tour merchandise, then embroidered and hand-painted. The Tailleur Oblique suit jacket fastens high on the body to slim and lengthen the silhouette, which draws imageries of masked heroes and villains in old Wild West movies.
The Dior Men Summer 2022 collection is built on a palette of black, mauve, neon green, pale blue and earthy brown tones — piercing excitable introductions amidst comfortable knowns. Jones has always been regarded for his keen sensibilities for dressing men for the now and this collaboration between creator and muse is a great exercise on commerciality that has been fully-developed to provide creative diversity.
This story first appeared on Men's Folio.