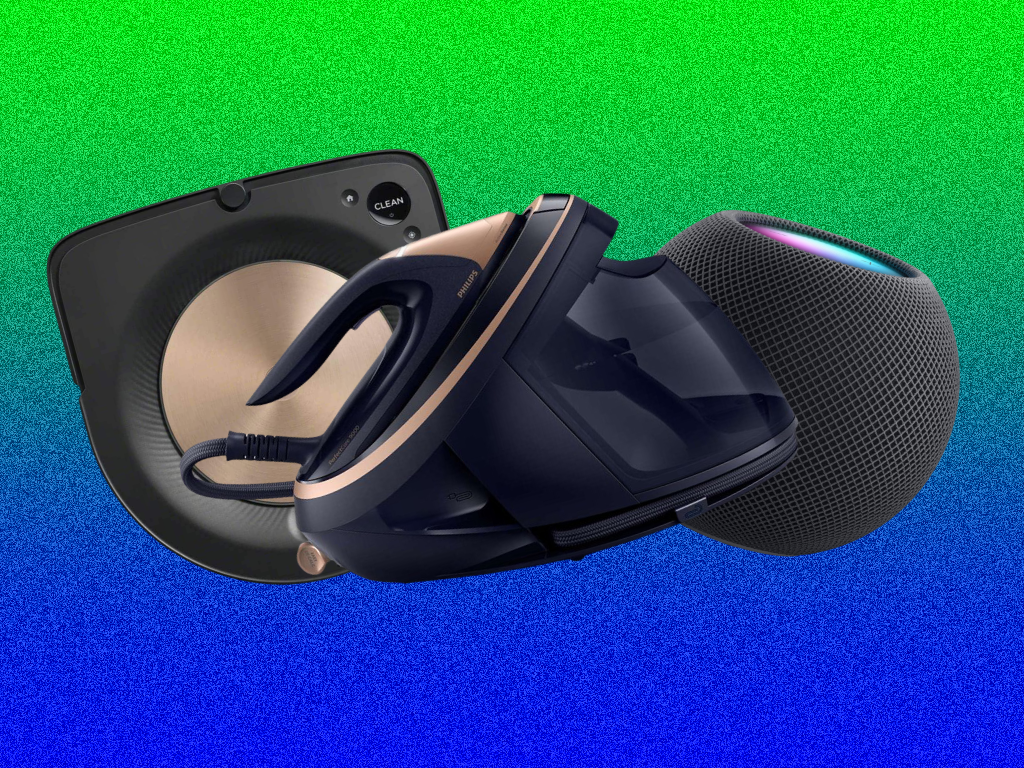 We feel like the smart home devices are an essential part of the 21st-century abode. With them installed, you can turn on your air-conditioner, lock your doors and play music with a simple voice command – creating a functional environment  with a sense of digital zen. To what extent you investments really depend on your preference. And to ease your task of choosing the right products, we've done the leg-work – from a speaker that turns into a virtual home assistant to a self-sensing steam generator iron – these are worth every penny.
Philips PerfectCare 9000 Series Steam Generator Iron
Philips always scores the best for its revolutionary home appliances and the PerfectCare 9000 Series is no exception. The newest steam generator iron is fixed with Philips' very own fabric sensing technology called ActiveSense that adjusts the temperature and steam amount based on the fabric you're ironing. Fascinating but that is not all, wait until you hear about its unparalleled safety features. The latest PerfectCare 9000 is pre-installed with a fast-cooling system. This means, even when you unintendedly left the iron resting on your clothes or iron board the cooling system will automatically adjust the temperature, and – if left longer – it turns off on its own. The iron is equipped with SteamGlide Elite soleplate – the very best stainless steel base in a steam generator iron that is twice as hard as a regular aluminium base –  along with a patented 6-layer titanium coating, delivering easy-peasy glides with excellent results. Although the entire machine looks a bit bulky the iron is amazingly light and comfortable to handle that you can make it into a vertical steaming for curtains and hanging clothes without even straining your wrist.
Apple Homepod Mini
This latest, more compact than its predecessor smart speaker by Apple is a powerhouse. The HomePod mini integrates a breakthrough speaker with a high-fidelity audio system with features that enable you to take charge of your other smart home devices via voice control. Imagine how convenience it is when you can ask away Siri to set up the coffee machine in the morning, adjust the room temperature, turn on and off the light or maybe read you updates on the local news. The easy setup is a bonus point.
Whirlpool Supreme Care FSCR12441 Washing Machine
This is yet another star business from Whirlpool. The Supreme Care FSCR12441 is a top-of-the-range smart washing machine that is loaded with features and looks through moderns, a huge capacity that is up to 12 kg, A+++ energy rating, and performance that is ridiculously quiet. Besides its comprehensive washing and cleaning programmes, you can also connect the machine to your smartphone via the 6th Sense Live App, allowing you to remotely set cycles, schedule washes and monitor the energy consumption for better source management.
Samsung Neo QLED TV
Powered by Samsung's most advanced Neo Quantum Processor, Neo QLED TV marks a new standard for the higher-end sets. The screen lets you see virtually every detail with incredible 4k clarity, butter-smooth 120 frames per second, and a low 5.8ms response time, delivering an ultra-realistic live screen display for anything that you can think of. In addition, the South Korea tech giant collaborates with AMD to develop the first TV with Freesync Premium Pro support for both PC and console games to deliver a truly exceptional HDR gaming experience. Other features include Super Ultrawide View, Samsung Health and Object Tracking Sound system.
iRobot Roomba S9 Plus Robot Vacuum Cleaner
We're not going to deny that the price tag for this tool is a little bit whooping, but looking at its powerful suction, outstanding sensing technology, and superb dirt and dust removal features, you're getting a lot more than just a smart vacuum cleaner for the money. Unlike any other robot vacuum cleaners, the Roomba S9 Plus charges and empties its dustbin automatically at the docking station and takes voice-command control via Alexa or Google Voice Assistant.
Hamilton Beach 12-Cup Coffee Maker
Who would have thought a smart coffee maker would become a kitchen gadget we need until the Hamilton Beach 12-Cup Coffee Maker arrives? This mind-blowing coffee instrument comes with voice control – what better way to prepare your cup of joe every morning? Not only that, the Hamiton Beach 12-Cup Coffee Maker is also integrated with Amazon Alexa, which means you can control it via an app on your smartphone. Other features include Auto Pause and Serve, Automatic Shutoff as well as Smart Cleaning Cycle Reminder, engineered to serve high-quality coffee while ensuring a longer machine lifespan. The contemporary and simple black and silver design allow the coffee machine to blend easily with the rest of the kitchenware on your countertop.
Dyson Pure Cool Cryptomic TP06 Purifying Fan
This is not just another air purifier in the already cluttered market. Dyson Pure Cool Cryptomic T06 is a smart purifying fan that not only breaths cool air but also traps and destroys formaldehyde particles for better indoor air quality. According to the British tech expert, the device is fixed with filters that have a unique catalytic coating with billions of atom-sized tunnels to capture unwanted air particles and convert them into water and CO2, which is then stored in a customise vacuum-sealed container that can easily be replaced. Dyson also went extra miles for this machine by adding a temperature sensor into it and the fan will breathe out warm or cool air depending on the room atmosphere.
Moen U Shower Bathroom Controller
Treat yourself to the most fulfilling bathing experience with Moen's latest smart shower system. Designed especially for early adopters and tech-savvy consumers, this modernistic shower system features hallmark components including digital temperature control, shower timer, and a user-friendly interface. But what really sets it apart is the ability to build into your home setup through the mobile app and Amazon Alexa integration. You can also select from the 12 different shower preset options or simply create your own on the device or via the mobile app.
Breville BOV800XL Smart Oven
Sometimes weekends can be pretty sombre and a boresome. On that note, we suggest for you to relish the therapeutic world of cooking or baking, and if you're getting started Breville BOV800XL Smart Oven is just the perfect companion for you. The toaster oven includes nine cooking functions designed for different types of food. It also integrates the Element IQ heating system that transfers heat across five quartz elements for precise and stable cooking with even distribution. Other convenient feature that enhances the usability includes a slow cooking function, an easy-to-read LCD display and a non-stick activity coating. Happy cooking!
LG Dual Inverter Smart Wi-Fi Air Conditioner
This economical window-mounted air-conditioned is the only thing that you might need when it is scorching hot outside. Besides decent design, as its name suggests, this powerful unit can be connected over WiFi and managed using the smartphone app. This works perfectly for controlling the temperature when you're out, cooling the house so it's just right when you get back. Thanks to the dual inverter technology, the air conditioner runs quieter and more energy-efficient when compared to non-dual inverter models.