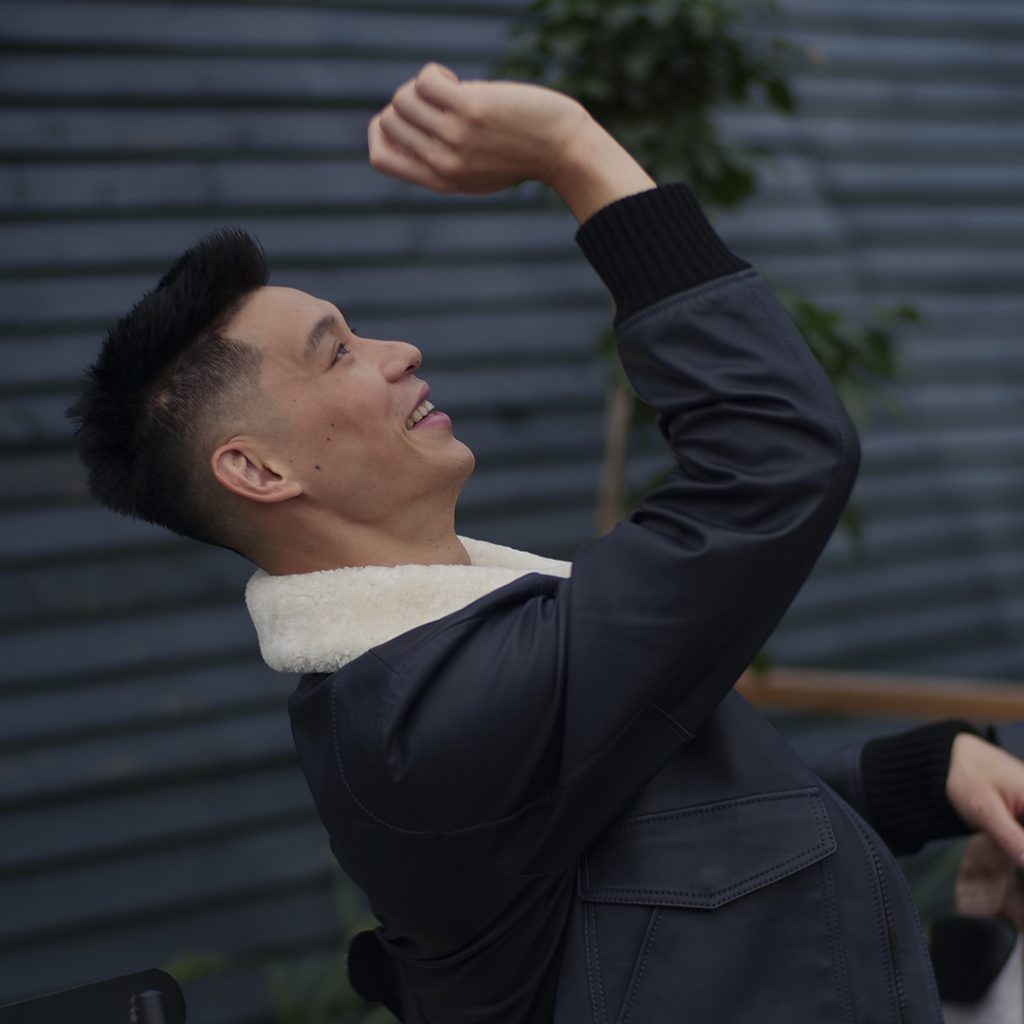 Coach Family
At a time when livelihoods continue to get ravaged by tumultuous circumstances, the importance of family and community is more paramount than ever. With this vision in mind, American design house, Coach announced the Coach family campaign for the fall 2020 collection that sees Jeremy Lin added to its lineup of ambassadors.
As the campaign celebrates togetherness and relationships that withstood the test of time, Lin's brother Joshua Lin and trainer Josh Fan are featured alongside him. Both individuals played important roles throughout Lin's life and basketball career, and continue to do so.
The partnership was Lin's maiden experience with a high fashion brand as he relished the opportunity to express himself in different ways.
"I've never had a high fashion partnership before, and this partnership lets me express and explore my own style. I also hope this can be a fun partnership that brings joy and encouragement to young people out there."
More importantly, Lin views the relationship between Coach and himself as a convergent of shared values. Founded in 1941, Coach takes design approaches with modernity and reimagines luxury with authenticity and innovation with a distinct new york identity.
"We [Coach and I] share the same philosophy and values. Coach believes in chasing dreams, facing challenges with a positive attitude and they also really believe in giving back. These are things that are really in line with my story and that I really appreciate about working with Coach."
Beijing
The date is 17 June 2019. Toronto's famed skyline glistens as its reflection dances gracefully to the lapping waves of Lake Ontario. Huge crowds enveloped downtown Toronto chanting "NBA Champions" and "We the North". The Toronto Raptors were crowned 2019 national basketball association (NBA) champions, Lin paraded the Larry O'Brien championship trophy with his teammates.
Imageries of the celebration fast became a distant memory as the victorious high faded. Lin became an unrestricted free agent soon after. The preceding months were probably one of the lowest points of the point guard's career as he struggled with the reality of leaving the NBA.
As one door threatened to close, another opened. Beijing came calling; a new home beckoned for Lin as the Harvard-graduate announced his signing with China Basketball Association (CBA) Team Beijing Ducks in August 2019. It marked the end of Lin's NBA journey.
Since then, Lin took to the courts like a duck to water (no pun intended) as he averaged 22.3 points, 5.6 assists and 5.7 rebounds per game during his first season in China. "The CBA and NBA are extremely different in terms of the game schedule, gameplay and physicality," says Lin who was hospitalised on the back of his team's loss to the Guangdong Southern Tigers in August 2020. Apart from pains in his neck, knees and ankles, Lin lost his hearing for a short time.
"It was definitely a challenge to adapt to a new country and league, and I'm very grateful for all the fans, teammates and staff that supported me through the transition. My teammates were very welcoming to me and we worked hard to adapt to each other. I'm proud of what we accomplished together this season."
As a professional athlete, the pressures to perform do not relent, especially for a player joining the CBA from the NBA.
"I always try to only play for god alone. When I can do that, things become much clearer and basketball becomes fun again."
"I've had pressure to live up to expectations in my entire career but I learned a long time ago that if I play for others, I will always fail and play with too much of a mental burden," adds Lin.
It was obvious what the expectations were, or case in point was — Linsanity.
Linsanity
The wheels of Linsanity were set in motion one fateful night on 4 February 2012 as Jeremy Lin and the New York Knicks signed off in style against the New Jersey Nets. Six nights later, the New York Knicks defeated the Los Angeles Lakers — led by the late Kobe Bryant — 92-85. That night heralded the start of a global phenomenon as Lin dropped 38 points.
Linsanity has begun.
All eyes were on Lin after as it was unlike anything the sporting world saw in a long time. Since then, the atmosphere inside Madison Square Garden — homecourt of the New York Knicks — was electric, an atmosphere not felt by the franchise in a long time. The pressure to perform was at an all-time high as well.
"My faith and family have helped keep me grounded throughout my career. As someone in the public spotlight, it's so important to have people around me that care about me for who I am, and not for the money, fame or influence. My family and close friends are honest with me and care about me just as much when I fail as they do when I succeed. My faith reminds me that my identity is separate from anything that happens in my career."
"Linsanity was something that I ran from at first," reflects Lin as he gave his recount of Linsanity through his eyes eight years on, "I just wanted to be Jeremy."
"As I matured and learned more about what Linsanity meant to people, especially Asian kids around the world, I learned that I needed to embrace it as something God has given to me to help others with."
"I hope that it can be something that I use to inspire the younger generation to believe in your dreams and not be afraid of pursuing them, no matter what stereotypes are put on you."
"At the same time, I hope that it's also something that I can use to encourage others to think beyond yourself and care for those that are suffering and have less. Because of my own experiences, I will always try to root for the underdog and help those who have less."
Despite the overnight stardom that came along with Linsanity, it was the cultural significance of the phenomenon that made Linsanity felt so real and tangible — It is the story of a basketballer of Asian descent who had to work hard to overcome prejudices since high school and college — and it was previously well documented.
"I think any time you are from a group that is not represented in a certain space, you are going to be treated differently because people don't know what to expect from you," shares Lin on his experience standing out from the rest of the NBA.
"People can be very excited about you at first because you feel special, like a novelty. I've always said that the reception I received is so polarised — on one hand, I get so much more attention than a normal player would because of my ethnicity, but on the other hand, I've had to work a lot harder to just prove to people that I can play [basketball professionally]."
"I've had a longer career than many people I started out with but some people still call me a flash in the pan or a fluke. I hope that one day there will be so many Asian people in the NBA that it won't be a novelty and Asians will just be evaluated as players."
Legacy
Championships are often used as a barometer for a sportsperson's success. The Wanamaker Trophy, European Champion Clubs' Cup and Wimbledon Championship Trophy represent the highest distinction for a golfer, footballer and tennis player. For a basketballer, that is equivalent to lifting the Larry O'Brien Championship Trophy and in major league sports tradition, receiving the coveted Championship Ring.
It was a feat that Lin managed during his final year in the NBA with the Toronto Raptors; and in doing so, he became the first Asian-American to win the championship. Cynics and detractors continue to jump on this achievement claiming Lin did it without playing a stellar role during the season but ultimately, he worked hard to put himself in the Toronto Raptors team.
To his legion of fans, Lin always meant more than his on-court numbers.
Lin should take heart that his legacy and gift of Linsanity to the basketball world will remain and be remembered for years to come. As New York endured one of the hardest periods during the pandemic, MSG Network aired a full week of classic games that showcased interviews and 2012 games related to Linsanity to lift the spirits of New Yorkers.
"I hope that I'm remembered as someone who always tried to do things the right way, who played with their whole heart and tried to lift up others along the way and remembered as someone who made a positive impact on the game and helped open doors for the next Asian players."
Having just turned 32 at the end of August, Lin shared his hopes for the future and advice for a young Jeremy Lin.
"I feel better than ever as a basketball player, mentally and physically. I'm ready to spend some time with family and get some mental rest from the season, but I have big dreams for when I get back out there and start hooping again."
"If I could, I would tell my young self to enjoy every moment, both the struggles and successes. Young me was so focused on the next accomplishment and I didn't always know how to enjoy the journey and appreciate what I had."
Read the full interview feature with Jeremy Lin and see his full photoshoot with us in our latest Men's Folio Malaysia October 2020 issue, now out on newsstands, bookstores and online via magzter.com.
By Asaph Low. Images courtesy of Coach.