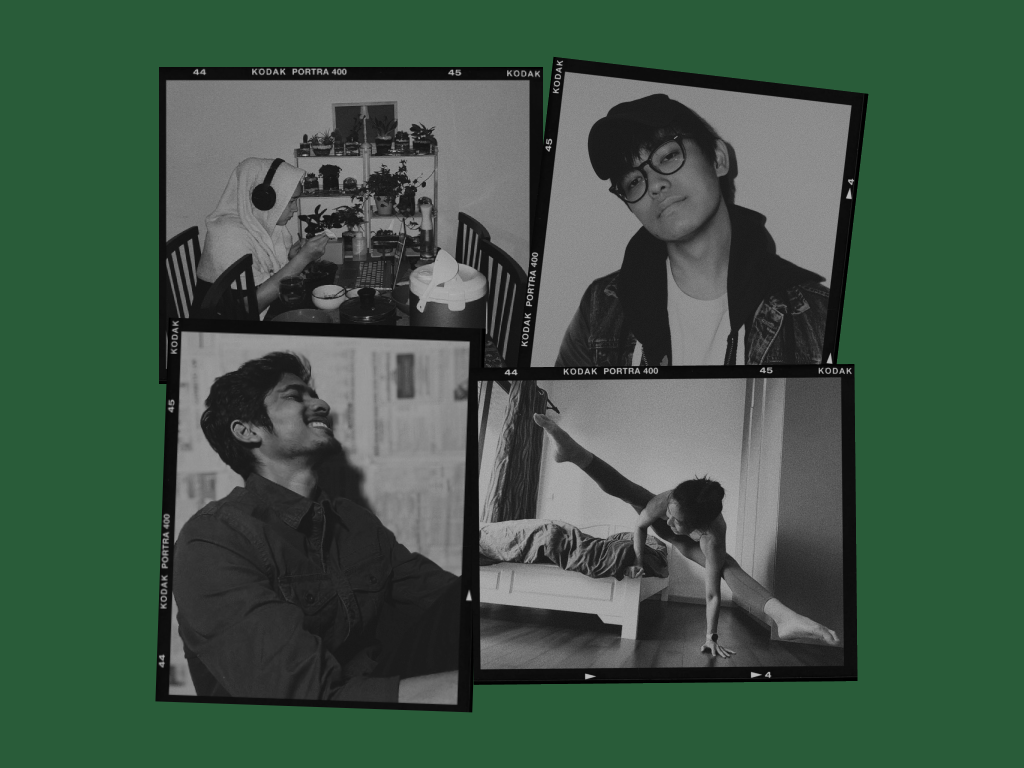 YouTube, Instagram and Tik Tok are now like a de-facto launchpad for the next generation of celebrities, big stars and personalities. From artists to musicians and vloggers of all kinds, these platforms have harnessed the video-sharing platform to build their followings and brands that can be viewed worldwide. We get in touch with these four thought-provoking content creators to get a full shot of their acclaimed and stimulating online video productions, released during the government's MCO.
Soon King Yaw
Soon King Yaw is a Tawau born filmmaker and graphic designer who has a number of global recognitions under his belt for his work in art and moviemaking. He first showcased his video production talent that when his lecturer at The One Academy, Malaysia signed him up for a music video competition on the 8TV The Ultimate Song Reality Show in 2013, which won him the Best Music Video award. "The whole experience was exhilarating, and it inspired me to learn more about filmmaking." He then made an extremely intuitive decision: to pursue studying film in the United States where he graduated summa cum laude from San Francisco State University with a BA in Cinema in 2018.
For Soon, filmmaking is his sole creative outlet, allowing him to combine his passion in painting, graphic design, music and storytelling into a visceral visual experience. Classical painting inspires his film composition while music sharpens his instinct when it comes to communicating emotion. They are reflected in most of his expressive works. One of them is his recent short film All I Did Was Smile and Say Hello, which is comprised of first-rate animation with affecting voice-over narration and movie score, and a deep personal message that promotes awareness for the growing discrimination of the Asian-American community during this pandemic. "I think it's futile to force a message onto people. I'd rather let my work take on its own form as it interacts with the audience, and it's more powerful when the audience instil their own meaning to the film based on their own life experience," said Soon. The piece was featured as an opening film for the prestigious KQED Homemade Film Festival 2020.
As to his creative process, Soon usually allows his ideas to sit in his head for some time, visualising approaches he believes would be engaging to his audience and worth translating into a film. "I let certain ideas brew in my mind for a long time, sometimes a few months, or years, until I decide whether or not to explore it. Most of the time, it's when the idea knocks on the door to my soul, telling me to let it out. That's when I know it's worthy to be made into a film." In terms of his digital projects, Soon finds it is a lot easier for him to begin the task by sketching on papers or notebook before he goes to the computer. "I find the traditional method more organic in translating my ideas into a more concrete form. I would scan my selected sketches into the computer and the rest is produced digitally," he explained. Giving himself space to doodle and scribble means that he can digest the theme ideas thoroughly for maximum impact.
As a budding filmmaker, Soon definitely has plenty to look forward to. Art has taken him to the international stages, allowing him to connect with people from all walks of life. Art has also allowed him to embrace his humble beginnings, which motivate the beautiful works he creates today. If anything, with a couple of massive collaborations with local and international moviemakers on the way, Soon is determined to keep pushing himself to produce more and more of distinguishing oeuvre.
Takahara Suiko
"The idea is to be the middle finger to whatever norm that exists either within our community or to the general world," said Takahara Suiko when she was asked on the idea of establishing The Venopian Solitude. As one of a few bands from the '00s indie explosion to hit the scene – and stay – led by Takahara Suiko (or simply Taka), the Malaysian band has proven that to be the best example of why you don't have to always follow the trend. The songs that Taka has written and produced are not those you'd hear on mainstream radio. Instead, they clap back at major issues concerning world society with witty, sarcastic lyrics underlining the electro-pop-rock-nusantara music genre.
For instance, Mari Pertahankan Lelaki speaks about women confronting social discrimination and inequality, Seri Luka talks about sexual abuse in the home environment, and one of her major hits, Tenangkan Bontot highlights on the issue of depression.
In these unprecedented times where we need to give mental health as much attention as physical health, everyone has become more self-aware and conscious of their surroundings. While most people resort to social media to express their sentiments on a variety of subjects, Taka does it her own way by composing ironic and sardonic songs in response to social commentaries she doesn't agree with. "The songs are where I pack people's dissatisfaction in a light-hearted, tongue-in-cheek manner that they can and will forget the next day because they have found a new rage bandwagon to jump on," she said. The song entitled Mont Kiara is dedicated to people living in the Mont Kiara neighbourhood who defied MCO during the first phase. After receiving many plaudits for the track, she released Gardenia, Delivery – in reference to the public urge for panic-buying. Her newest is called 4 Mei. "It was exhausting towards the end, turning people's rage into songs. The writing part is easy but knowing how and why some issues become real problems that enrage the community due to recklessness in speech or action infuriates me," she said.
A natural performer, Taka refuses to capitulate to the negative criticisms she receives on social media on how bitter she comes off. "Normally I would reply them with a gif or a meme," she said. The songs are meant to keep people on their toes because, at this point of time, no one is safe if we choose to neglect the safety standing orders. "We immediately ignored the SOPs when the government allowed Raya visits and eased restrictions on social isolation. Like it or not, we cannot afford to fall back into the same reckless behaviour." And therefore, she feels words of caution are useful.
The uncommon Covid-19-related terms have not been easy for everyone, including Taka. "It's the excruciating agony having to go through this overwhelming dreariness before being able to see the mere glimpse of light at the end of the tunnel," she said. Sharing music with a little wisecrack through her social media platforms is the least she can do to emit positive energy to her followers. Taka concluded, saying: "Letting your body and soul feel the pain is just as important as staying positive; sometimes you just have to experience it in order to feel content even more."
Syed Munawwar
Feast your eyes to the cooking videos by Syed Munawwar. Like a magic trick, you will most probably feel a little peckish after watching them. Simple yet prepossessing step-by-step cooking videos filled with a plethora of colours from the fresh ingredients and close-up food
shots often with steam coming off them. Adding to the engaging cinematography is the voice-over of himself speaking about the menu in Northern Malay dialect that can be difficult to understand, and have you relying on the caption to get the full details of the dishes. Nevertheless, his 175,000 and counting followers on Instagram are loving them and are constantly requesting for more of his recipes.
Looking at the recipes, you may be surprised to find out that Syed Munawwar has never had any formal culinary training. After graduating from high school, Munawwar started working as a kitchen assistant at a local restaurant in his hometown. His tasks involved washing dishes, cleaning the kitchen as well as preparing ingredients. While he was doing that, Munawwar took the opportunity to acquire a few cooking tips from the chefs on creating good food. His interest and passion in cooking eventually blew up. He tried with few easy recipes at home first and gradually challenged himself to something complex before starting sharing them on his social media channels.
As much as he loves posting on social media, the process of producing a single comprehensive cooking video consumes quite a lot of time. To Munawwar, the process is especially complicated because he wants his videos to be engaging, and at the same time, easy for his followers to replicate the recipes. "It's not easy to come up with a cooking video. It will usually take me around eight to 10 hours to complete a single video, that includes filming, editing and narrating. It's a bit time consuming because I have to do everything on my own – without a production team – but then, I do enjoy every second that I spend of doing it," said Munawwar. To date, he has composed more than 400 videos of his own cooking featuring local, Western, Middle Eastern and fusion foods.
According to Munawwar, the one main factor when it comes to creating a good cooking video is to control the pace to ensure the audience can easily grasp what you tell them. "I dedicate all of my recipe videos to my followers who want try them out at home, so I have to make sure they are easy to follow," he said. Other than that, details like lighting and sound are worth paying attention to as they enhance the overall viewing experience. "I often let my videos appear original without major editing especially on the colour of the dishes because I think that will make them a lot easier for my followers to compare with the ones they made. I'm also very particular about cleanliness because I think no one wants to watch a cooking video with an unpleasant background or a dirty workstation," said Munawwar.
As a newbie to the internet cooking scene, Munawwar feels that he has a lot more to improve on. For him, sharing his recipes online gives him the opportunity of engage in open discussions which allows him to further refine his culinary skills. "I still have a lot more to learn and my humble journey still has a long way to go. I'm letting time and passion determine what's next for me, and right now, I am all about serving my followers with more exciting and finger-licking good recipes," Munawwar concluded.
Charmaine Ang
The initial MCO phase allowed most of us to enjoy spending time staying at home. However, in the midst of the gratification, there were also the stressful lockdown side effects that negatively affected the health of plenty of individuals such as decline in fitness level, body ache from lack of movement and digital eye strain as well as psychological entropy – mainly due to a lack of a normal life routine. Enter Charmaine Ang, a fitness junkie cum certified instructor at FlyProject Kuala Lumpur who comes up with an effectual remedy to these stay-at-home drains – namely yoga – that takes just five minutes a day to complete.
It all happened back in 2014 when she first stepped into a yoga class and saw the instructor balancing on his head. Her arms began to wobble halfway through the class. "After a while, I realised how yoga could be both physically demanding and healing at the same time and started practising regularly since 2015." With the holy grail of getting people active and confident about their bodies in mind, Ang took heed on her interest that led her to complete the teacher training programme with Yoga Alliance. She is now an accredited professional yoga practitioner.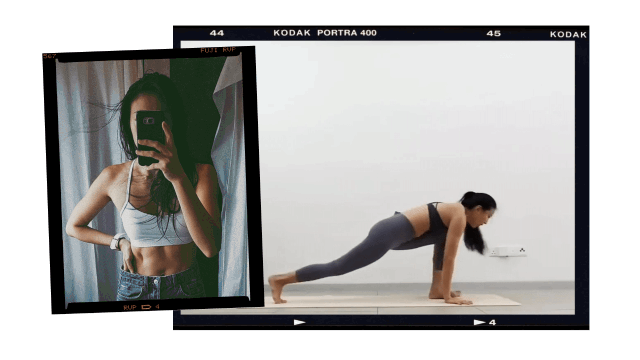 Like all of us, Ang was bothered by restrictions on outdoor activities. However, that did not keep her from going passive. Since most of the time was spent at home, Ang transformed her living room white walls into the backdrops for her virtual yoga class. The first few posts on Instagram Live saw a couple hundreds of audience but the aspirational buffet of relief she called "Yoga with KuihKapit" has seen viewership in the thousands in recent weeks. Her workout routines are designed to make yoga accessible and as appealing as possible. "I have a great deal of interest on anatomy, so I tend to explain what's happening to certain muscles in a particular move. There's usually a theme for every class so poses start from easy and are subsequently layered with more challenging variations. I'm also a fan of strength focused classes and because some movements can be difficult to endure, I try to make them as fun as I can," she explained.
For Ang, yoga did her a significant good turn. Besides having an athletic and lean physique, it has helped fix some of her wellness complications. "I was battling with anorexia nervosa and bulimia which I connected to having a very low self-esteem. I think yoga helped me to overcome that in some way. I've gained confidence and started to focus less on exterior after realising that our bodies can do things that I've never thought possible." She stresses that yoga, just like life, needs practice every day. Other than acquiring an insight on body and mind relaxation, it also allows her to rediscover herself – a major step towards making positive lifestyle changes. "Yoga has taught me a great deal about patience and compassion. A lot of what you learn from practising yoga itself can be applied to our daily lives and that part of it is something that I constantly try to remind myself about, although it's still difficult for me not to be grumpy when I'm hungry."
Now that we're slowly getting back the life we knew before the pandemic and Ang's returned to coaching, she feels it's only fair for her to continue conducting online yoga classes for as long as there's demand for it. "Some of the students that have been practising with me online are from other towns, states and countries and it's really amazing to connect and learn from them as well." She believes that everyone is unique in their own ways and her goal is to help her audience discover their own strengths.