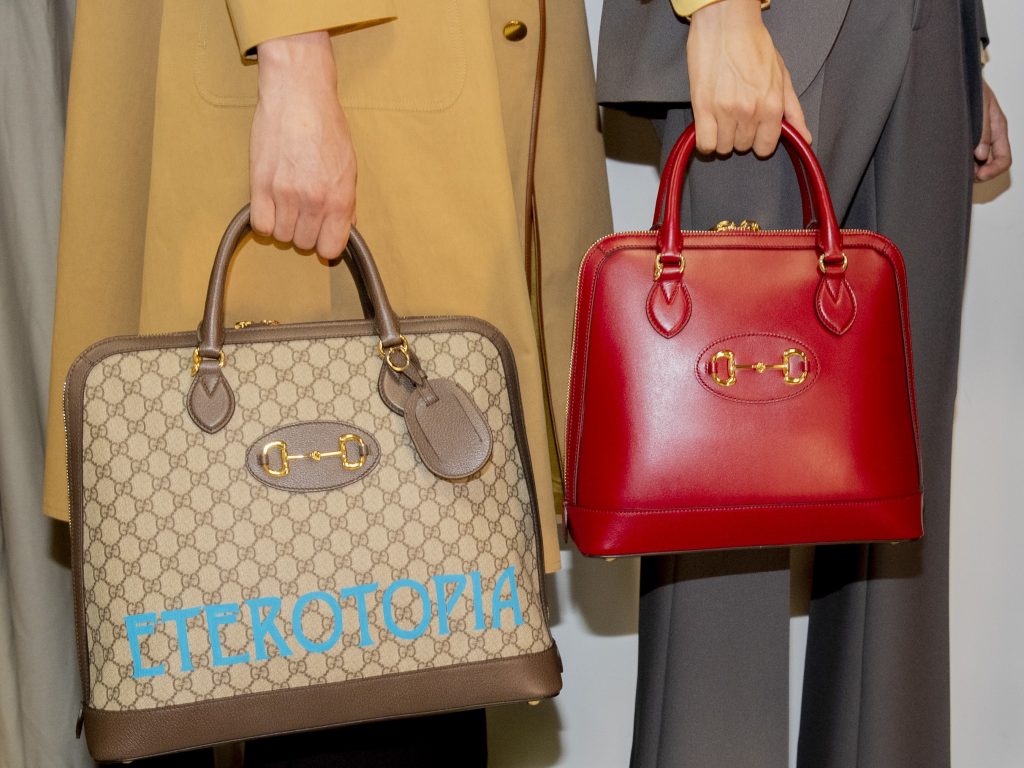 In these Gucci bag collections, it is impossible to miss the distinctive metal detail of the Horsebit and references of the equestrian world. The Dome bag lineup represents an important new member. It can either be carried by hand or over the shoulder with the detachable leather shoulder strap, while the double zip-closure – which runs from the top of the bag all the way down to the sides – provides secure yet practical accessibility.
Ranging from basic leather types to classic GG Supreme canvas trimmed with leather sides, it comes in an exciting selection of materials and colours. Looking for one that says something? There are stylish variations with the phrase "Gucci Orgasmique" printed in beige on black leather, and the word "Boutique" in red on GG Supreme canvas (if you remember, the texts made an appearance at the spring/ summer 2020 show).
Another Gucci 1955 Horsebit bag that "walked" the runway is an over the shoulder flap bag in a striped, three colour version in velvet trimmed with blue leather that immediately springs to mind the Maison's signature blue-red-green Web stripe. There are fun polka dot leather options with orange dots covering a blue background as well as vivid yellow leather incarnations which are sure to steal the limelight.
The Gucci 1955 Horsebit flap shoulder and Dome bags have been created in precious leather too. The former in black python with contrasting black trim and natural snakeskin, and the latter in red, brown, black and green crocodile skin. There are other vibrant coloured expressions to be found in exotic skins like ostrich and lizard.
In terms of practicality, there is the soft, spacious tote bags – with top handles and chain shoulder straps – that not only allow you to carry it in the way that best suit your style, but also securely hold all your daily necessities. And yes, it is also part of the Gucci 1955 Horsebit collection – in black and brown leather and original GG canvas (trimmed with either brown or red leather and outfitted with the distinguishing details of the metal Horsebit). Other statement-making bag styles include the GG Marmont 2.0, Dionysus, Sylvie 1969, Zumi, not to mention a bucket bag and various types of elegant evening bags.
The Gucci 1955 Horsebit collection of luggage – in keeping with the handbags of similar design – has also rolled out a large size dome-shaped bag, which essentially looks like a small duffle. Showing off beige or ebony GG Supreme and leather in different colours such as black, red, white and yellow, as much as it is intended to function as luggage, it serves well as a roomy everyday bag, we reckon. Additionally, there are two more options: in a GG Supreme variation with "Eterotopia" printed on it in light blue, and a burgundy leather one with "Gucci Orgasmique" in white (again, they were included in the spring/summer 2020 show). Besides the luggage details (think: a web shoulder strap and a leather ID tag), they are also enriched by the iconic Horsebit hardware and archival 50s design elements.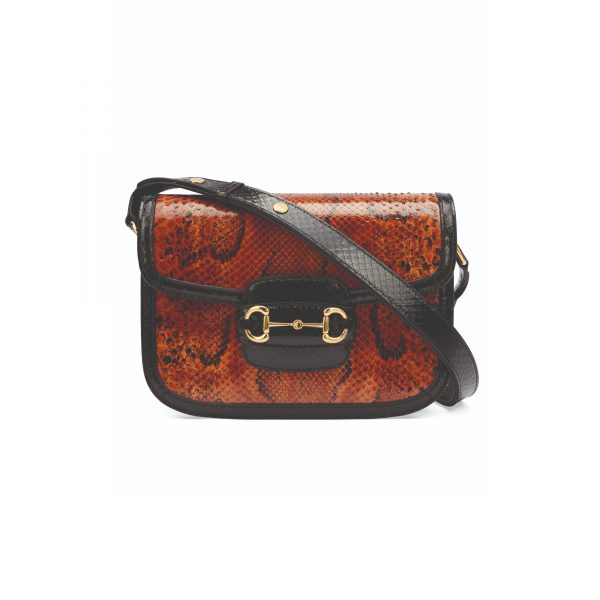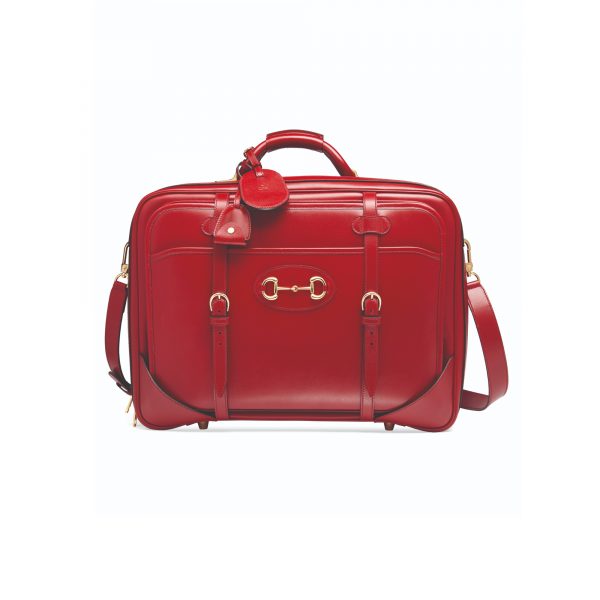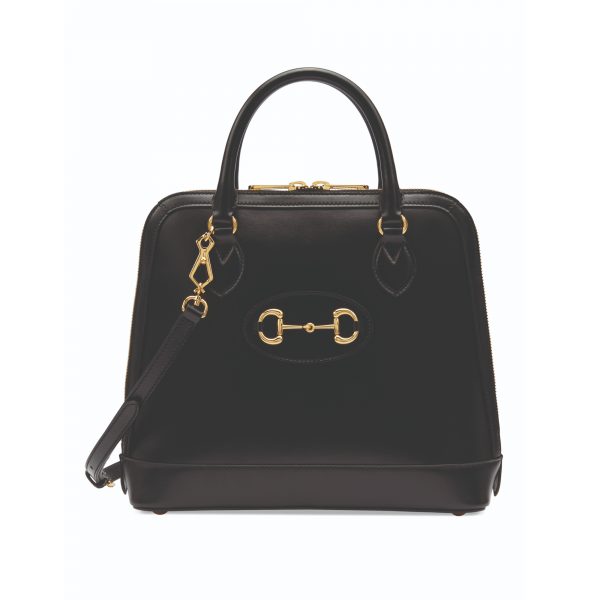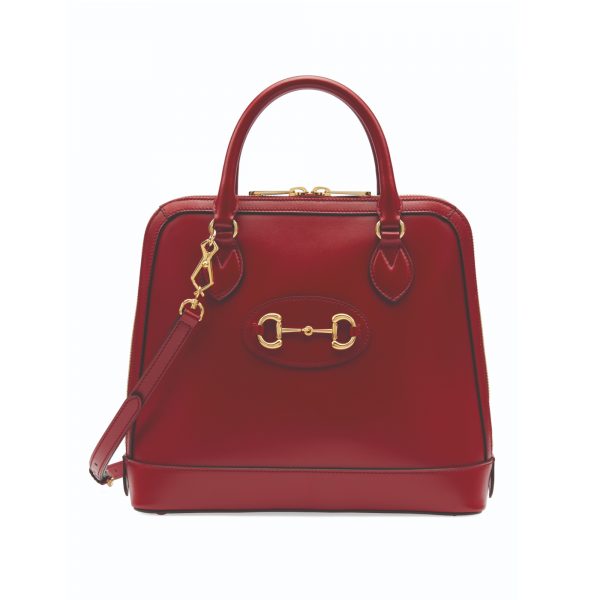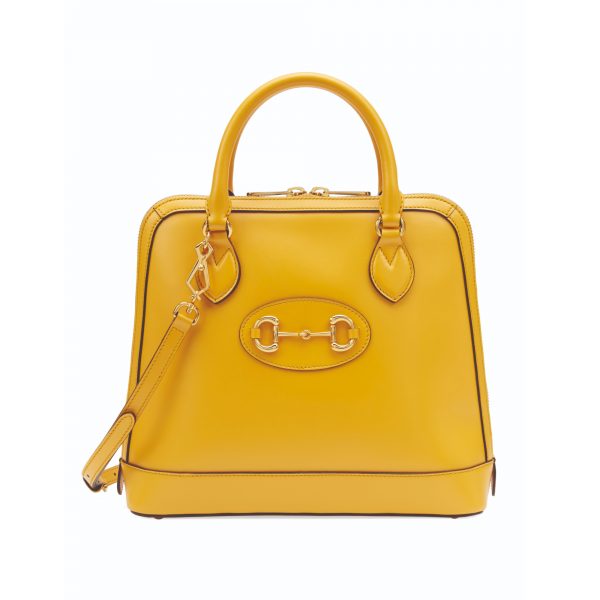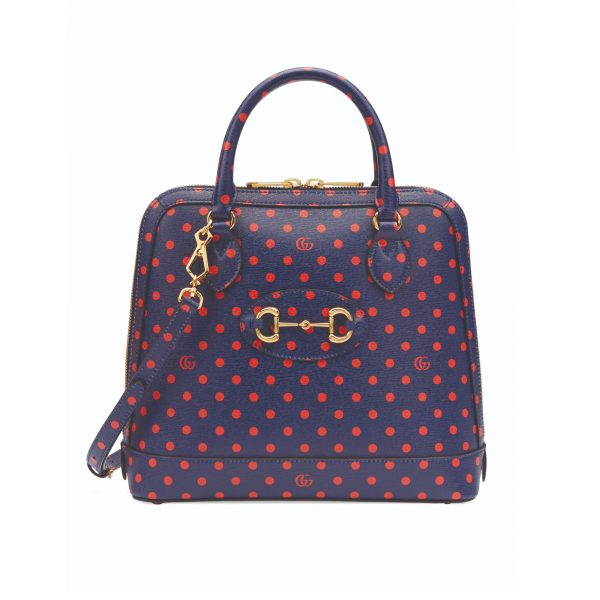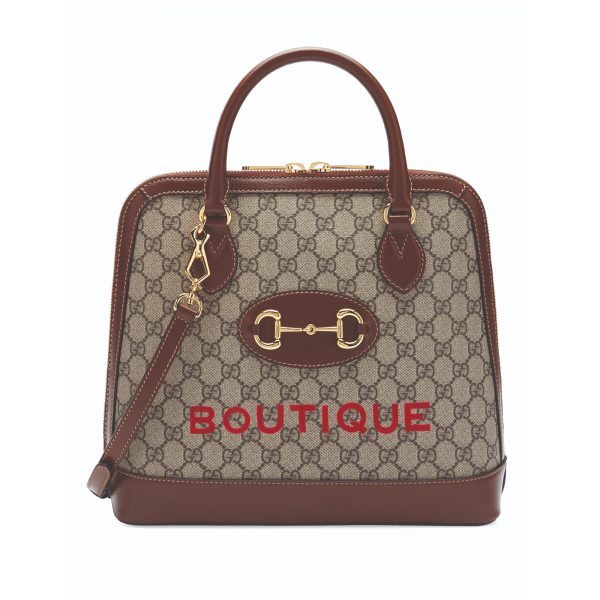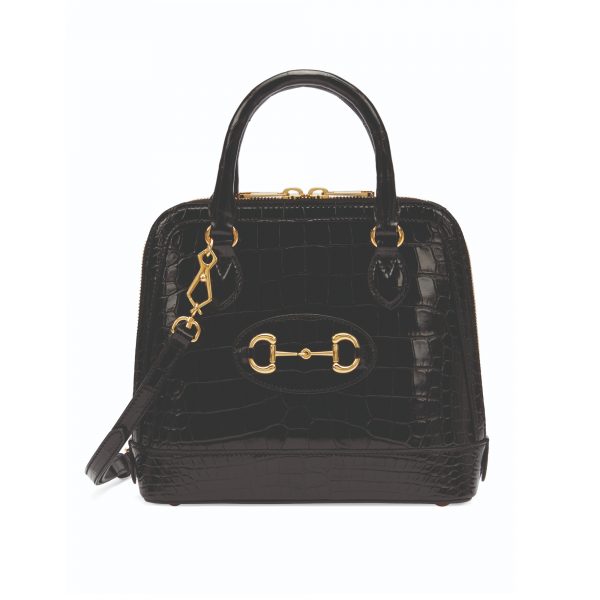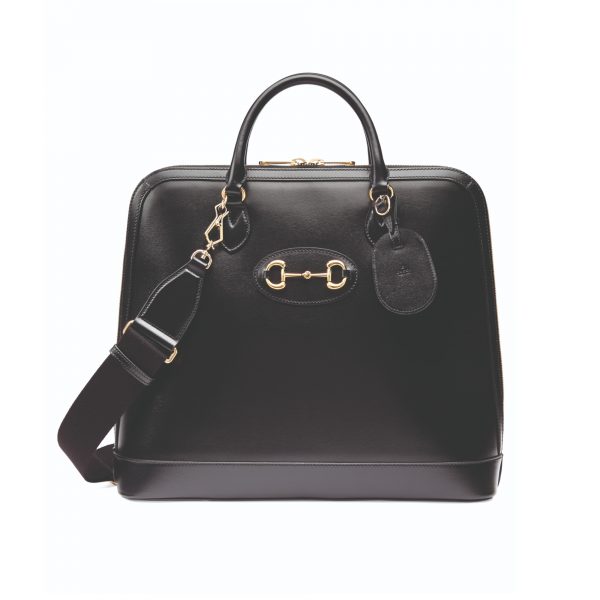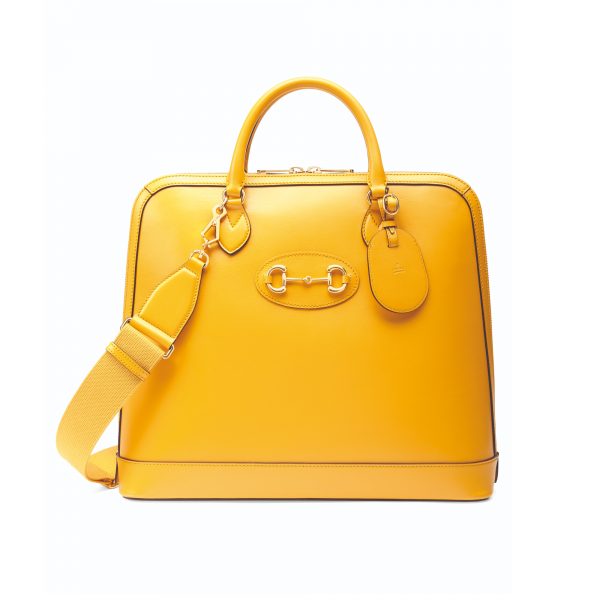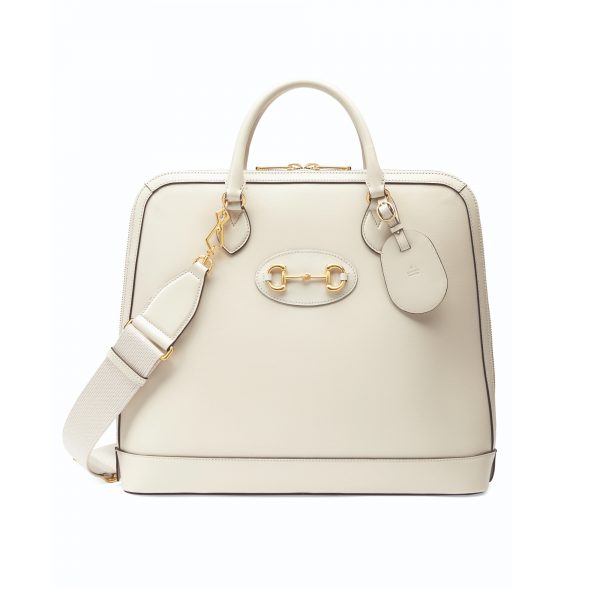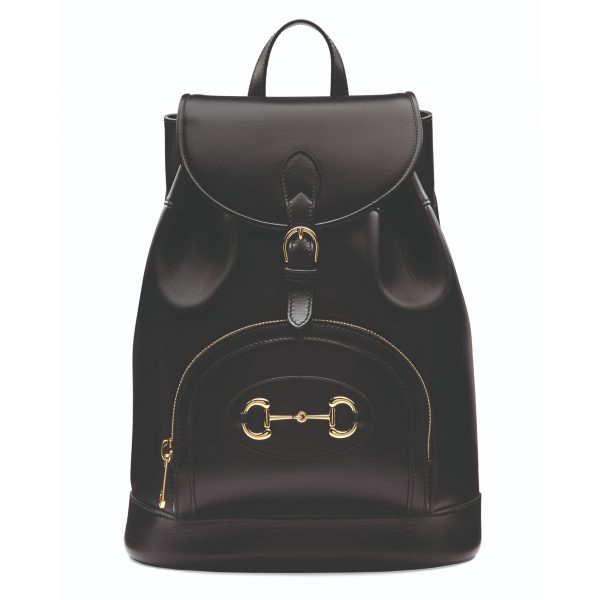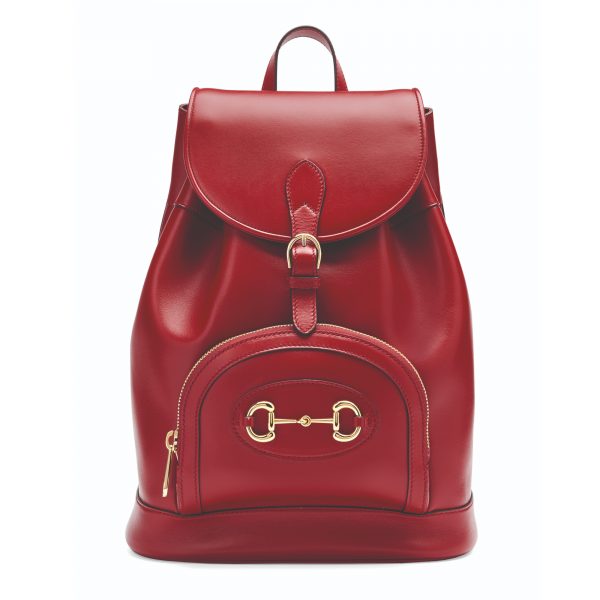 Remember the backpacks in the era of gold chains and polished-oversized-blazers? The vintage appeal of the Gucci Horsebit 1955 collection explores the key fashion item of the 80s in leather of three different colours (black, red and white) and in beige/ ebony GG Supreme. It is boosted with a front zip pocket, and naturally, the iconic House Horsebit detail. What's good about this backpack is its gender-fluid aesthetic, be it in black or red leather.
Equally vintage in spirit is a functional suitcase, a nod towards the travel heritage of Gucci. This comes in red and black leather and in beige or ebony GG Supreme, and has a highly sophisticated look. With two belted straps on the front panel, a removable shirt case, and a number of features like a leather ID tag and key holder, as well as a leather handle-wrap, the effect is of a traditional style suitcase perfectly suited for a sophisticated frequent-flyer of today.
Last but not least, other idiosyncratic pieces you'd want to know exist are the pillow backpack holder (also a member of the Gucci Horsebit 1955 family) and a cat's head bag made from braided leather and a hard-wearing top handle made of resin.
This story first appeared in the April 2020 issue of Men's Folio Malaysia. Discover more about the Gucci 1955 Horsebit collection here.