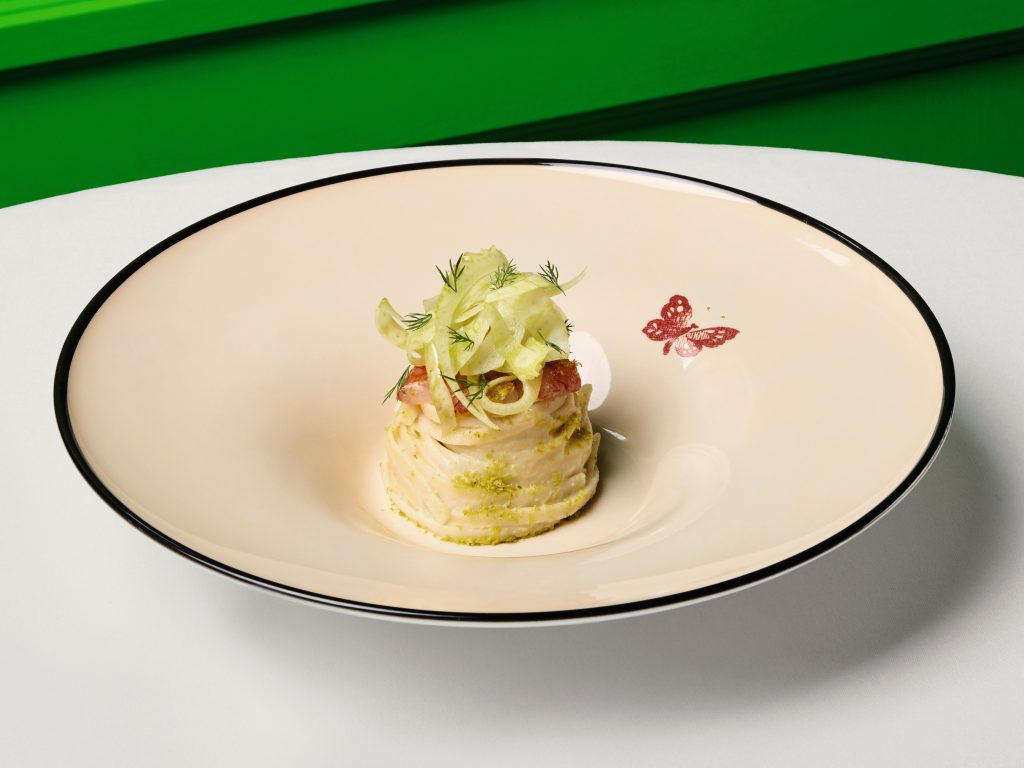 Cooking is just as therapeutic as it is fun. Not only does it act as a vehicle for our creativity, but it is also a rewarding activity (imagine the satisfaction you get with the food you cook). Whether you are scouting for cooking ideas or you just want to try cooking as a way to curb boredom, you have come to the right place - Michelin-starred chef Karime López from Gucci Osteria has shared with us two delicious recipes.
Lucky Fennel
A symbol of strength in Greek and Roman history, which is believed to bring luck, the Lucky Fennel is a linguine pasta slicked in fennel cream, served with prawns and sliced fennel.
Ingredients:
4 fennel for the cream, 2 sliced fennel, 2 red prawns, 200g of wild fennel, 20 pistachios, 1 lemon, lemon oil, 400g of seed oil, extra virgin olive oil, salt & 100g of linguine pasta
How to make: 
The cream
Wash and cut the fennel coarsely, steam them at 90 ºC for 2 hours. Drain the fennel once cooked and whisk them with Evo oil and salt until creamy. Pass the cream in the chinois strainer with fine mesh.
The wild fennel oil
Whisk 400 g of seed oil with 200 g of wild fennel. Then heat the oil in a saucepan and bring it to a temperature of 80 ºC. Filter the oil in a sac à poche and then filter it with the chinois strainer with fine mesh.
The pistachios
Toast the pistachios in the oven at 190 ºC for 4 minutes. Grate them with a microplane.
The dish
Cook the linguine pasta in abundant salted water for about 5 minutes. Drain the linguine and finish cooking in the pan for 3 minutes, adding the fennel cream and the lemon oil to make them creamy. Season the raw and finely sliced fennel with the wild fennel oil. Season the prawns with Evo oil and the lemon peel and cut them into 6 pieces each.
Plating
Spread the grated pistachios on the base of the plate, and lay a nest of linguine on top, developing it in height. Add 6 pieces of prawn, other pistachio powder and finely sliced fennel. Garnish the dish with wild fennel leaves.
Remark: seasonal vegetables can be used as an alternative to fennel
Pollock
An easy to make and flexible recipe, the Pollock is a pasta served with a melange of sauces and ricotta cheese filling. You can simply swap the ingredients of filling and sauces for vegetables, meats and herbs to your liking, and remember to lather the dish with sauces in the style of Jackson Pollock.
Ingredients:
Datterino tomato sauce
100g of yellow datterino tomato, 2 spoons of Evo oil, 5g of brunoise cut garlic, 2 basil leaves & fine salt
Red pepper sauce
100g of red pepper, 2 spoons of Evo oil, 5g of brunoise cut garlic, 1 laurel leaf & fine salt
Chard sauce
100g of chard, cooking water je & fine salt
Bechamel sauce
250g of milk, 15g of cornflour, 25g of butter & 2g of macis
Discs of pasta
100g of gluten-free flour (or 00 flour) & 1 whole egg
Filling
50g of ricotta cheese, 50g of cut chard, 10g of Evo oil & fine salt
How to make:
Datterino tomato sauce
In a saucepan, fry oil, garlic and basil, then add the tomatoes and cook for 20 minutes, whisk and sift, salt lightly.
Red pepper sauce
Bake the seedless pepper for 40 minutes in the oven at 180 ºC, peel it and roast it in a pan with oil, garlic and bay leaf. Remove the bay leaf and whisk the pepper until it becomes a homogeneous sauce, salt lightly.
Chard sauce
Blanch the chard for 2 minutes in salted water and cool in water and ice. One half must be cut with a knife for the filling and the other half must be blended with its cooking water until it becomes a homogeneous sauce.
Bechamel sauce
Flavour the milk with the macis and simmer it. Separately, prepare the base of butter and cornflour, then pour the milk while turning with a whisk until it becomes a homogeneous sauce, salt lightly.
Discs of pasta
Mix the flour with the egg and leave to rest in cling film for 30 minutes. Spread to 1 millimetre thick and cut the dough to the desired size, cook the discs in salted water for 2 minutes.
Filling
Stir in a bowl and serve warm.
Plating
Put a disc of pasta on a preferably deep plate, add the filling and cover with a second disk of pasta. Finally, cover the pasta disc with all the lukewarm sauces in an artistic way, Jackson Pollock style.
Remark: seasonal vegetables can be used as an alternative to chard