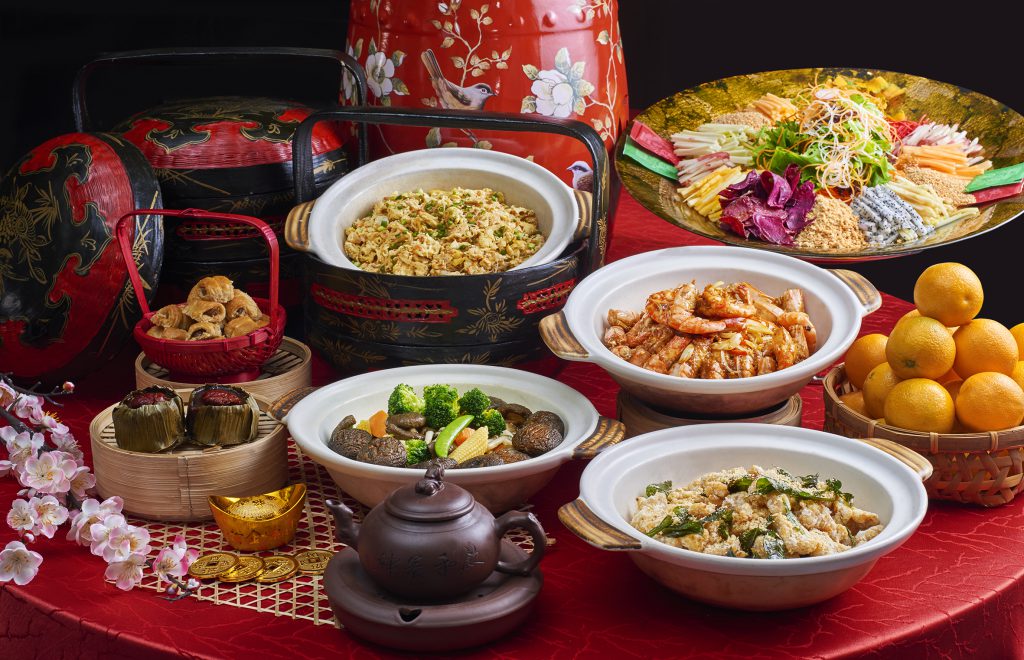 Nothing beats having a precious moment with family and relatives while gorging ourselves with an array of delectable Chinese New Year selections and basking in a luxuriously appointed space.
From feasting our eyes on the beautiful skyline of KL to degusting both authentic and modern Chinese cuisines, these menus by reputable 5-stars hotels in Kuala Lumpur will promise you an unforgettable festive gathering.
Be it dinner or lunch, a feast is guaranteed when gathering for the coming CNY 2020.
Head to Shanghai restaurant in JW Marriott Hotel Kuala Lumpur to savour the authentic cuisine from the Oriental Paris. Helmed by Chef Wong Wing Yok, the Chinese New Year menus are inspired by the homey taste of his native land.
Get ready to taste delicacies like Double-Boiled Superior Soup with Fish Maw, Dried Scallops, Cordyceps Flowers and Chicken; Deep-Fried Mandarin Fish with Shanghainese Sweet and Sour Sauce; and Steamed Spanish Pork Ribs with Rice Powder and Spices. Shanghai will be offering three menus for the festivities until 8th February 2020.
At InterContinental Kuala Lumpur's Tao Chinese Cuisine, in the deft hands of Executive Chef Wong, fresh ingredients turn into the finest delicacies that will definitely tickle your tummy. The dining offerings include Deep-fried Tiger Prawn with Ginger, Garlic and Spices; Stewed Sea Cucumber with Bean Curd Dough and Mushroom; Double-boiled Snow Bird's Nest with Glutinous Dumpling and Lemongrass Brown Sugar.
InterContinental Kuala Lumpur also curates a buffet spread at Serena Brasserie for diners who prefer a more relaxed, free-and-easy dining style.
After a major refurbishment, the new Red Chinese Cuisine restaurant at Pullman Kuala Lumpur City Centre Hotel & Residences boasts a stunning interior decorated with glamourous shots by photographer Kenny Loh, not to mention the mouth-watering culinary selections.
Some of the highlights are Australian Wagyu Beef and Edible Gold Yee Sang, Prosperity Abalone Treasure Pot and Steamed Live Marble Goby in Superior Soy Sauce. Buffet feast is also available at Sedap Restaurant until 26th January 2020.
Li Yen, the restaurant adorned in Chinoiseries design at The Ritz-Carlton, Kuala Lumpur, presents The Reunion Stars Chinese New Year menu curated by Executive Chef Alex Au and his team.
Available now until 8th February 2020, here you can find the Chinese New Year favourites like Hong Kong-style Waxed Meat Clay Pot Rice, Wok-Fried Prawns with Truffle Sauce and Braised Ten-Head Abalone with Mushrooms and Melon. The Chinese restaurant also offers Lunar New Year Dim Sum for the Spring festival.
This Lunar New Year, Sheraton Petaling Jaya Hotel will be serving luxury spreads at their three signature restaurants. If you are looking for a proper family gathering dinner, pop into their Yue Chinese Restaurant, a fine Cantonese restaurant that decorated in Straits Oriental interior, to treat your palate to the festive dishes such as Steamed Live Tiger Grouper, Braised Dried Oysters with Sea Moss and Sea Cucumber as well as Double-boiled Bird Nest with Ginger tea and Glutinous Rice Dumplings.
For a more unique celebration, descend on Feast to indulge in a bountiful buffet or Miyabi for a fusion dining.
At Yen of W Hotel, you will be pampered by a smorgasbord of culinary delights. Known for its Cantonese cuisine with a touch of modernity, Chef Weng brings the experience of Chinese New Year to the next level with exclusive dishes such as Stewed Money Bag, Sea Cucumber, Sun-Dried Oyster, Sea Moss, Abalone Sauce; Steamed Estuary Grouper, Preserved Vegetables, Crispy Fermented Bean; and Sweetened Peach Resin Soup, Tianshan Lotus Seed, Okinawa Red Sugar, Xinjiang Date, Dumpling. The Chinese New Year offering is available until 8th February 2020.