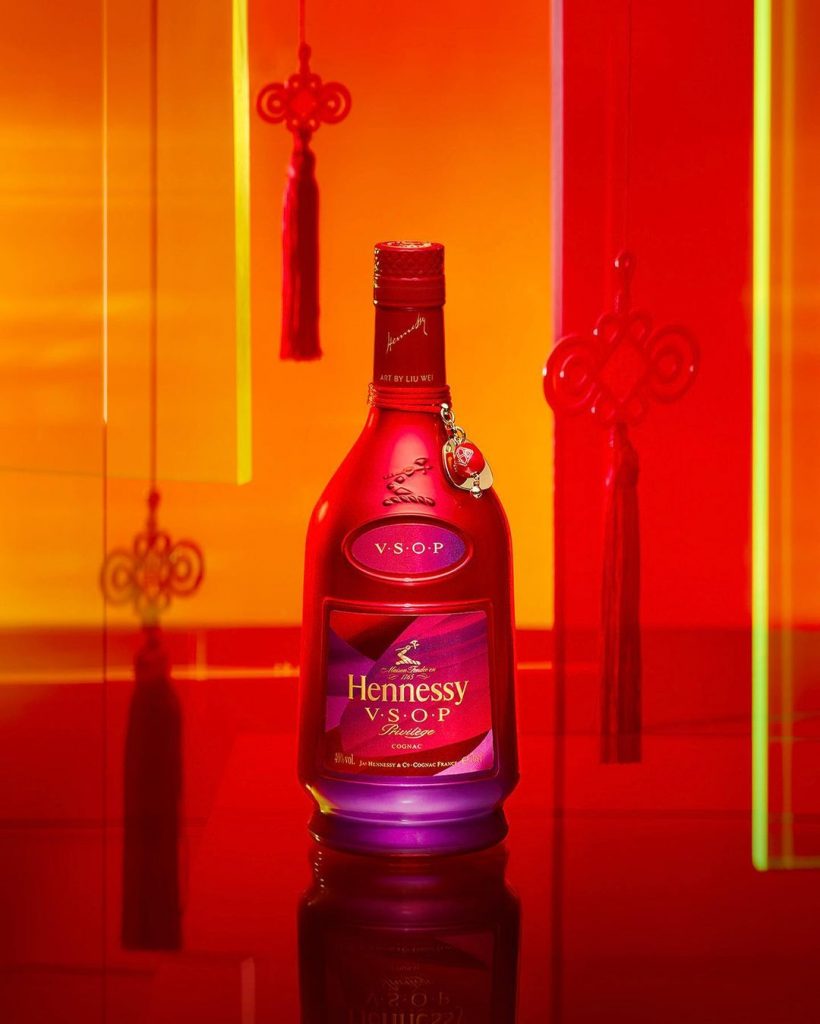 Gift giving is a tradition of Chinese New Year to express our best wishes to the receivers. Despite the restriction on the celebration this year, the practice is sacrosanct to wish our loved ones good luck for the coming year — and, we know you're here for the last-minute gifting ideas. From crave-satisfying cookies to dainty dessert morsels, these recommendations do not only make decent gifts, but also warms the cockles of their hearts.
Nespresso 10-sleeves CNY Assortments Giftbox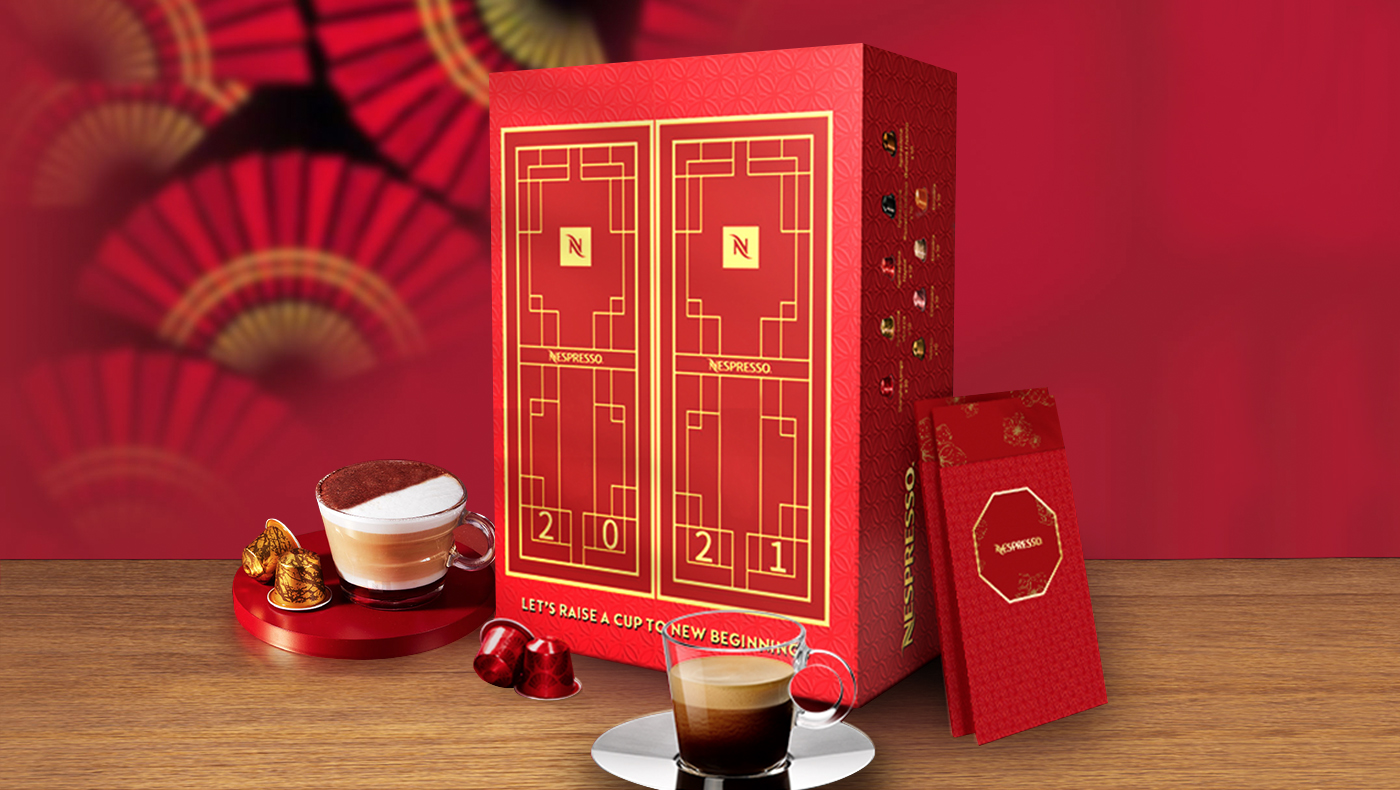 Keep your dearest ones energised and get them ready for a new, exciting year with Nespresso's new permanent coffee capsule — the Nespresso Shanghai Lungo. Brimming with berry notes, Nespresso Shanghai Lungo is a light-roasted coffee blend made of Kenyan, Chinese and Indonesian Arabicas. For this Spring, Nespresso is offering a Nespresso CNY Assortments Giftbox with 10 Shanghai Lungo sleeves.
Click here to purchase.
Hennessy VSOP CNY 2021 Limited Edition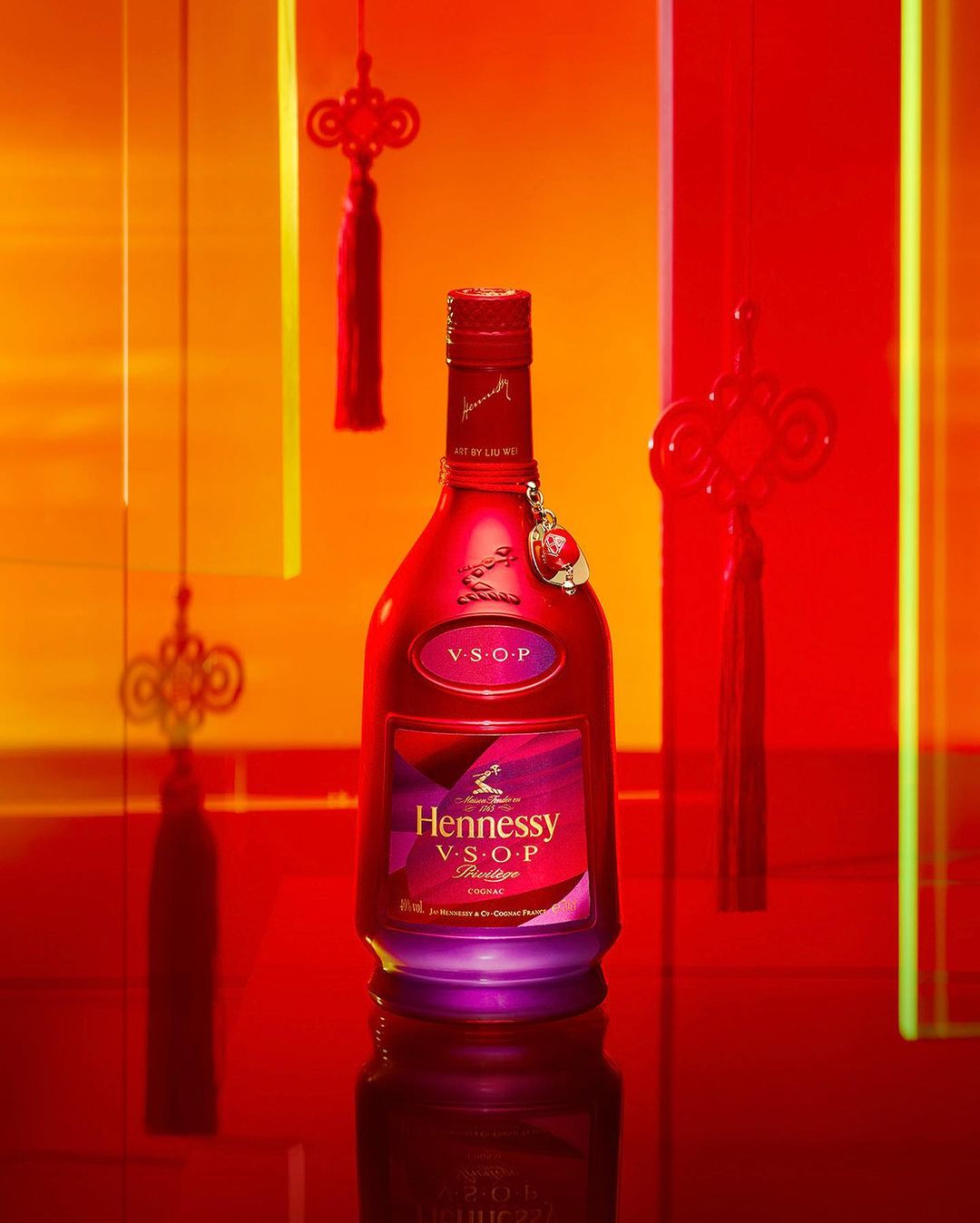 Leave it to Hennessy to craft a unique gift for your special ones. For this new year, the French cognac brand has worked with Chinese artist Liu Wei for a limited edition bottle. Splashed in vivid red and purple — symbolising success, happiness and good luck —, the Hennessy VSOP CNY 2021 Limited Edition is adorned with "Spring", an exclusively commissioned artwork from Liu Wei that employs colours of psychedelic joy.
Image courtesy of @clos19official. Click here to purchase.
Red Signature Superfood Healthy Yee Sang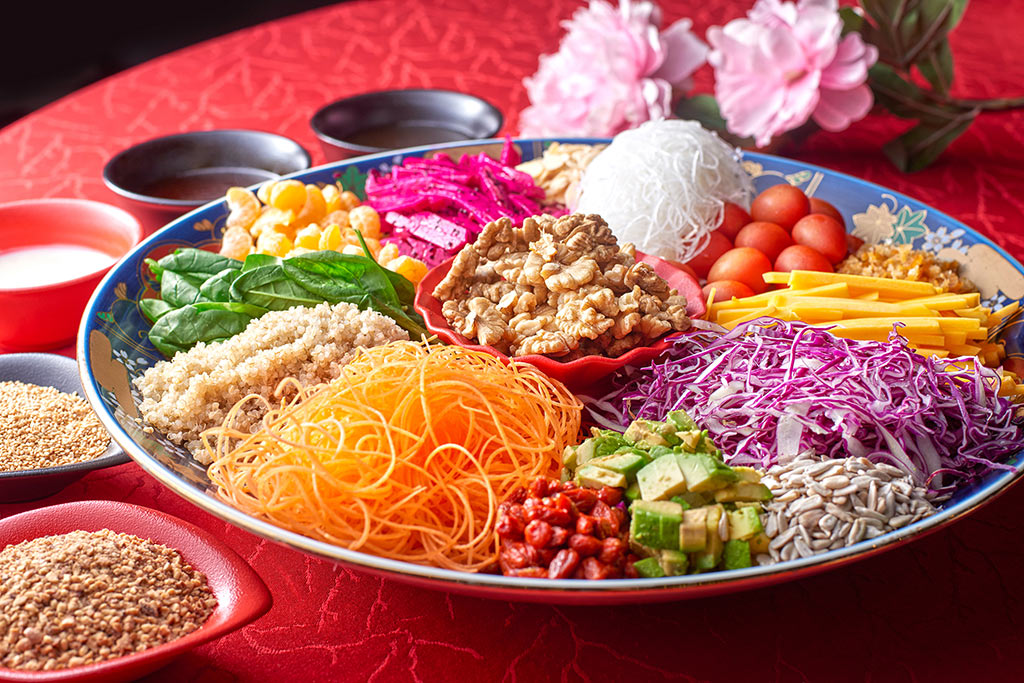 Eating healthier is a cinch with Red Chinese Cuisine by Pullman KLCC. Packed with antioxidant-rich vegetables and fruits, the Red Signature Superfood Healthy Yee Sang is a complement to a balanced new year dinner when your dinner menu is full of nutritious meats. The Yee Sang comes with avocado, quinoa, shredded purple cabbage, wolfberry, walnut and other fresh ingredients.
Click here to purchase.
CNY Big Huat Basket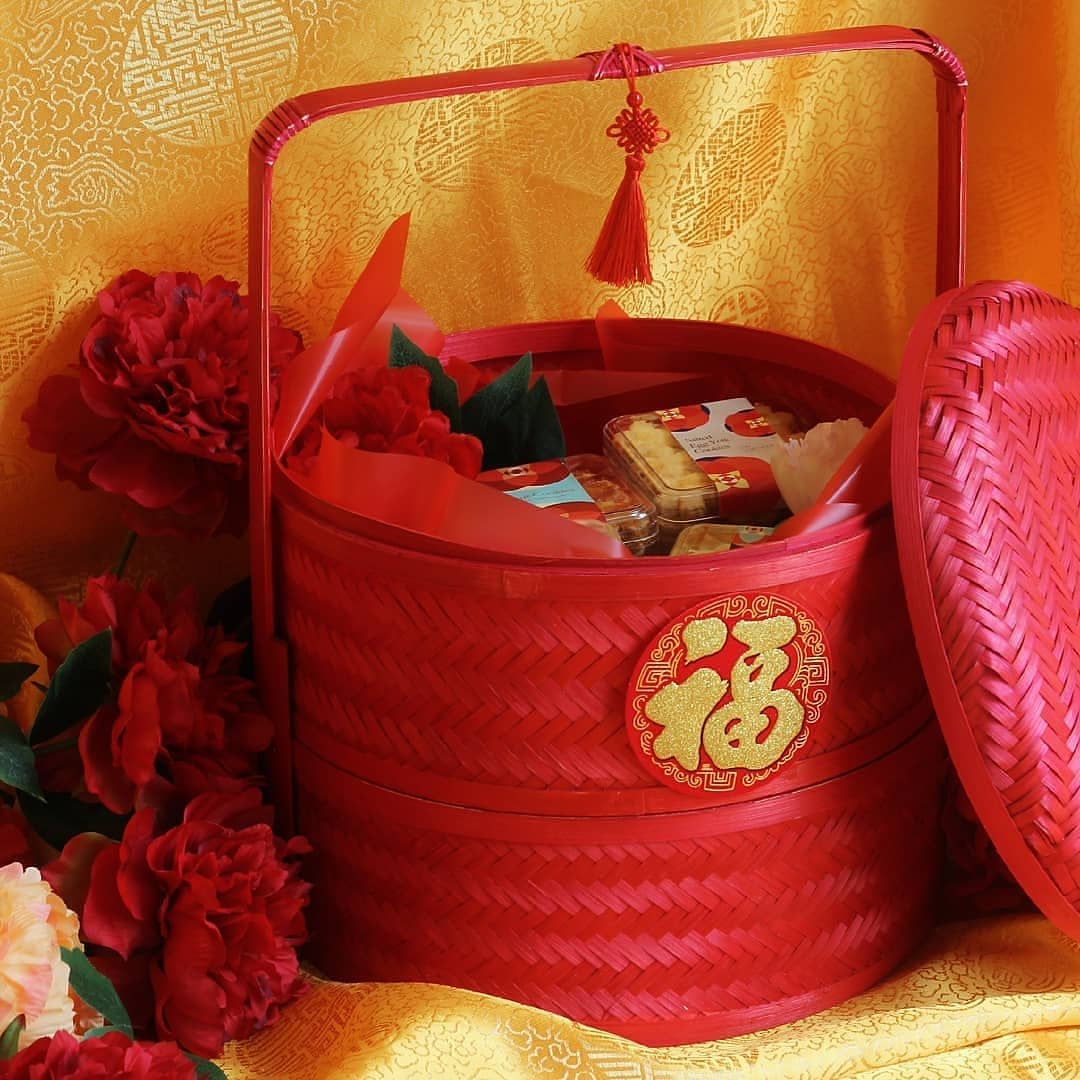 Thinking about Chinese New Year immediately calls to mind the excitement of binge-watching festive programs while gorging on our favourite cookies. This CNY Big Huat Basket by Tiny Temptress Patisserie does not only spoil your loved ones with abundance of good luck but also tasty dainties. Gifted with basket in ancient Chinese style, the set includes peanut cookies, cereal cookies, butter cookies, salted egg cookies and more.
Click here to purchase.
Spin for Luck Luck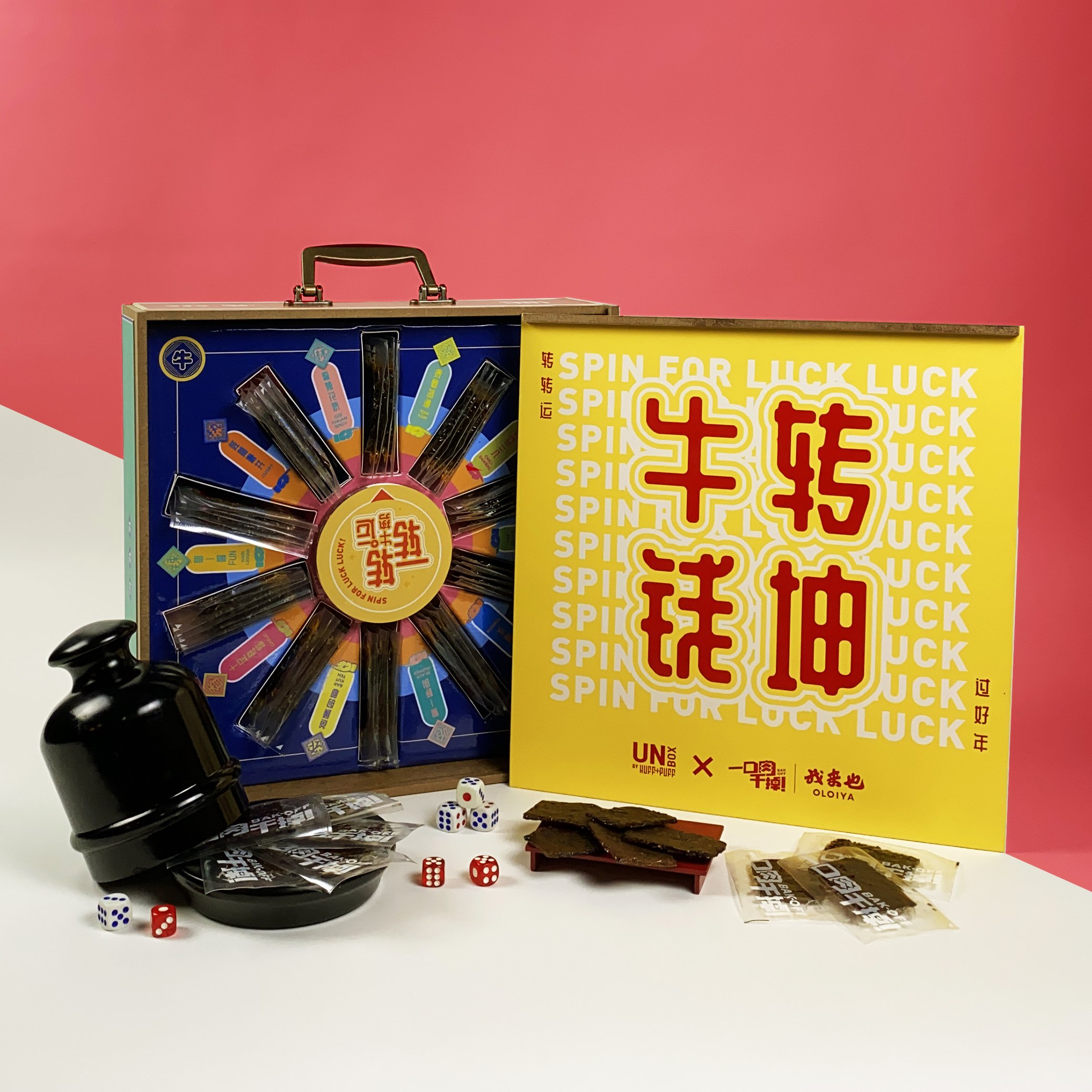 Make the new year extra fun for your friends and family when you gift them the Spin for Luck Luck by UNBOX by Huff and Puff. In collaboration with BAK-OFF by Oloiya, the Bak Kwa set takes Chinese New Year followers on a roller coaster-like gastronomic ride with its 10 exotic flavours including curry, sze chuan spicy, tom yam and chilli sambal. The bonus point? You can spin the Fortune Wheel and let luck decides for you when you waver between the tastes.
Click here to purchase.
Oh Cha Matcha x Lo Hong Ka Gift Bag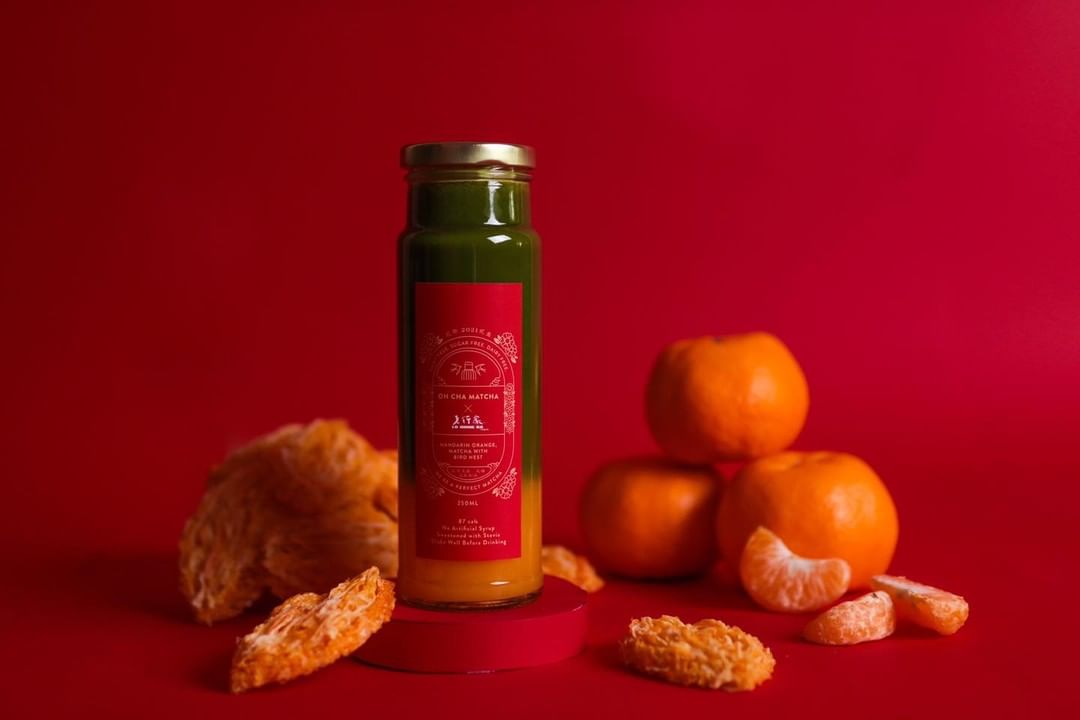 You will not associate conventionality with Oh Cha Matcha. The heaven for matcha lovers has teamed-up with Lo Hong Ka to concoct a series of unique Gold Bird's Nest recipes. Loaded with health-boosting nutrients and antioxidants, the Oh Cha Matcha x Lo Hong Ka Gift Bag comprises Pineapple Matcha with Gold Bird's Nest; Mandarin Orange, Matcha with Gold Bird's Nest and more. Did we mention Homemade Matcha Pineapple Tart too?
Click here to purchase.
Oxspicious Gift Set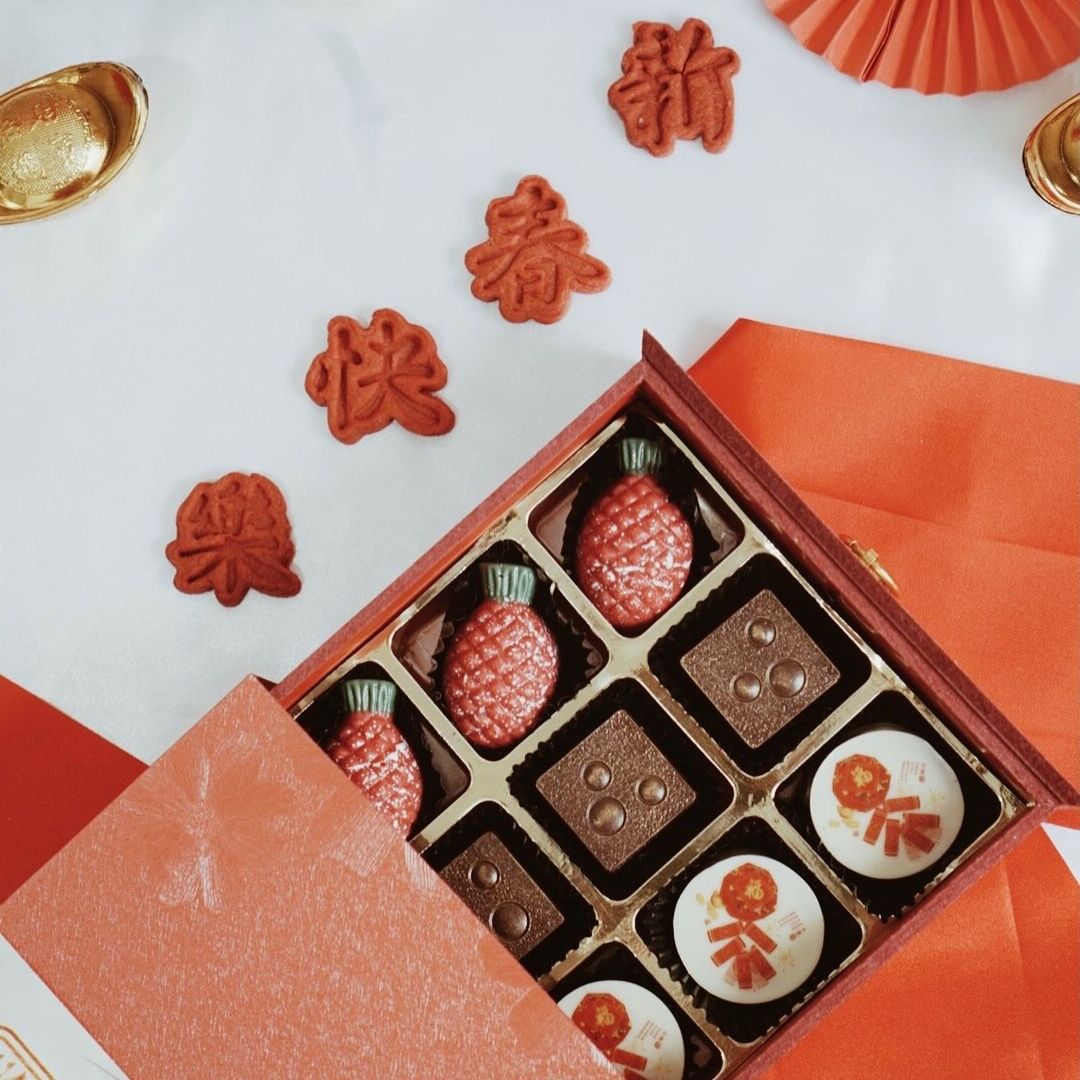 Take your Lunar New Year gifting to next level with artisan pralines from Twenty First Qi Pastries. Filled with delicate chocolate pralines decorated in adorable shape and motif like pineapple and firecracker, the Oxspicious Gift Set consists of 9 pieces Assorted Customise CNY Theme Chocolate Praline. To give the gift set a refined edge, the morsels of dessert are kept inside a premium wooden box.
Click here to purchase.
Karls Prosperity Champagne Gift Box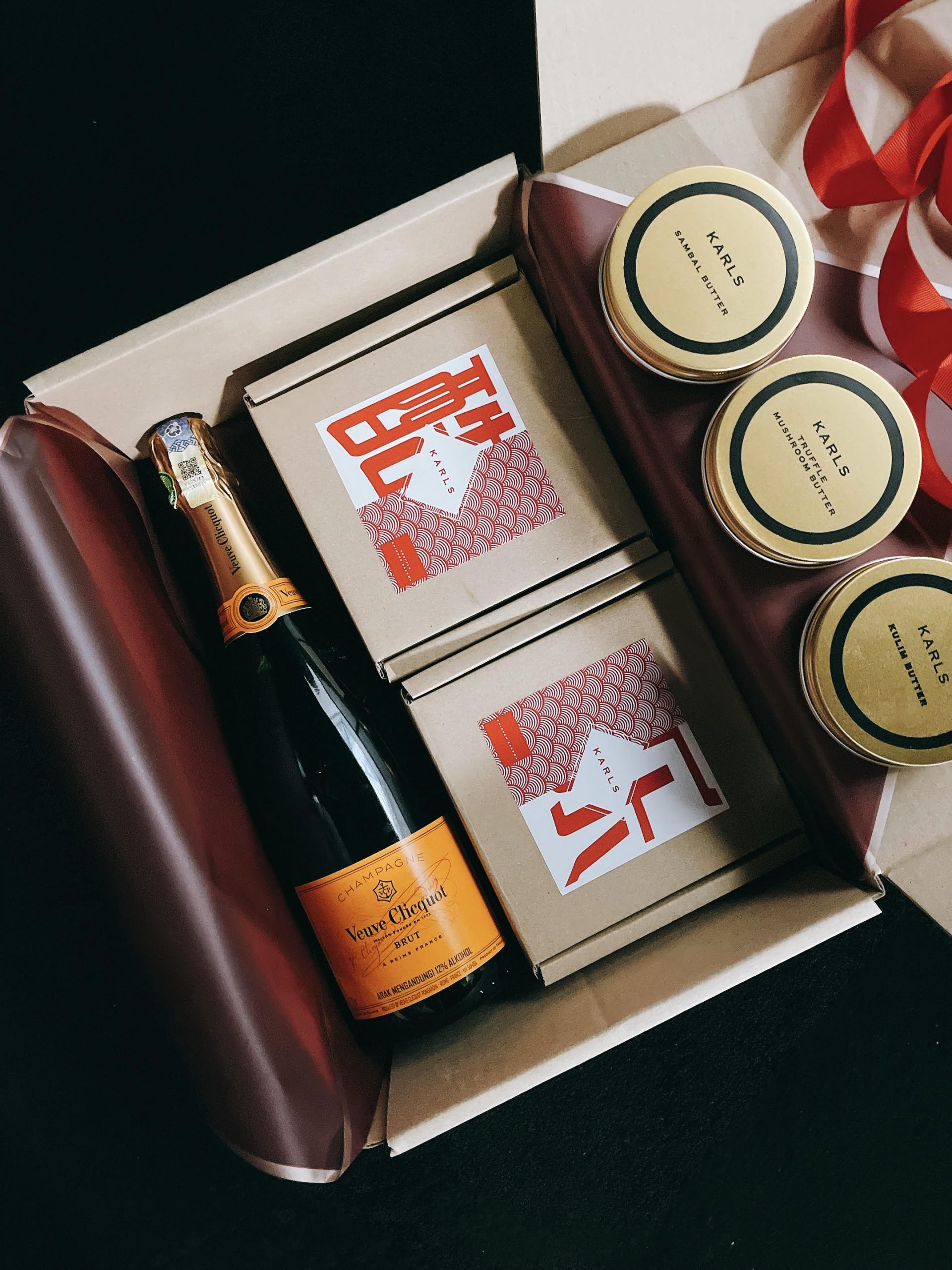 You can count on Skillet at 163 to deliver fun-filled culinary experience even you don't get the chance to dine together with your special ones. Known for their fusion of European and Malaysian flavours, expect some delicately-crafted delicacies from them including artisanal butter with the options of Truffle Mushroom, Sambal and Buah Kulim; and Binchotan Handmade Truffle Bak Kwa with choices of chicken and wagyu. The set comes with a bottle of Veuve Clicquot Yellow Label Champagne NV 750ml to make the celebration an unforgettable one.
Click here to purchase.