The childlike scribble, "You are invited to my fifth birthday rave, Ale" on the French vintage postcard-style invitation – reminding everyone of Alessandro Michele's fifth anniversary as the creative director of the Italian house – hinted that the Gucci Autumn/Winter 2020/2021 was going to be a momentous celebration.
A giant Foucault pendulum swinging back and forth, marking a line in the sand beneath it, welcomed guests as they rolled up to the show space at Palazzo Delle Scintille, Milan. Instead of being nostalgia, Michele actually invited us to reflect on the meaning of masculinity through a collection inspired by childhood, a time when there's no constraint on the dressing up front.
Though what Michele did was not unexpected. Ever since his first collection, he has perpetually put the topic of conventional definition of masculinity on the table. "In a patriarchal society, masculine gender identity is often moulded by violently toxic stereotypes… Attitudes, languages and actions end up progressively conforming to a macho virility ideal that removes vulnerability and dependence. Any possible reference to femininity is aggressively banned, as it is considered a threat against the complete affirmation of a masculine prototype that allows no divergencies. There is nothing natural in this drift," the show notes stated.
The collection included a prim powder blue suit with knickerbockers, black leather school shoes and square metal bags and GG-patterned knee-high socks, as well as a gingham coat, a knitted sweater with the mantra "Mon petit chou" and a couple of low-slung jeans featuring what appeared to be grass stains. There were also metallic flares, grungy '90s denim and oversized knits, and a striking-looking leopard-print coat, not forgetting some shrunken sweater vests were Michele's mischievous way of emphasising the fact that the pieces were not "about suggesting a new normative model, rather to release what was constrained."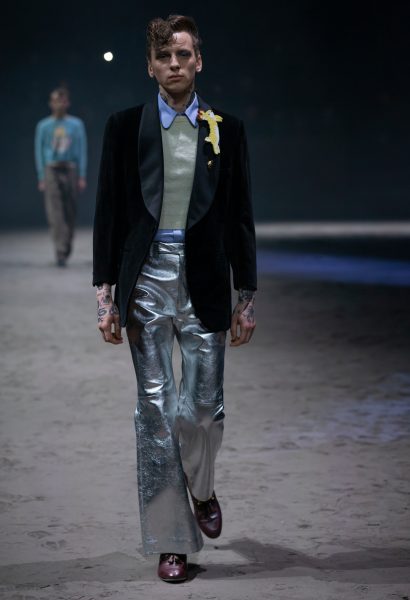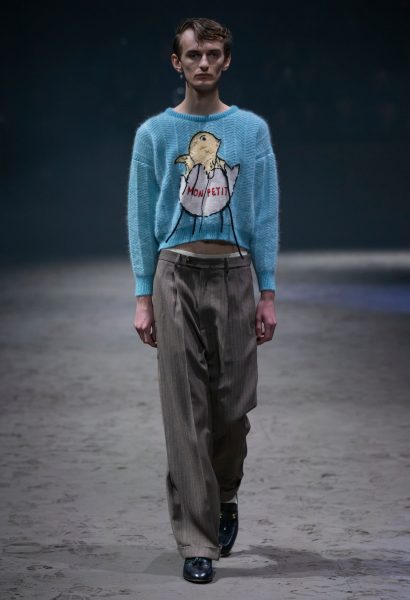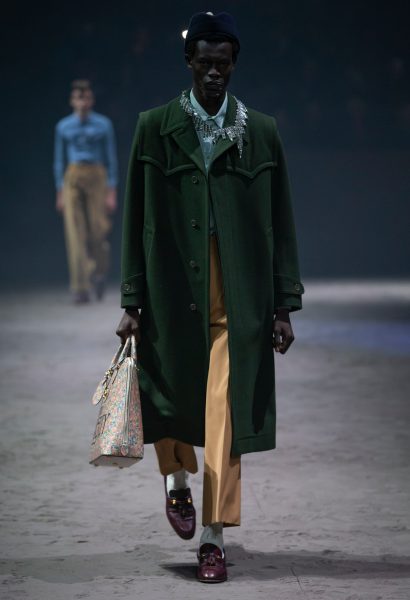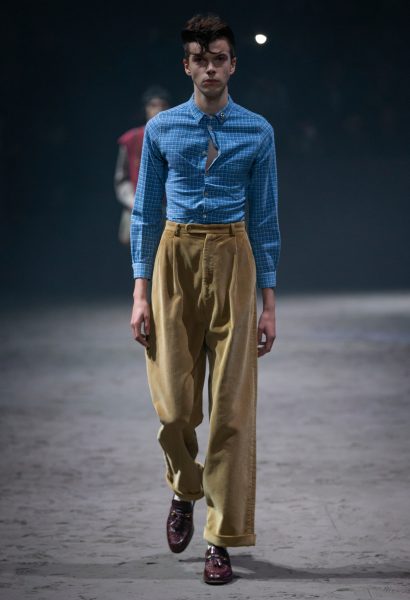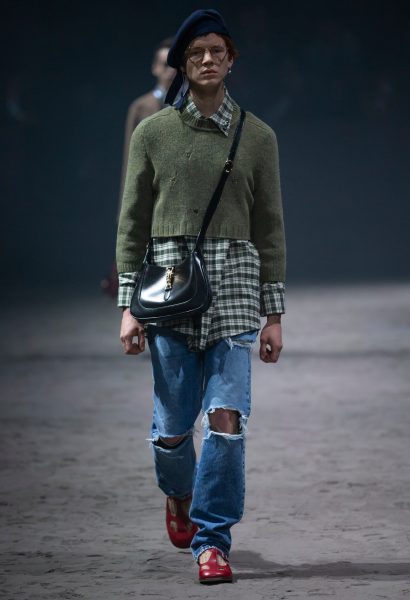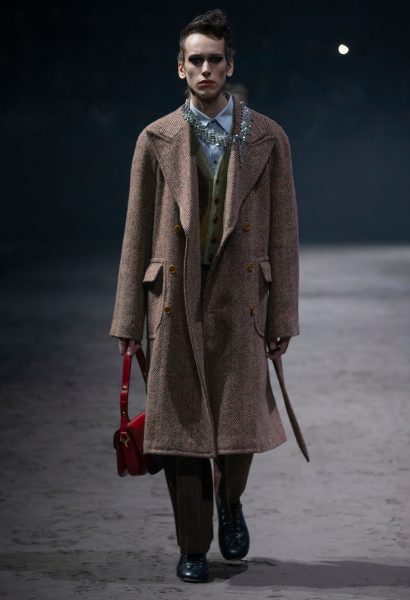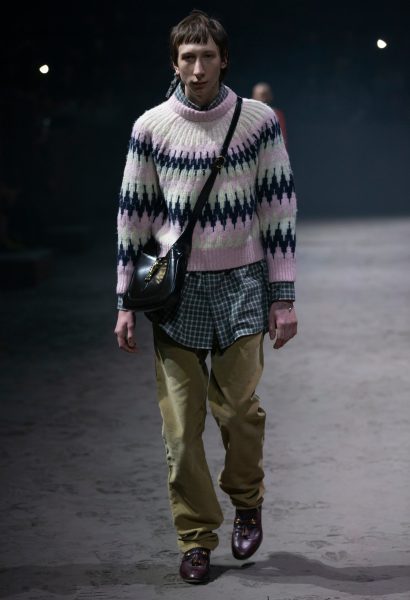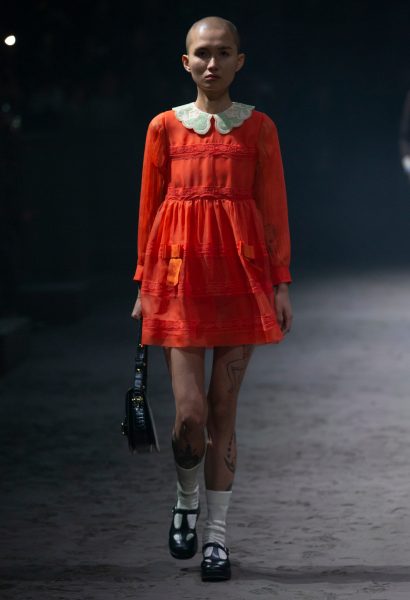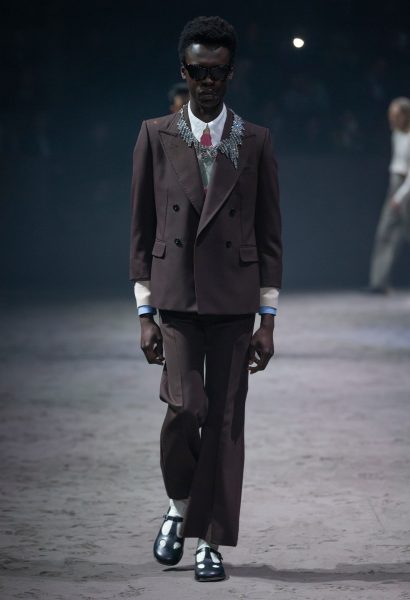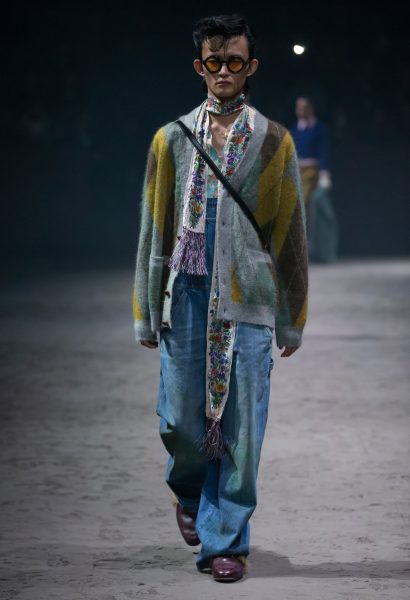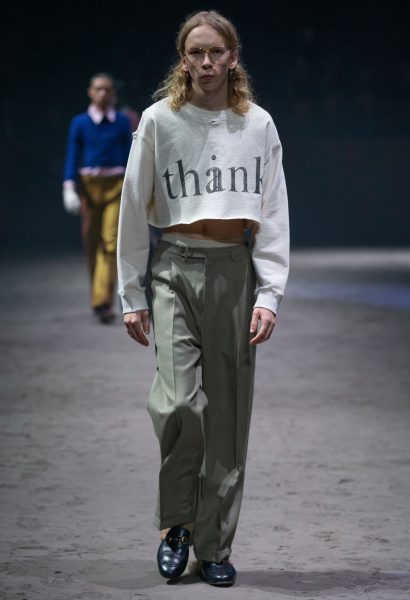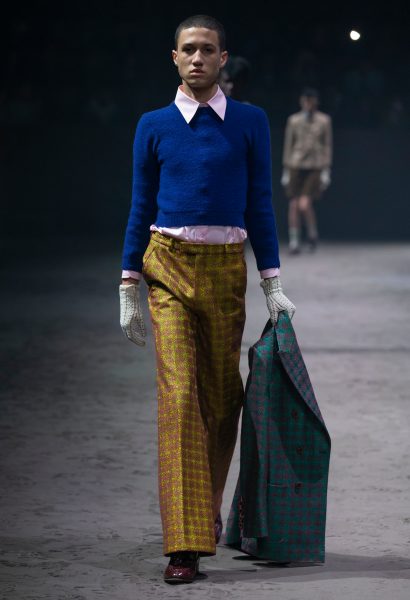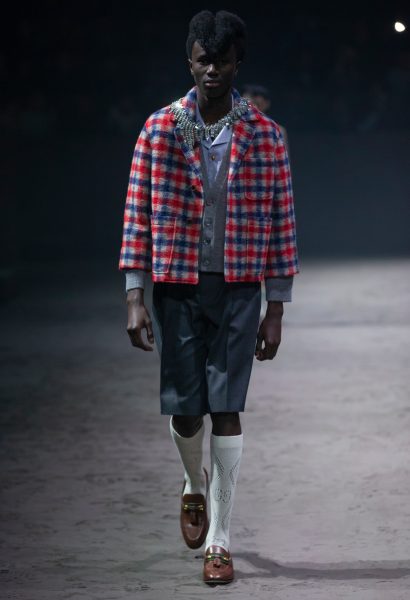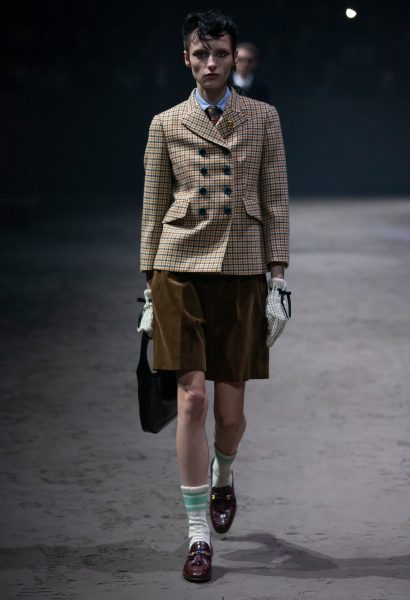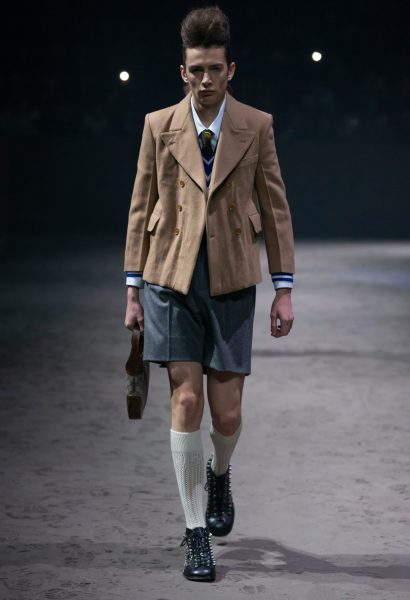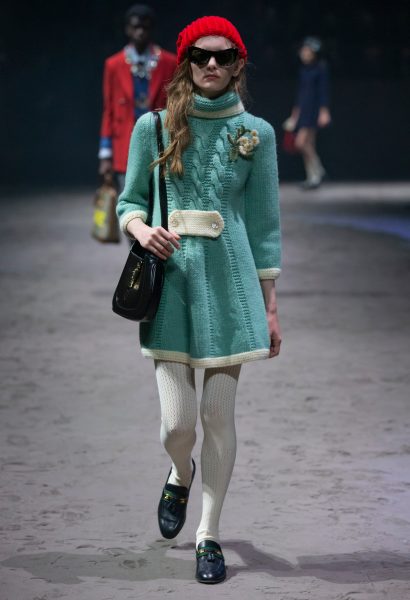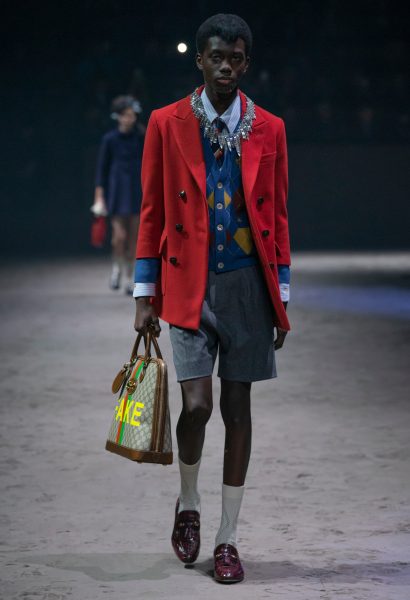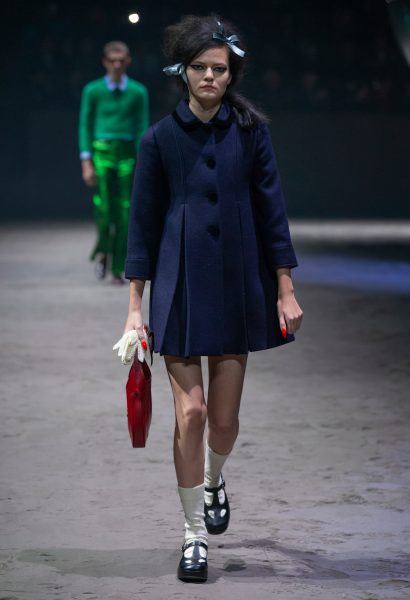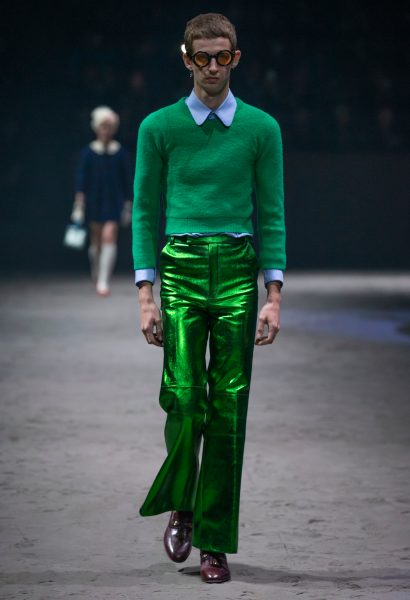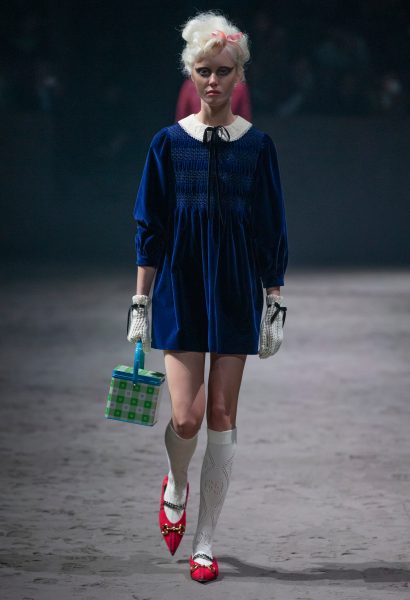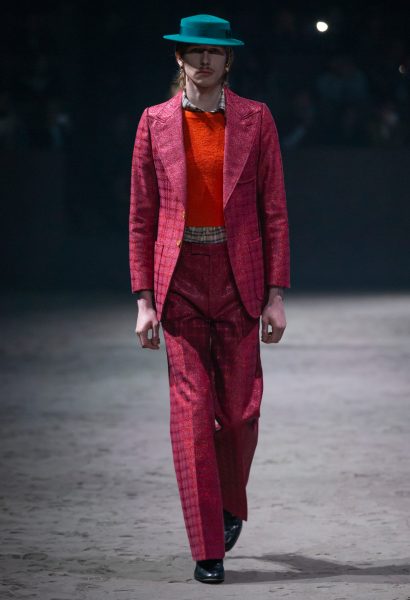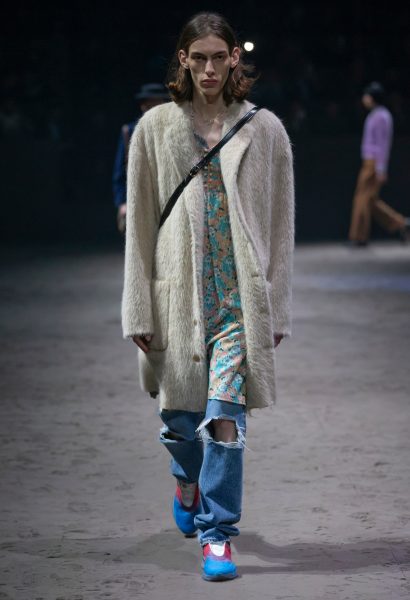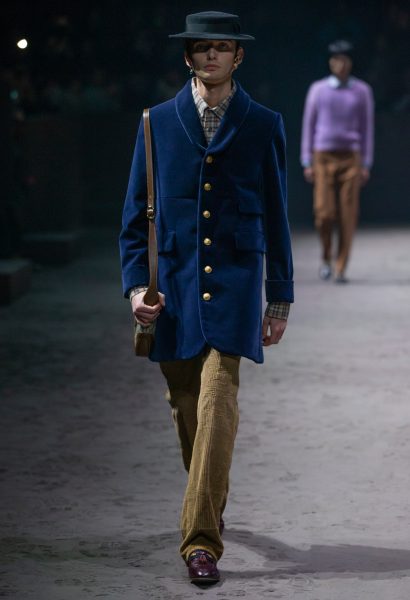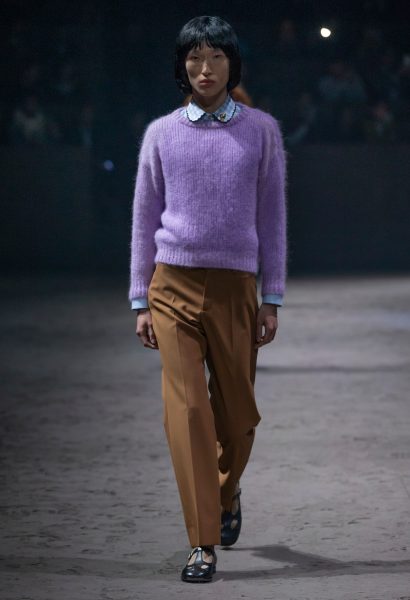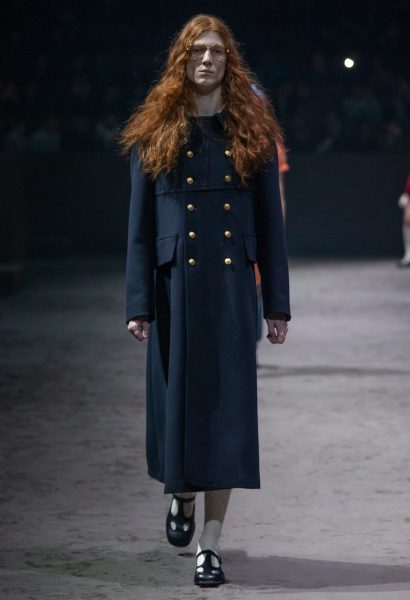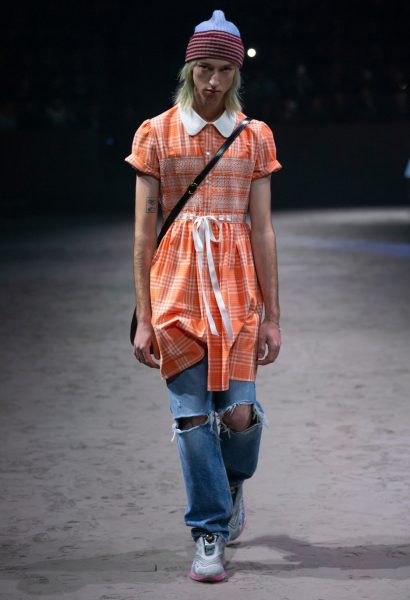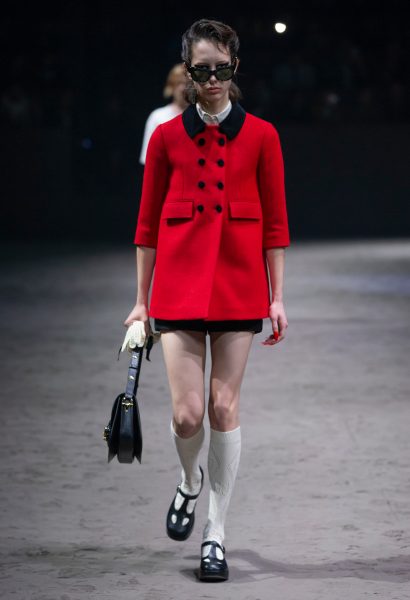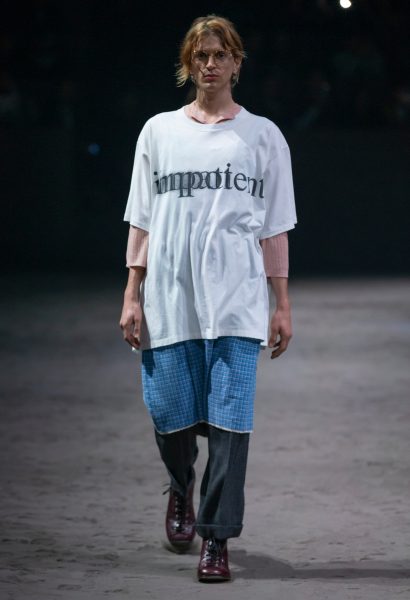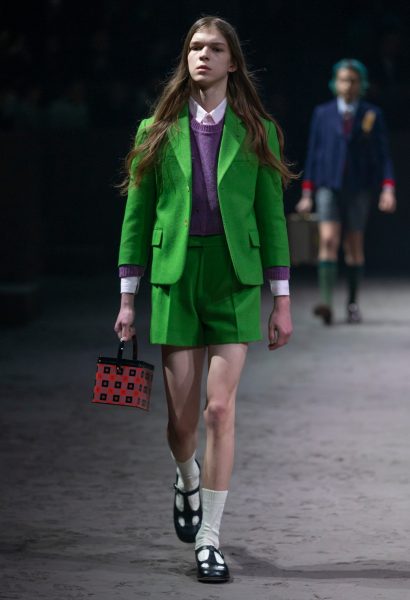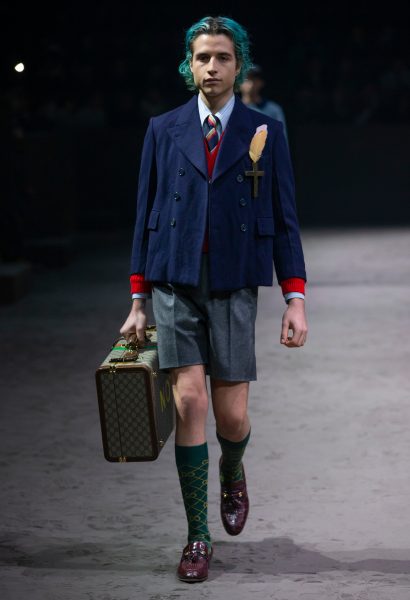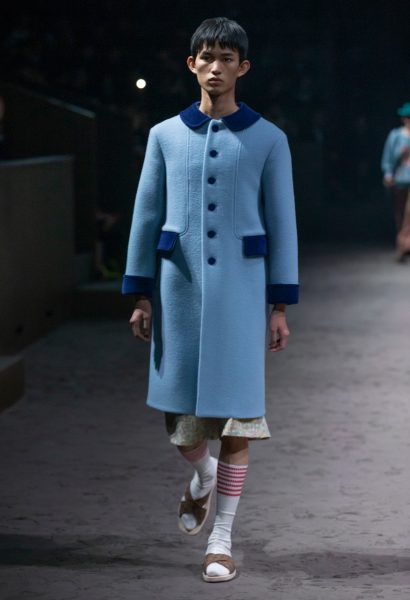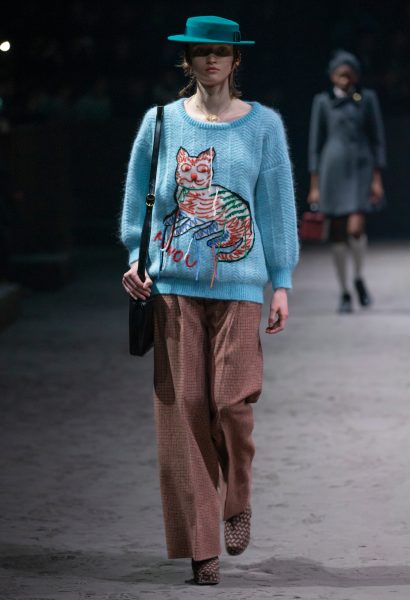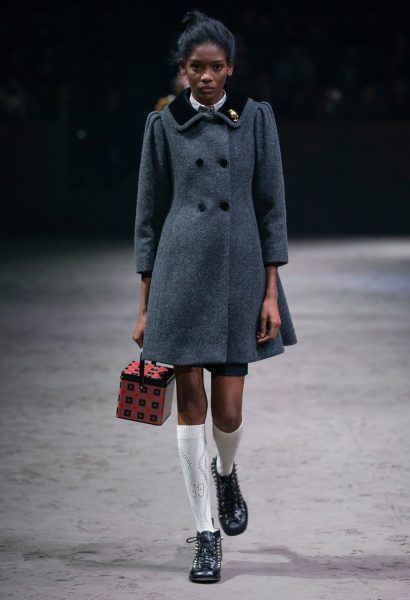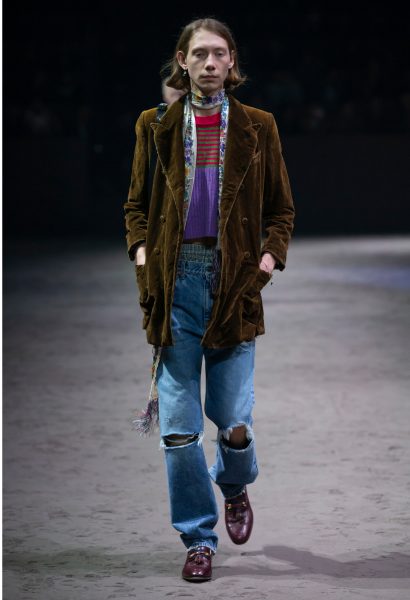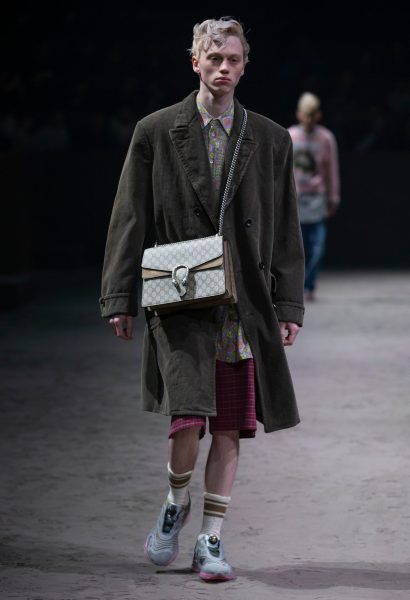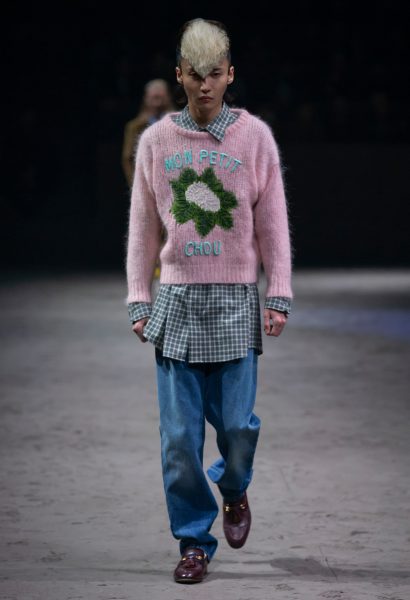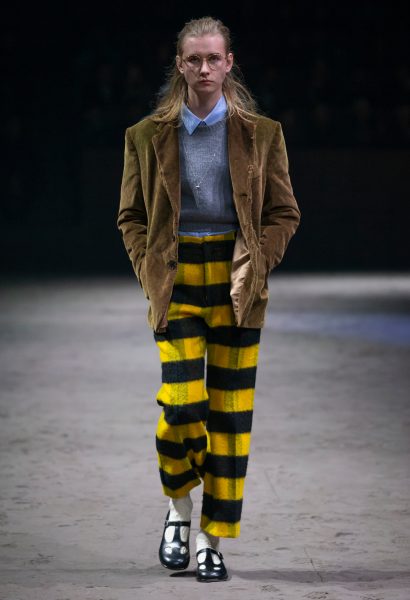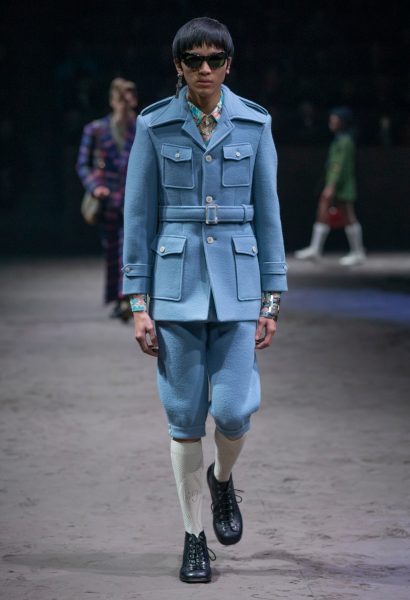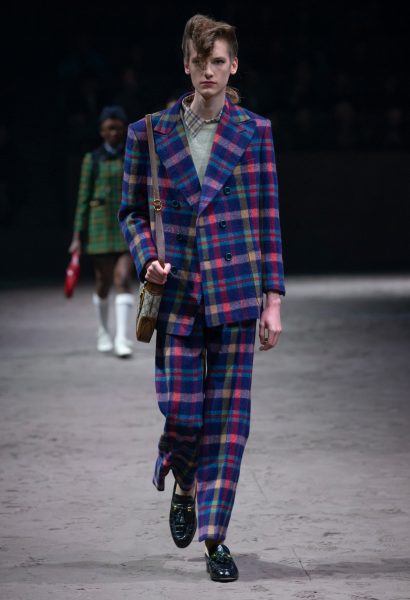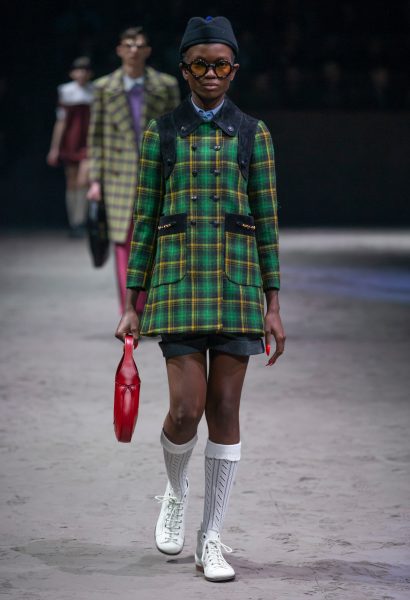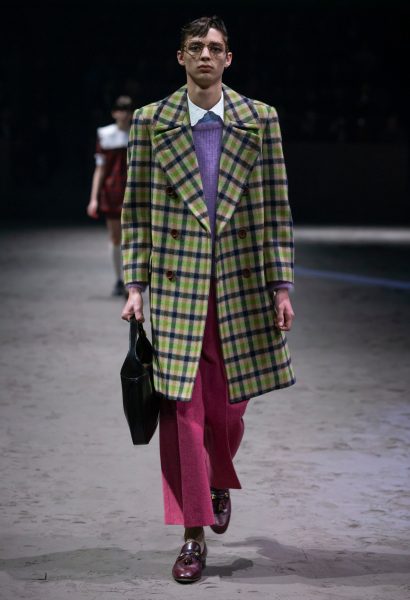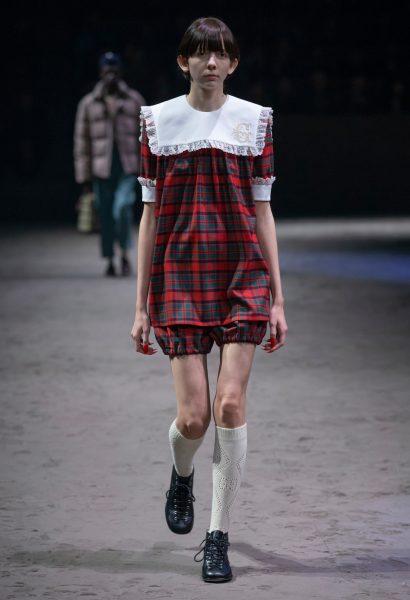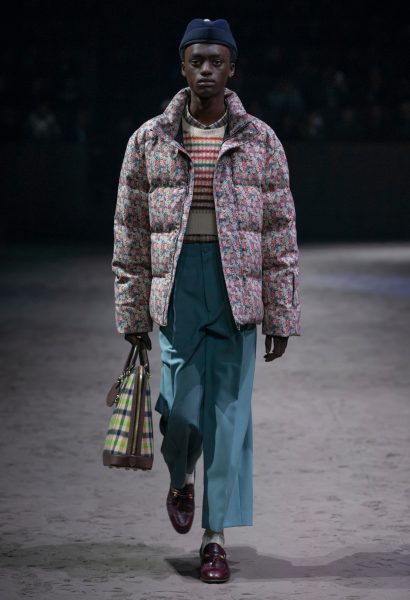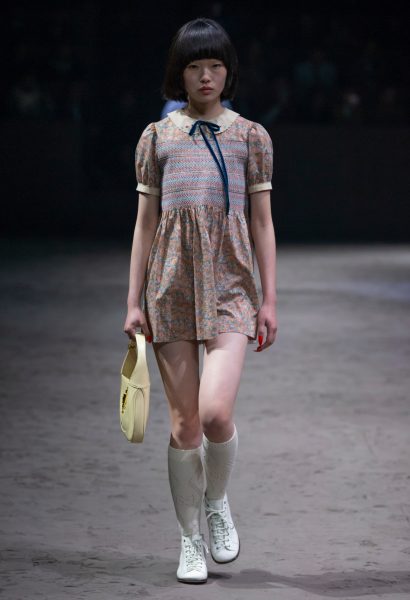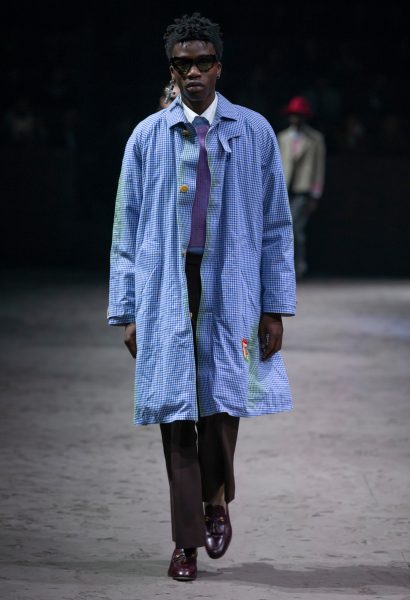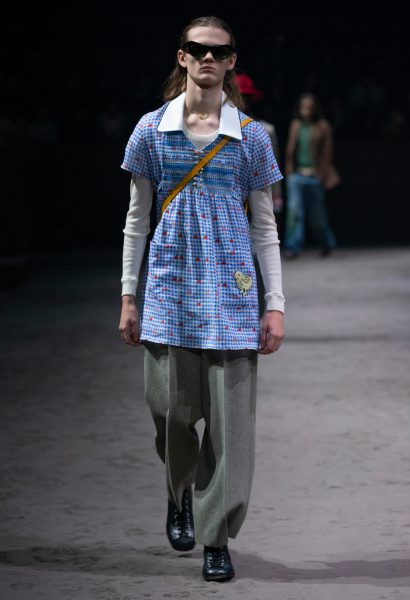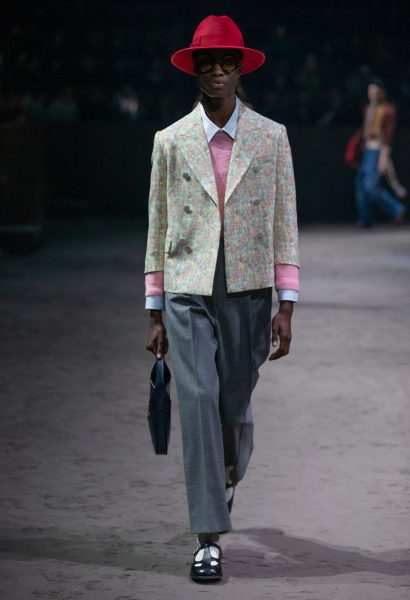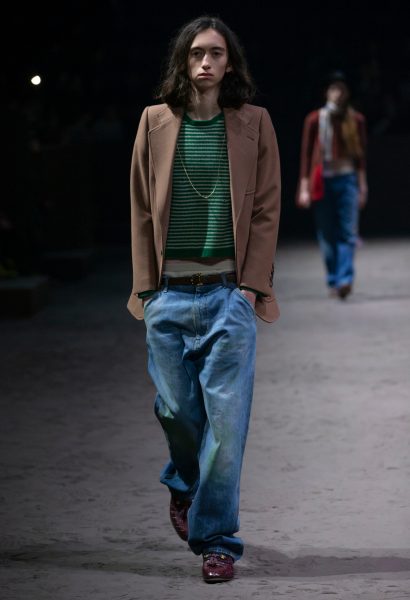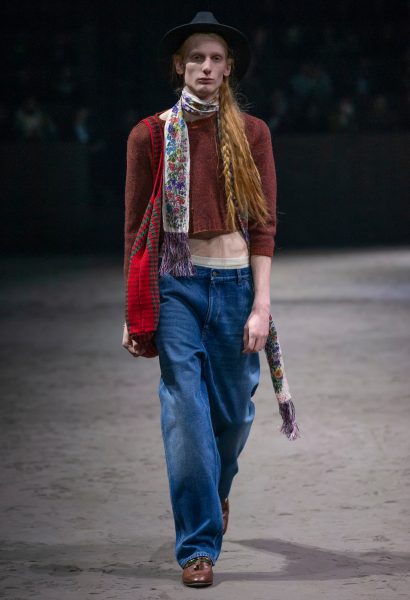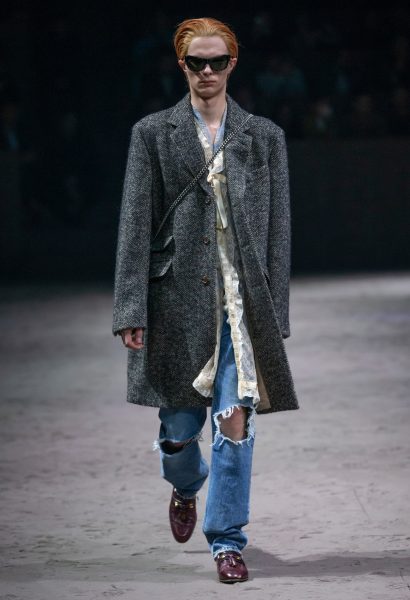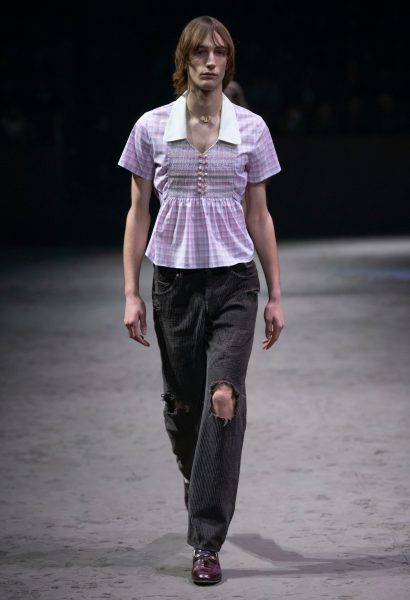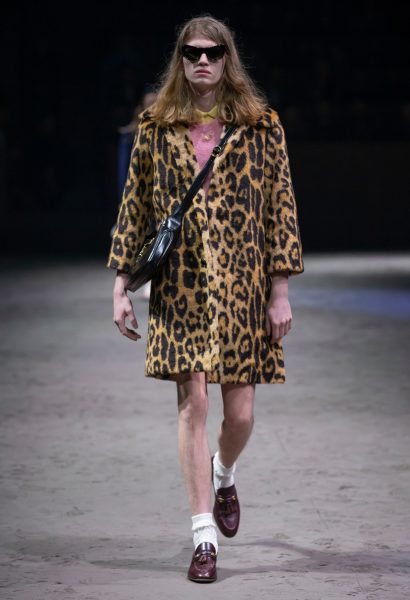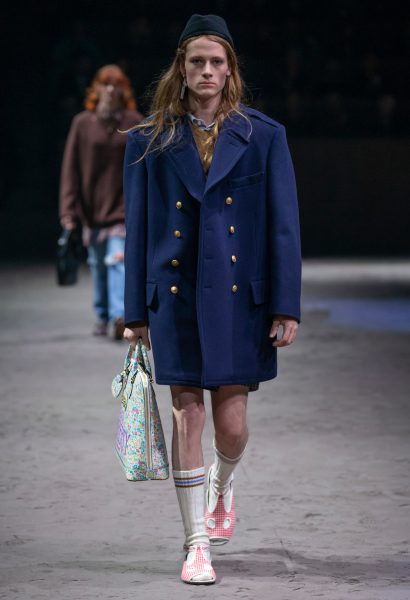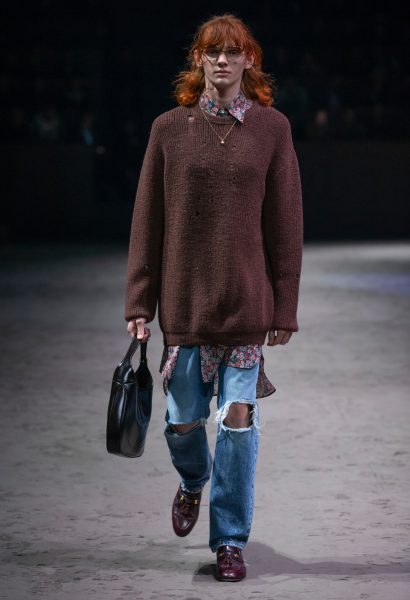 Other highlights comprised of bags that read "fake" one the one side and "not" on the other, and T-shirts with the slogan "impotent/impatient" and "thank/think". What about accessories? There was everything from animal pins to diamond chandelier necklaces to sparkly gems. Michele wanted to break traditional male dress code norms while offering alternative perspectives, which we reckon he successfully achieved with this collection.