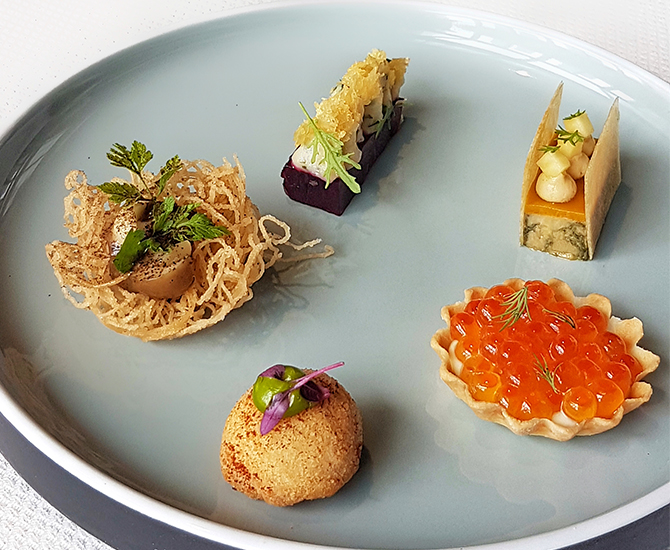 With the festive season approaching, it's a tradition to gather with our family and friends to celebrate the jolly moment together. It's also the time for us to lay out some bucks to reward ourselves after going through a long journey in 2019.
From finding at the new haunts to hunting down the finest delicacies, we have curated a list of dining places with fascinating culinary selection to ease your fuss for picking the right option – one that make everyone coming away with happiness.
Conveying the meaning of brief in French, Bref KL is another brainchild of Chef Darren Chin, who cut his teeth at Michelin-starred Lasserre and for Top Chef France finalist Pierre Sang-Boyer. Curating delicacies with classic French technique and European as well as Asian ingredients, Bref KL has instantly gained ground with Malaysian epicureans. This Christmas season, the restaurant, located at TTDI, has mustered some of the best creations for the festive menu including Wagyu Oyster Blade, Roasted Lamb Loin and Kuhlbarra Barramundi.
Get transported to Bel Paese when you dine at Gooddam. Named after Head Chef Daniel Yap and Operation Executive Miki Lie, Gooddam is relatively new to F&B scene in Malaysia and stands out with its modern Italian cuisine made with fresh local produce where the talented young Head Chef works his magic that he has honed at Parma and Lake Maggiore. Expect to savour some warm creations from its 5-course Christmas Menu such as T'lur Caviar, Liver Mousse Tartlet and Salame Milano and Cotechino Risotto (pork sausage). They also offer 3-course and 7-course menus.
Mari Restaurant & Bar is where West meets East. Lead by Chef Cristian Grandi, who hails from Emilia-Romagna's Ferrara, the restaurant at Lorong Raja Chulan offers a tantalising menu that blends authentic Italian flavours with Asian influence. This coming Christmas, Mari Restaurant & Bar will be offering Roasted Beef Carpaccio, Salmon Tartare, Italian Risotto with Smoked Duck, Homemade Tagliolini with seafood and Roasted Turkey with Hickory Smoked Sauce for the festive selection.
You just can't leave Nobu out when the plan is to celebrate over fine Japanese cuisine. Gained traction with its edgy fusion of Japanese style with Peruvian and South American influences, the high-end eatery always impresses us with its fresh ingredients and innovative menu. This year, Nobu has curated a menu that includes Caviar with Balsamic Glaze, Kinmedai with Matsutake Mushroom Wasabi Salsa, Whole Botan Ebi with Shaved Truffles and Dashi Poached Lobster.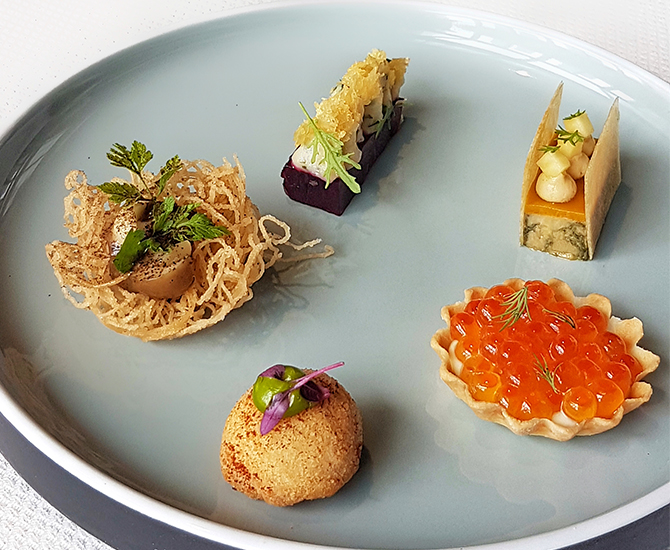 Although the Saint Pierre Kuala Lumpur is new to the city, the name has been well established in Singapore. Touted as the first Michelin-starred restaurant in the capital, the French eatery will be bringing the same finesse of its sister restaurant to the culinary scene. Get ready to indulge in sumptuous fare the likes of Japanese Sea Urchin with Black Winter Truffle, Lobster with Iranian Saffron and Cornish Chicken with Cep Mushroom and Black Winter Truffle, paired with Spiced wine.
Nestled inside the Ruma Hotel and Residences, both the interior design and the offering of Atas Modern Malaysian Eatery are replete with Malaysian influence – the design is inspired by tin mining whereas the menu curated by Chef Tyson Gee is an unconventional blend of local ingredients. This Christmas, the modern Malaysian restaurant will be serving European dishes alongside local flavours such as Warm Foie Gras with Caramelised Figs and Bitter Herbs; Roasted Lobster, Calamari, Clam with Long Coriander and Coconut Broth; Roasted Turkey with Savoury Bread Pudding and Brussel Sprouts; and Tiger Grouper with Wild Bayam, Ginger Torch and Tuak Emulsion.
Disclaimer: The photos shown for Bref KL, Gooddam and Mari Ristorante & Bar do not reflect their actual menus.