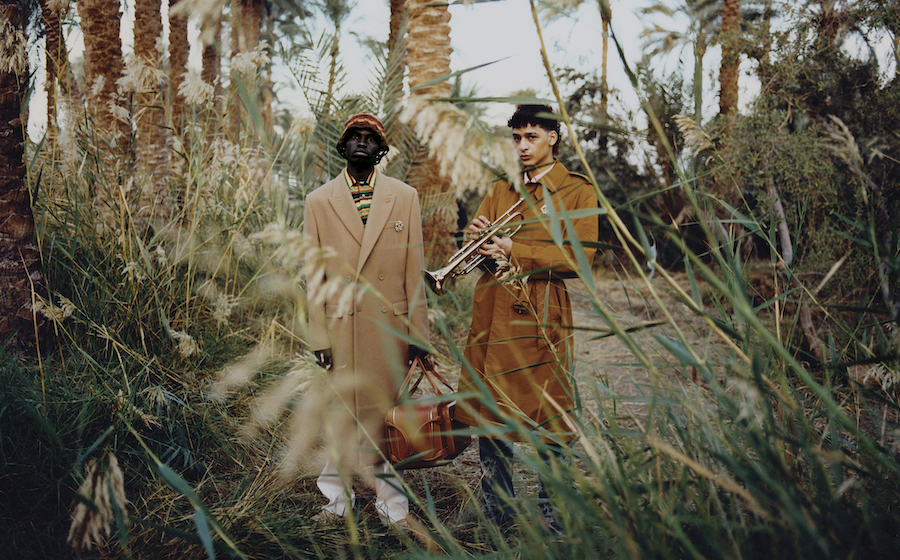 When speaking of luxury fashion collaborations, one of the most prominent names that will come to mind is Kim Jones. Over his five years at the Dior, he has shown the world the heights of success collaborations can reach, and proven time and time again that no formula exists in what is fundamentally about strengthening human relationships; each meeting of brand and identity is unique and requires its own space to breathe and define what is a true halfway point between the two.
So when the presentation of the Fall Winter 2023 show last year took over Cairo's Grand Egyptian Museum to preview a flurry of denim and varsity-themed pieces from a collaboration with Jones' long-time friend Tremaine Emory's brand Denim Tears, expectations were set sky-high. Today, we finally get to see (and shop) the pieces guest designed by the present creative director of Supreme, in full — a series of boldly coloured apparel and accessories that reflects a musical dialogue on diaspora between New York and Paris, via New Orleans — an ode to the journey of jazz.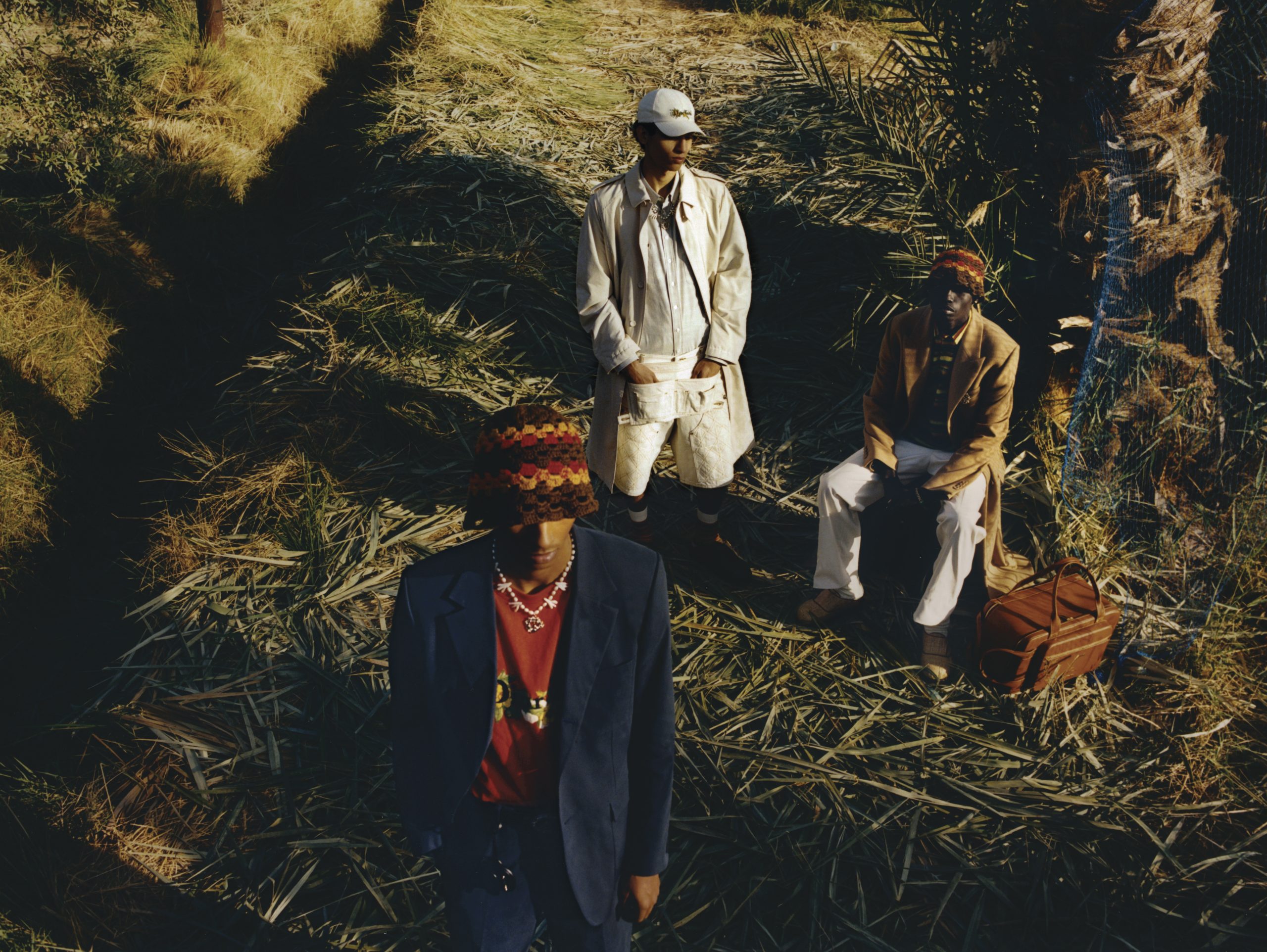 "I want to share that moment in time, that beautiful moment in time where black writers and musicians and artists were coming from America, running from America, and finding some level of acceptance in certain European cities and being able to have their art respected and who they are respected," said Emory about the collection. "It wasn't perfect but it was just a moment, a beautiful moment for blacks to have the privilege and opportunity to escape from the terror, the horrors of America, a segregated Jim Crow America. Artists like Miles Davis and writers like James Baldwin found refuge in Paris."
In other words, what this collection celebrates is the commingling and cross-fertilisation of fashion and cultural codes that reflect the movement and influence of the great African-American jazz musicians that travelled to Europe to play. They were inspired by what they found in Paris and were in turn an inspiration for Paris itself, propelling the avant-garde culture of the city further forward, making Paris the romantic and thriving home of fashion's finest metiers and creatives. The collection mirrors this in its own origins.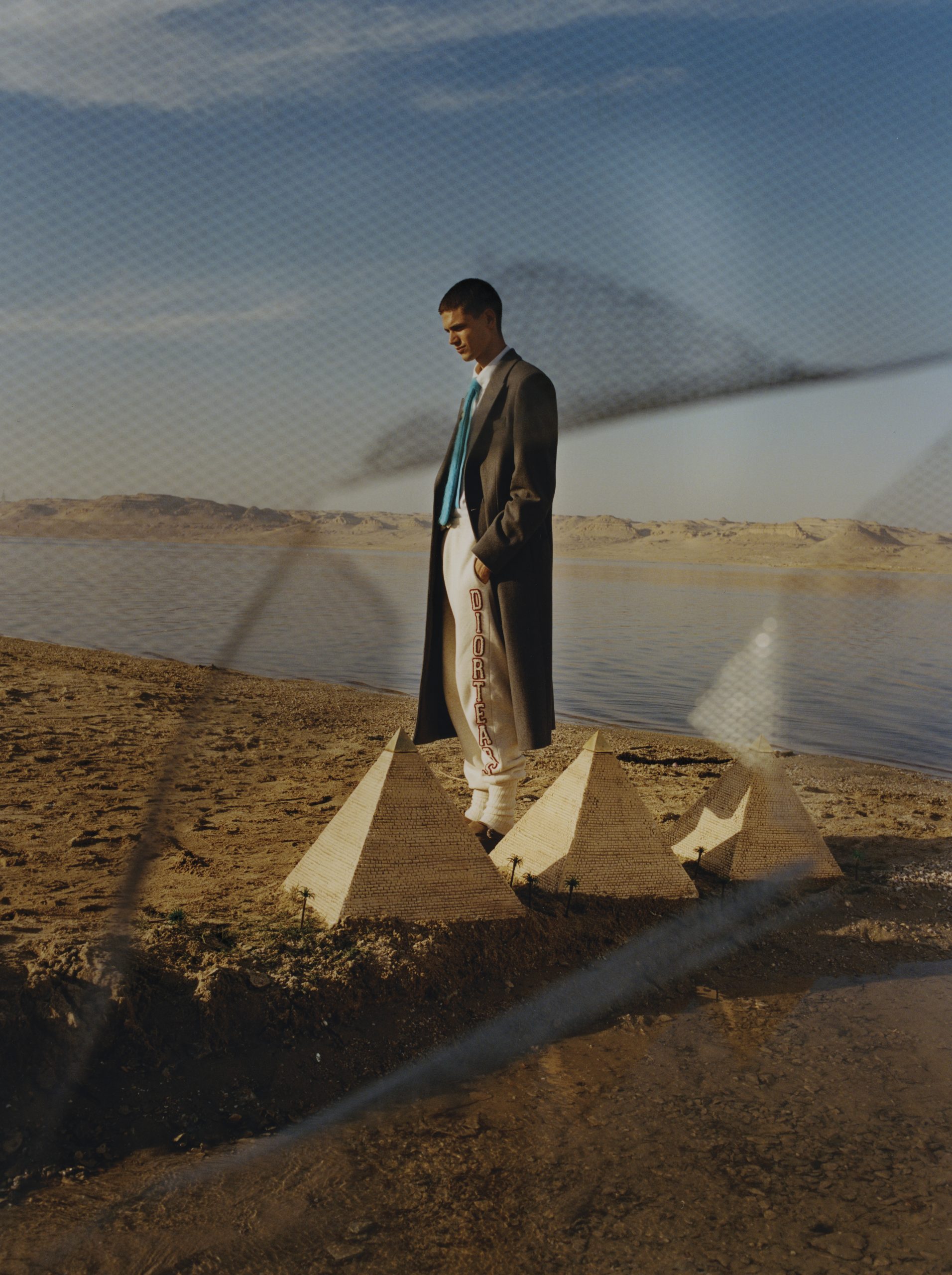 So it is understandable that denim or serge de Nimes is a big pillar of the collection. Special jacquards and discharge prints were developed and added to heritage fabrications of the typically dressed down, French-found material, which found significance in the American story, and has in a full-circle moment come to be part of the Maison's contemporary explorations of savoir-faire.
But the main source of inspiration is ultimately still the look of black Ivy League students of the 50s and 60s, as well as the insouciant style of jazz musicians from the same period. There is also a nod to the civil rights movement that existed simultaneously with both, where workwear was also worn. Preppy meets the origins of 'cool' in archetypal American workwear staples, such as unpretentious plaid shirts, enduring varsity jackets and effortless chinos, combined with the sartorial sleekness of classic wool overcoats, sinuous tailored suiting and elegant cognac leather accessories, such as the trumpet bag.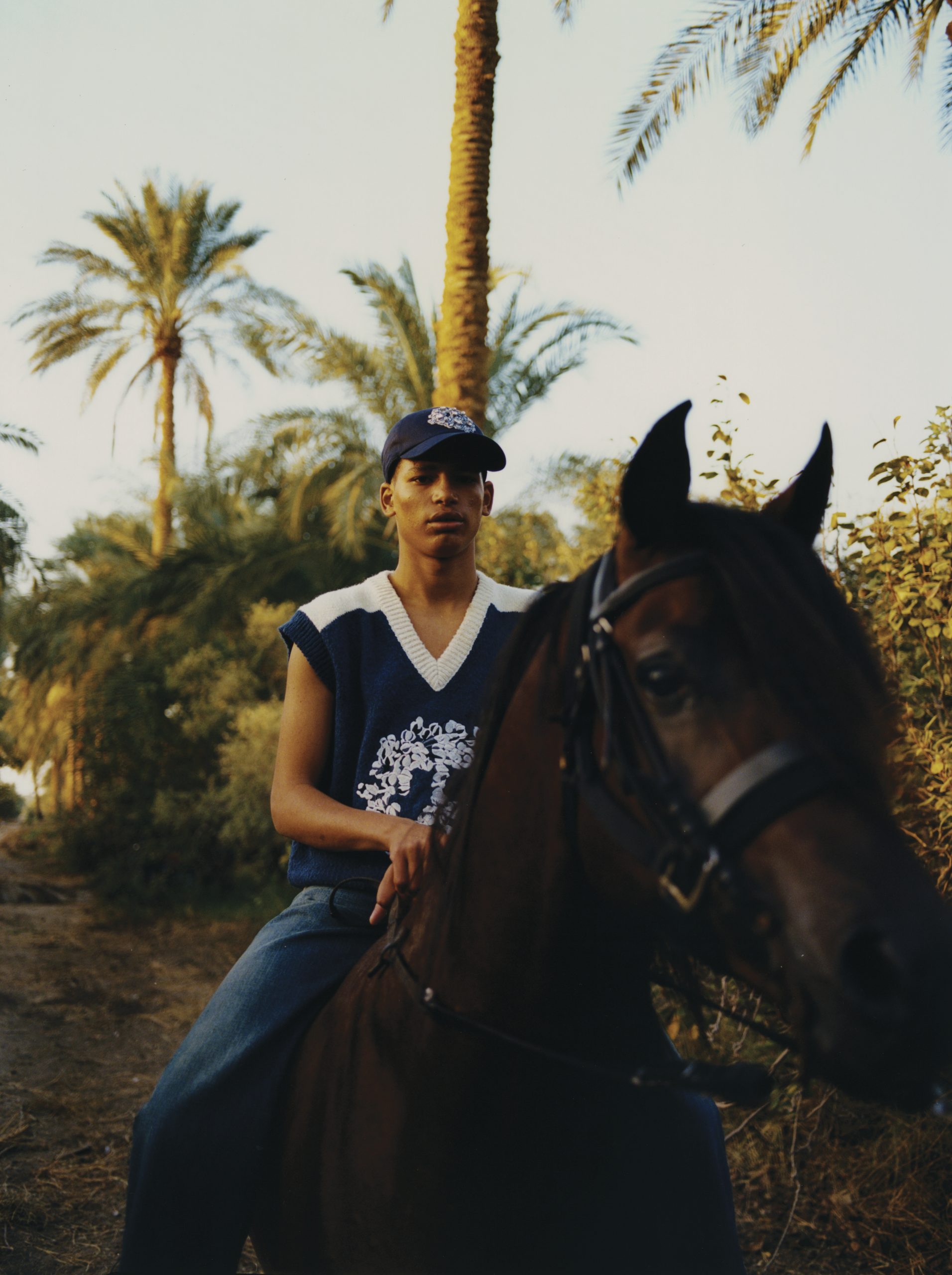 The modified versions of the Dior Oblique code and the Denim Tears wreath motif also iterate the classic silhouettes of the Saddle Bag, Dior Lingot, and B33 sneakers, these novel street-luxe staples embellishing a warm, highly-saturated and sunny palette of earthen colours with youthful energy. Signs, symbols and motifs such as cotton blossom and collard greens also bring France deeper into this three-way conversation, gifting this cultural sharing with a richness you can only find from the combined creative force (and friendship) of Jones and Emory.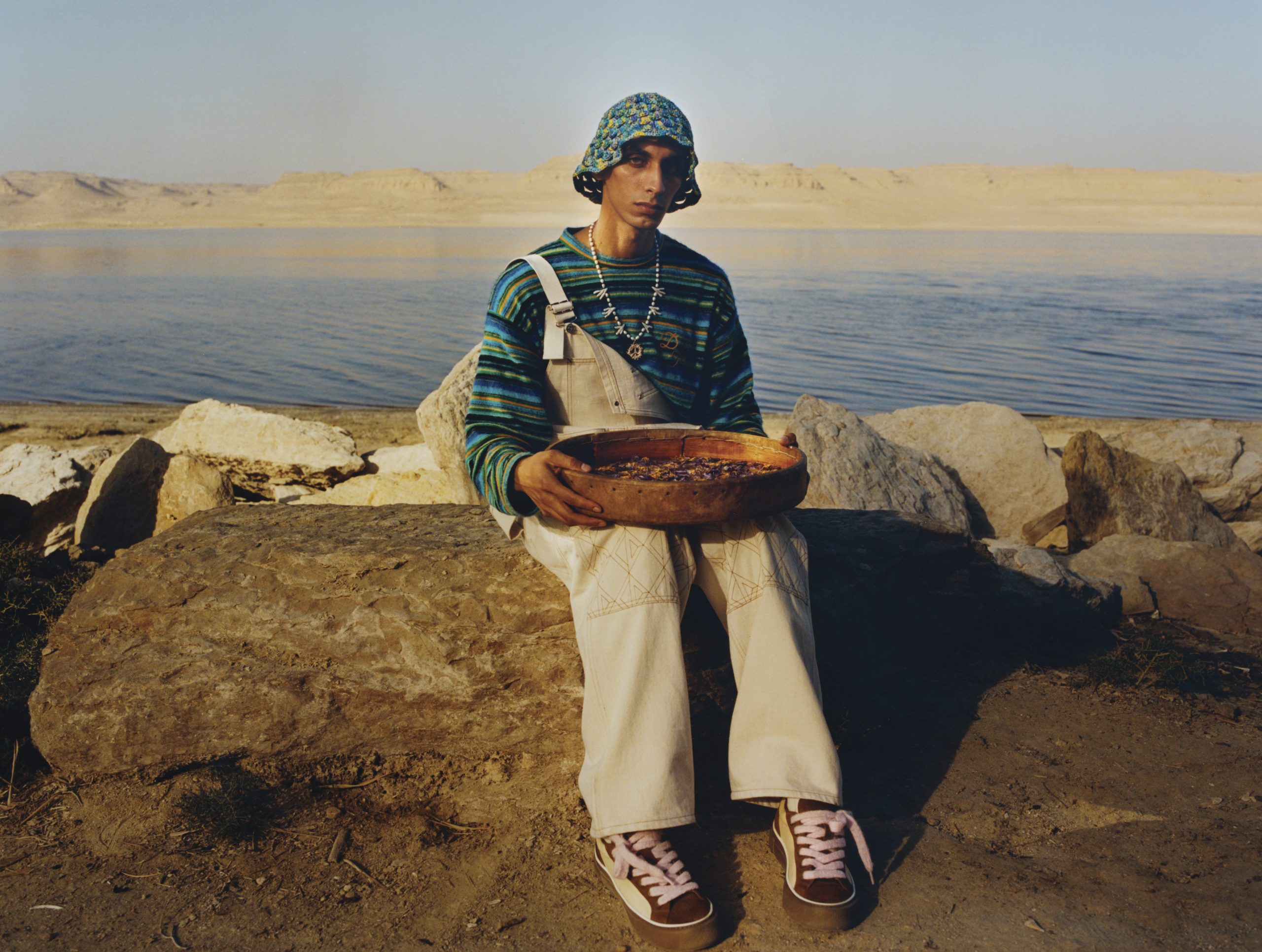 In a similarly immersive and visual fashion, the launch of this capsule collection is accompanied by a series of pop-up stores opening in London, Tokyo, Seoul and Shanghai.
Each of these exclusive pop-up stores will feature different installations that best represent the capsule collection's place between a dream and enchantment. These monumental installations are dotted with gigantic inflatables that occupy the interiors of the boutiques they are housed in. The stores will also feature video projections that echo the co-branded logo and floral motifs that highlight this Dior Tears collection. Visitors will be able to download a digital production elaborated by artist Azuma Makoto's studio, intersecting art, fashion, eras and cultures and a crossroad.
Lensed by Dexter Navy, the Dior Tears collection appears to be yet another impressive and richly coloured partnership bagged by Dior. Authentic to the Emory's story yet told with the irrefutably sensible and luxe-street-savvy touch of Jones, there's no stopping how Dior manoeuvres menswear and heritage's interactions in today's fashion climate, allowing the inevitably multi-cultural design of luxury partnerships to find more depth and significance amidst an age of short attention spans and even shorter-lived moments of history appreciation.
This is also perhaps why it was first presented to the world on the site of one of the cradles of civilisation in tableau vivant form, surrounded by the antiquities of one of the greatest civilisations of all, and inspired by all that jazz.
The Dior Tears collection is now available at Dior boutiques.