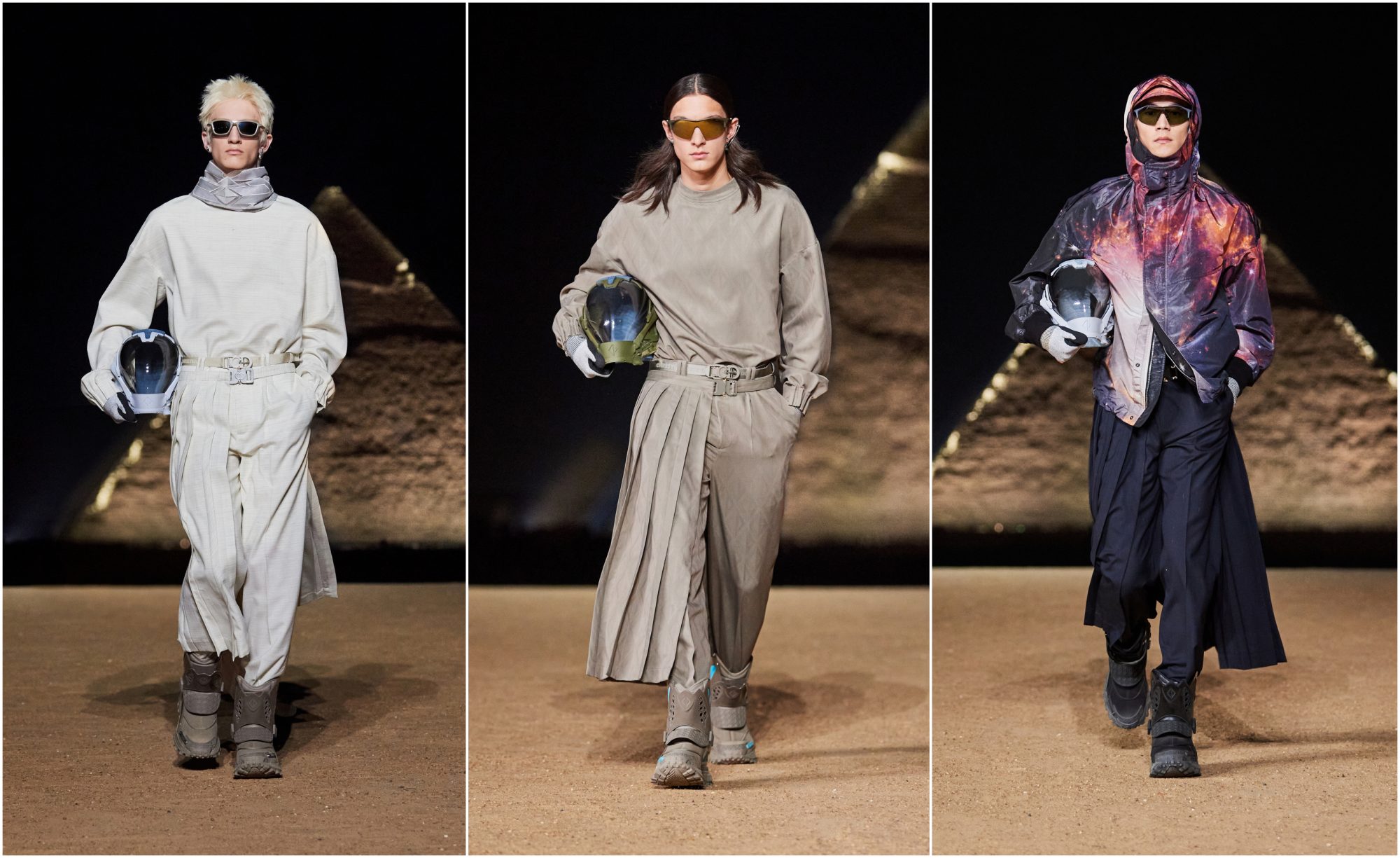 Cascading capes and wisps of sheer chiffon billowed in the wind against the glorious backdrop of the LED-illuminated Great Pyramid of Giza as Dior Men Fall '23 collection landed in Cairo, Egypt. The collection opened with a series of utilitarian ensembles with space helmets in tow. First came ivory, shades of grey were beautifully interspersed with bright yellows after, followed by neutral gradients of brown and burnt orange that complemented the landscape and fiery sunset. Models donned cocooned outwear and transparent technical jacquard jackets as a form of protection against the elements. Others embraced Egypt's nature with fluid, organic pieces almost camouflaged with the surrounding sand. Each evoked the romanticism of this Dior explorer's voyage in the desert.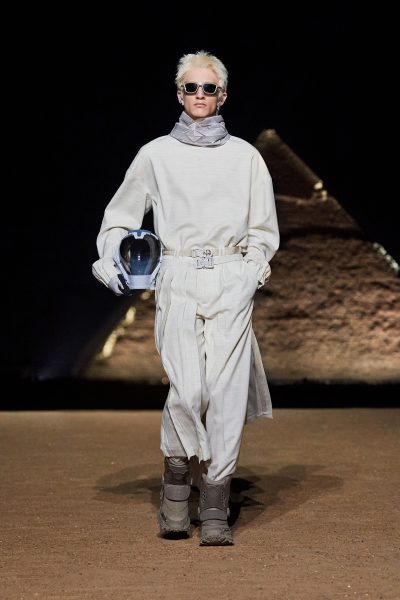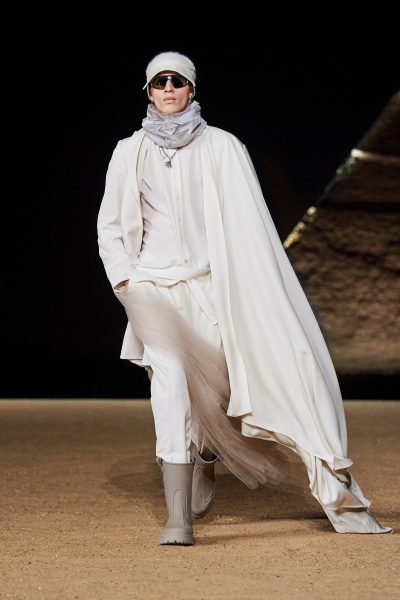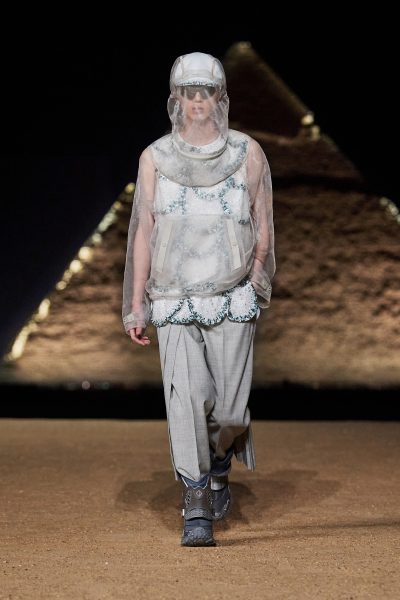 Envision a sci-fi world that is a fashion-driven take on Dune by way of Mad Max and The Mandalorian, only this was not a post-apocalyptic collection but a journey of retro-futurism at its finest. Cyberpunk geometric chest guards combined with velcro neoprene boots and embroidered vests were then juxtaposed with draped knitwear, fluid anoraks and snakeskin jackets. Hard meets soft as organza outerwear is paired with Dior Cannage emblazoned protective gear in the other-worldly armoury and facial coverings. A stand-out wicker basket morphed into an intricate backpack also featured the Dior Cannage and the Diamond Oblique motif. Padded puffer vests, billowing bomber jackets followed by narrow trousers and skin-tight leggings are the result of amalgamating a feminine touch with the collection's masculine tailoring.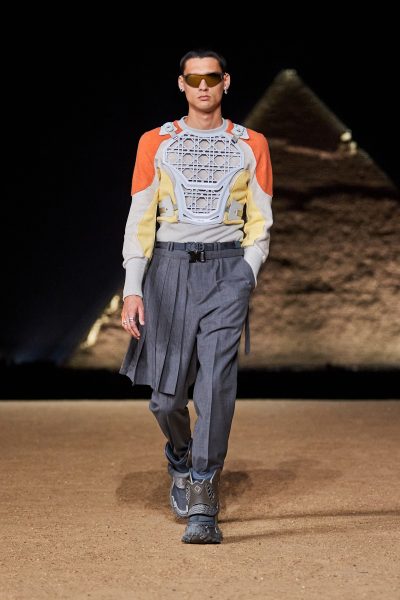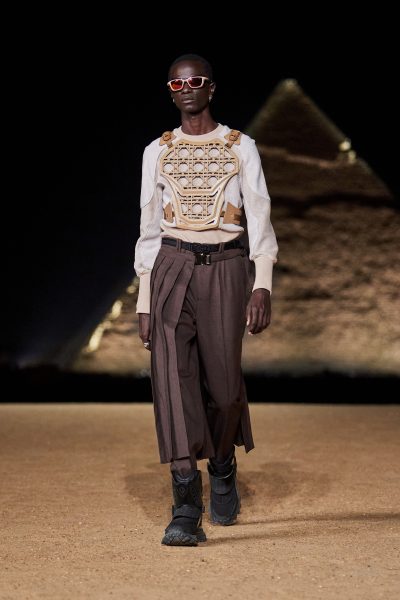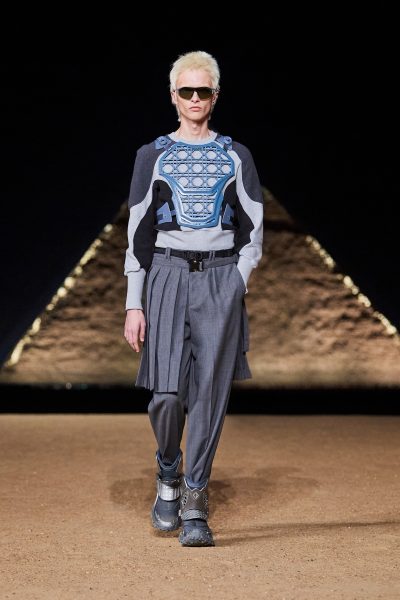 Astrological constellations stitched onto knitted sweaters tied the collection back to the late founder's fascination with stars and astrology. This same fascination over his "lucky star" would help convince Christian Dior of his destiny to start his own haute couture House. 75 models walked the runway presentation, referencing the years since the brilliant couturier founded his Parisian House of Dior in 1947.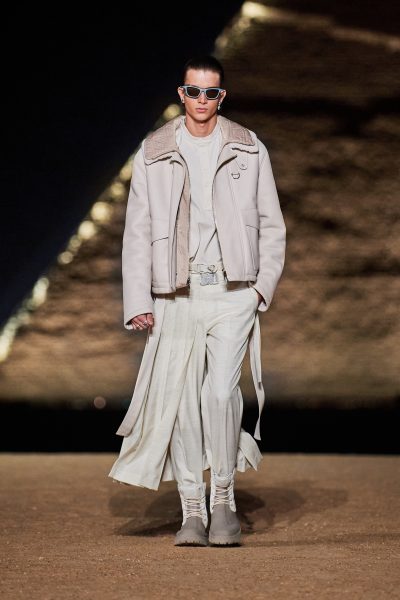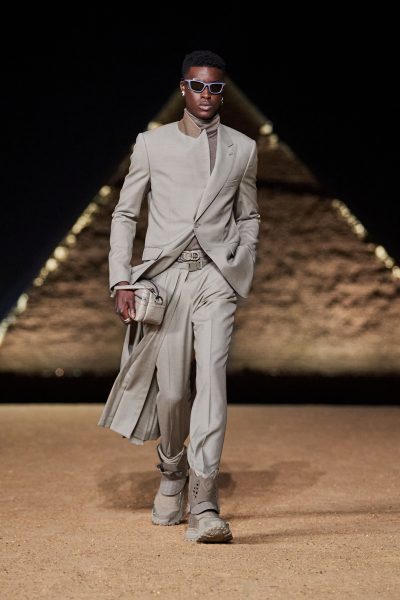 Obvious references to ancient Egyptian mythology were noticeably excluded, which could have come across as gauche and overly congruous. The incorporation of pleats was a nod to the shendyt, a linen loincloth or kilt-like skirt ancient Egyptians wore. Artistic director, Kim Jones reimagined it under the Dior lens, creating an asymmetrical bias pleated half-skirt or "demi-kilt". Crystal embellishments and delicate embroidery we have come to know from Jones' Parisian showcases took a back seat (bar look 3 and 28's embellished scalloped tops) and were instead replaced with engineered galactic prints, derived from images taken by NASA telescopes.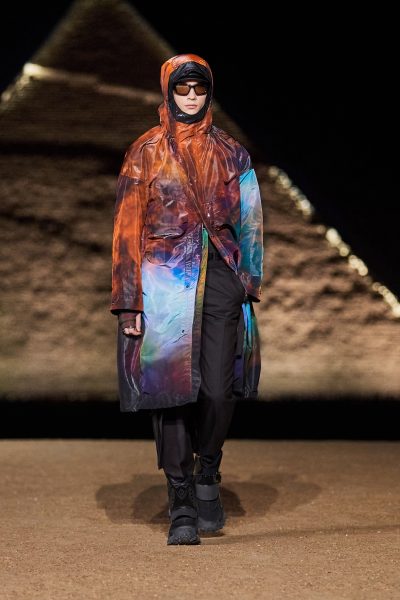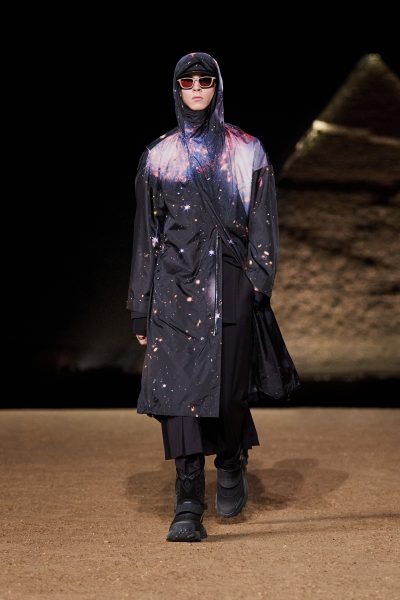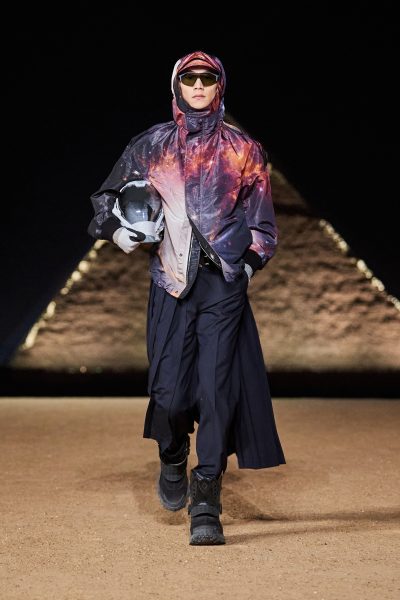 The collection's resurgence of galaxy prints (which enjoyed a heyday in the early 2010s) was also seen during Christian Dior's Autumn/Winter 2017 Ready-To-Wear collection. Maria Grazia Chiuri in her sophomore collection for Dior, displayed astrological embroideries and a blue velvet dress with the constellation of the House. However, Jones chose to focus on the wonderment of Egypt in a more graphic and visual take while maintaining the signature sleek Dior suit tailoring.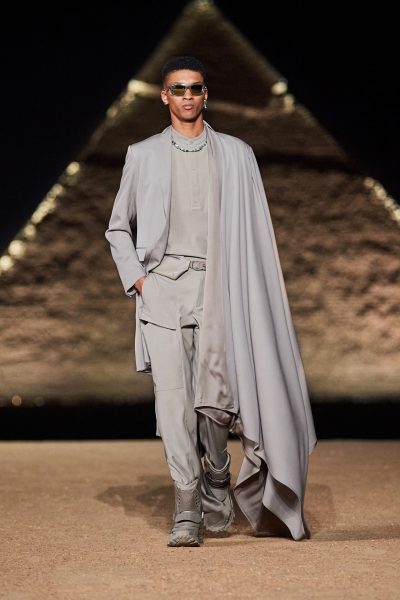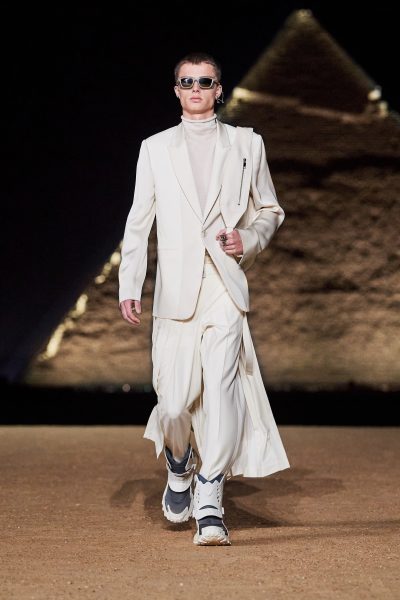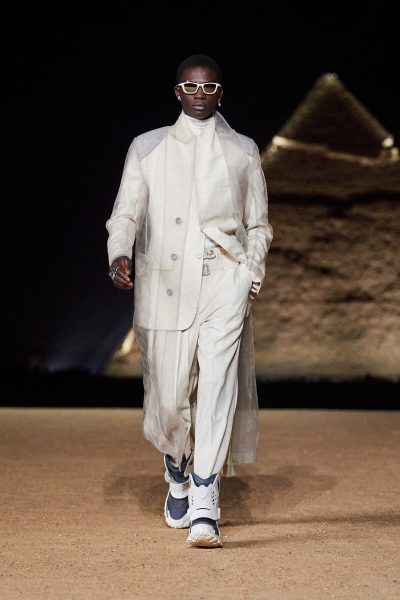 As artistic director of Dior men, Jones continues regenerating and rejuvenating the House as he propels the French brand into the future. His pieces are rich in texture and synthesise wearable yet fantasy-driven elements, and the Dior Men Fall '23 collection is no exception. This is the new dawn of luxury — couture fused with technical practicalities. For millennia, people have looked to the stars for answers, be it for navigation or to discover the secrets of the universe. With this in mind, Jones melds the past and the present in a beautiful display as part of the continuum in the next chapter for Dior.