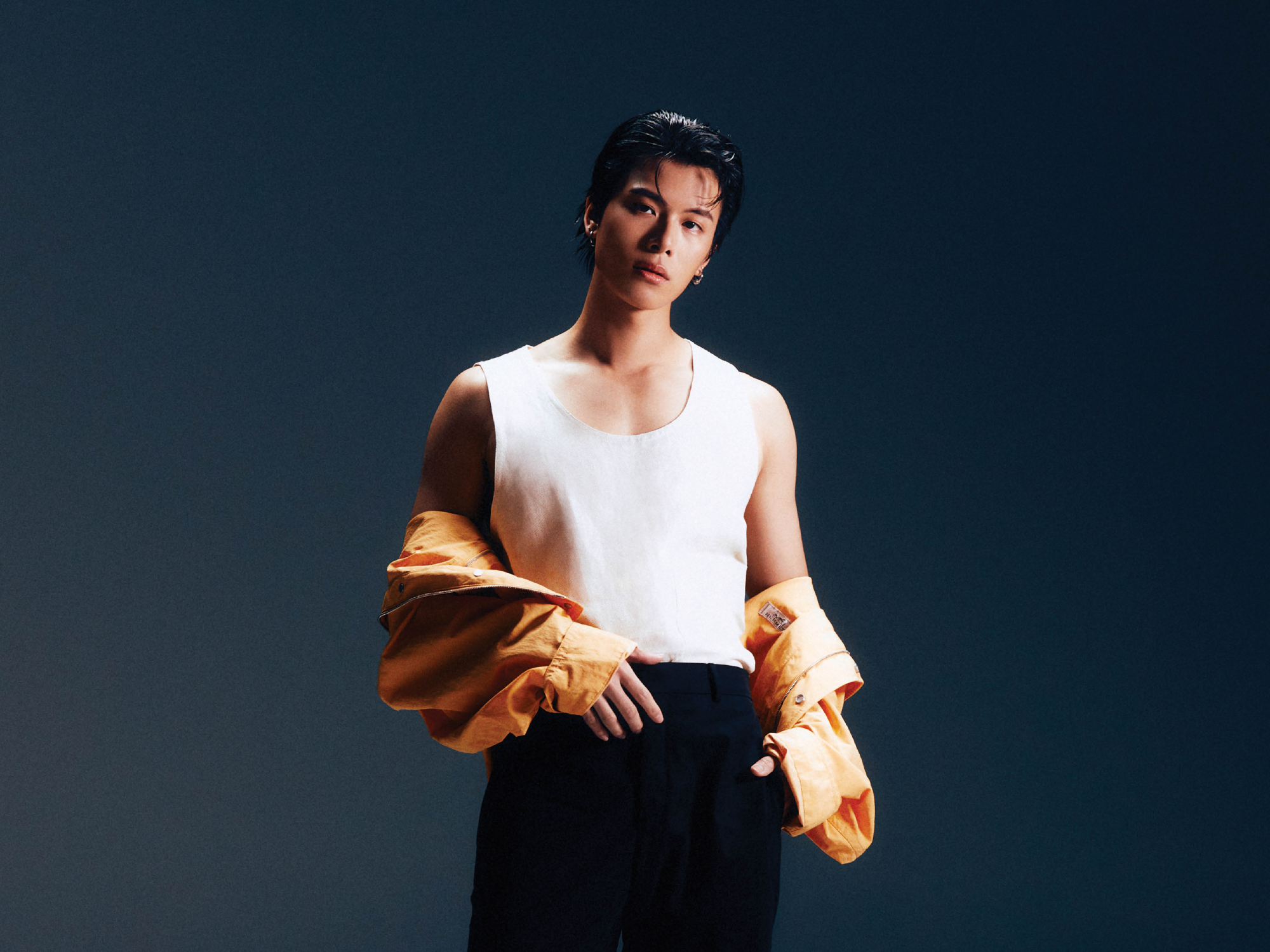 Within four years or so, Glenn Yong's reputation in Singapore burgeoned from a relative unknown to one of Singapore's most recognisable faces. He has taken the industry by storm, gracing press tours and events; his presence infiltrated social media algorithms and at times, headlined news articles. Well, he has even made it to the 100 Most Handsome Faces of 2022 list compiled by TC Candler. The news caused a bit of a stir — but you know what they say, all news is good news.
The pace at which Yong exploded onto the scene is exponential but is hardly a surprise for someone who holds the advice "You are the master of your own fate" close to his heart. Yong's goals are ambitious to say the least, but it has given him clarity and a razor-sharp focus on what he hopes to achieve.
"On the career front, I do have some goals set that I'd like to "manifest" — like to have a solo concert, perform for National Day, I hope to work on an international production (film/series) and have an overseas meet & greet!" quips Yong.
Fuelled by ambition and running on pure adrenaline, Yong has developed a reputation for being a workaholic. Interviews on other media or entertainment outlets always point to long working hours; a weekend sleep-in is a true luxury for someone who confesses to sleeping four to five hours a day.
"I have a vision for the year ahead, but a more personal one would be to schedule time for myself, family and close friends. To learn to enjoy the moment and the relationship with the people around me," Yong adds.
If you recall Captain Jack Sparrow's compass in the franchise film that points to what his heart desires most, it fluctuates every now and then. If Yong had the chance to meddle with the compass, I would expect little to no fluctuations. Of course, this is no Pirates of the Caribbean, but for the past three instances (this included), I have had the opportunity to speak with Yong and he answers about his goals with remarkable consistency.
Interestingly, this cover shoot marks Yong's first-ever solo feature with Men's Folio after gracing the August 2022 cover alongside Dharni, Tabitha Nauser and Shye. When quizzed about Yong's reactions when he first caught wind of fronting the cover, his response said it all.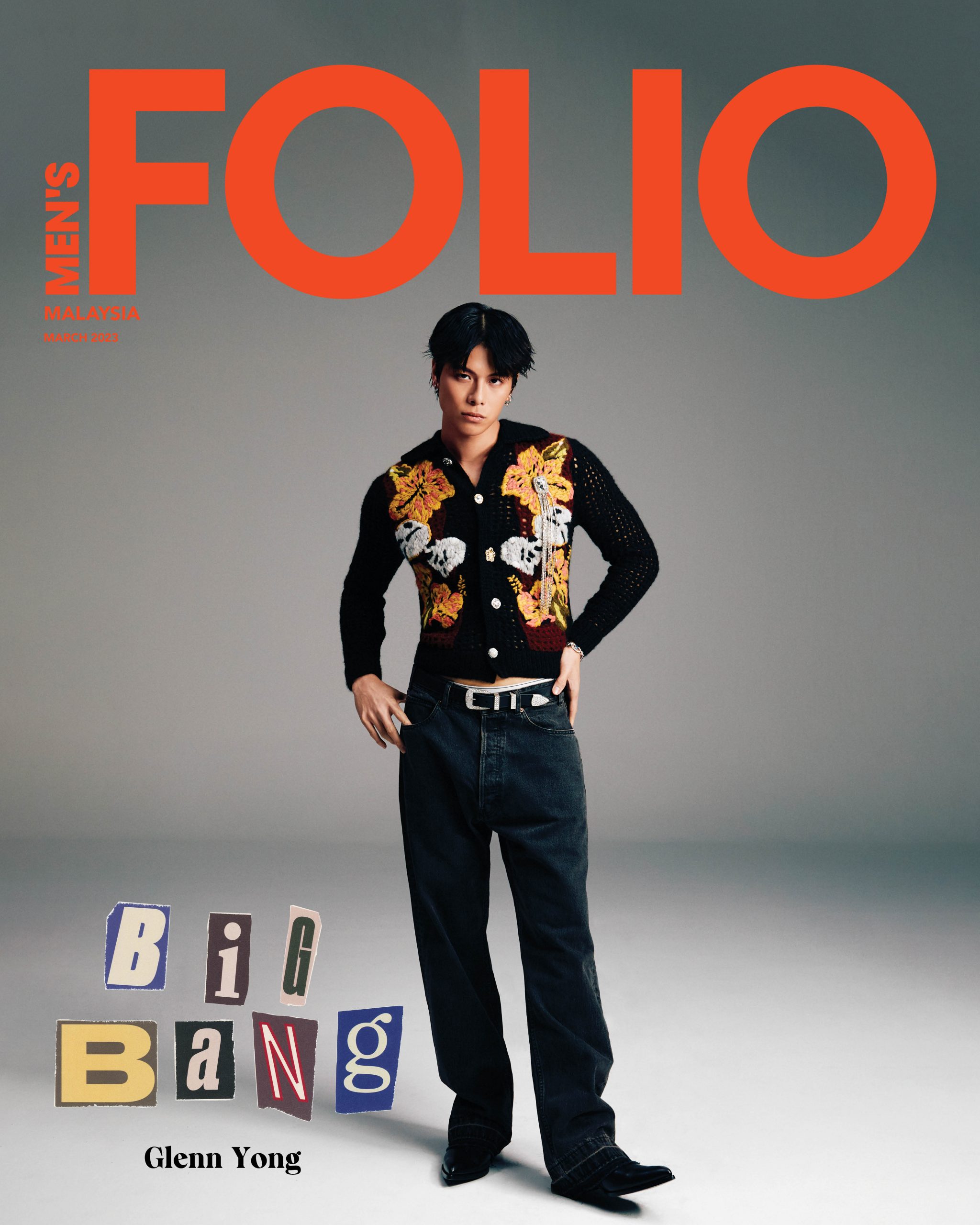 Hi Glenn, it's good to have you with us again — this time for a solo cover with Men's Folio. What went through your mind when you first heard the news and how are you feeling now?
I'm ecstatic and honoured to finally have my first solo cover with Men's Folio. The first time was with a group, but to finally have a solo cover feels surreal to me, and I'm grateful to be able to work with you guys again!
We're two months into 2023 already. How has the start of the year been for you?
It's been crazy, it felt like so many things happened, and it's only been two months into 2023. My schedule was packed promoting the movie The King Of Musang King and preparing for my new single release, Break Out. We spent a few days shooting the cover art and filming the music video in Malaysia. Aside from that, I set aside some time to rest, plan for the year, and spend some time with my family over Lunar New Year.
I know resolutions are very personal, but can you share one you've set for yourself for the year ahead?
I have a vision for the year ahead, but a more personal one would be to schedule time for myself, my family and close friends. I want to learn to enjoy the moment and the relationship with the people around me. On the career front, I have some goals set that I'd like to manifest — holding a solo concert, performing for National Day, organising an overseas meet and greet session and hoping to work on an international production, whether it is a film or series.
How do you benchmark or measure the progress of your resolutions?
I make time to pause and check in with myself and the people around me to chart our progress from time to time. Some resolutions require a combination of being at the right time, right place and having the right connections. Having that kind of spark or grace is out of our control, but for everything else, I plan to work as hard as I can with the support of my team to get there.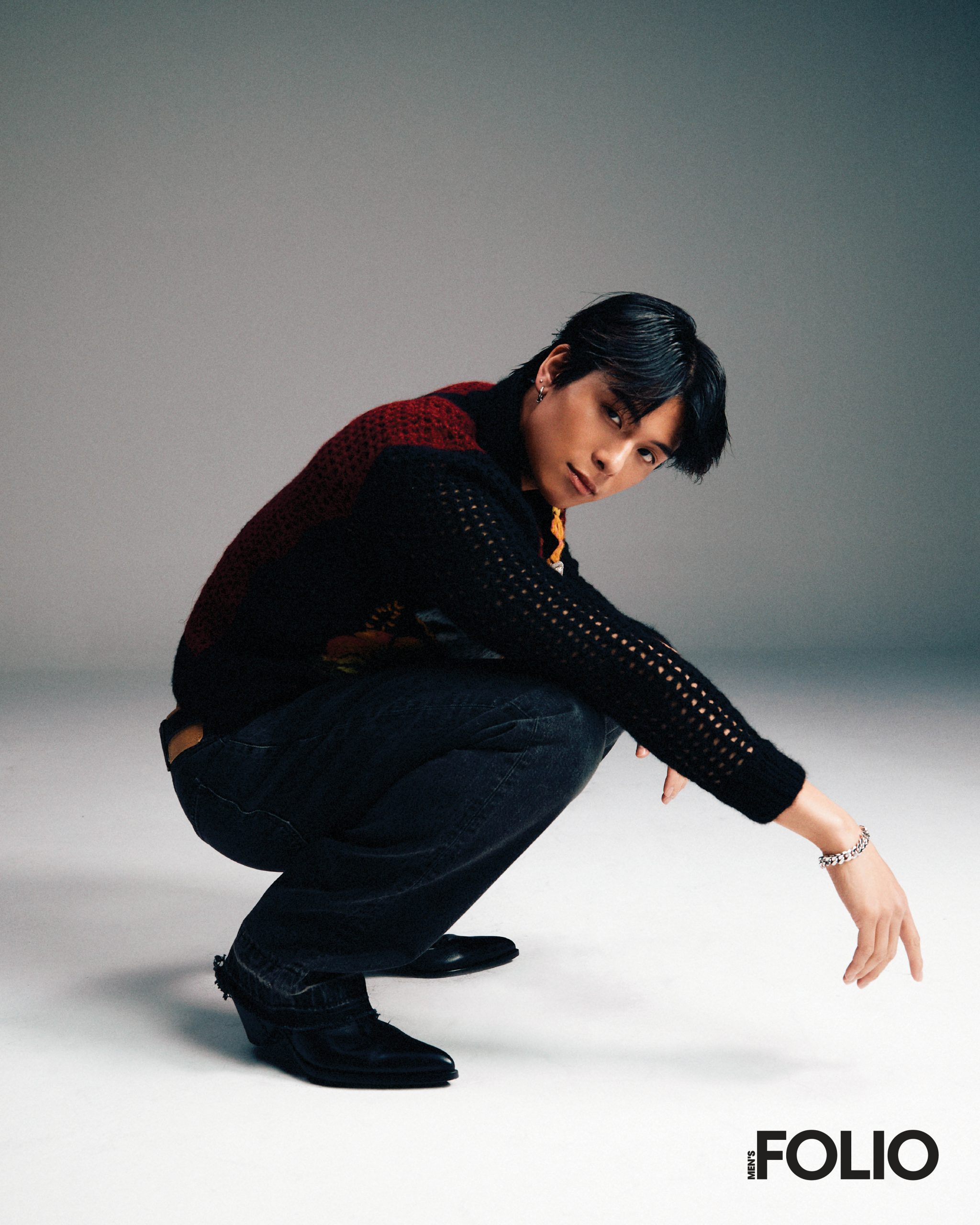 Celine Wool knit sweater, jeans, metal bracelet, leather boots; Glenn's own earrings (worn throughout)
There's always pressure to outdo ourselves, to achieve more. How do you cope with this and do you see it as pressure or perhaps something of a challenge?
I've always believed that the best is yet to come and I don't want to set any limits for myself. I try not to put pressure but rather to enjoy the process, and challenge myself and my team to push to the next level.
In an industry where it is literally every man for himself, competition is very real and can sometimes be cutthroat. How do you deal with the harshness of this reality?
That is true to a certain extent, so whenever you find true friends in the industry who celebrate each other's success, you have to keep them close. Secondly, I would look to my peers for inspiration, but I only want to compete against myself and become a better version of myself. We all have different styles, so we'll be suitable for different opportunities. Just be the better version of yourself.
You've surrounded yourself with a select group of people that I would say you consider as a second family. How would you describe what this group of people mean to you?
They're my childhood friends, out-of-industry friends, my church friends and my team. These are the people I fully trust and I know they have my best interest at heart, so whether it's praise or constructive criticism, I know it's meant to be beneficial for me. As for my (blood) family, they're my rock and pillar in life. They're the reason why I work so hard because I want to be able to give them a better life.
As someone constantly in the spotlight, what is Glenn Yong like when you retreat and no one is watching?
Quiet, more reflective. Because of the nature of my work, I'm always surrounded by people, so whenever I'm alone, I retreat into a contemplative state. To be honest, this can make me pretty "emo" sometimes, but I've learnt to embrace it because it helps me slow down and understand myself better.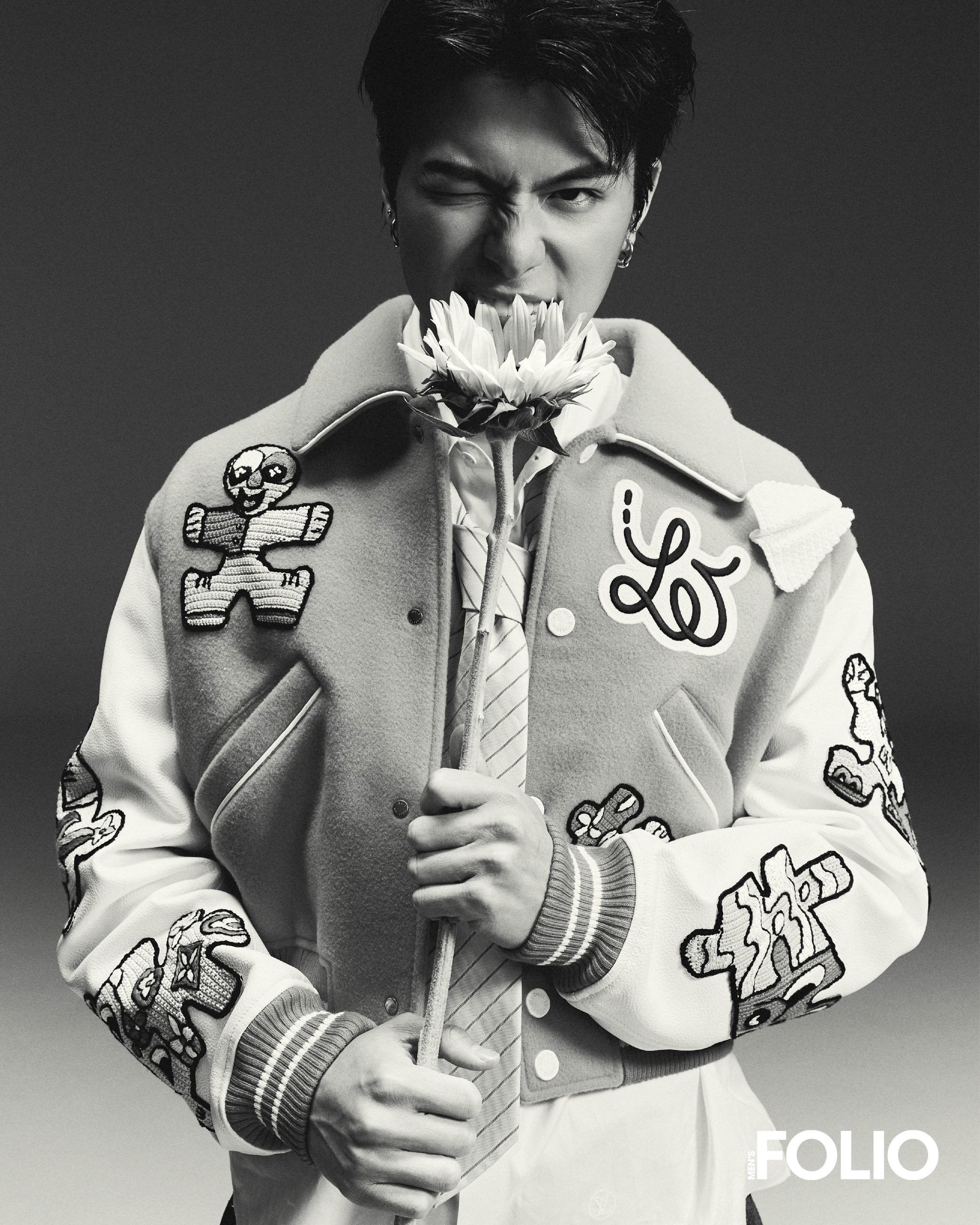 Louis Vuitton Wool-blend baseball jacket, cotton shirt; Stylist's own Silk tie
Is there a piece of advice that you hold close to your heart?
You are the master of your own fate.
How would you best describe your personality? Let's try doing it in a sentence.
Beneath the immaculate styling, what you see is what you get — I'm not complicated; I love it when everyone's well taken care of and passionate about what I do. I threw this question to my team, and they said, "he is dauntless and works hard as *beep*." I don't think we can publish this! (laughs)
How would you define happiness; when do you feel the happiest?
Happiness is when I make an impact on someone else's life. I'm happiest when I have a group of people to celebrate my success and cry about my failures with.
You are both a music artiste and an actor. Describe the joy you get out of your profession.
As an actor, I experience being someone else, entering another person's world and trying different things that Glenn usually wouldn't do. The moment the director yells action to cut, it's quite an out-of-the-body experience and I love that.
For music, it's about wanting to express what's on my heart and reconnecting with and finding myself again. Sharing what's on my heart through my music and having people sing it back has been one of life's greatest blessings.
Hermès Cotton crepe tank top, nylon-blend jacket, wool pants, leather sandals
Your works are out there for all to see. How do you process praise and criticism that comes your way?
I'm unfazed and unbothered at this point because you can't please everyone. I'm just myself and do what comes naturally and improve on what can be better. I take every praise and criticism with a pinch of salt. As long as I am sincere and genuine in my work and give it my all, I think that's enough.
I want to make a segue to discuss your fan group, Hang Bao Bao for a bit. The love and support they've shown you are immense; they've shown up at the airport and events and always make their presence felt. What is your first recollection or memory of Hang Bao Bao?
We started out really small, with just a few people coming to support me or comment on my posts on social media. I've always appreciated that — wow, there are people out there who love and support me — so I always wanna give my best to them regardless of the fan group size. Step by step, we've grown to where we are today, and I'm so happy to be journeying with Hang Bao Baos.
Out of curiosity, why is it named Hang Bao Bao?
Recollecting the group name's origins always makes me laugh and I get a bit bashful. My mandarin name is Rong Qi Hang and my fans are like my bao bao (adorable babies). Putting the two together, it's "hang bao bao", which sounds like hamburger in Mandarin.
Was there a particular action or gesture from your fans that really moved you?
It never fails to warm my heart whenever they turn up for events that I'm attending or show up at the airport to send me off or welcome me back; I'm so grateful they would take the time to do that. It's like a homecoming, and it feels extra special when you're appreciated and loved in your own country. When they get me eyepatch warmers or write cards to share how they're inspired by my life or message, these gestures mean a lot to me, knowing I made an impact in their lives.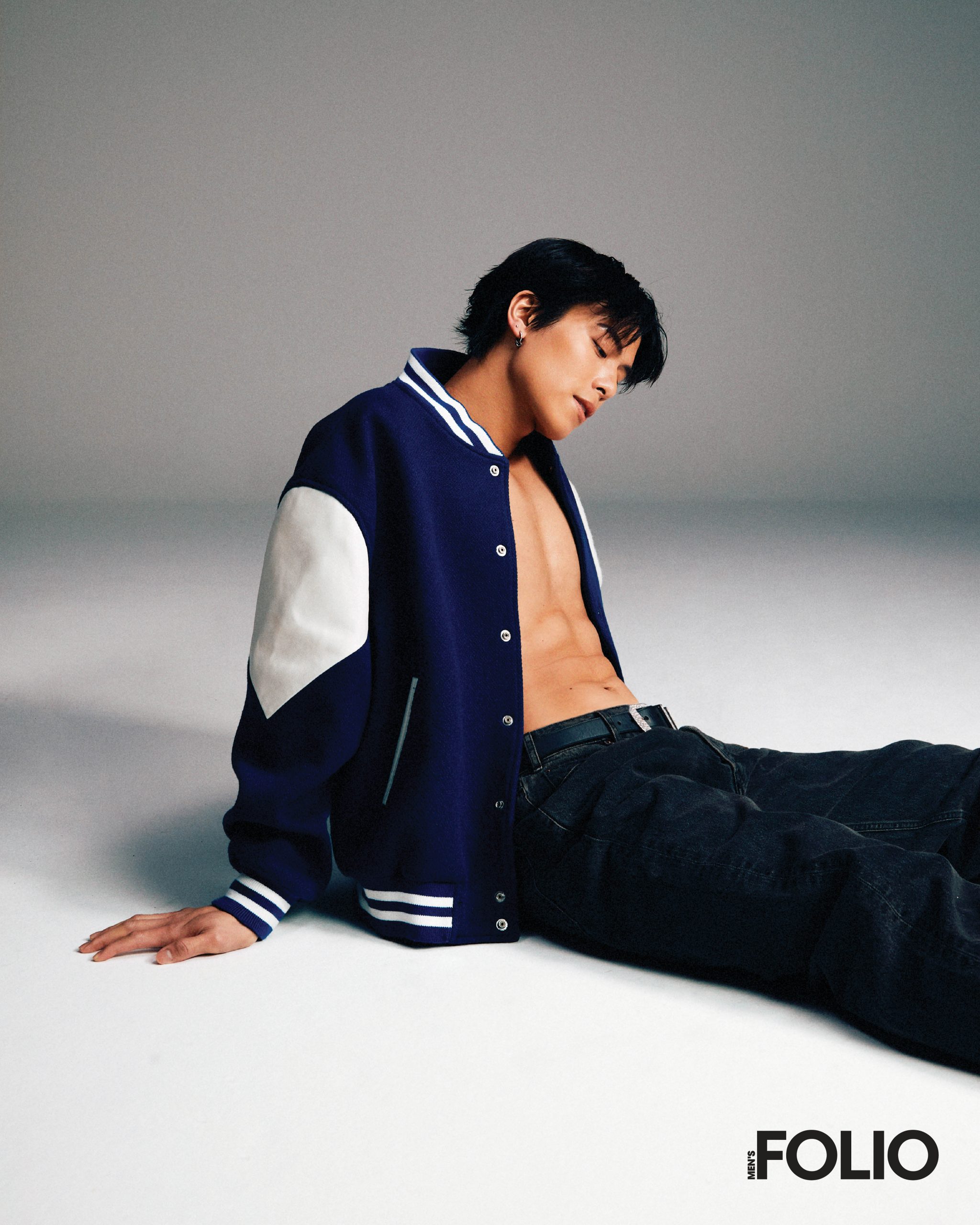 Celine Wool and leather baseball jacket, jeans, leather belt
You often reciprocate the love they've shown you in person or through social media. How do you describe your relationship with your fans?
They're like family to me, so it's only natural that we want the best for each other, and exchange encouragement and support. They're my source of inspiration, motivation and encouragement too.
There's so much more to experience and accomplish for the year ahead. Is there one thing that you strongly want to accomplish?
I hope to be an international artiste and represent Singapore globally.
Photography Nelson Chong
Creative Direction & Styling Izwan Abdullah
Interview Asaph Low
Grooming  Zoel Tee using Guerlain 
Hair Peter Lee | 35A
Photography Assistant Bernard Chong
Styling Assistants Manfred Lu, Bing & Justin Neo