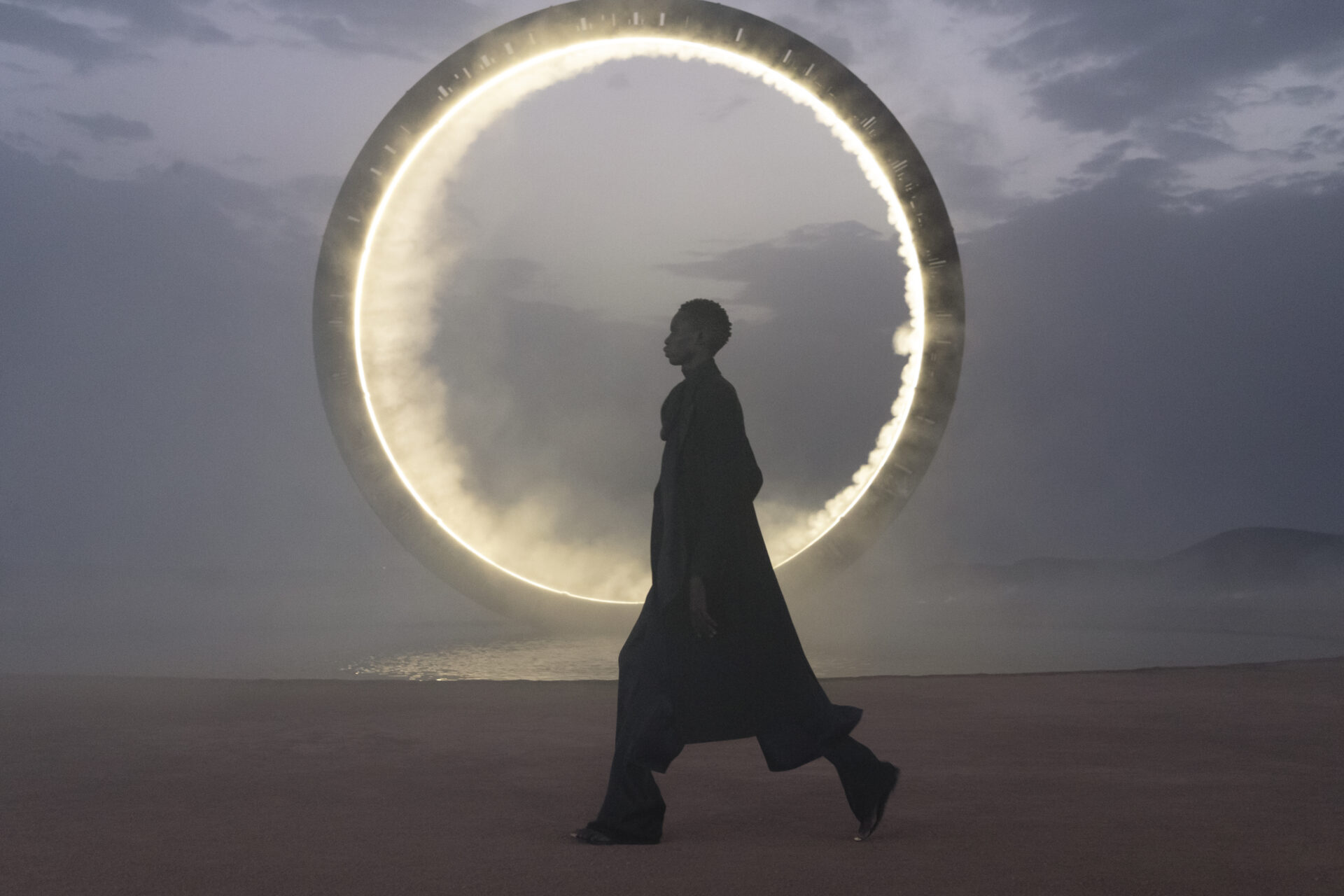 Marrakech was to the late Yves Saint Laurent the very centre of his soul. In the sand filled-air, settled beneath stone palaces was a methodology, an environment of tranquility, that helped defined his most enigmatic works. In his life's work, the designer's works were consistently teeming with questions of reinterpreting dress; that it should never be fussy, complicated, nor unimaginative. Never did it reach an apex more than the era where he first discovered the Moroccan city, when he presented clothes that were breathable and moved to the winds of the desert lands as it could on the streets of Paris. It was, in contrast, a daring endeavour at the time. Beloved by many, it still reigns amongst loyalist and historians as his most romantic. 

For the Spring Summer 2023 menswear collection, artistic director Anthony Vaccarello flirts with the same Moroccan liberation by way of disillusioning. Like Yves himself, the show was set against the premise of blurring ideas: womenswear application on men's tailoring, opting for heels for the expected combat boots, and rethinking power-dressing by enabling a sense of softness. All of which were teased in the upcoming Saint Laurent Fall 2022 menswear collection, which employs gender-blurring to full extent — Romeo Beckham fronts the campaign wearing a pair of vinyl boots with a sharp heel while Playboy motifs are repeated to implore hedonism.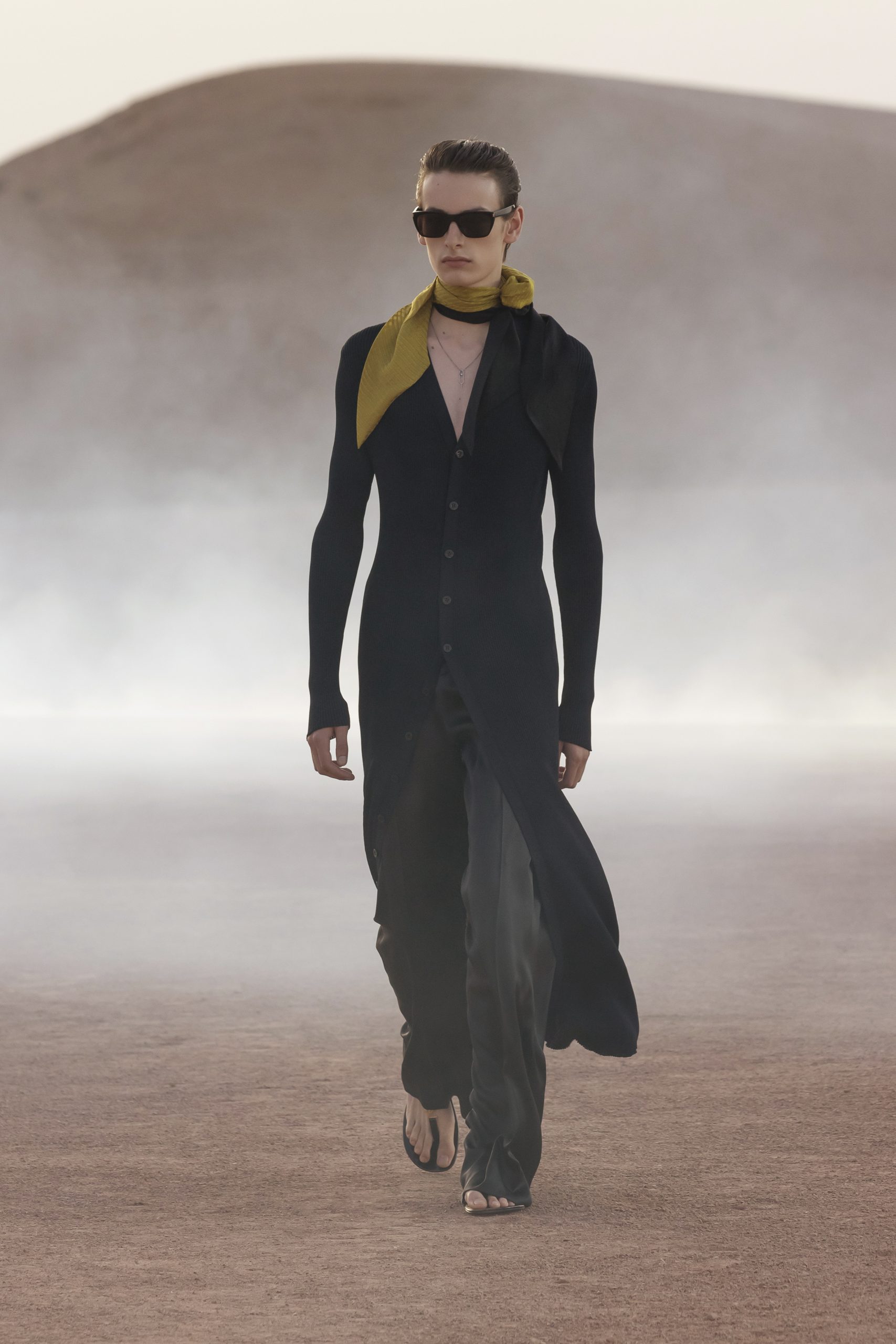 Guests were driven to a remote location in the Agafay desert, where they were greeted with a billboard along the route which revealed a revived version of the classic Yves Saint Laurent logo. Mirroring this homage was a ring-shaped luminous oasis — a set design/installation conceived by London-based artist and stage designer Es Devlin. It was dramatic, the way Yves would have done it, but epic in the same language of Vaccarello. Much of his inspiration for the set was derived from Paul Bowles' 1949 novel The Sheltering Sky, which honours its mystique of the Moroccan dessert. Spring Summer 2023 reveals itself as a speculation of both designers. 
"We think of life as an inexhaustible well. Yet everything happens a certain number of times, and a very small number, really. How many more times will you remember a certain afternoon of your childhood, some afternoon that's so deeply a part of your being that you can't even conceive of your life without it? Perhaps four or five times more. Perhaps not even. How many more times will you watch the full moon rise? Perhaps twenty. And yet it all seems limitless." — Paul Bowles, The Sheltering Sky.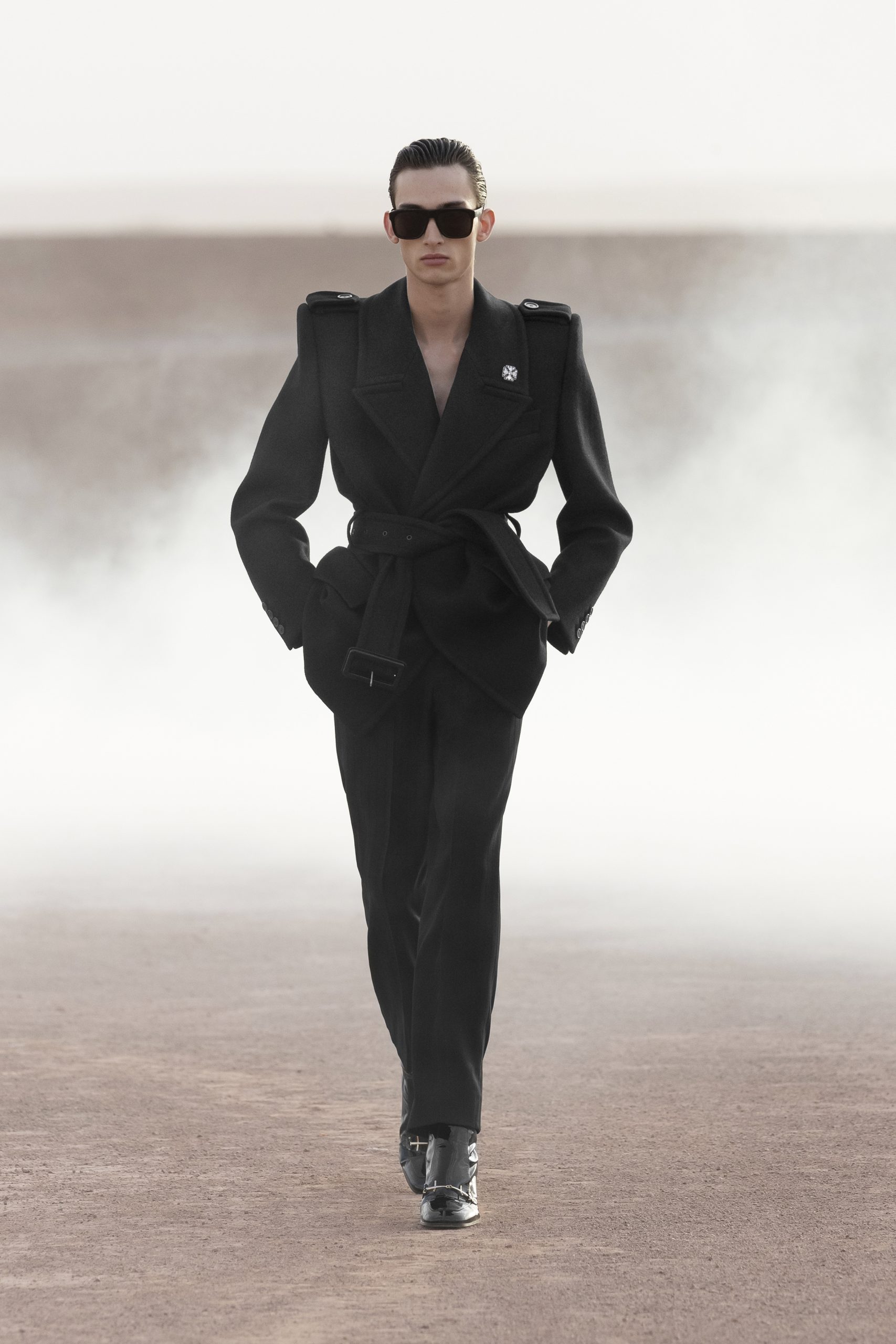 A prominence the collection seems to indulge in is the use of the tuxedo. The collection sees it depart almost entirely from the Le Smoking Suit — a mainstay in the language of the House — and rethought with a new collar and shoulder solutions; something Vaccarello has explored for the women's Fall Winter 2022 show that was borrowed from the archives of the House. Not to mistake it as a power suit, it is, instead, imagined as something soft and tangible for its wearer. 

Essential to the collection's narrative is an ease in movement. In an era where everything is cut precisely and formed to fit, Vaccarello employs Yves' suffocation of Paris to let things "go". In the press notes: "a predominant high waist and wide leg create an elongated shape occasionally interrupted with narrow or boxy accents." Indeed, the silhouettes have appeared more relaxed, reflecting an ease of life typical of Marrakech. "Outer pieces are looser, fluid, less constructed: gathered satin coats envelop the body almost to the ground while tailored jackets have a graphic sharpness. Grain de poudre, a finely tactile wool fabric with a long association at the house – Yves Saint Laurent loved using it – makes a strong showing, recurring in multiple looks." 
Anthony Vacarello is Anthony Vacarello, whether the work is labelled under the Saint Laurent banner or as his own. The designer came to prominence under his own eponymous label before heading the House. The collection reveals how he can challenge, without needing the dramatic to make it work. It is menswear at its best; deeply idiosyncratic, and though it smells like teen spirit, it evolves as something of its own.