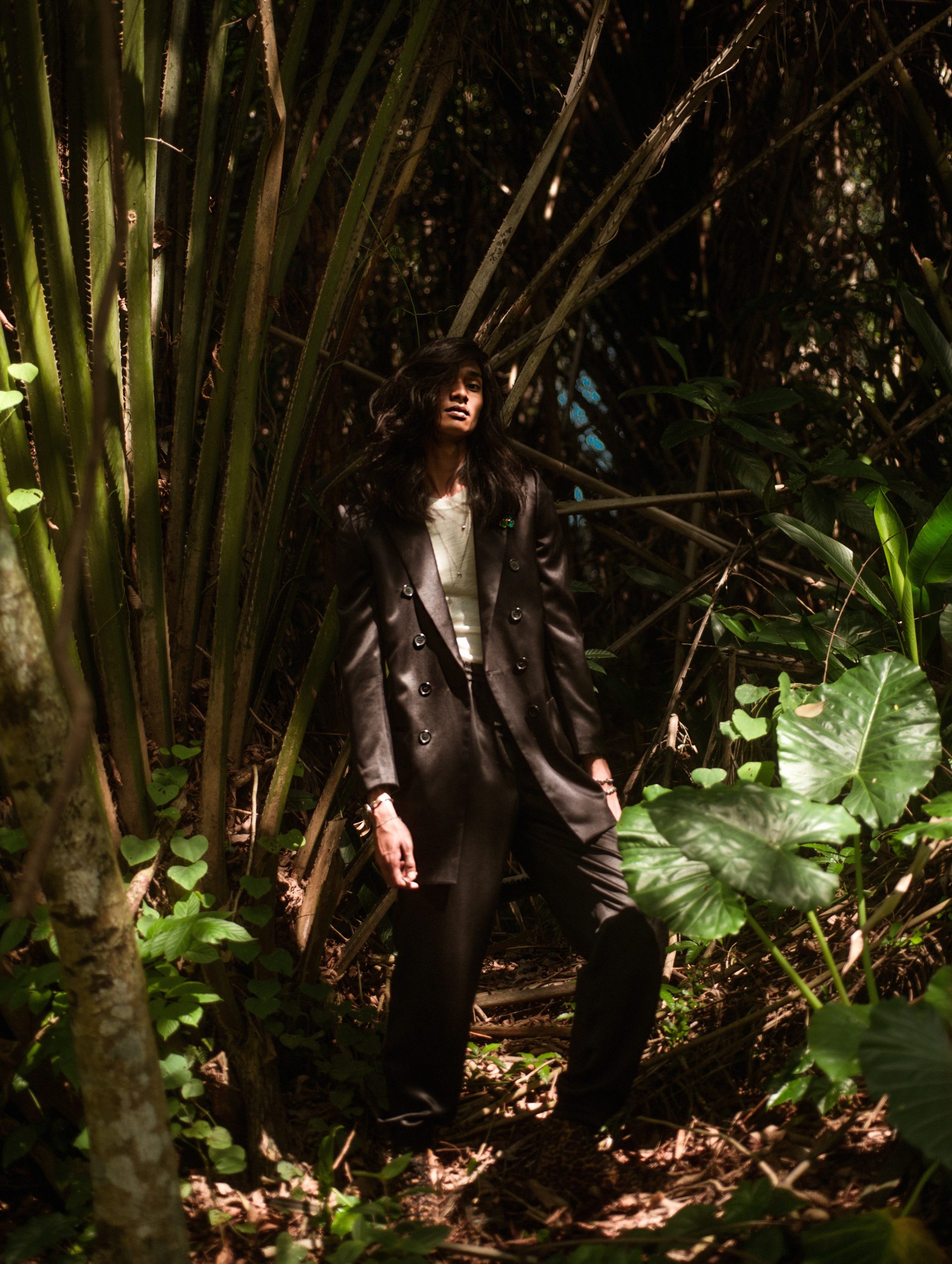 How often do you hear a child say, with much conviction, that he dreams to become a fashion model when he grows up? We dare say you never do. Ridzman Zidaine wanted to become a policeman at one point – "… which only lasted a day," he says, with a smirk on his face – and that was before band drummer and footballer came into the picture. "I'd describe myself as an introvert with extroverted tendencies who is also a sports maniac," he says. "My father encouraged me to play football when I was young, which explains why I was named after a French football legend."
"How about modelling?" I ask. A noticeable sense of excitement immediately fills the air. Confidence, too. "I believe I speak for almost every model when I say that it's always nice to be in front of the camera. I mean, who wouldn't want to give modelling a shot if the opportunity arises?" he says. "Modelling is a significant part of the fashion industry and it is also important to understand that models present the concept that a brand wishes to portray. Models, in many ways, bring the fashion world to life." And there is validity to his point.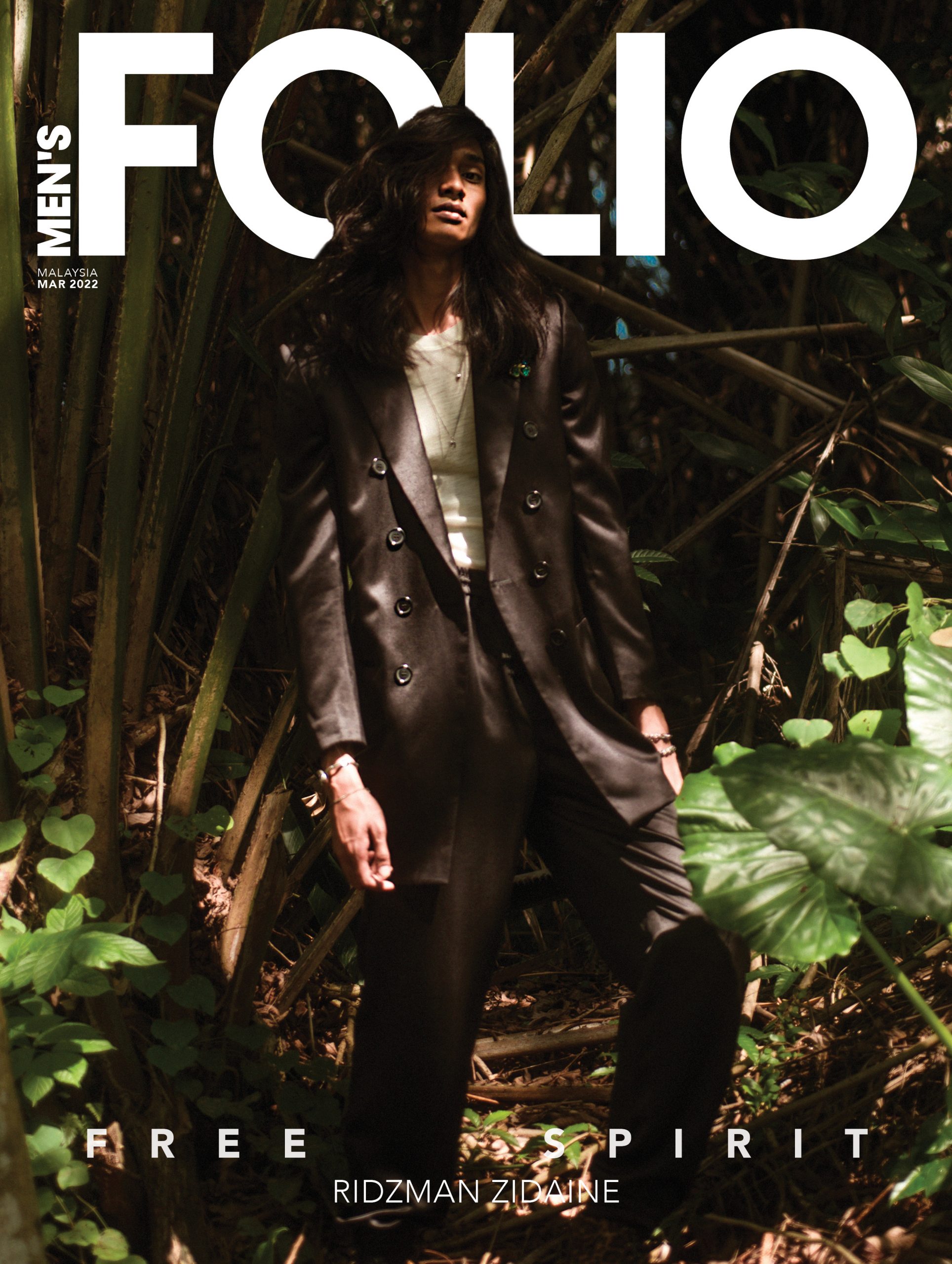 Ridzman Zidaine describes his personal style as down-to-earth with a distinct inclination for pure-neutral tones. He prefers colours like brown and green, as well as an all-black ensemble. And his must-have? His favourite cologne that he brings with him wherever he goes.
The modelling industry is notoriously cutthroat. Yet, for Ridzman Zidaine, it seems that the stars have been aligned for him all these while. At the age of 19, he was scouted and signed by Topboi Citizen, a modelling agency based in Kuala Lumpur. "Later that year, just before the COVID-19 pandemic, I made my modelling debut at KLFW 2019," he says. Despite the freshness, Ridzman is keenly aware of his youth and limitations of a fashion model. After completing his studies in the UK, he is mulling over the possibly of pursuing modelling in Europe. "I'm already in touch with the agencies in Europe such as Next Models London and The Troopers."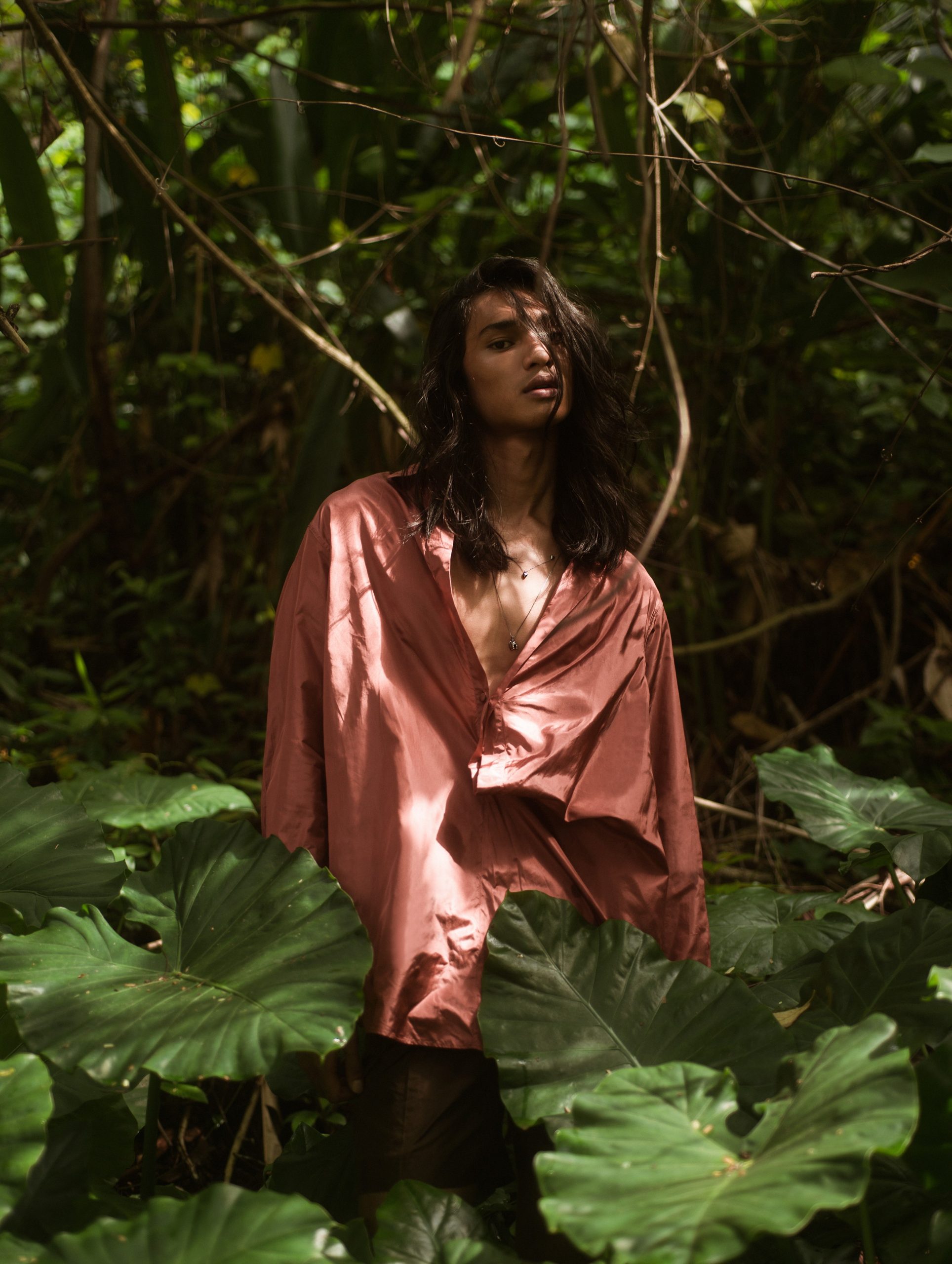 Valentino Shirt; Saint Laurent Necklaces
Throughout the #MFMYModelSearch contest, Ritz did not hide his strong craving to win, and neither did he forget to have fun in the process. Additionally, a sage readiness to acquire knowledge and to develop is something intrinsic to Ridzman. "I entered the contest to gain new experiences and new connections to expand my network in the industry – with no expectation of winning," he says, and continues, "It's always a blessing to find out you've won something, and in this case, I was completely overwhelmed and flattered. In the back of my mind, I sometimes still wonder how did I get to this point, but I stop myself when that happens and instead tell myself that I deserve it just as much as the others. That being said, because of the potential that each and every model demonstrated, I believe that anyone of them could have won. As the contest progressed, I could sense that it'd be a close race between me and my brother, Hogan."
He hastens to add that the most important quality of a successful model is his propensity towards learning because natural talent will wear thin eventually. "Everyone has flaws and to be able to acknowledge them while having the courage to improve so we can become better at what we do are good qualities to have," he says. Thankfully, Ritz has a strong support system that he can rely on psychologically and emotionally. "As much as I believe it is essential for us to believe in ourselves, the unending support of my friends and family motivates me to persevere and to want to make them proud. Simple things like seeing and talking to my loved ones, like my parents, first thing in the morning keeps me going. It's also important to recognise that we should only focus on the good and ignore the unpleasant from the individuals we meet, regardless of who they are. You want to be in the company of people who can spare you pearls of wisdom."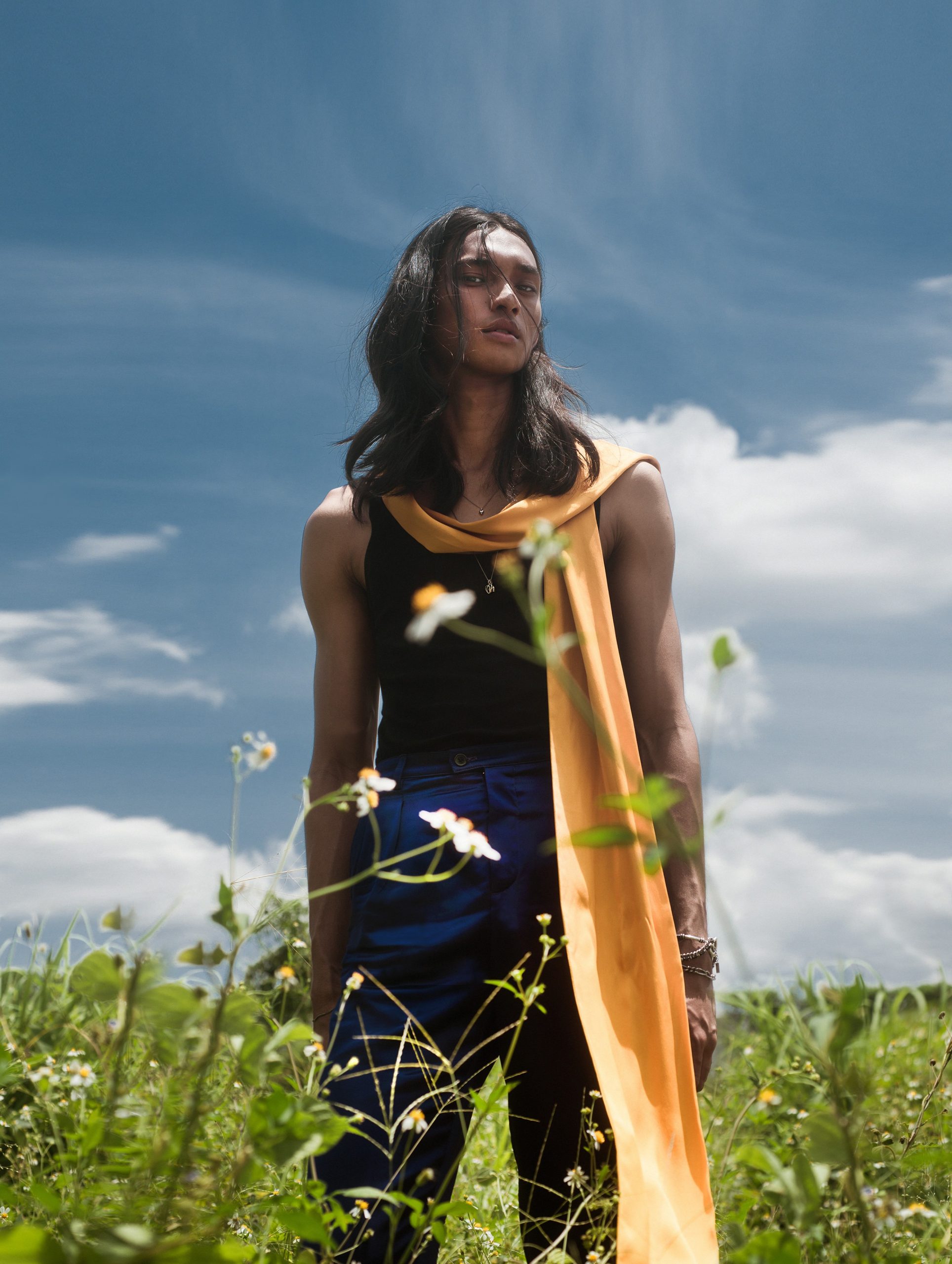 Saint Laurent Tank, trousers, scarf, necklaces, bracelets
Ridzman's contemporary fashion labels of choice seemingly reflect this commitment to develop. He cites brands such as Dior, Gucci and Prada that collaborate with artists and other fashion designers pique his interest the most. "I like art and seeing fashion labels working with artists I grew up admiring has drawn me more toward those brands. I'm also interested in the non-mainstream brands such as Issey Miyake, Jil Sander and Alyx because of their edgy but minimalist touch," he says. In terms the local modelling industry, Ridzman candidly expresses he feels that "there is still a lot of work to be done." There needs to be more influential platforms to showcase our high-potential local models. "Major and inclusive annual events like the KLFW and MBFW, and not forgetting the Men's Folio Model Search, are what we need if we want to move forward," says Ritz.
"My only message to the contestants this year is to enjoy the ride while you're on it; take in all the lessons you learn along the way and try to put them into practice; and trust that dreams do come true when you believe in Salvatore Ferragamo Shirt yourself enough," Ridzman concludes.
Editorial Director & Words: John Ng
Photography: Vincent Paul Yong
Creative Direction & Styling: Ian Loh
Styling Assistant: Syazil Abd Rahim
Hair: Bibian Leong
Grooming: Cat Yong
Purchase a digital copy of our March 2022 issue featuring Ridzman Zidaine here or grab a physical copy at major bookstores in Malaysia. Revisit our cover issues here.