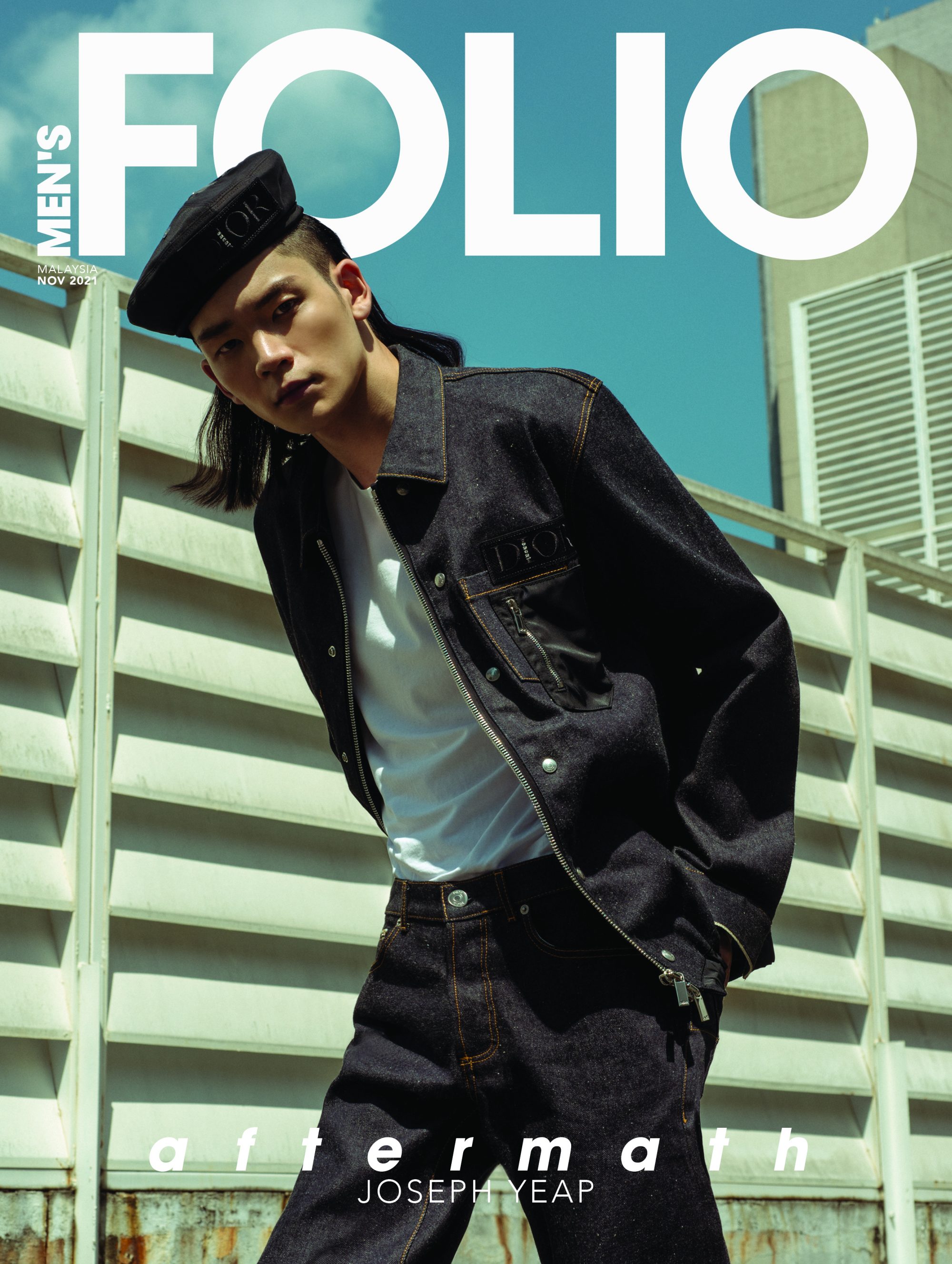 On the afternoon of Wednesday June 3, 2020, we kick-started our third instalment of what was supposed to be a three-month-long Men's Folio Model Search contest. New movement restriction orders were imposed along the way and the winner wasn't announced until May (21st, to be exact) this year. Some of the workshops were rescheduled – and rescheduled again – while some were converted from physical to virtual format. Big, bold and beautiful, sure, but still, to say that the experience from start to finish of this journey was challenging would be an utter understatement.
Yeap travelled from Penang to KL for this photoshoot yesterday after the total nationwide lockdown restrictions, which lasted more than four months, was finally eased. Born and bred in the island-state, the 21-year-old graphic designer got into modelling when he was discovered while accompanying his sister to a go-see. Major gigs ensued. He was casted for KL Fashion Week in that same year and was subsequently scouted by international agencies. An avid art enthusiast with a keen interest in cars, watches, sneakers and collectible figurines, he's understandably eager to see how far modelling would take him.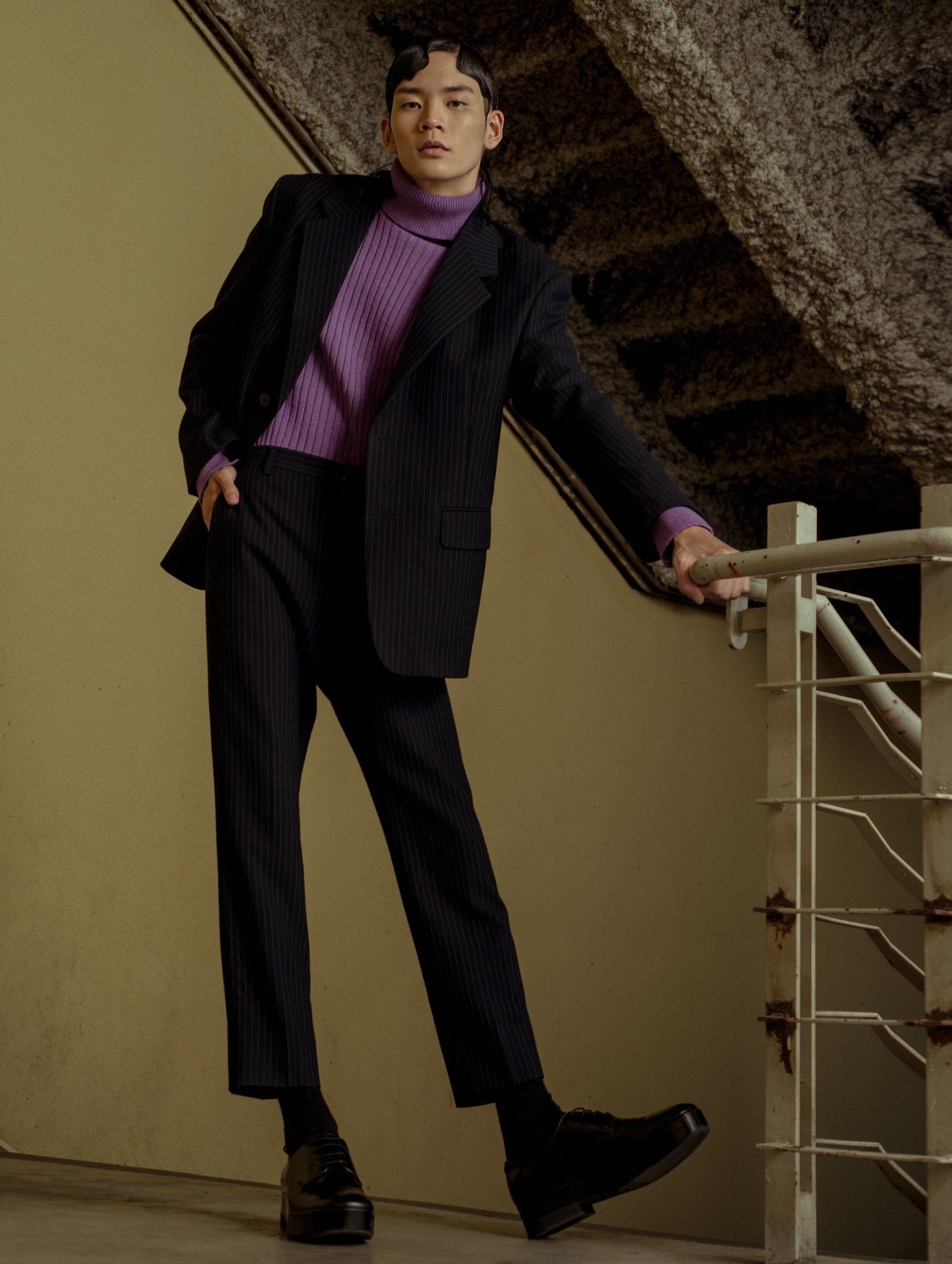 Prada Wool suit, leather shoes; Coach Mixed fabric turtleneck
I ask Yeap how he gets himself into the mindset of a model? And it appears like there's already an innate penchant for fashion. "I'm always in awe of Kim Jones' designs – from the time he launched his own brand to heading Dior Men now, he has consistently put his artistic stamp on his creations. Apart from Kim Jones, Celine's Hedi Slimane is also one of my favourites. As someone with a slim physique, I fell in love with Slimane since his skinny silhouette era," he says.
Yeap decided to partake in the #MFMYModelSearch20 when he noticed that his modelling peers were submitting their portfolios.. He admits that he wondered whether he'd stand a chance to even get shortlisted at the initial stage of the contest, and put a hundred percent into the once-in-a-lifetime opportunity when he did. His optimism made him even more committed to his goal, and ultimately catapulted him to victory.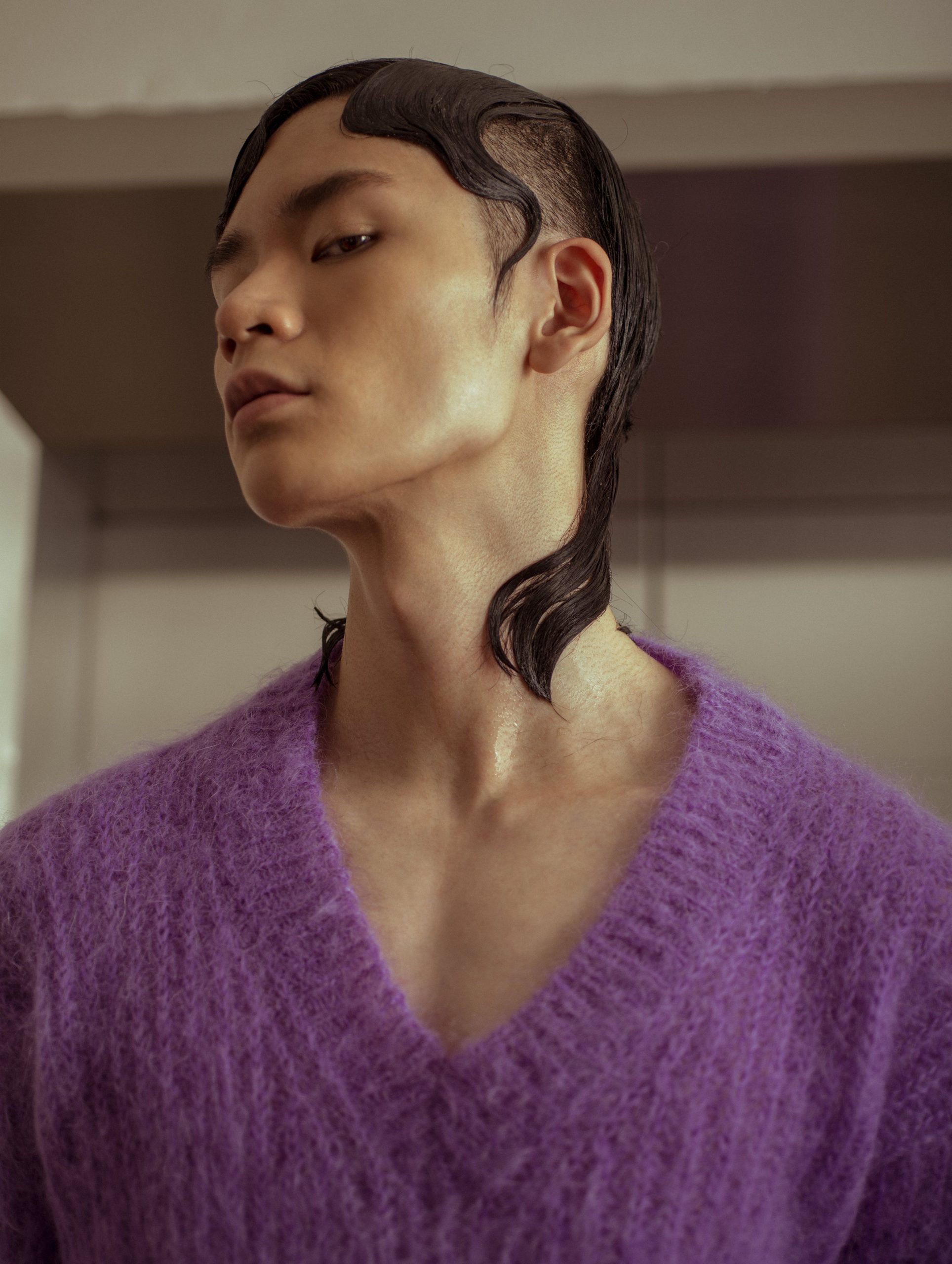 Salvatore Ferragamo Wool sweater
"During the finale event, I could feel a rush of adrenaline and my heart throbbing profusely," says Yeap. "I was taken aback [when I was announced as the winner], and I couldn't wait to share my joy with my family, friends and supporters! Every contestant was indisputably distinct and skilled in their very own ways. I expected myself to have a fair shot at winning as I was confident at my performance throughout the competition."
Yeap exhibited a sincere yet intense and fervent attitude in equal measure which made him a serious contender from the onset. "The most important quality of a successful model, in my opinion, is having the right discipline. Every casting, job and event requires a model to arrive on time. Aside from that, they, like any other professions, must follow the basic expectations of the industry. A model must also be adaptable and open to change, as well as able to work with others," he says.
"My parents are my role models. They are the most resilient and kind people I know. They are always striving to help others and make a positive impact on the lives of those around them."
A self-proclaimed workaholic who relishes being productive, setting and achieving goals motivate him. It's not about needing to prove himself to others, but rather wanting to learn, grow, and progress both personally and professionally.
Yeap is cognisant of the fact that his career is in its infancy. "Along my modelling journey, I hope to learn new things and meet intriguing people, while refining my craft. My ambition is to become a professional and world-famous model in the not-too-distant future, and I'm confident that with the correct supervision and training, I will get there. I'm not afraid of hard work, because to me, success entails going above and beyond of what is expected. Regardless of whether or not there's a pandemic, my goal remains the same," he says.
Valentino Mixed fabric turtleneck, mixed fabric jacket, leather shoes; Bottega Veneta Leather trousers; Prada Leather gloves; Volvo XC90 Recharge
"Although digital shows might create more job opportunities for models, I expect the fashion industry to make a huge comeback with physical shows as soon as the pandemic comes to an end. Given the lifestyle adjustment we have made, consumers might start seeking items that are casual and comfortable, so I anticipate to see a greater demand for lifestyle and sportwear brands," he continues.
Yeap considers his personal style to be adaptable sans being predictable. "My style is quite flexible depending on the occasion and circumstance. I do not overlook the small but significant details that accessories bring, be it a piece of jewellery to a watch," he shares, and continues, "When it comes to grooming, I begin with applying skincare followed by hairstyling products before finishing with a spritz of cologne. I consider fragrance to be the absolute necessity; I always have a bottle in my bag when I go out."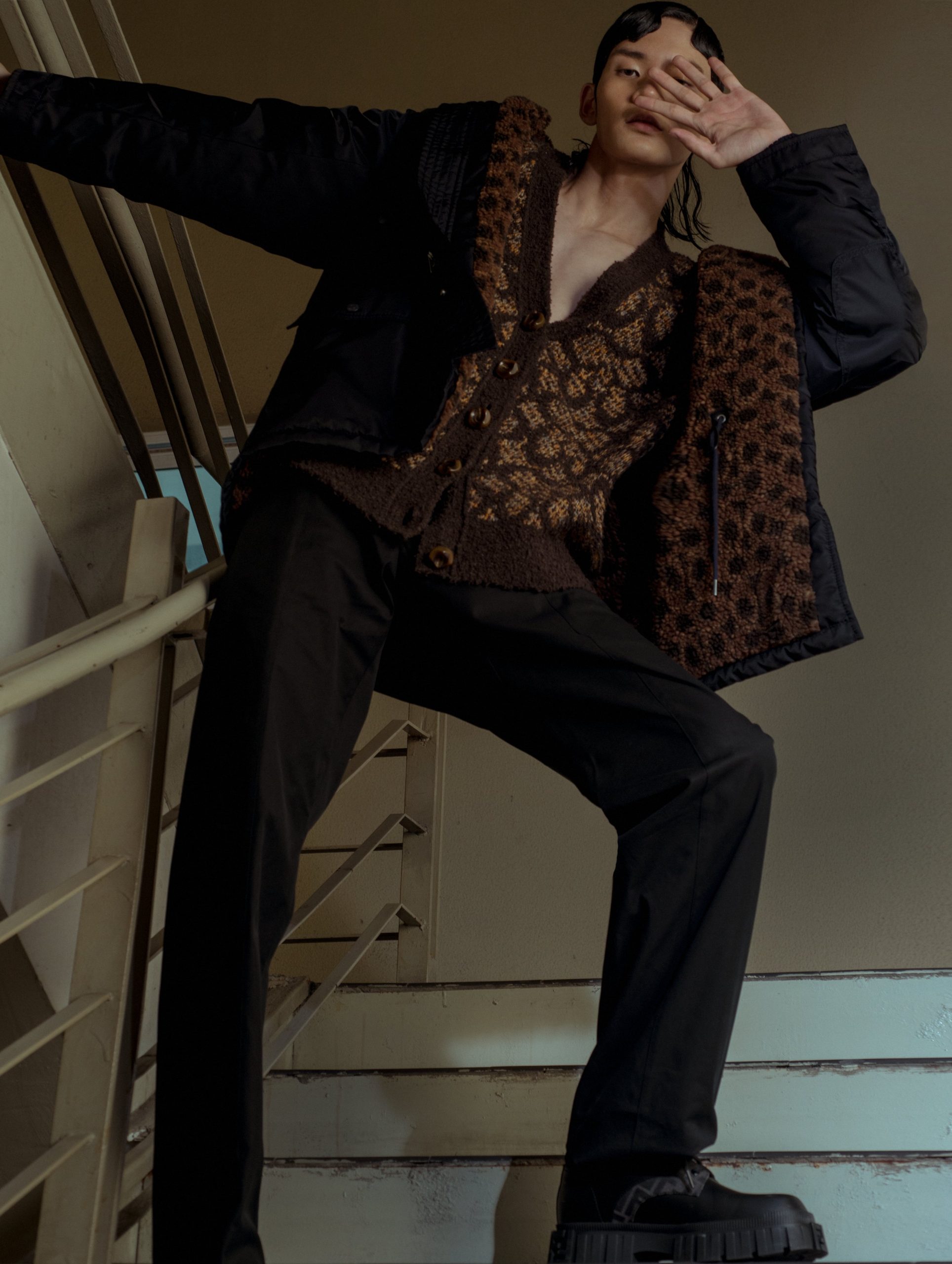 Coach Mixed fabric jacket, mixed fabric cardigan; Salvatore Ferragamo Cotton trousers; Fendi Leather shoes
Getting into modelling is more difficult than it sounds and thus having a strong support system is crucial. Who gives Yeap the best life advice? "My parents are my role models. They are the most resilient and kind people I know. They are always striving to help others and make a positive impact on the lives of those around them. They have also taught me on how to be self-sufficient and how to stand up for myself in trying times," he says. To conclude, Yeap has these advice for this year's Men's Folio Model Search contestants: "be genuine, humble and confident. Be punctual to every workshop and event, and give your 100%. Also, always be well prepared, work with a professional work ethic and expect the unexpected."
Credits:
Photography: Vincent Paul Yong; Creative direction & Words: John Ng; Styling: Syazil Abd Rahim; Grooming; Khir Khalid; Hair: Keith Ong
Joseph wears Dior X Sacai on the cover.