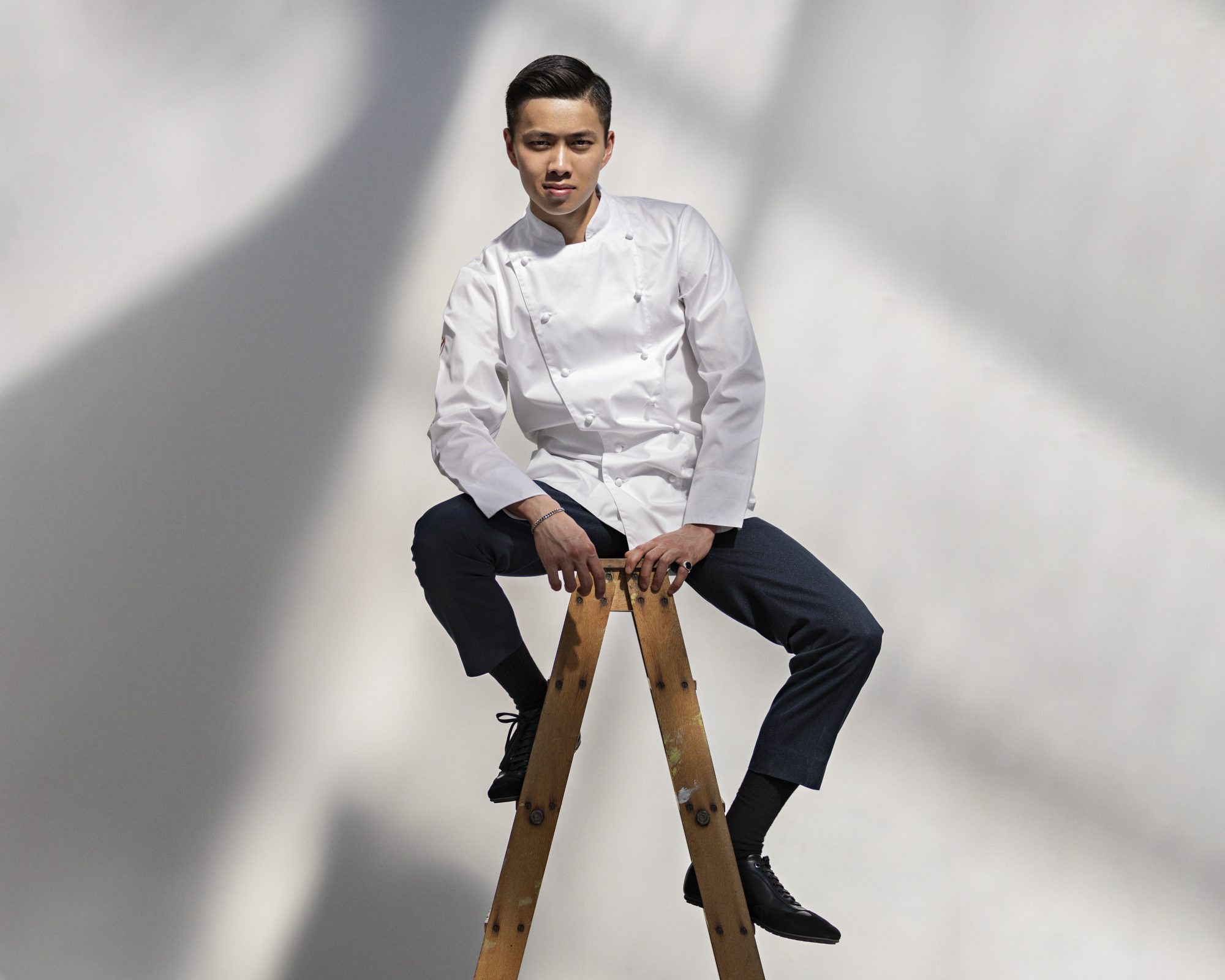 At the age of 13, during which many people are still trying to figure out what they want to become, Mathew Leong had the trappings of a success story and snagged his first gold at a culinary competition. And just 21, he made his first breakthrough when he moved to Norway to be the Chef De Partie at two Michelin-starred Re-naa. Now, he is not only holding the Head Chef position at famed restaurant À L'aise, but also being the youngest candidate ever to represent Singapore for Bocuse d'Or 2021.
You embarked on the culinary journey at the age of 13 and have racked up many achievements since then. How did you discover that you have a knack for cooking?
I was 13 when I had my first brush with culinary – under my teachers' recommendations, I took part in my first culinary competition in Secondary School. My first culinary competition was also the competition that gave me my first gold.
During one of the competitions I had competed in when I was 13, I remember the theme for the competition was Norwegian Salmon, Chef Jimmy Chok was one of the judges. Even though I did not emerge as champion, Chef Jimmy Chok saw the potential in me and offered me the chance to spend a day with him in his restaurant's kitchen located in the Supreme Court.
I remember I was in awe the moment I stepped into his kitchen because it was my first time being in a professionally run kitchen. Chef Jimmy Chok taught me a lot about the industry, as well as culinary during my one-day kitchen tour in his restaurant. This experience really ignited my passion to be a chef and achieve culinary excellence. I'd say that, if it's not for the opportunity given to me by Chef Jimmy Chok, I would not be where I am today, embarking on this culinary journey.
On top of the valuable opportunity given to me by Chef Jimmy Chok, the experience from competing in culinary competitions in secondary school sparked my interest in culinary and gastronomy. After competing in so many competitions, it made me realise that I really do enjoy cooking and am always driven to create new and unique dishes.
Among so many countries, why did you choose Norway to pursue your ambition?
I didn't specifically choose Norway to pursue my career. The opportunity came and I decided to take it. After completing my National Service, I decided to send more than 100 resumes to restaurants all around the world and very lucky, I got a reply from two Michelin-starred Re-naa, which is in Stavanger, Norway, to take on the role as Chef De Partie.
After my one-year stint with Re-naa, I returned back to Singapore for eight months before Chef Ulrik Jepsen, Co-owner of the highly acclaimed Restaurant À L'aise in Norway, Oslo, offered me the role as a Chef De Partie.
View this post on Instagram
How was it like to work at Michelin-starred restaurants like Re-naa and your current workplace À L'aise?
Compared to my time at Re-naa as a Chef De Partie, I hold more responsibilities as a head chef at À L'aise now. Being the head chef is more than the head cook in the kitchen. It also involves exercising overall responsibility for the restaurant's food service operations.
I oversee the operation with Chef UIrik Jepsen, Co-owner of A L'aise, in the kitchen, ensuring that every station in the kitchen runs smoothly. In the kitchen, all dishes must be approved by me or Chef Ulrik Jepsen before the food can leave the kitchen and be served to the customers.
Reality sometimes differs from what we expect or what is entrenched in our life. Tell us one experience you encountered in your job that did not turn out as what you have expected?
When I returned to Singapore after my one-year stint with Re-naa, I did not have plans to go back to Norway, or other parts of the world to pursue my career because I had already decided to stay in Singapore for good.
During the eight months back in Singapore, I was contacted by a few restaurants from across the globe, including À L'aise. While I had initially decided to stay in Singapore to be close with my family, I know that deep down, I have always preferred working in Norway to Singapore. So, when Chef Ulrik reached out to me and offered me a role at A L'aise, I decided to accept his offer.
Congratulations for making it to the Bocuse d'Or 2021. How do you feel being the youngest candidate to participate in the competition and how are your preparations going?
It is definitely an honour to be the youngest candidate to represent Singapore at Bocuse d'Or 2021. To compete in the prestigious competition as the youngest chef has always been one of my top goals throughout my culinary journey.
This is something I want to achieve not just for myself, my family and loved ones, but also for all my mentors who have been supporting, helping, and guiding me along the way all these years, placing their trust in me, as well as my country and the Singapore Chef Association.
I have been preparing for this competition alongside my team for the past three years now. I work full-time at A L'aise from Tuesday to Saturday. During my off days on Sunday and Monday, I will train for the upcoming Bocuse d'Or 2021 competition with my team at my own training ground. Each training session would usually take an average 10 hours. During the training, we would do a time trial and prepare the dishes needed to be presented at the competition. We need to ensure that we finish everything within the 5.5 hours given.
This year, candidates will take on tasks inspired by the changes in the industry brought about by the pandemic. The platter challenge will centre on a hot dish showcasing a whole braised beef paleron for the first time ever. For the 'plate' challenge, we will be given a 'takeaway' task designed to echo the new modes of catering that have emerged during the pandemic. We would need to design a takeout menu around three dishes (starter, main course and dessert), and the same seasonal product, tomato. All dishes must be present in a reusable box designed and developed by the candidates from materials of plant origin.
With these new rules in place, it has been a challenge – besides having to create dishes with tomatoes as the theme, I'd also need to work with the design team to create a takeout box that's sustainable. Since the design of the takeout box is one of the marking criteria, a lot of work needs to go into it.
As an Asian, our roots are our pride and joy. Do you think it gives you the upper hand in your job or competition like Bocuse d'Or? 
Instead of giving me the upper hand, I would say my roots have given me more options and varieties when creating dishes for the restaurant and competitions.
I have been living in Norway since five years ago, and during my time here, I have tasted many different types of Nordic cuisines. With the skills I have learnt here in Norway, together with my Asian background, I always try to infuse both Nordic and Asian flavours into my food.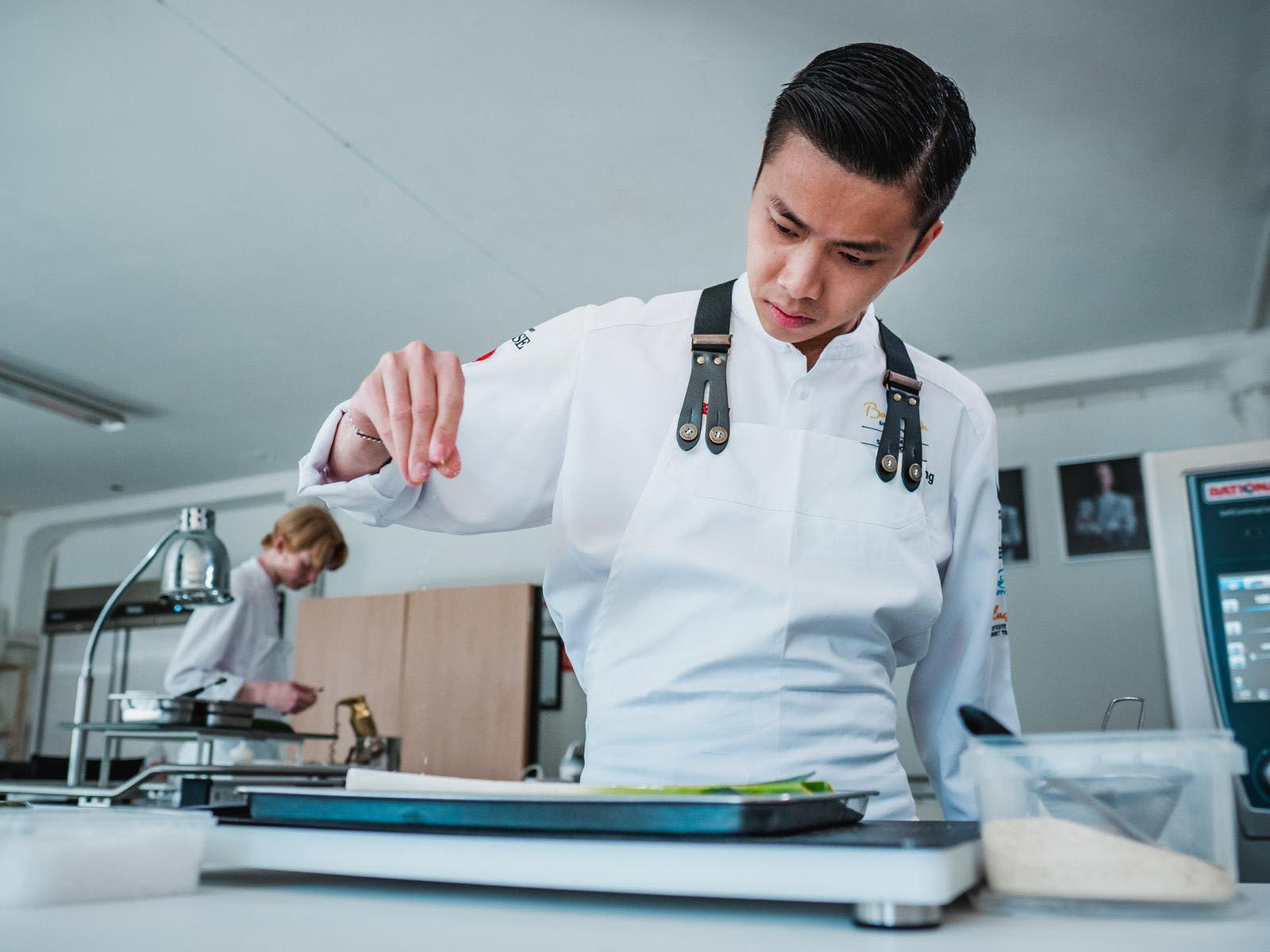 You strongly believe that technology and innovation will shape the future of food. How do you think it would come about?
Over the decade, with technology advances, as well as people being more health-conscious now, the next-generation ingredients, robotic appliances, novel cooking methods, and other technology have the potential to fundamentally change what we eat and how we cook it.
Furthermore, we can also utilise technology to improve food and minimise environmental impacts. In recent years, we have seen a rise in popularity for beyond meat / impossible food. More and more consumers and restaurants are seeking plant-based food or alternatives to animal-based products.
Last but not least, what is your favourite restaurant that you would recommend to anyone who plans to visit Singapore when travel reopens?
Definitely Long Beach. I always bring my visitors and guests to the outlet at Dempsey. The restaurant serves really amazing chilli crab and salted egg crab – two dishes that truly provide a real taste of Singapore. For a more local experience, I'd also bring them to Newton Food Centre to eat some of Singapore's famous local food like BBQ Stingray, Satays, Char Kway Teow (Stir-fried flat rice noodles), Ou Jian (Fried oyster omelette), and Hokkien Mee (Fried prawn noodles) — not to forget, the king of fruits, durian.
I really love db Bistro & Oyster Bar by Chef Daniel Boulud as well. I did the math and I think I have dined there more than 20 times. My favourite dish is The Original db Burger, it's their signature burger filled with short ribs and foie gras parmesan bun.
For fine dining, Singapore hotel's Michelin-starred restaurant, Summer Pavilion is definitely a place I find myself going back to again and again. Cantonese cuisine is something I really love and grew up eating a lot, and the food handcrafted by Chinese Executive Chef Cheung Siu Kong is really top-notch.
Last but not least, I would also highly recommend Imperial Treasure. Whenever I am back in Singapore, the first dish I'd eat is usually the peking duck from Imperial Treasure. This is the place where my family and I had many good memories.