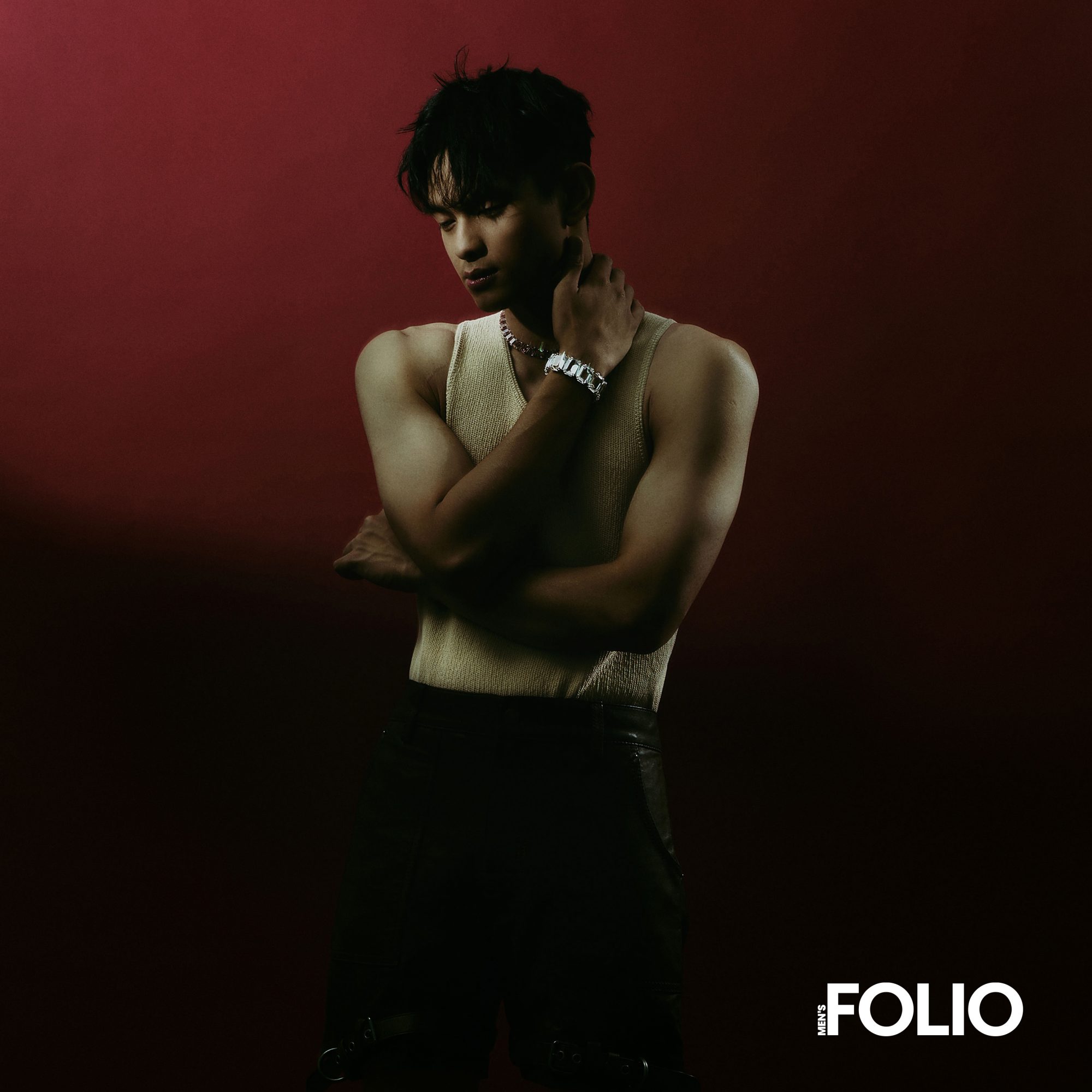 Pictured above: TOD'S Wool knit tanktop; Coach Leather shorts; Swarovski Millennia crystal bracelet, Ortyx crystal necklace
Beneath the race car helmet, Adam Khalid speeds through life with a fiery spirit that would leave his fiercest competitor in awe. While the world may assume he revels in the fast and the furious, the 24-year-old racer finds solace in the tender tapestry woven by fashion and film. Could it be that he favours the sweet serenade of 50 First Dates over the tire-squealing frenzy?
Hey there, Adam! Thanks for swinging by. Are you feeling nervous?
Hey Asha, nervous about the questions or for the shoot? I'm quite an open book, so lay down all your questions. As for being in the studio with a camera, this is far from my first time.
Oh right, we heard you are both a sportsman and a fashion boy. Tell us more about yourself.
You almost got that right, I'm a race car driver signed with Aston Martin, but I've been trying to expand my creative portfolio lately with many design projects. I love doing fashion, especially with friends — it's a lot of fun!
Exciting! You seem to have a lot going on. What is your one unique trait?
I do; that's why I'd say I'm one of one. A unique trait?
Share something about you that only a few people know about. What's your random TMI (too much information)?
[Laughs] Here's one people wouldn't expect — maybe because I'm a racer and people assume I would act tough or a certain way. But bro, I'm a sucker for 1990s RomCom and yes, I would find every reason to talk about it. See, I'm doing it as we speak.
Maybe it is because people do not expect that from someone who deals with a lot of action. Yeah, facts but there are a lot of things people don't expect from me. Another one is how spontaneous I am in life and sometimes during the game. I think the best thing in life comes when we least expect it, so I'm "that friend" who is always up for impromptus.
Let us delve further into your racing career. Would you say it took an unforeseen turn driven by your spontaneity?
Cars have surrounded me since forever; my family is in the automotive industry, so it's only natural for me. It all started with my infatuation with bikes but as I grew older, my heart shifted gears towards cars when I was barely 12. I ride through go-karts, Formula BMW and Volkswagen, and now, I have proudly signed with Aston [Martin]. It's like a childhood dream come true.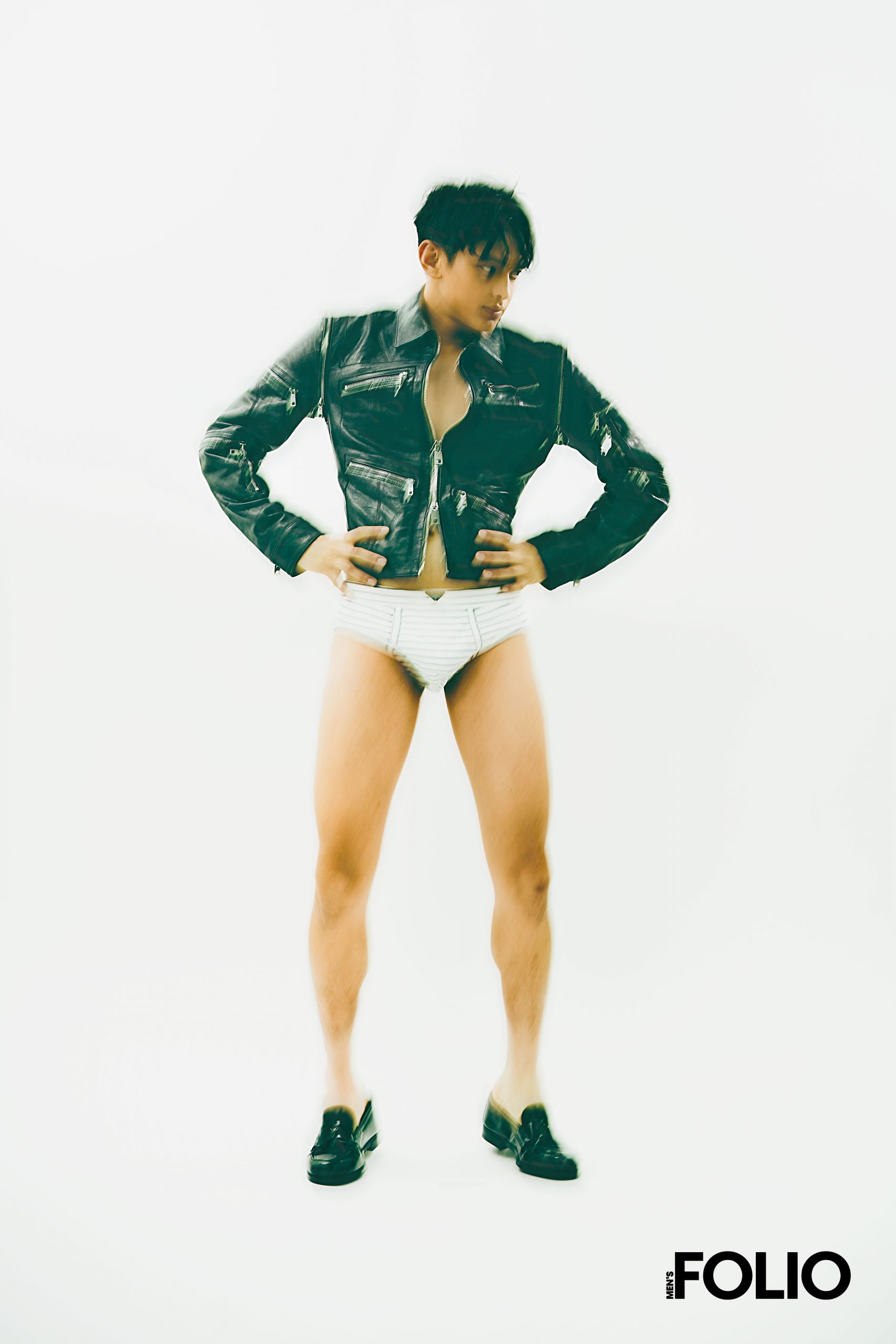 Dolce&Gabbana Leather jacket; Prada Nylon swimming trunks, leather loafer shoes
What would you say is the hardest part of racing for you now that it has struck you?
Oh, definitely building new connections with people! In this industry, we often switch engineers and it's like starting from scratch every time. It's a rollercoaster of emotions, leaving me a little bruised each time I have to rebuild those relationships.
Do you have a safe space you go to as an escape when it feels like a lot to take in?
I'd run to music and get really into it. My uncle has a vinyl room filled with his collections. Every now and then, I'd go there and mellow out when I need a break. Just thinking about it now makes me want to go back.
Who is your style inspiration? What draws you to them?
Luka Sabbat, A$AP and Tyler The Creator. There's something about witnessing their style transitions from dressing up in a carefree, playful and casual way when they were boys to how they dress now as men — still very expressive and fun but has a sleek and classy touch. I love growth.
Perfectly describes who you are. Speaking of growth, what do you aim to achieve in the future?
World Champion, that's for sure. It's to go big or go home for me!
Let us end the interview on a good note and give a sweet compliment to yourself. What's the best thing about Adam Khalid?
Wow, you're really putting me in the spot there. I would say I applaud myself for my authenticity. I really value originality, so I try to be that person too. When I say I'm an open book, I really do mean it. People know me for who I am, and there are no walls between me and the world.
Photography Herbe Yap
Styling Izwan Abdullah
Grooming Rachel
Hair Keith
Styling Assistant Liew Hui Ying