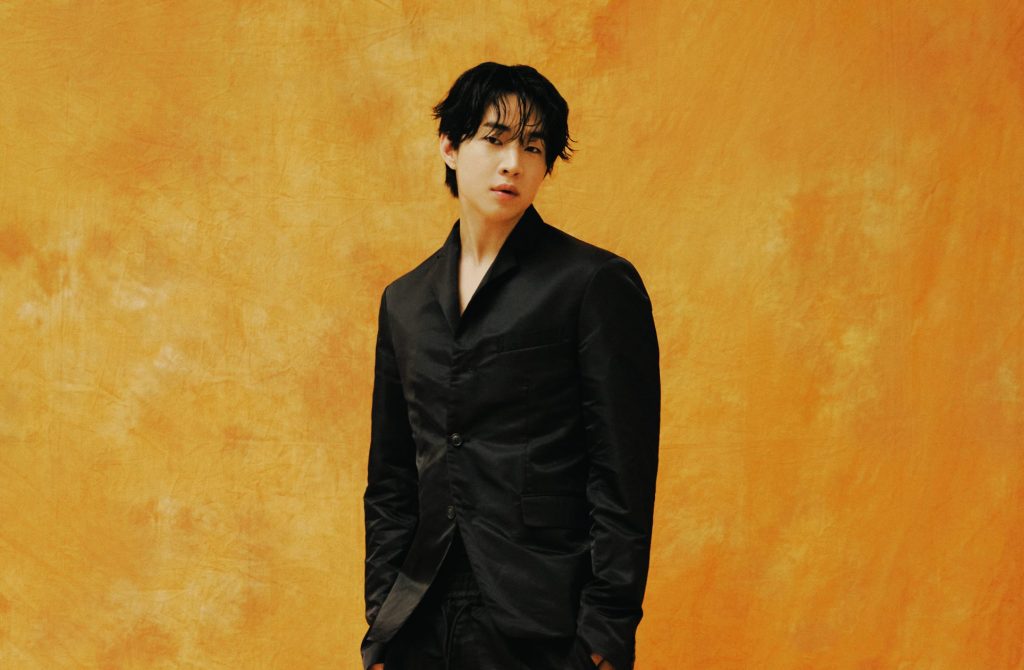 Scrolling through Henry Lau's Instagram and Twitter accounts, one cannot help but marvel at the joie de vivre they exude. Not to be a wet blanket but we are still living at the height of the pandemic even as we bade goodbye to one of the worst years the current generation has seen. Lau's energy and positive vibes are infectious but more importantly, it feels authentic. Perhaps that is the charm of Canadian-born multi-hyphenate Henry Lau, mononymously referred to as Henry.
"First of all, I'd like to wish everyone a happy new year! I learned that no matter what troubles or issues you face, you have to stay positive," shares Henry on the biggest takeaway from 2020. "By staying positive, you will think of solutions or even other roads to take that may actually lead to better outcomes. No matter what, look forward and never give up!"
To say 2020 was a tough year is an understatement to the harsh realities it brought forth as many livelihoods changed overnight. Yet one of the enduring human spirits is the ability to persevere and as the world heralded in a new year, a longing for new beginnings, renewed hope and refreshed resolutions started to ring clearer than ever before.
"I think 2020 was a year I reflected a lot and learned more about myself. I was not travelling as much and was able to work very closely with my team to produce an album which really reflected my musical journey so far."
"I found more of my identity and more of who I am over the last year. I want to focus as much as I can on creating good music and content in 2021, and to find new ways to connect closer with my fans all around the world."
Born of Chinese-descent and without a command of Mandarin or Korean, Henry was put through the paces by SM Entertainment after his signing in 2006. Henry's rise to stardom was set in motion in 2008 when he made his debut as a member of Super Junior-M, the Chinese sub-group of Super Junior. However, his career trajectory altered as the Korean entertainment mogul announced that Henry will make his solo debut in May 2013, becoming SM Entertainment's first solo male artist in 13 years to do so.
Henry has since left SM Entertainment upon completion of his contract in 2018. That same year, he joined Monster Entertainment Group, an agency based in South Korea founded by his brother, to build his solo brand globally. November 2020 marked the release of Henry's newest album, "JOURNEY" – one that is symbolic of his career thus far.
"My team and I crafted a musical story through these six tracks which really showcases who I am up until now. JOURNEY tells a story about love, friendship, hardships, and a story of being true to yourself. Ultimately, it's a story about progression and always moving forward."
"But I think this album goes beyond me. I feel the message is very relatable with the world, especially now," says Henry, citing the unprecedented times we live in currently. "I feel the album has a healing effect not just for me, but many of my listeners. I was actually quite surprised when the Director-General of the World Health Organization tweeted and shared my album with the world on social media!"
Out of the five tracks – discounting the instrumental – Henry recounts "Radio" as the closest to his heart. "Initially I wanted to write a song to encourage people as the world was facing hardships. The opening verse sounds like an old church organ while the vocal line resembles a type of prayer."
However, It was not to be as Henry decided to change the musical direction of the song after going through several iterations. "I decided to pivot the song towards a love ballad because there was so much of myself I wanted to show. If you watch the music video, there are a lot of hidden meanings I put in. See if you can figure them out!"
Set in the picturesque countryside, Henry sets out in an intense pursuit in the music video as a segment of the translated lyrics read: No matter how hard I try \ You always want more \ I do it for you, you. No one knows for sure who or even what Henry is referring to but a case can be made that the fantastical imageries represent the perfection and ideals that Henry is constantly pursuing in his life.
"JOURNEY took so long to write because I couldn't find an authentic theme for it, what story do I tell the world?" remarks Henry,
"My team didn't rush me to make an album, but they spent nearly two years trying to help me figure out what my story is. It was only after we found something very real that we started to build all the tracks one by one."
"I love making music and working with people to create awesome tracks, this album was no exception. In the past six years I usually just made single tracks. I didn't really think much about a larger picture or story."
"I think JOURNEY was both fun and challenging for everyone involved. This was the first album my team created from start to finish – from supporting the design of the album to the conceptual themes, music videos, lyrics writing, digital marketing campaigns, and figuring out the right partners to work with, I think they did a fantastic job. Most importantly, it was dealing with the pressure of being the company that's releasing my first album in six years. My team did not want to disappoint me and I can say that we're very proud of this album!"
Music is not the only creative art form Henry is adept at as he has been a mainstay on television since 2014 and has three movie roles under his belt. His command of Mandarin and Korean is no longer subpar as it now rivals his dexterity as a multi-instrumentalist and mind you, he has serious musical chops.
His maiden big-screen appearance came in 2013, casted as the lead alongside veterans Michelle Yeoh and Chin Han in Final Recipe. Two other main roles followed in 2019 – in the Chinese fantasy adventure film Double World and Henry's Hollywood debut in A Dog's Journey, a big step forward for Asian representation in Hollywood.
"To this day I'm still very humbled and grateful to have been cast in A Dog's Journey. Honestly, before I started shooting I didn't really grasp the unique situation I was in, an Asian actor in a Hollywood film. I was so focused on my job, perfecting my lines and getting into character. But after the shoot started, and I got little more comfortable working with the other actors on set, I realised that I was in a big Hollywood movie that was going to be shown in theatres worldwide. I then realised I had a responsibility to act well and makesure I was bringing my A-game to the camera every single second."
As the narration for movie productions continue to shift towards greater inclusivity and equality among various ethnicities, a number of Hollywood movies have been built around an Asian cast, paving the way for Asians in Hollywood.
"I know it's definitely changing, especially with globalisation," shares Henry, echoing similar sentiments. "I feel the influence of Asians in Hollywood is here to stay and with it brings more opportunities for Asians in prominent roles."
"Films such as The Farewell, Minari, Crazy Rich Asians and Mulan were built around an Asian cast and more will happen in Hollywood. There are a lot of great intellectual properties in Asia and for Parasite to win the Academy Award for Best Picture last year, I believe more Asian IPs will be brought to the forefront in Hollywood."
"As I look back on my career, I think the most rewarding part is when I can create something positive that brings happiness to my audience. This is what really drives me. I can't put it any other way!"
Regular readers of Men's Folio would notice an overarching theme for each monthly issue – it is fast becoming a tradition that cover stars are asked to chime in and give their two cents worth on the topic. Love marks the essence of every February. How Men's Folio defines self-love is succinct – placing priority and emphasis in one's physical, mental, spiritual and emotional wellbeing, and happiness. Henry has another interpretation – one that is very much valued too.
"Self-love is different for everyone. For me, self-love is having the time to take care of the people I love," shares Henry in an earnest fashion. "This is what makes me happy, stable and healthy. Throughout the last decade, I've had the privilege to do many things others have not."
"On the flip side, I've also worked extremely long hours for months on end. Because of this, I've at times felt very disconnected with the people I love and care about. So in 2021, I want to prioritise my self-love by loving the people I care about."
Men's Folio: How important is self-love in today's climate?
Henry: The hustle and bustle of everyday life are just getting busier. I think it's very important for people to take some time and prioritise what is most important to them. I think this is what self-love really means. But more importantly, you must have the courage to prioritise and do your own version of self-love. It's easy to keep going in the inertia of everyday life. But it's very difficult to reflect deep down and see what's really important to you, and then go and take care of what's important to you. I feel that everyone will be much happier if they take the time to do these things.
MF: This topic of self-love shares parallels with one of your new songs, "Just Be Me" – What went through your mind when you wrote it?
H: Throughout my entire career, I've always been a little afraid to show the real me, to just be me. On TV you always want to come off as being very happy all the time, cheerful and entertaining. As an ex-idol, there are many expectations that you should live up to. So when I began my solo career, I took all these expectations with me. It took a few years working with my brother and my company to be more comfortable and to really show some of my true colours.
"Just Be Me" was the epitome of this journey. I realised that no matter what I did, there will be some people who love me and some people who just don't like it – and I'm okay with that now. So I wanted to share this message with everyone in the world. It's okay to Just Be Yourself. Do what makes you happy!
MF: With each passing year, you learn a bit more about yourself – What is the biggest discovery you made so far?
H: I think I found that anything is possible if you put your mind to it. I never expected to be a lead Hollywood actor, or to be in one of the largest Chinese films on Netflix last year, or to start an award-winning YouTube series showcasing amazing musical prodigies. I've never done these things before.
But that never stopped me from trying even though I didn't know whether I could do it or not and I tried my hardest. The biggest discovery for me is that having the right team is the most important. Always surround yourself with great people because you will not only have fun but achieve great things together.
MF: Finally, fostering a healthy relationship with oneself is important – What is Henry Lau's simple-yet-effective three-step guide to promoting Self-love?
H: Eat well, sleep well and make sure to call your family often
Credit:
Management Monster Entertainment; Creative Direction and StylingALVIN GOH; Photography Yoon Jiyon; Grooming & Hair Jang Haein; Dresser Seo Sumyung; Production ALVIN GOH
Read the full interview feature with Henry Lau and see his full photoshoot with us in our latest Men's Folio Malaysia February 2021 issue, now out on newsstands, bookstores and online via magzter.com.