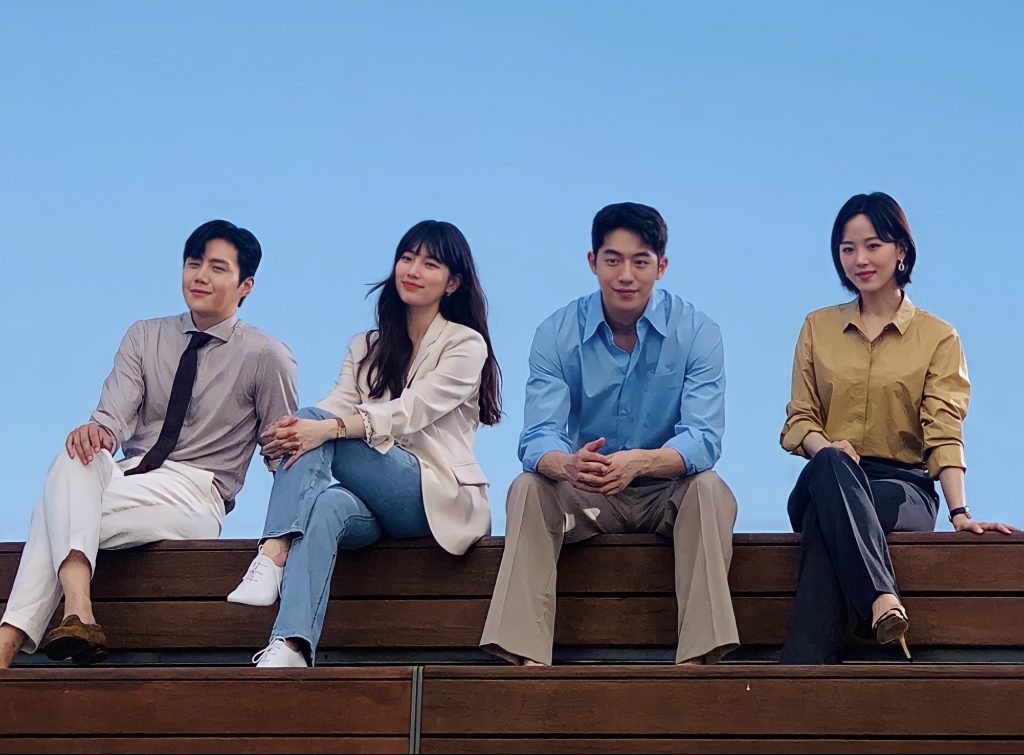 Netflix has just premiered its highly-anticipated drama Start-Up last week – and like Crash Landing on You and It's Okay to Not Be Okay, it looks well on its way to becoming the next wildly popular drama series. Directed by Oh Choong-hwan (Hotel del Luna, While You Were Sleeping, Doctors) and written by Park Hye-ryun (Dream High, I Can Hear Your Voice, Pinocchio, While You Were Sleeping),  it boasts a star-studded cast led by Nam Joo-Hyuk, Bae Suzy, Kim Seon-Ho and Kang Han-Na where the plots revolve around Bae Suzy's character Seo Dal-Mi dreams of becoming Korea's Steve Jobs, and meets Nam Joo-Hyuk's character Nam Do-San and they both decide to start-up a company together. Their adventure begins when they meet Won In-Jae (played by Kang Hana), a chaebol CEO who struggles to get acknowledged on her own, and Kim Seon-Ho (played by Han Ji-Pyeong), a senior investment manager at a venture capital company.
We recently joined a virtual press conference with the four main casts to talk about their characters, chemistry as well as the inside scoops.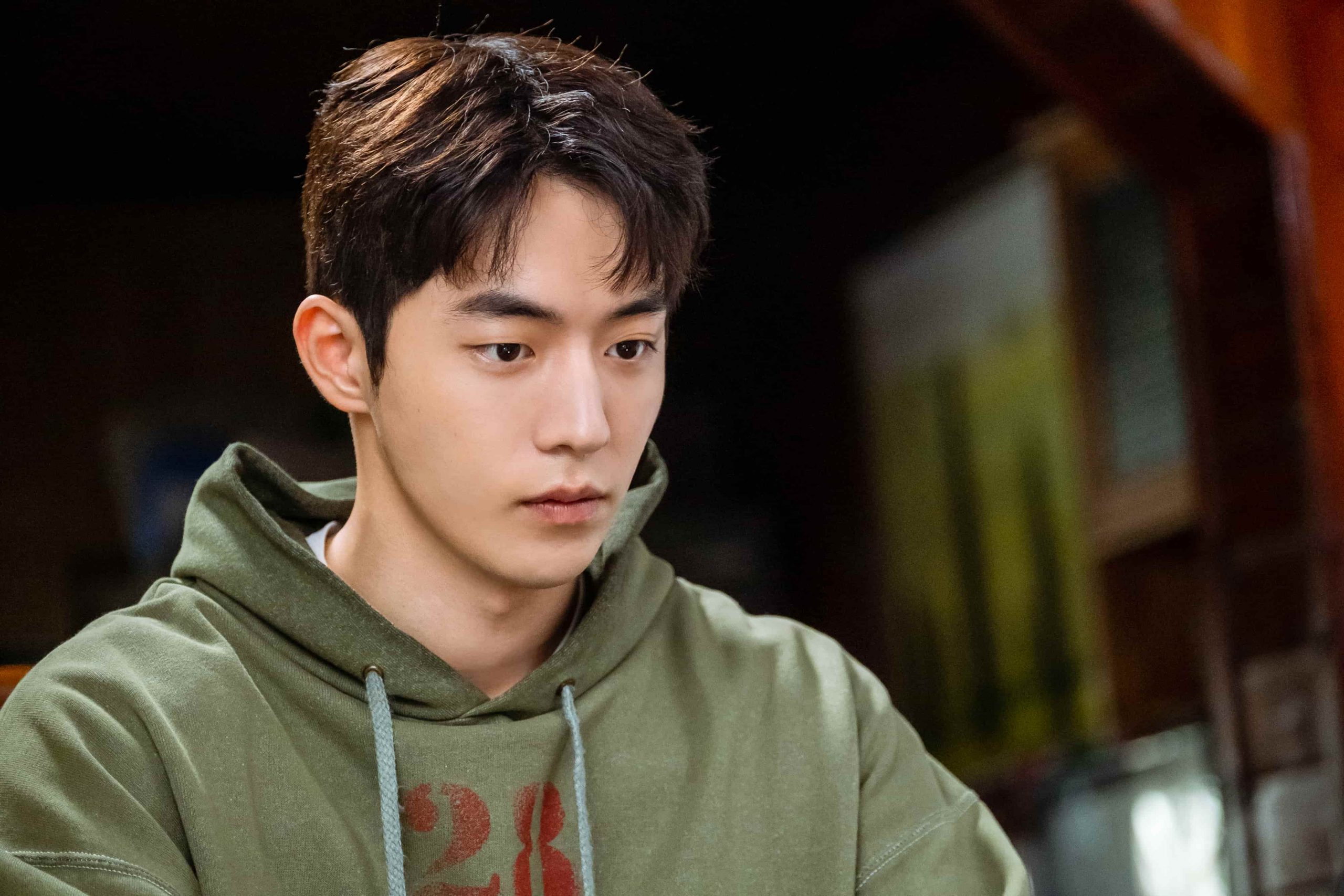 What was your impression when you first read the script?
Nam Joo-Hyuk (NJ): When I first read the synopsis of the story, I felt that the character is still incomplete. So I thought, if I take this role, I can add more and help the character be complete. As the story unfolds, he grows and I wanted to portray that. I saw some kind of overlapping relationships between me and my character. Since we are around the same age, I could feel what Do-San is feeling.
Bae Suzy (BS): I was drawn to the topic of start-ups. It begins with a complex relationship between the characters. I look forward to seeing how the story is going to unfold, and personally, I really enjoyed the plot. I also want to encourage others who are of my age, because that's the message of the show. It's a very heartwarming story.
Kim Seon-Ho (KS): There was a lot of excitement. This drama is quite different from other shows because if you look at the characters you will be compelled to keep on reading. What sets Start-Up apart from others is that while some dramas lean more on spicy and juicy stories, ours is very heartwarming and encouraging.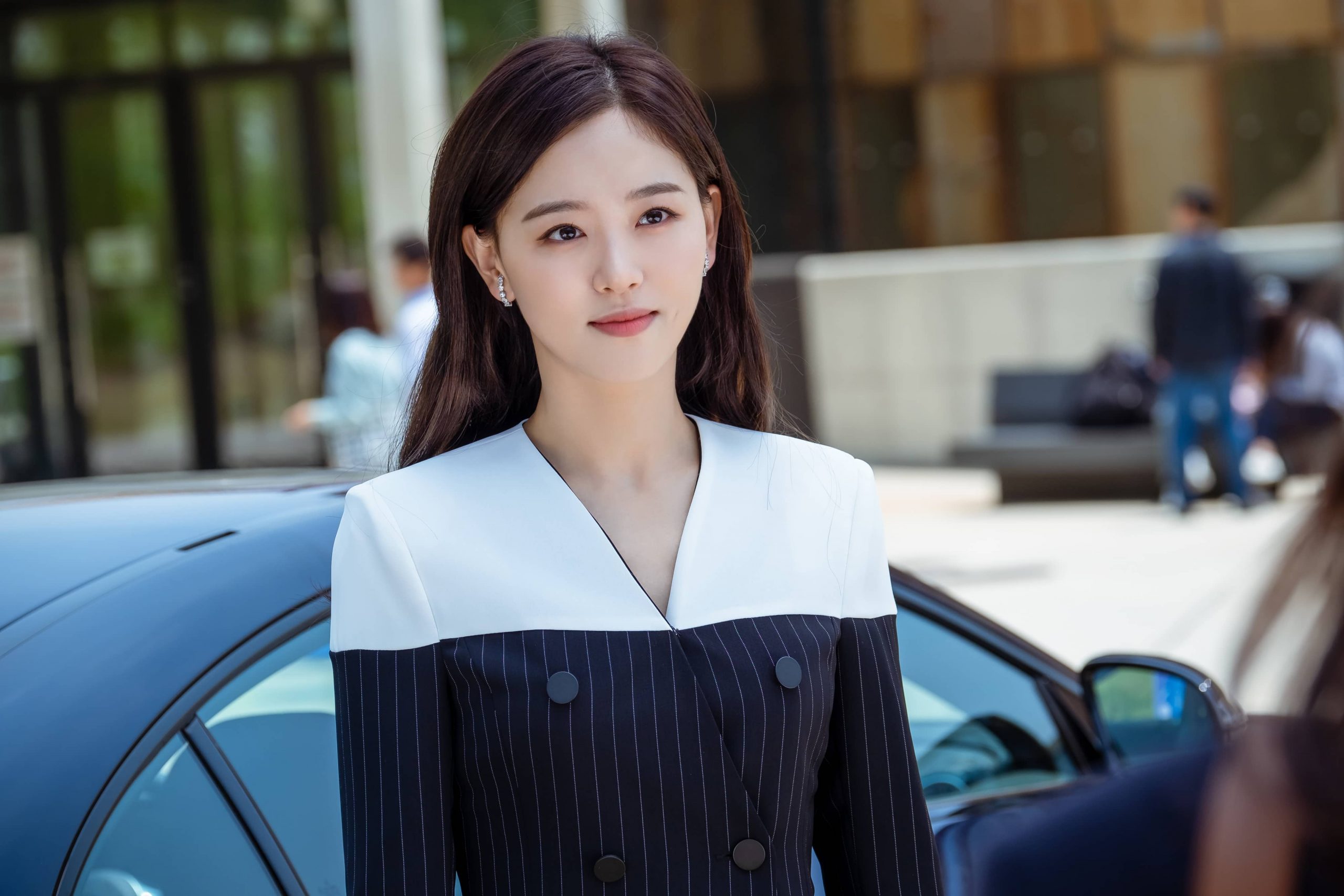 How did you prepare for your role?
NJ: While I was working on my character, I also had an opportunity to look back on my past and look forward to my future. I really identified a lot with Nam Do-San – to immerse myself in my character, I really looked into myself. That gave me an idea on how to prepare, particularly in terms of visual appearance. He was not too difficult for me to depict, because being a nerd is a part of who I am. It was not an impossible challenge for me to pull it off. In my mind, I thought about how to portray a nerd. But then I realised that I am a nerd. Just like Do-san, sometimes when I get nervous, I also tremble. So I use that trait to portray my character.
BS: My character, Dal-Mi, meets a lot of people in the story. And I also thought about how to interact with these various characters. I took a deep dive into the script. For example, in Do-San is Dal Mi's first love, I thought: How would my character interact with Do-San? I tried to read the script from the perspective of Dal Mi. Since  topics on start-ups are new to me, I looked up interviews with young star-tup CEOs as well. I become dynamic right away.
Kang Han-Na (KH): My character is a very hardworking CEO, and a thorough businesswoman. The writer gave me some pointers as well as video references to watch to understand my character better. I searched videos of actual, successful CEOs, so I tried to emulate their energy and aura. I also studied the script and rehearsed hard with my colleagues.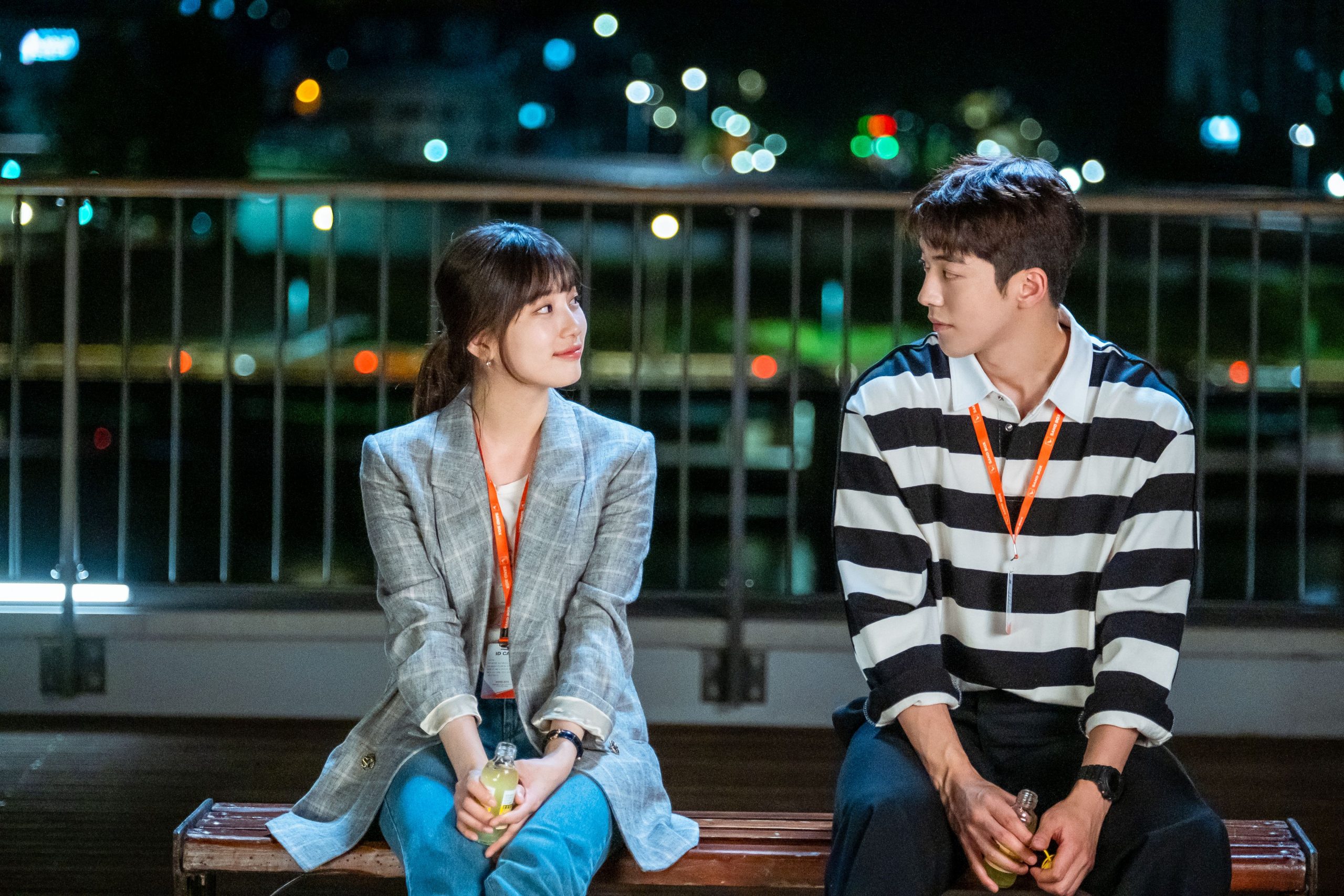 Suzy and Joo-Hyuk, how did it feel to hear that you two would be partners and how would you rate your chemistry?
NJ: When I heard about it – because we call our series a youthful coding romance, I thought that it would really be a great story and also something that I could only do at this age and at this time, so I really looked forward to doing it. In the beginning, we didn't have many scenes together; we had to act in our separate scenes. And then at one point when we got to meet, I felt like our chemistry was really good and I think this is something that the director really knows.
BS: When I first heard that he would be my partner on-screen and also when I met him on the set, there was just really great energy. He had a lot of great energy as well and I think that created a lot of synergy for between us. Like I said before he was very  much like Do-San himself so I was able to really immerse myself in my role, thanks to him. He's so bubbly, bright and I think the scenes with both our characters appearing together are very bubbly and beautiful, and you just want to cheer for them.
In the drama, there's a conflict between In-jae and Dal-mi. How was it on set because I heard in an interview, Han-Na, you said that one of In-Jae's closest friends is actually Dal-Mi?
KH: Yes, in the drama series, my relationship with Dal-Mi is unique in that she is my rival, and also there is a lot of subtle conflicts between the two. But because Suzy as we all know is so lovable, it was very difficult for me to really bring my claws out to the character Dal-Mi. While we are sisters that hate each other on set, we have a great friendship and I hope that you can look forward to our chemistry.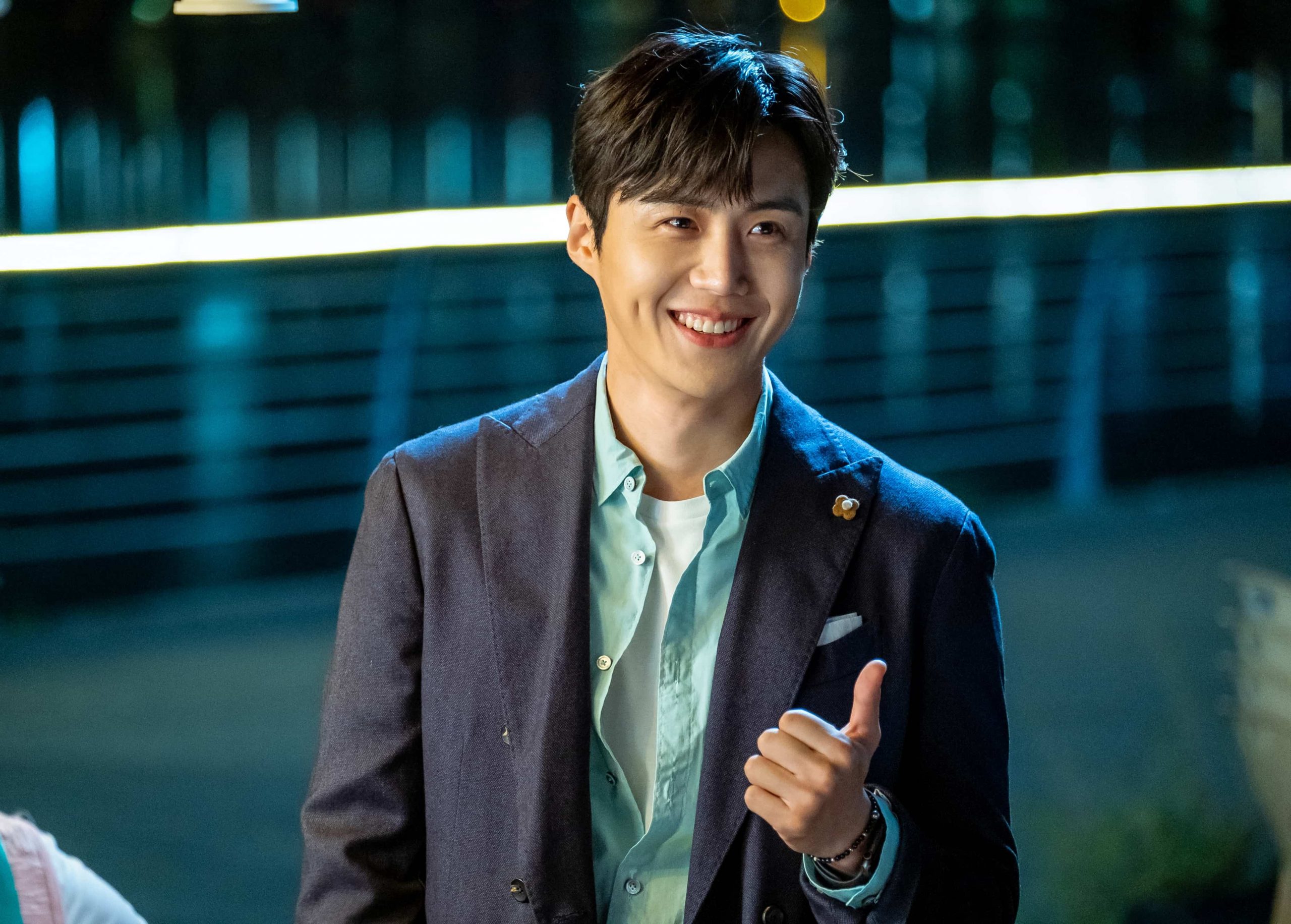 We have heard that there will be some bromance between Do-San and Ji-Pyeong…
NJ: The characters Do-San and Ji-Pyeong, when you look at their relationship, I feel like it would just be a really difficult one if it was real. The character Do-San, and his lines, I don't even know how to describe him. He's just not someone you see every day. So as I did my lines, sometimes … I felt really sorry for Ji-pyeong for saying these lines as the character Do-san. There were times when we would have to film a scene again nd again because it was just so funny and we would break out into laughter.
SH: I met Joo-Hyuk from filming this series and what I really love about him was he was sincere and real about everything. Every little thing he did on screen as part of his act, it just felt so real so I would just follow along with that energy and it was really fun. And I think when we talk about chemistry, mutual trust is extremely important and then sometimes I feel like it also has to do with you know, he would sometimes improvise his lines and it felt like it was Do-San himself doing it. It was amazing to see that.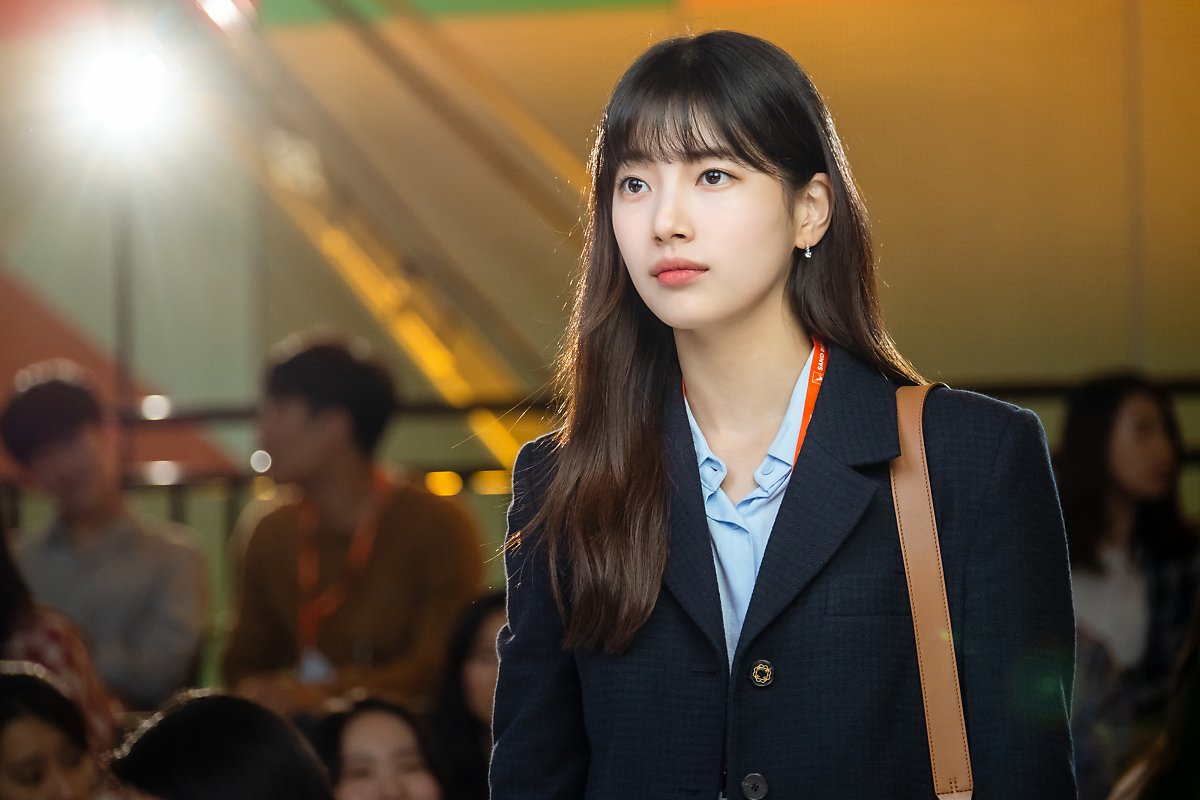 Any last words for the viewers?
BS: Throughout the production process, I looked at the screenplay and I was comforted and it helped me take a step back  and have a look at my own life; and I really hope and believe that the audience will feel that energy as well. It's a very heartwarming story. I hope that you can watch it with a warm and joyful heart.
All photos by tvN, courtesy of Netflix. Catch Start-Up on Saturdays and Sundays on Netflix.