The shut down of music festivals left and right due to the pandemic begs the question: what will things look like in the future for our homegrown @goodvibesfest? We sat down with Wan AIman, the head of entertainment at Future Sound Asia, who organises the festival, to talk about how he navigates the troubled waters as well as what's next for the music festival.
How is your business affected by the coronavirus outbreak?
Unfortunately, Future Sound Asia has been severely impacted by the outbreak. As our core business is organising and producing events and festivals, both of which have been prohibited during MCO, CMCO and RMCO, our business has basically ground to a halt. However, as Malaysia has managed to keep the number of COVID-19 cases low and things are slowly starting to open up again, recently some restrictions have been loosened so we're feeling hopeful.
Did you have to pivot or introduce new method of operating?
We have explored alternative forms of revenue, such as selling Good Vibes branded face masks – of course it doesn't come close to making up for the lost revenue due to the restriction on events and concerts, but at this point any revenue helps. We also have other plans in the pipeline but are waiting for the right time to execute them. Fortunately, conventions and exhibitions are now allowed to be held provided strict SOPs are adhered to, so we are working on Sneakerlah happening in December this year.
What would you say are the most severe impacts on the event industry?
The largest impact is undoubtedly on the music and entertainment events sector – with concerts, festivals and clubs being prohibited, your local musicians and DJs are the most affected as they are left without paying gigs. It also affects countless other fields related to the sector, such as of course concert promoters/organizers, sound/light/musical equipment suppliers, technical crews, touring crews, etc.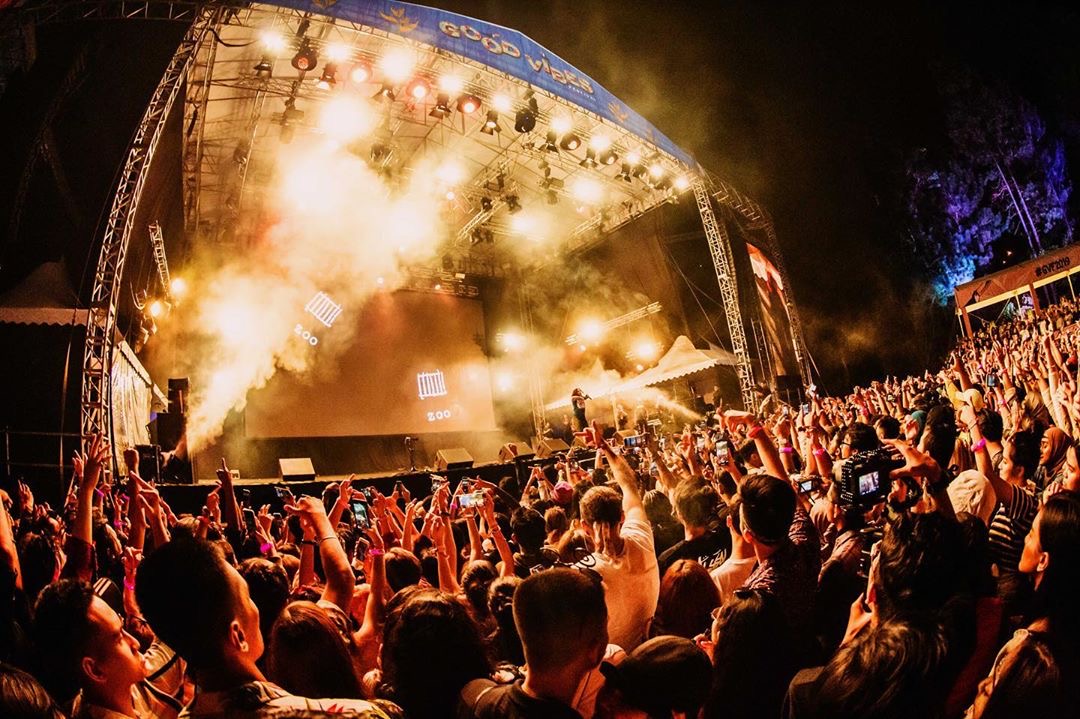 How will music festivals adapt – and to what extend can livestreaming help?
There have been a number of socially distanced music festivals and concerts that were held in the US and Europe, and a few regional ones as well, where attendees were separated into small groups and had to stay within their designated area, or where the whole event was a drive-in and people just stayed in their cars. Quite a few festivals, such as Tomorrowland and regionally We The Fest in Jakarta, have done virtual versions of their festival – livestreaming acts from across the world to viewers at home. All this was done to varying degrees of success; at the moment it unfortunately is not cost-effective for us to do a socially distanced or virtual version of Good Vibes Festival and the sustainability of such events remains to be seen. I think livestreaming is really good for artists to stay connected with their fans however and provides artists with much-needed revenue, especially since they are cutting out the middleman by reaching their fans directly.
When the UK did its first socially distanced concert, many people said that is what the future of live music might look like. What's your take on that and will Good Vibes follow suit?
I hope that socially distanced concerts are not the future, but rather just the  present live music experience as the world tries to deal with the pandemic. I'm not resigned to the fact that the pandemic is here to stay – I'm optimistic that we will eventually get through this and when that happens, live concerts and festivals will return to normal. At the moment a socially distanced Good Vibes Festival is not feasible for us but we are working on the next one which hopefully will be able to operate normally.
What is most important to you right now – and the one thing you've learnt in terms of getting through this?
Tough times have taught me to never lose sight of the bigger picture, and always remember what keeps me centred – which in my case is my family. I think it helps a lot when you have something bigger than yourself to motivate you. Work wise, it's been somewhat of a blessing that our team has always been pretty lean, so that we didn't have to downsize too much – having a supportive and understanding team working with you is also crucial when it comes to having to make changes in the workplace and adapting to tough situations.
What do the next few months look like for you and also what do you look forward to in a post-COVID-19 world?
We are working on Sneakerlah at the moment which will happen in December this year and also the next Good Vibes Festival, plus some other plans in the pipeline which I'm not at liberty to announce yet. International artists are already making touring plans for Q3 2021 onwards so we're holding out hope that things return to some semblance of normalcy by then. Hopefully post-COVID-19 work will return to normal levels and we're able to do shows again. I miss going to shows and also working on them! Also one thing I really miss is travelling so I hope travel restrictions are lifted as soon as possible after everything gets back to normal.