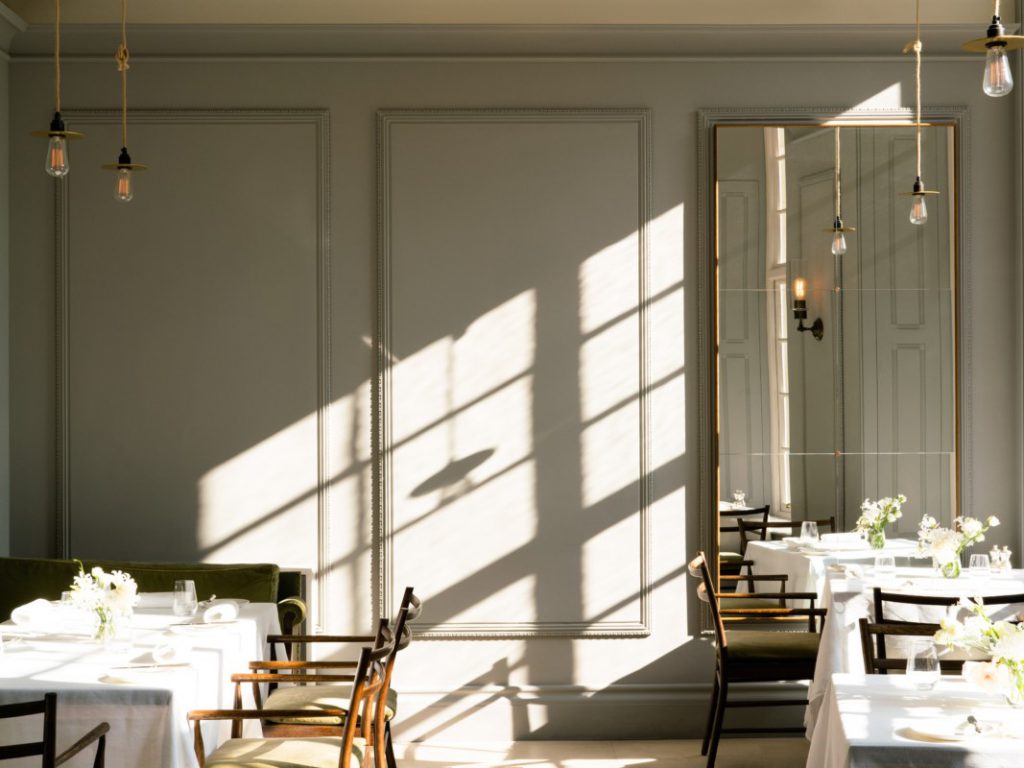 Just when you thought that they will never be a correlation between fashion and food, you see luxury labels branching out into the culinary scene. Here, we check out the best luxury-branded eateries for both the fashionable and food connoisseurs.
Since putting on the throne as creative director at Bottega Veneta, Daniel Lee has been shaking things up from transforming it into a more millennial-sensitive label – winning four major accolades at the British Fashion Awards 2019 – to establishing a modish café in one of Osaka's lavish shopping centres, Hankyu Umeda Store.
Bottega Café sets as the first foray of the brand into hospitality, serving unpretentious Italian aperitivo and vino. Situated on the second floor, the casual diner adjoins Bottega Veneta boutique with distinctive interior design departure from the retail space. Spanning across 55 square metres, Bottega Café boasts its Italian identity with the black-and-white Venetian marble Terrazzo Palladiano style flooring while an understated bar that stretches over a bright neon pink "Bottega Café" signage painted in the brand's trademark royal blue. Plants are everywhere – creating a blur boundary between exterior and interior – and seven ribbed glass panels are placed across the bar to suggest a garden-balcony feel.
It is a place offers openness but also privacy. You can also find intrecciato in new context – woven leather seats along with large curved foggy dew plywood benches surrounding the room. The curated menu sees café staples like freshly brewed coffee, variety of teas, pressed juices as well as Italian classics aperitif and wine from Veneto region (birthplace of Bottega Veneta).
Galeries Lafayette of Champs-Élysées gets an apt addition to the all-day café scene with Citron Café, a bright corner spot with a modern Mediterranean design and menu to match. The dynamic duo – founder of the eponymous fashion label Simon Porte Jacquemus together with the CEO of London's prominent Parisian restaurant Caviar Kaspia, Ramon Mac-Crohon, created a dining space featuring large windows cascaded by rectangular wooden beams, which allow lambent sunlight and geometrical shadows to flood in the venue.
The new fixture in the first floor of the grandeur shopping mall mixes furniture in a warm and bright palette of brown, cream, tortilla and tan complemented by clear glassware and earth tones ceramic with copper and one-off features utensils. On top of that, the charming interior is adorned with scattered lemon trees in terracotta pots and soap orange ochre amphoras.
On the menu, apart from the eminent decadent lemon-shaped dessert by Cédric Grolet, patrons can also find a variety of Parisian and Mediterranean signature cuisine. From fluffy pastries sourced from the traditional patisserie Stohrer to scrumptious bread baked by Anthony Courteille to Marseille-style pissaladière, Citron Café offers unique and celestial rolling of flavours that redefine the meaning of good taste.
Driven by the idea of transforming Burberry.com into a physical experience – Burberry's former CEO and creative director Christopher Bailey established the Regent Street flagship store. Having worked with some of the UK's finest craftsmen, Thomas's is a 44,000 square-foot space designed to delight, surprise and entertain.
Already being touted London's most stylish café, it features large windows that peek out onto Sackville Street, clean black and white marble floor in Melville border with Chesterfield pattern, hickory classic wood seating, tables and bar, tall mahogany shelves filled with books, glassware and the label's home furnishings along with other mixture of vintage finds. A private dining area which seats for 14 secretes behind rich olive velvet curtains, inviting visitors for a cosy snug and more intimate dining experience.
As a brand that eminently puts forth its British identity in every aspect, Thomas's Café focuses on all-day and seasonal menu prepared using ingredients sourced from the UK local farmers and artisans. Dishes include a Full English fry-up and Sutton Hoo chicken salads vie with secret smokehouse salmon and gin and tonic oyster, toasted Wiltshire ham, and Lobster Benedict served with muffin, spinach and chips. That is not it, afternoon tea is also relatively exquisite with a 100% rye or sourdough bread emerging from the Aga to accompany pressed English apple juice and Brown Cow vanilla yoghurt.
At the newly opened Louis Vuitton Maison Osaka Midosuji, premium leather goods and eclectic apparel emblazoned with the well-celebrated monogram are only part of the offer. The latest seven-storey store in Japan is distinguished by its first-ever café and restaurant at the top of the billowing white façade.
Welcoming its patrons into an elegant café with warm lights, designed by world-famous architect Jun Aoki and designer Peter Marino is a stretch of a golden painted bar highlighted by emissions of soft white light at the bottom perimeter, creating an illusion of a floating table. Mirroring this feature are the huge glass windows that extend to a slight-in door at the very right corner, giving access to a substantial outdoor terrace. Adjoining through a clandestine, speakeasy-esque trap door is Sugalabo V – an intimately lit dining area wrapped around a shiny silver-and-gold open kitchen. The room is charmed by the trompe l'oeil cube floors, opaque light-peanut panels, playful lighting as well as leather-swathed furniture.
Le Café V, in particular, pairs its lambent space with equally satisfying haute cuisine menu of Turzum and Kahoshima teas, Earl Grey-infused gin and tonic, satsuma juice and non-alcoholic La Manoir de Sacres rose sparkling. On other side, Sugalabo V offers heavier yet comforting dishes, from variously prepped wagyu beef to crab macaroni au gratin to quiche Lorraine, everything is specially curated by well-renowned Japanese chef, Yosuke Suga.
This story first appeared in the March 2020 issue of Men's Folio Malaysia.