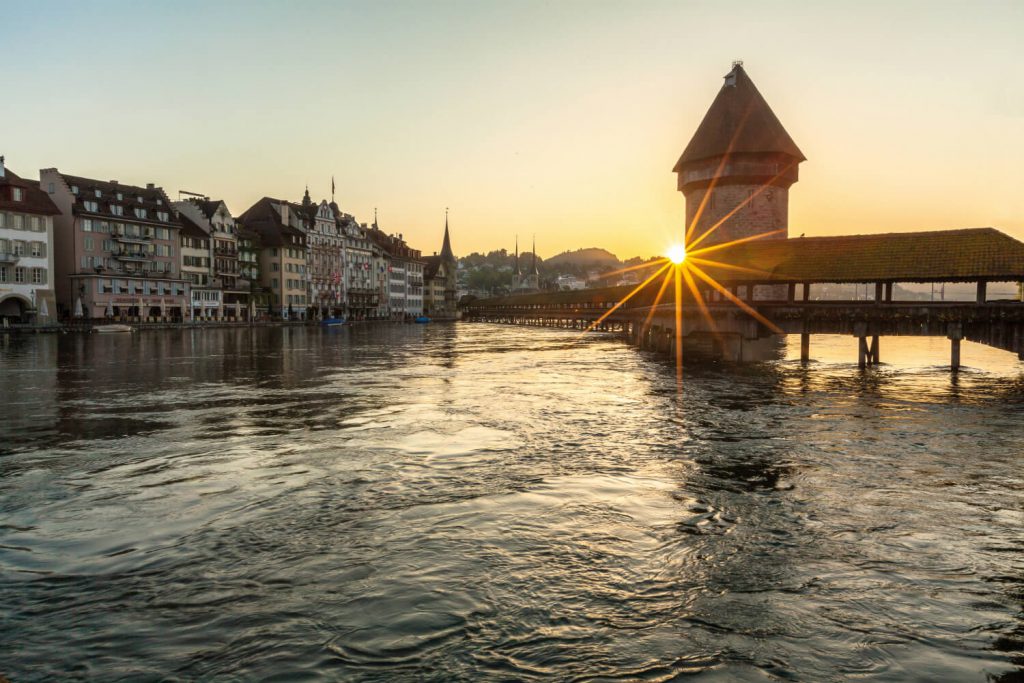 Lucerne is where you'll find everything from the expected luxury fashion and watch brands to tourist favourites such as the Lion Monument (Denkmalstrasse 4, 6002 Luzern; +41 41 227 1717), a monument of a dying lion carved in a rock face dedicated to the fallen soldiers of the French Revolution, and Kapellbrücke (Kapellbrücke, 6002 Luzern; +41 41 227 1717), a covered wooden footbridge that stretches diagonally across the Reuss River.
Alternatively, you can follow our itinerary: plan a trip to Mount Pilatus that starts early at the valley in Kriens station. From there, take a 30-minute gondola ride over a pre-Alpine landscape to reach Fräkmüntegg, where you'll hop onto the aerial "Dragon Ride" cableway for a mesmerising three-and-a-half-minute glide to the summit.
Once you get back to Lucerne, waste no time and set right off on a museum trail. Your first stop is the Sammlung Rosengart Luzern (Pilatusstrasse 10, 6003 Luzern; +41 41 220 1660), which houses two remarkable groups of artworks by Paul Klee and Pablo Picasso. Next, check out the Kunstmuseum Luzern (Europaplatz 1, 6005 Luzern; +41 41 226 7800), which holds temporary exhibitions of national and international artists.
End your trip on a high note with a visit to the Swiss Museum of Transport (Lidostrasse 5, 6006 Luzern; +41 41 370 4444), which boasts jaw-dropping showcases of the past, present and future developments of transportation and mobility in various areas like road, rail, water, air and even space. Where should you stay? May we recommend the five-star Grand Hotel National (Haldenstrasse 4, 6006 Luzern; +41 41 419 0909) situated right on the shore of the majestic grandeur of Lake Lucerne?
PS: Get yourself a Swiss Travel Pass to move around Switzerland with ease. The Swiss Travel System offers a variety of tickets for the entire Swiss public transport system. For more information, visit myswitzerland.com or call +41 43 210 5627.