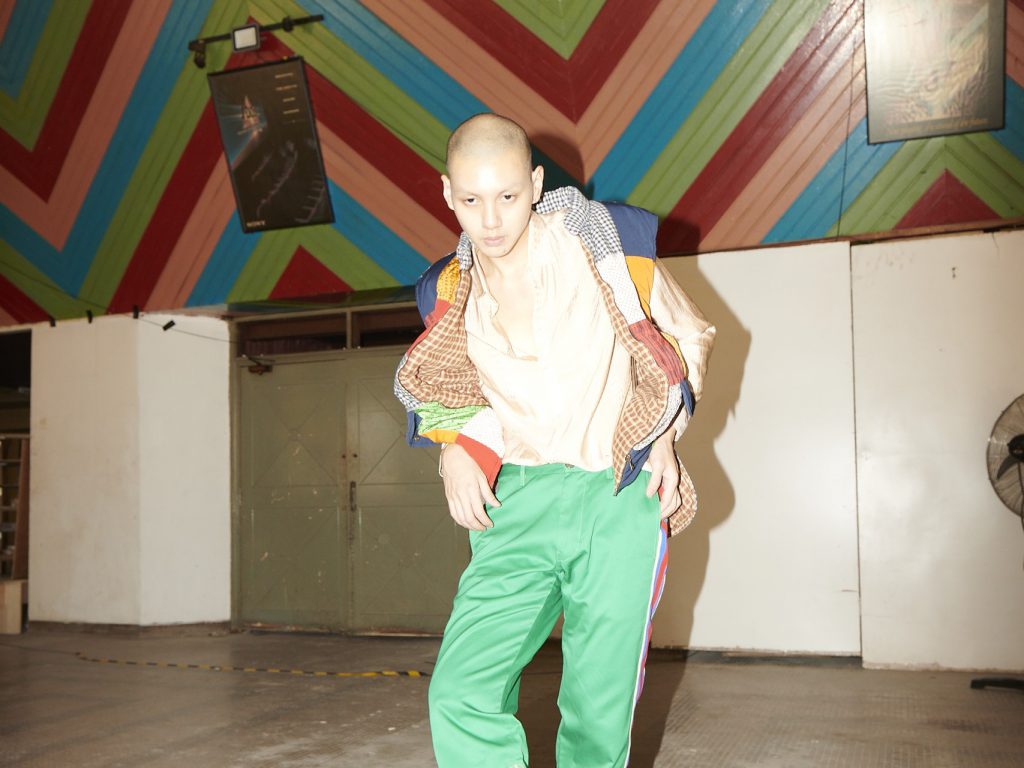 "What the hell, why not?" Silas Oo says he thought to himself when a friend apprised him of Men's Folio Model Search 2019. Once an avid weightlifter, Oo had to call it quits when he maimed both his wrists (which still bother him today) and consequently made him to shift focus onto his other interest namely fashion. Having been modelling for just over year, the 23-year-old fine arts graduate confessed that he entered the contest with zero expectations.
Oo speaks with a soft gentle voice. Sometimes he slows down to choose his words carefully, albeit there is never a shadow of hesitation. And now, more than ever before, he believes he's ready and all set to take on the fashion world.
What have you been up to since winning #MFMYModelSearch 2019?
I've just been continuing with modelling; getting gigs here and there and enjoying the process. I've done lookbooks for brands like Joe Chia and Pestle & Mortar, runways for Mercedes Benz Fashion Week and Kuala Lumpur Fashion Week (KLFW), and editorials for magazines like L'officiel and Citta Bella, as well as international ones like Sense Japan.
I took a bit of a hiatus when I dislocated my knee cap right after KLFW, and had to have reconstructive surgery done. Now, I'm still going through the recovery process, which will take another three more months to heal completely, but I got back into modelling as soon as I could begin to walk again.
How has the contest helped you in your modelling career?
A cover photo, especially one on such an esteemed magazine like Men's Folio, is a huge goal for any model just starting out on their career. And on a more personal level, as someone who finds it hard to believe in myself without consistent affirmation from tangible milestones and accomplishments, winning this competition more than anything confirms and legitimises my decisions that have led me to this point in my modelling career. I am very grateful for this.
Who are your favourite local designers at the moment – and why?
It is hard to say as there are new brands coming up all the time, but I'd say for now Motoguo and Joe Chia are amongst some of the standouts. Their cuts and themes are consistently well thought out and conceptualised, with great quality, and I respect the fact that they can stand toe to toe with other international designers and hold their own.
What do you think is the biggest misconception about the industry?
People think it's a big, glamorous industry where we get jobs every week and the pay is always good, but the truth is it is incredibly difficult like most jobs in the creative industry; sometimes having to juggle two or more jobs just to keep busy. Of course, there are exceptions that break the mould and become insanely popular, but you got to have some crazy luck and talent. It takes a lot of hard work and dedication to make it in any which way; no one gets a break overnight.
"I used to be a pretty fat kid, so self-love just wasn't something I was used to while growing up… I did a lot of weightlifting to try to change my body but it was never enough… I have since grown to accept the way I look and I think it helped knowing that I wasn't alone in the struggles."
In your opinion, how different – or similar – is the local fashion scene compared to overseas?
I think we have a huge range of different subcultures within the local fashion scene that have been really starting to grow in recent years. With influence from neighbouring Southeast Asian countries and Western fashion, Malaysia has an interesting fusion of both. However, we're still not as fashion centric of a country as most other countries around the world but I'd say we're catching up quicker and quicker now because of it. More people are becoming aware of how they dress.
How would you describe your fashion style?
I'm a huge fan of pop culture, namely different eras of Hollywood and music from the 40s all the way to the 80s. I often tend to emulate what I see on-screen with what I wear, sometimes on an almost romanticised and emotional level. I also constantly fight between clean lines and lux fabrics, and aged textures and grounded, fantasy-like storytelling that I tend to imbue into what I wear. I put way more thought into what I wear than I should.
Besides modelling, what are you busy with?
I am currently working at an art centre in PJ as a part-time art teacher. I teach kids around the ages of four to 12 years old. I never would have imagined myself being a teacher but I decided to give it a chance and see where this experience would take me. It is a very rewarding experience; interacting with the kids. On top of that, I also paint and draw; working on several pieces currently in preparation for an upcoming show and hopefully eventually a solo art show.
Read the full interview feature with Silas Oo and see his full photoshoot with us in our latest Men's Folio Malaysia February 2020 issue, now out on newsstands, bookstores and online via magzter.com.
Credit: 
Words & Fashion Direction: John Ng; Photography: Chintoo; Styling Assistant: Syazil Abd Rahim; Grooming: Ash Chong; Location: REXKL