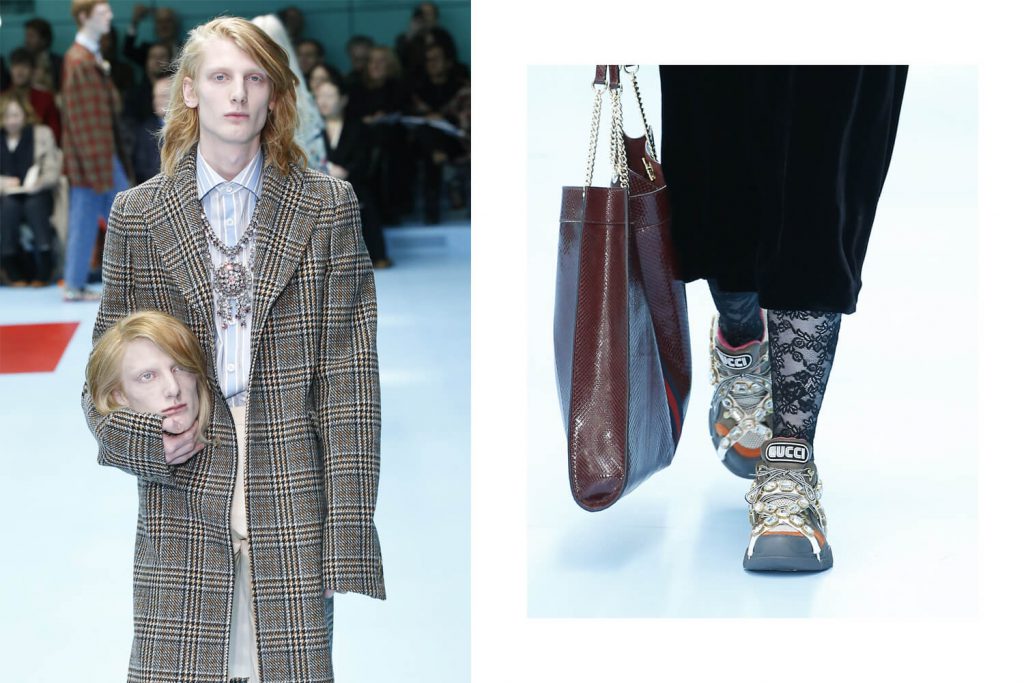 Baby dragons, severed heads, surgical table and a myriad of otherworldly creatures, that is what sums up the Gucci Fall 2018 show.
Titled "Cyborg", this season sees Alessandro Michele is pushing boundaries once again through his exploration of the notion of identity, categorisation within society and gender binaries, all of which is what he is known for.
On his latest collection, Alessandro says, "We are the Dr Frankenstein of our lives. There's a clinical clarity about what I am doing… We exist to reproduce ourselves, but we have moved on. We are in a post-human era, for sure; it is underway."
And to this sensory overload of a fashion show, we present to you 5 unforgettable moments of the Gucci Fall/Winter 2018 show.
The Surgical Theatre as Venue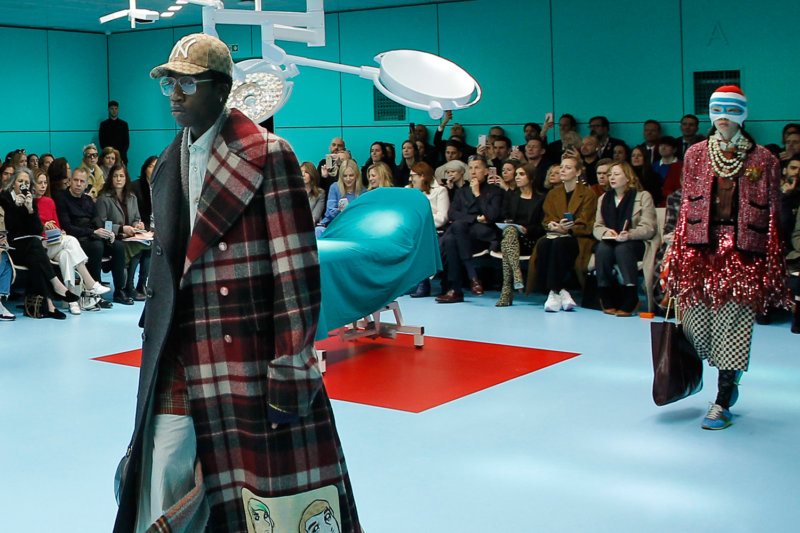 Starting with a bio-hazard-like "countdown timer" as the show invite, we are transported to a surgical theatre for the runway show, which was held at the Gucci Hub in Milan.
Centered around a surgical table with medical examination lights above as the piece de resistance, the runway sees a legion of transhuman models strutting down the runway as guests were seated on rows of plastic chairs, identical to those in the waiting lobby of hospitals and clinics.
Severed Heads as Accessories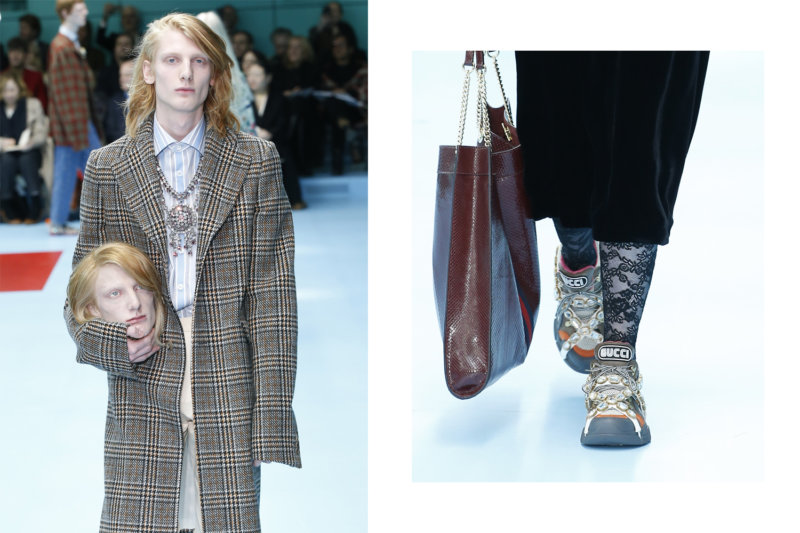 Bags and clutches are no longer the "It" accessory for the season. Instead, Gucci sends out models who carried their own severed heads down the runway, all dressed in signature Gucci silhouettes including oversized sequin blazers, ruffled tops and lamé shorts.
And on the soles of these models, we have the trending "dad sneakers" reimagined in the chicest way possible, one that is only possible in the vision of Alessandro.
The Dragon and Otherworldly Beings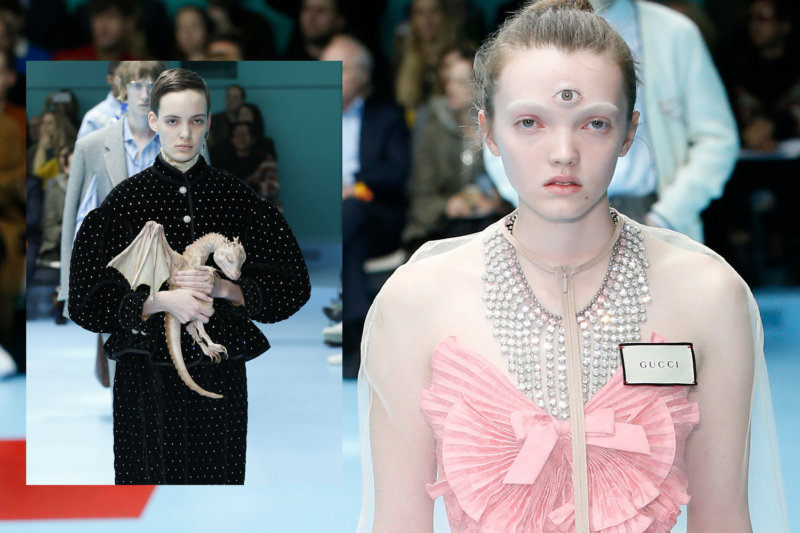 As if severed heads weren't enough as a shock factor, one of the models carried an infant dragon down the runway as she wore a two-piece all-black ensemble, which is now flooding all social media platforms. We certainly don't mind having it as our own (because dragons are just that cool!).
Truly a post-human era, models are now cyborgs (Gucci Cyborgs to be exact) where even one emerged with a third eye on the forehead to close the show and another with eyes on their forehand, while another came with a Chinese pagoda headdress.
Other reptilian wonders also surfaced like the iconic Gucci kingsnake and a chameleon, which are all produced by Makinarium, a special visual effects factory in Rome.
Cross-Cultural Inspiration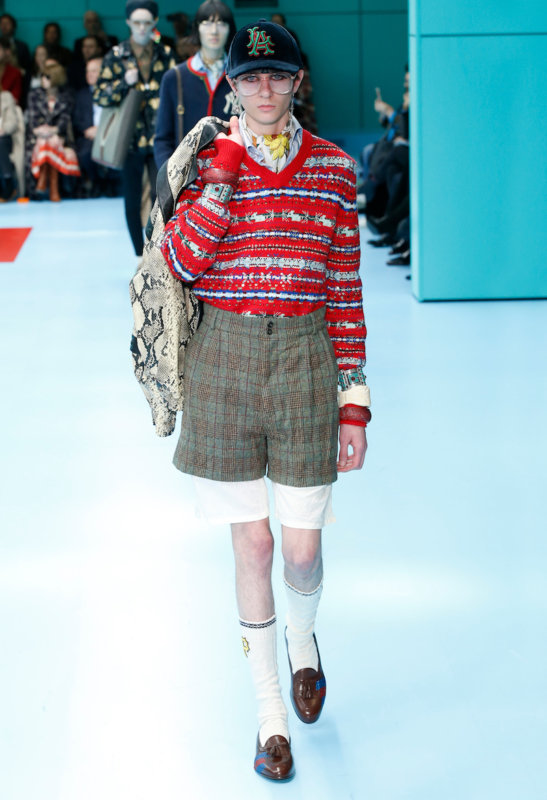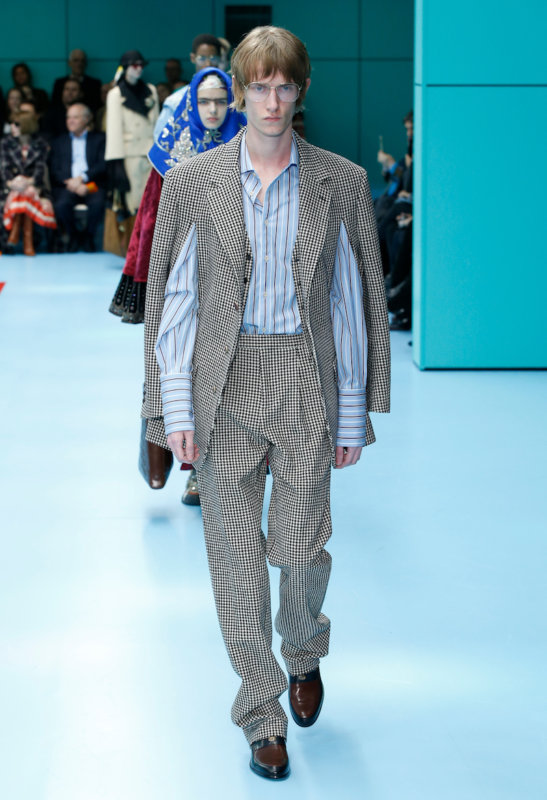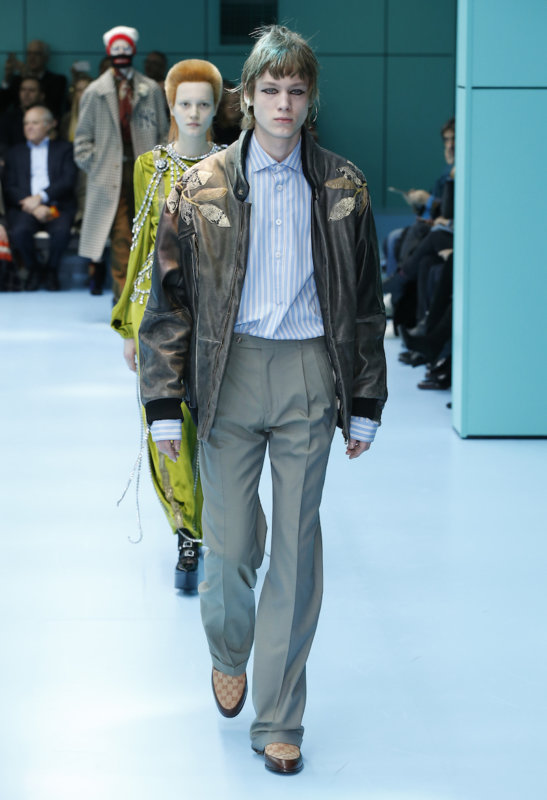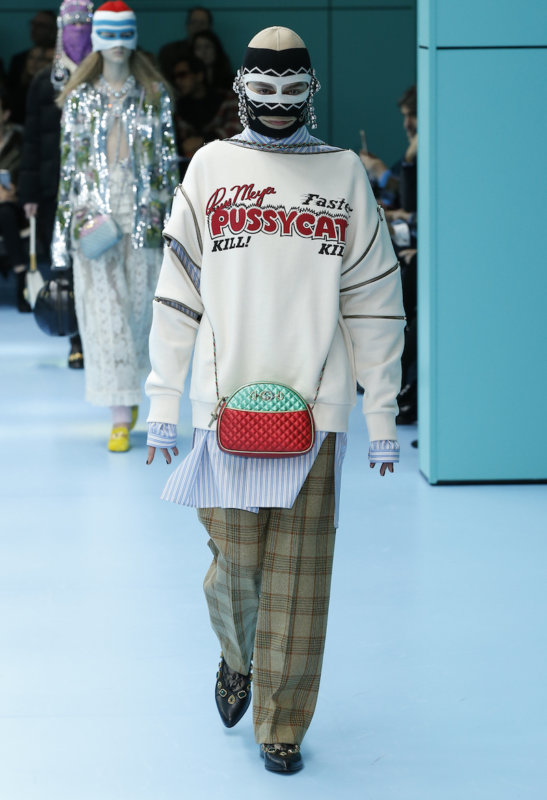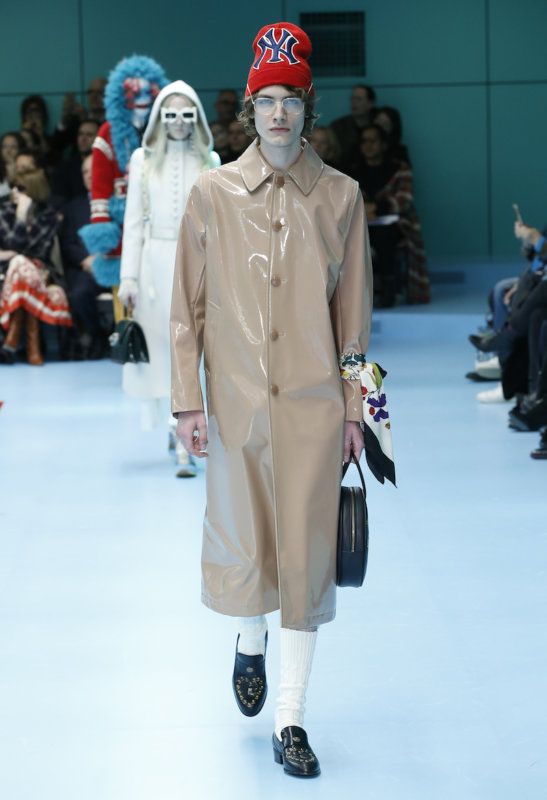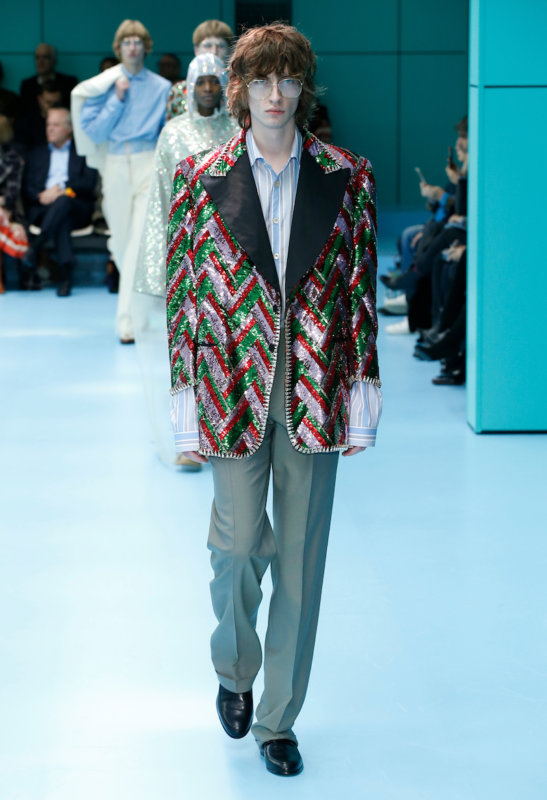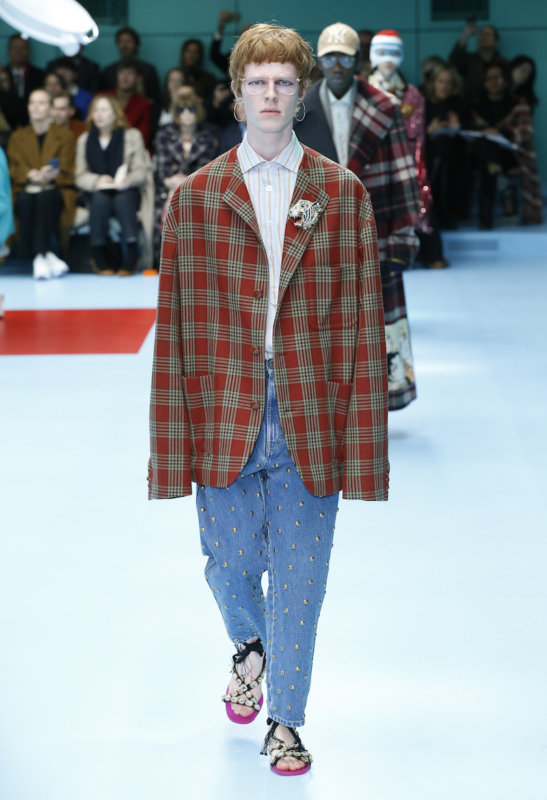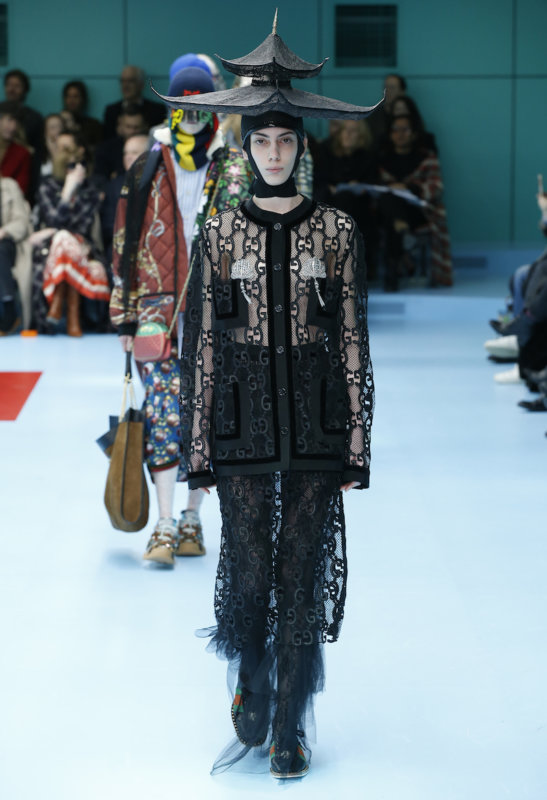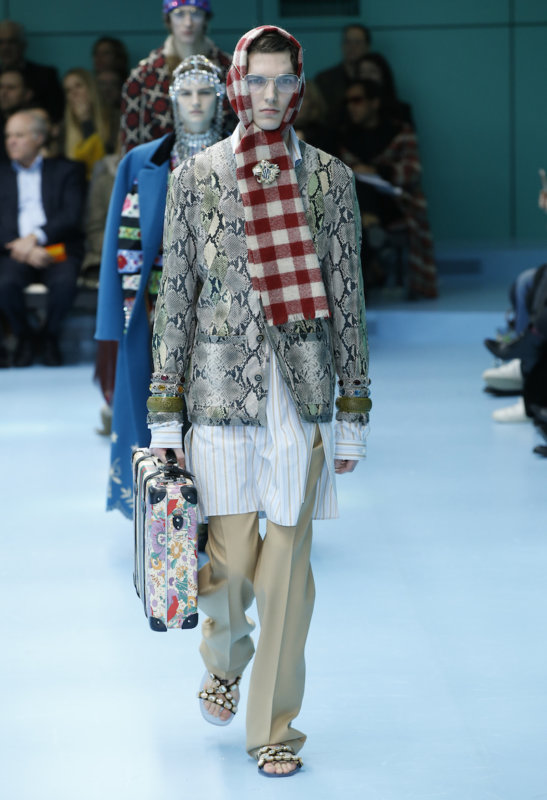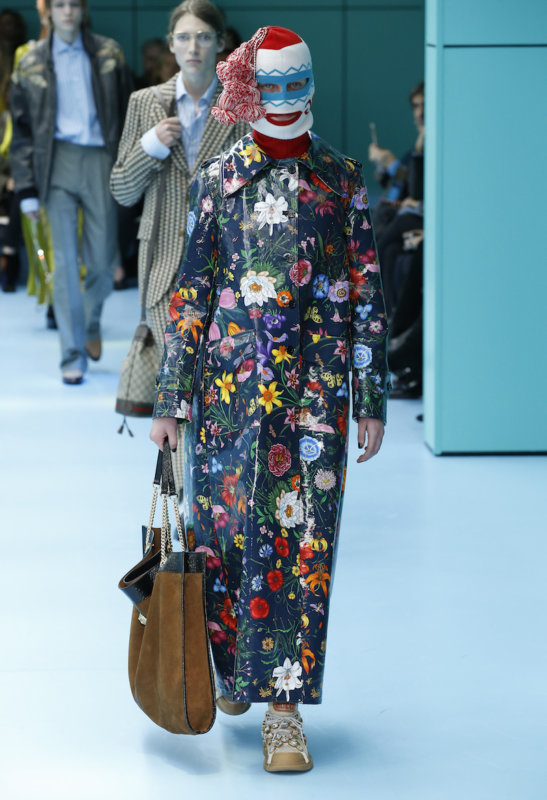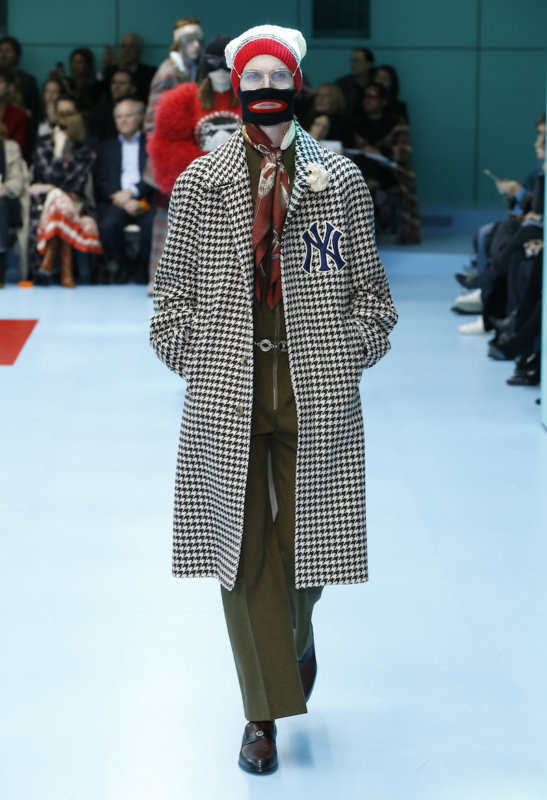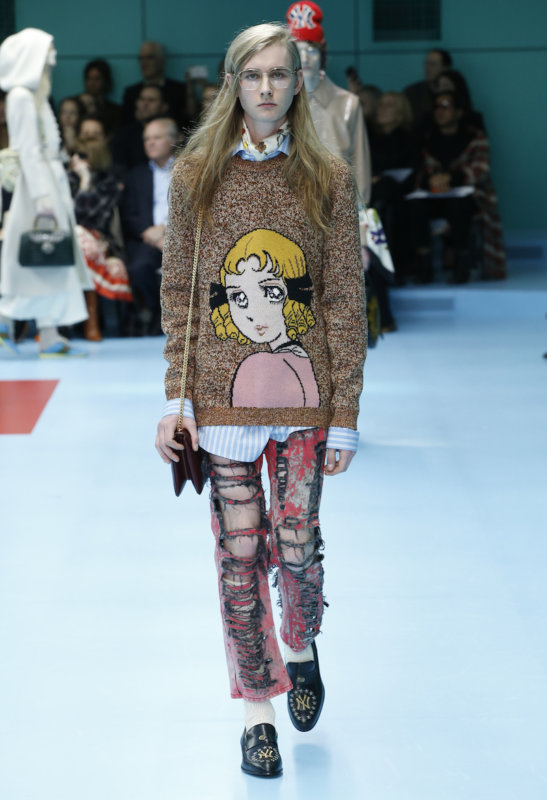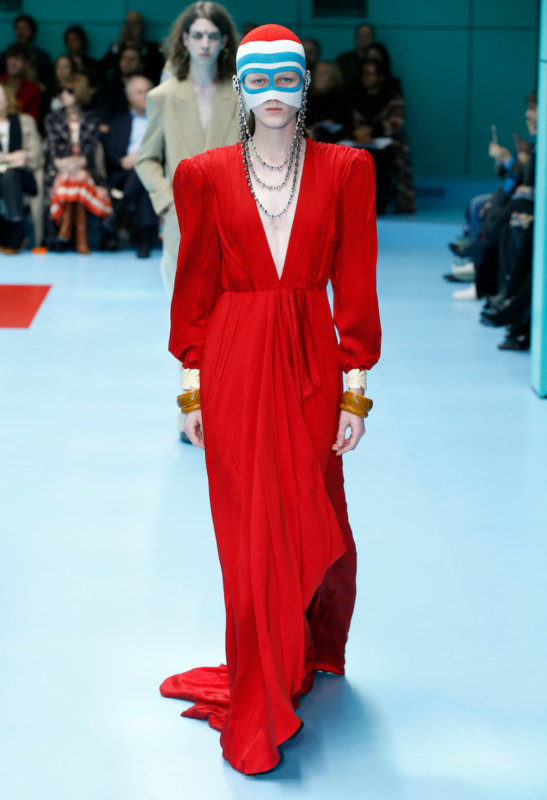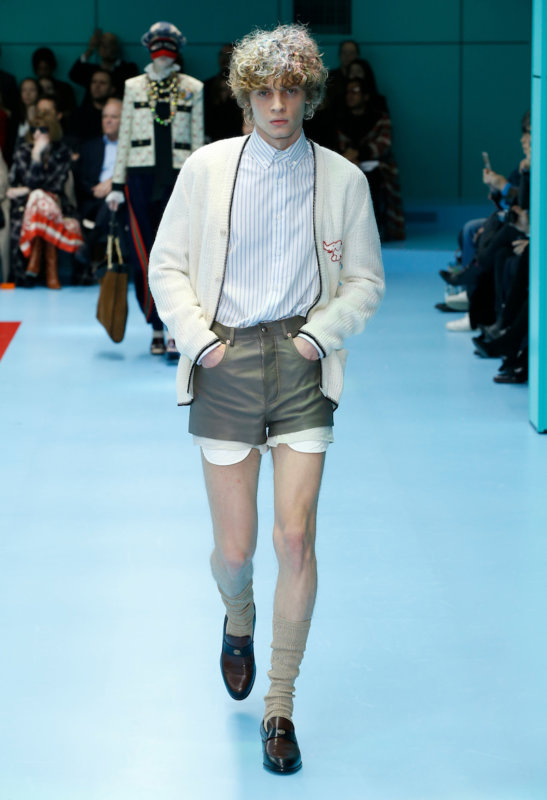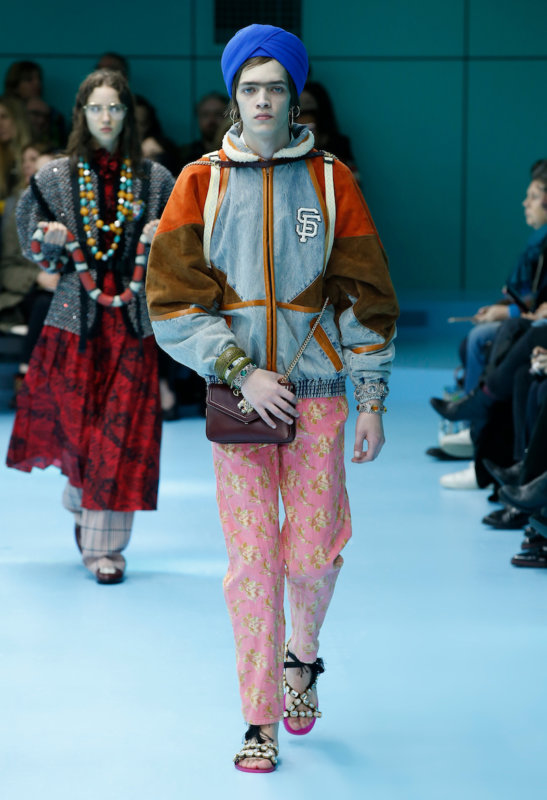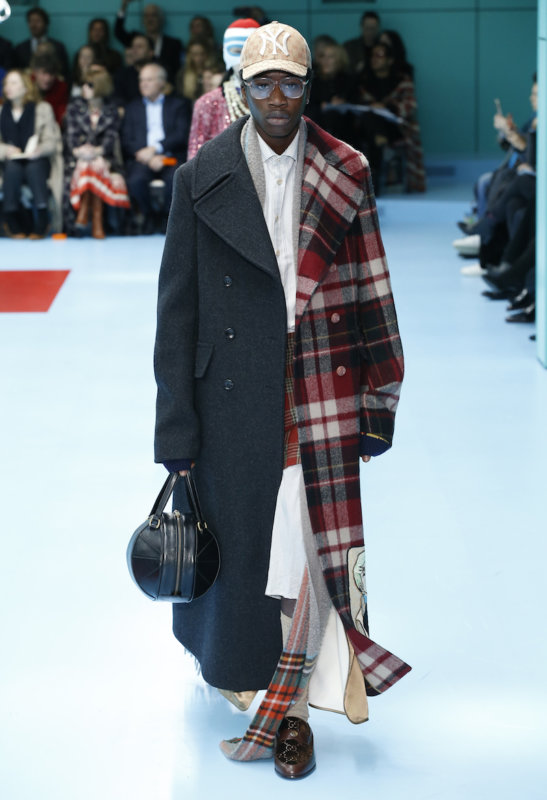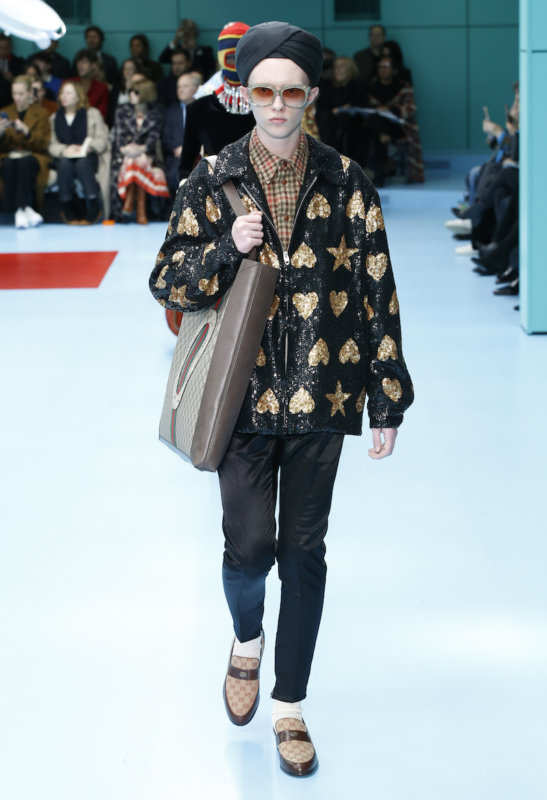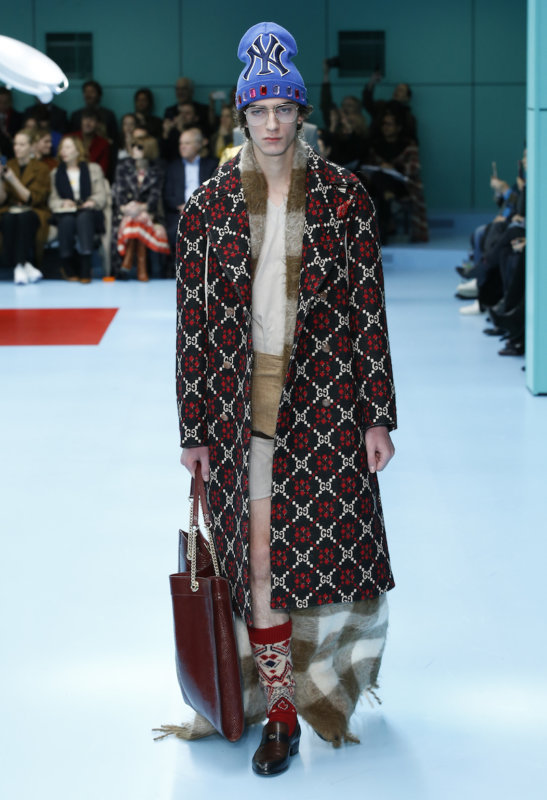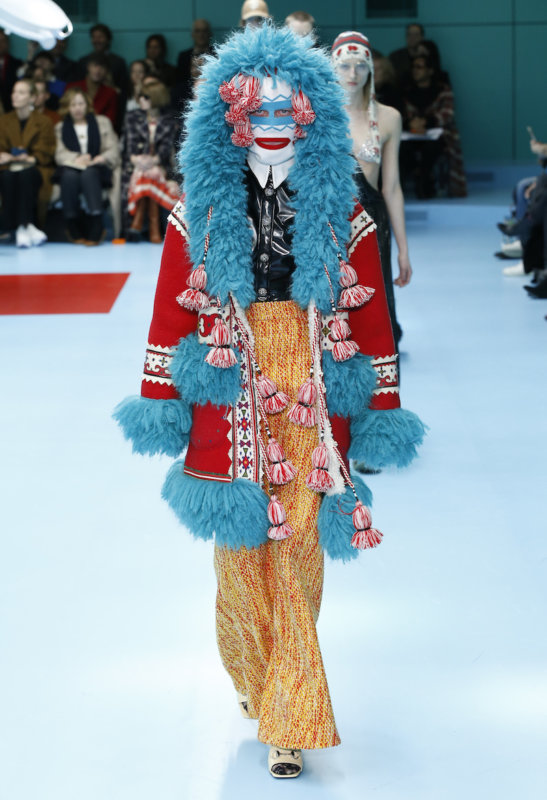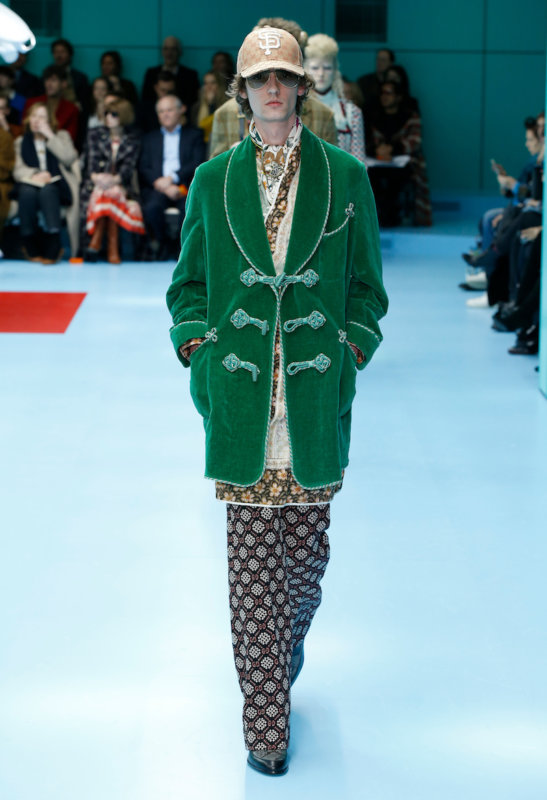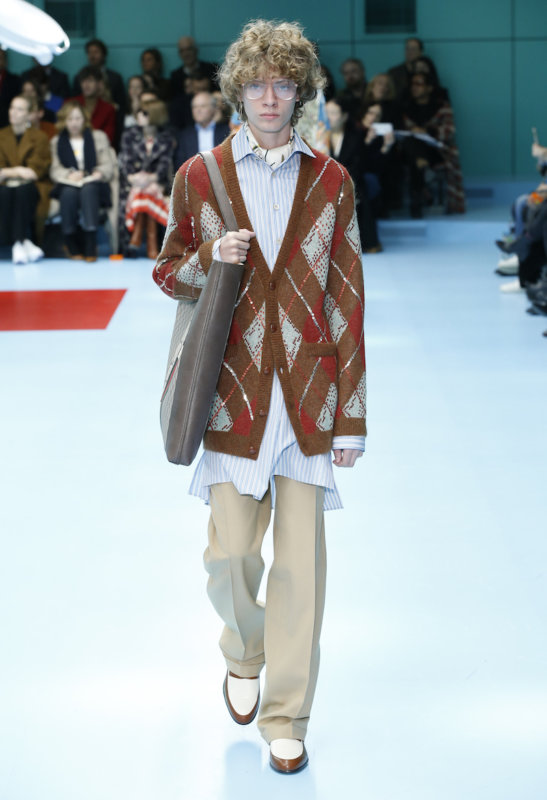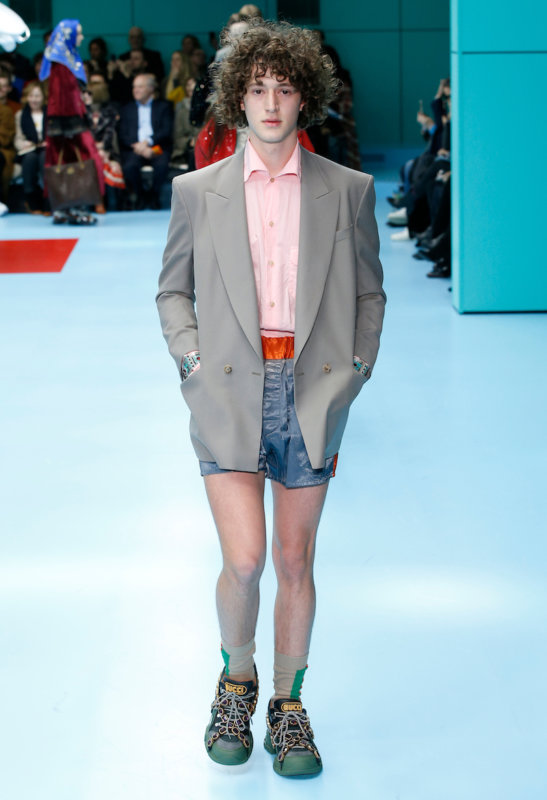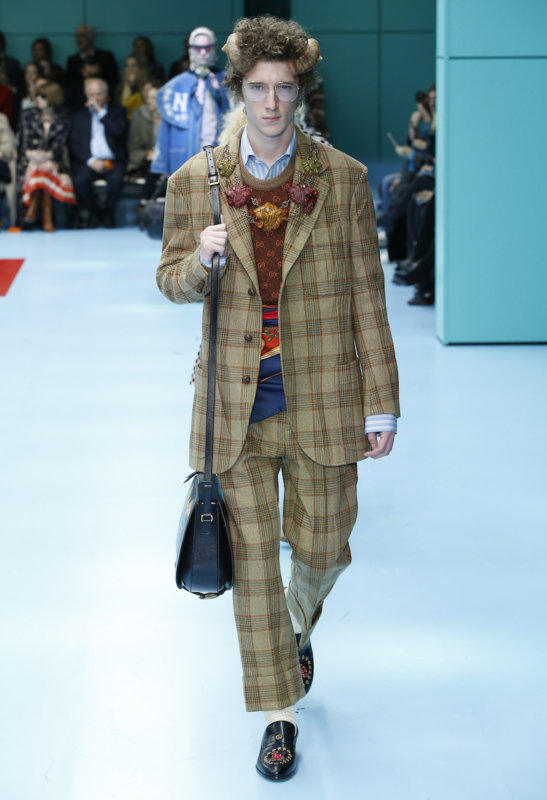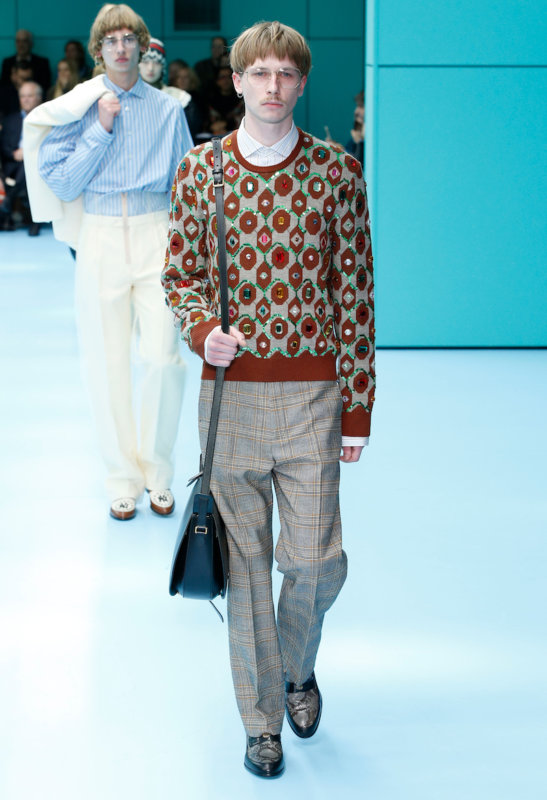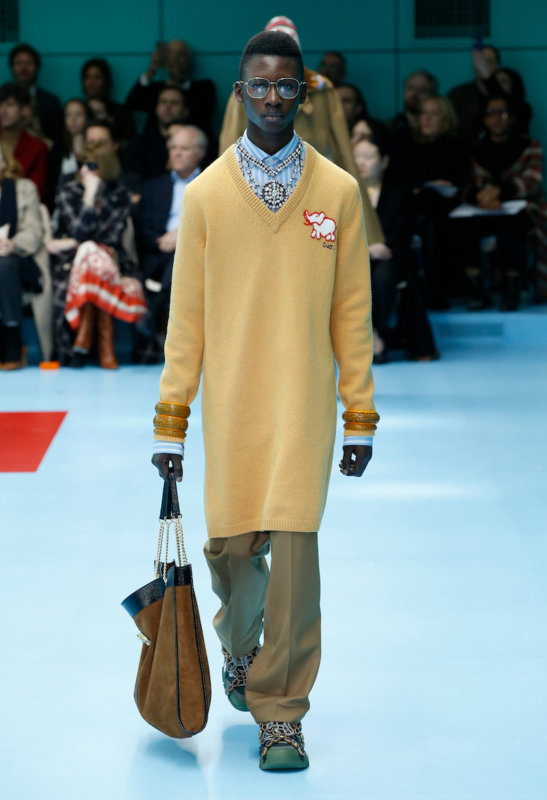 From the majesty of the Orient to the Americana ways and exotic Arabian deserts, the Gucci Fall 2018 collection is one that embodies every period of time. Prominently featured were American logos like Paramount Pictures, Sega, Major League Baseball and the New York Yankees.
Then there's the medieval-like chainmail jewellery and the various headwraps (including one with Russian Babushka doll prints) that showcase style from different nations. All of these, of course, embraces the ongoing "grandparent chic" theme that Alessandro has presented since his first Gucci show.
Knitted Balaclavas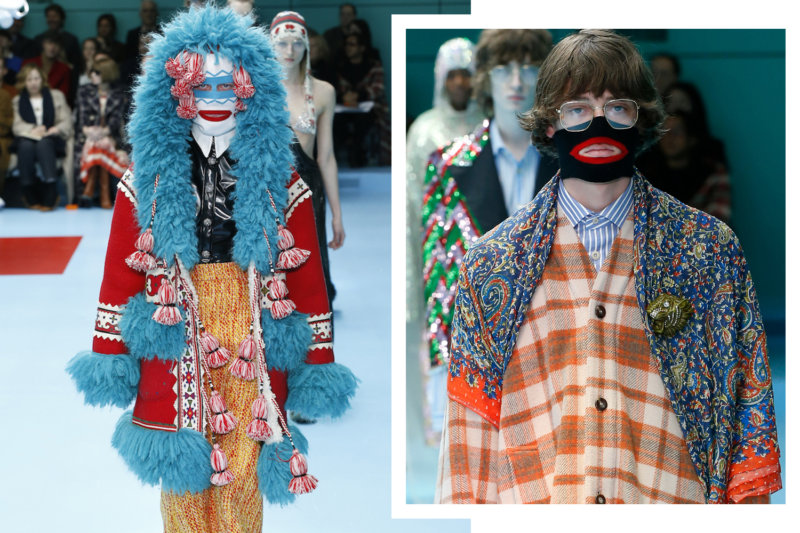 Another thing we love about this Gucci collection? Those knitted balaclavas that are embellished with precious stones and crystals or woven with the most colourful combination of threads.
There are also other types of hoods spotted on the runway, one especially bore similarities of a burka, minus the explosion of ruffles surrounding it.
All that's left now is to mark down your favourites, wait for the collection to hit stores worldwide this September and shop to your heart's content.