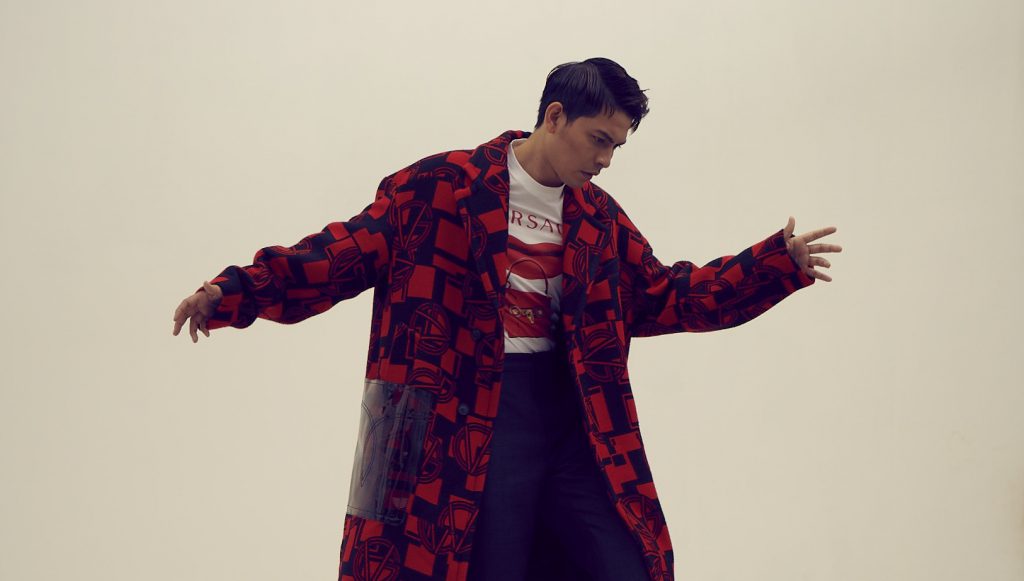 When Izzue Islam got nominated in one of the most prominent award ceremonies which celebrates the very best of Malaysian cinema, he decided that choosing not to expect anything would be the best form of preparation. According to Izzue, it was surreal, amazing, crazy when he was announced the winner because he didn't even at the first place expect himself to be in the running for the award. "I didn't set high expectations because the other nominees in the category were all great actors," says Izzue, candidly. "Of course, I felt very grateful to be honoured the Most Promising Actor category at the 2013 Malaysia Film Festival." If he has to name one work which catapulted his career, it'd got to be Sebenarnya, Saya Isteri Dia! "I think the TV series made the biggest impact on my career. I think my acting in it left the audience with a great impression. Until now, wherever I go, fans still call me Firash Arshad (the character Izzue played in the drama)," says Izzue. The chameleonic artist believes he's set with crucial skills both as an actor and a singer which enable him to challenge the entertainment industry's status quo. "Acting and singing, they differ from one another – and being actively involved in both, I believe that I'm equipped with the know-how to come up with my own original style and character which in turn allow me to be different from the others. In this line of business, it helps to be able to stand out – that's how people remember you."
Here, Izzue shares with Men's Folio his passion and purpose.
Which role is the most challenging for you to act so far?
The "fantasy biography" 29 February where I played a blind character was, and still is, the hardest for me. How do you act as a blind kid when in real life you're fortunate enough to have normal vision? I did some research and met a few blind people to know how they walk, how they see through touching with their hands and how they go through life without sight. I practised on my own at home and kept doing them even on set before shooting.
Although there's a certain level of similarities between acting in a movie and in a TV drama, there are still different skill sets that might work for one but not the other. Do you find it difficult to focus when you have to do both at the same time?
I think it actually depends on the person. For me, if you really love something, you have to approach it from your heart. I love acting and I love acting in both movie and TV, so it's much easier than you think.
You wrote a song just recently called This Is Malaysia to celebrate Malaysia Day. Can you tell us more about the song: the message, the inspiration and, the process of composing and writing the track?
I started to write this song last year with my wife after I released my single My City – it's a song about Kelantan. The song covers favourite places at Kelantan, as well as traditional activities and games like wayang kulit (a traditional form of puppet-shadow play), dikir barat (a musical form that involves singing in groups performed with or without instruments) and so on. After that, my wife gave me the idea to write a song about Malaysia. The most difficult part of it was to have find easy-listening melody that I liked. It took me almost a year to finish the song and now you can listen to it on the YouTube channel.
Did you want to be an actor or a singer first – and how did you get started in the entertainment industry?
I actually want to be a singer first. Then in 2008, I tried my luck auditioning for a production house in Petaling Jaya. I got selected to play in one drama series as an extra. From there I got to learn how to act and gradually polished my acting skills. I only started singing professionally in 2011, under the KRU Music label.
Who do you look up when growing up – and why?
Datuk Rosyam Nor. He is really good in acting and also in business.
"I love everything about showbiz and that's why, after almost a decade, I'm still doing what I do. I'm passionate about being an entertainer, so I have no complaints"
What does it take to be successful in this cutthroat industry?
First of all, you need to stay focused on what you do; self-discipline is important to keep you afloat; never blame others and be prepared to accept constructive criticism so that you're always progressing in the right direction.
How would you describe your fashion style?
It's got to be casual and street style.
What do you do to relax?
Finding new melodies on the guitar; that's how I relax.
Which one of your upcoming projects are you most exciting about – and why?
My theatre performance as a fortune teller in Raja Besar Maha Gading at Istana Budaya. This is my first mak yung (a traditional Malaysian form of dance-drama) and I'm very excited about it. (By the time you read this, the performance, which ran from October 11 to 13, would have ended.)
Do you have a secret that you can share with us?
I prefer to use women's fragrances over men's. [Laughs]
Read the full interview feature with Izzue Islam and see his full photoshoot with us in our latest Men's Folio Malaysia November 2019 issue, now out on newsstands, bookstores and online via magzter.com.
Credit:
Photography: Chintoo; Words & Fashion Direction: John Ng; Hair: Garrie Sim; Grooming: Cat Yong; Styling assistant: Syazil Abd Rahim