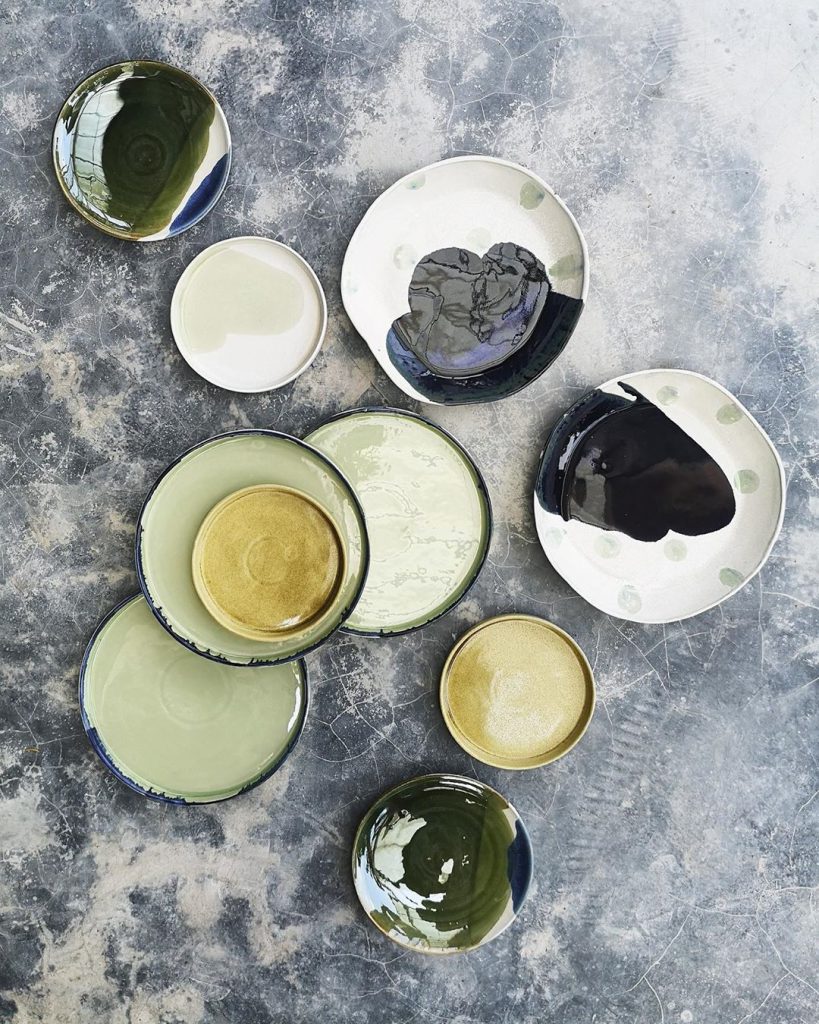 Certain people especially the home decor enthusiasts are very meticulous for every piece they put in their home. Surely they must be visually aesthetic, practical and in some cases long-lasting. These 5 artisanal local labels have stapled their name in Malaysia's home-decor scene for their best quality creations and eye-pleasing designs. So, here are some of the key pieces from the brands that we found alluring that even the fastidious ornamentalist could not turn their backs to them.
Ceramic tableware by Bendang Artisan
Forget about the common white porcelain tableware that you can see in almost (if not all) every kitchen and explore a range of eccentric designs ceramic from Bendang Artisan. Rozana Musa started Bendang Studio on a smaller scale, making wares in her backyard and after a few years later, she moved into a vacant space that was once a grocery store belonged to her grandmother. She utilised the internet, especially the social media, at the very best to outspread her creations to the world and we are pretty sure she nailed it. Bendang Artisan unique and unquestionably beautiful ceramics can now be seen against the backdrop of meals at eateries such as Beta KL, De Wan by Chef Wan, Jibby & Co as well as Atas Restaurant at the new The RuMa Hotel and Residences. Bendang Artisan's products are wholly handmade, and each piece is exclusive in their own ways.
For more information, click here
La Paloma by Kedai Bikin
Taking its name from a Malay word bikin which stands for "make", Kedai Bikin is reigning the spot as Malaysia's contemporary furniture maker that has its own interpretations of classical designs, dedicated to the modern society. Helmed by three superwomen, Farah Azizan, Adela Iskandar and Imaya Wong, Kedai Bikin is a proud Malaysian brand that centred in producing furniture made out of indigenous materials such as rattan and rubber. La Paloma is one of the examples and it is exceptional. This lounge chair is a perfect embodiment of modern and tropical design with its combination of graceful hand-bent curved rattans, rattan-weave back support, customisable soft-upholstered seat and powder-coated steel legs. Place it at the corner of your living room or beside the rustic wooden console table in your dining room or even at the evening-chill spot in your backyard, La Paloma will never go wrong.
For more information, click here
Round rattan + metal framed coffee table by The Rotan Lot
A living room is never complete without a coffee table. And if you are probably looking for one (or planning to add another one) consider this Round Rattan + Metal Framed Coffee Table from The Rotan Lot. Consist of at least 100 premium and individually curved rattan, these flexible woods are available in 10 different colours, ranging from softer to darker shades such as black and dark blue. The top of the console is intricately hand-weaved using a thin rattan, creating a smooth, firm and even surface. A few sets of join-metal constructed as a frame to the table structure making it more durable and stable. Founded by a Malay-Chinese businesswoman, Nana Khan aims to reclaim and refresh an old tradition by establishing The Rotan Lot. With multiple options of beautifully handcrafted designs, The Rotan Lot surely brings back the feeling of nostalgia while adding a sustainable and cultural touch to any modern home.
For more information, click here
Ready-made terrarium by Ficus and Jars
We know instinctively that being close to greeneries put us at ease, and it's psychologically proven that plants improve our mood and make us feel safer at the same time. Bringing the green vibes into your house, these ready-made terrariums by Ficus and Jars set as an ideal landscape fixed in modern geometric glasses, engineered by the founders of the label, Faisal Hashim and Faizal Mahmud. The terrarium is a quintessential combination of earthy elements with aesthetics, elevating the beauty of a space. The simple yet intriguing terrarium designs are a perfect deco for those who are living in apartments where space for home gardening is limited or for those who don't have time to water the plants. Ficus and Jars's ready-made terrarium is available to purchase via their IG account @ficusandjars or from Ilaika Select Store, Petaling Jaya.
For more information, click here
Fargrik carpet by Joy Design Studio
Art doesn't have to always be hung on the walls. Sometimes, it can be in the form of a carpet that you can lay it down on the floor, like this one from Joy Design Studio. Inspired by Piet Mondrian's artistic geometric abstractions, this 100% acrylic carpet with a dimension 1.6m x 2.3m will simply elevate a modern and Scandinavian home-decor style into your home. Joy Design Studio is renowned for its best quality furniture designs sold at an affordable price. Founded by Sheikh Mohamad Azrul SM Nasimuddin Kamal in 2014, Joy Design Studio is very meticulous when it comes to quality, comfort and practicality of their products. Although most of them are made in China, India as well as Indonesia, the creative designs are predominantly produced by Malaysian young talents whose works are inspired by the classical, modern, contemporary and futuristic arts.
For more information, click here