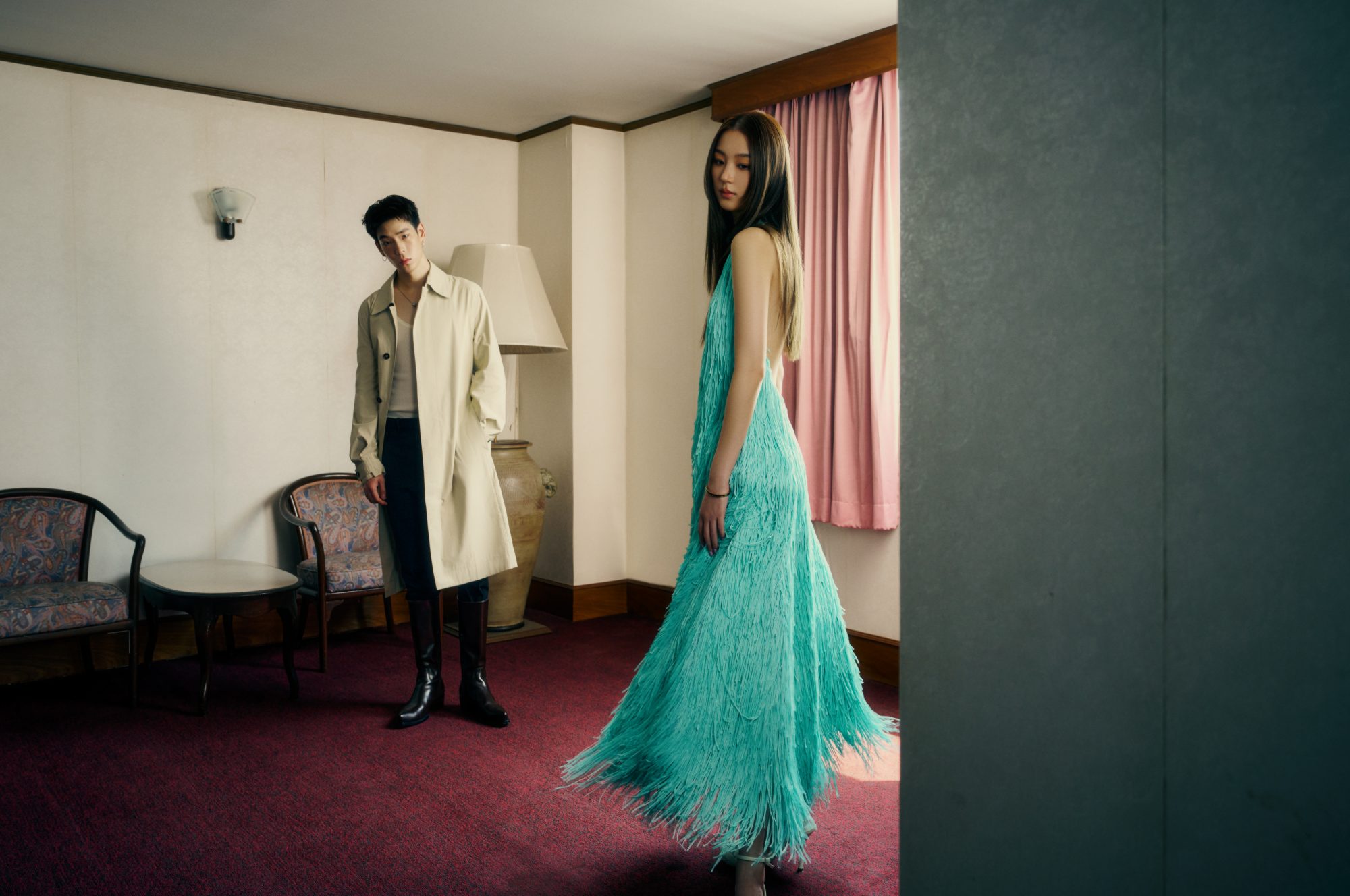 Behind the scenes, developing a name in the media industry is as wound tight like a drum and repeatedly occurs as such: a team of "marketers" decides their careers and guards their true attributes by creating a masquerade, hoping it may one day thrust them into stardom by having fans buy in to their story. It is even more apparent in the Asian media landscape, where a rapid interest in the region has urged entertainment companies to prescribe varying frameworks for each new talent that arises. In almost every conceivable way, it also includes developing celebrity couples and betting on the influence of two rising names.
However, Thai celebrity couple "JJ" Krissanapoom Pibulsonggram and "Thanaerng" Kanyawee Songmuang have doubled back on having their narratives written by others. "When there is an opportunity, it should be immediately taken," Thanaerng reasons. "Besides, it has remained a challenge for us in every job."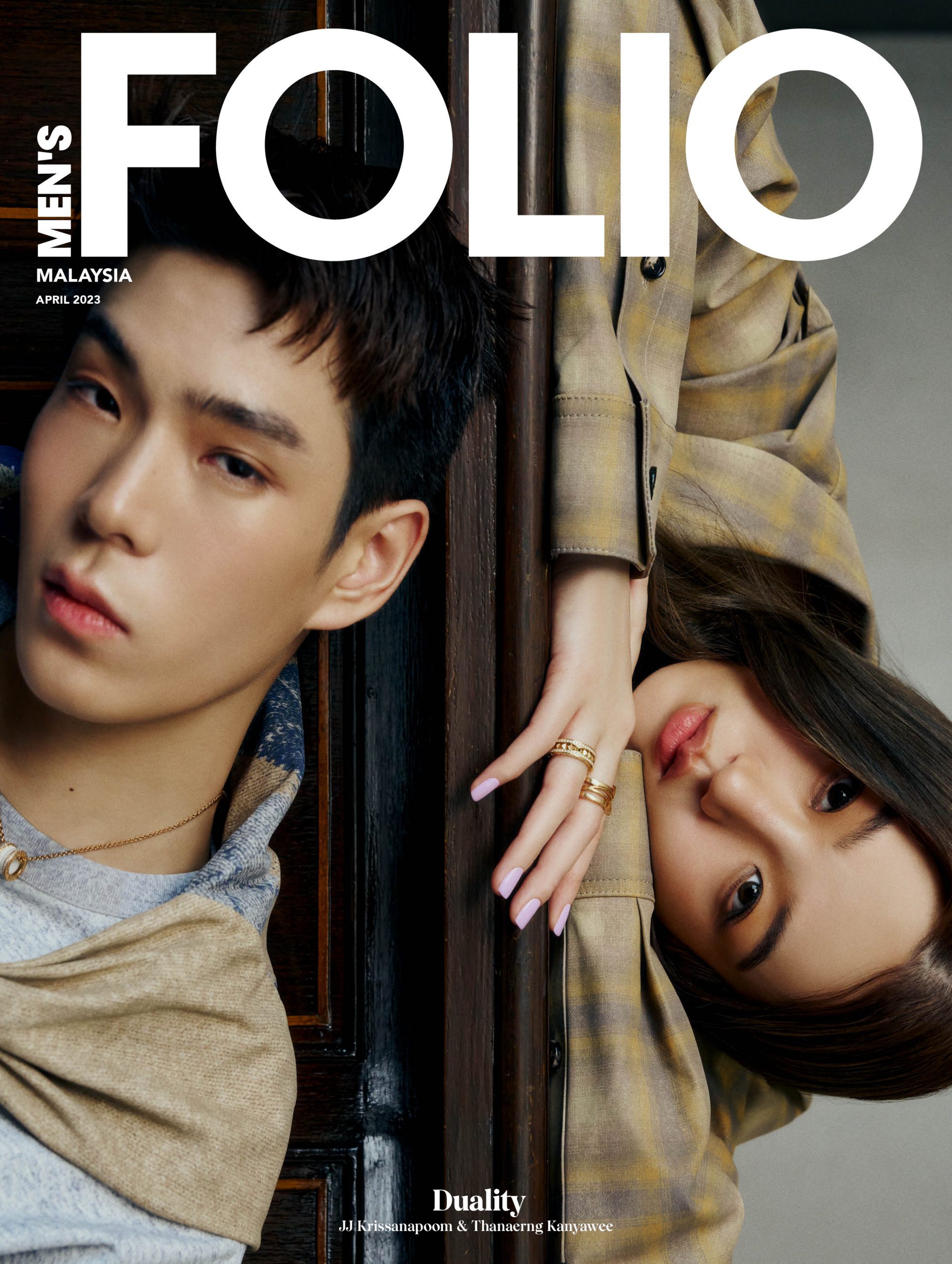 After both of their contracts with Nadao Bangkok ended in 2021, JJ and Thanaerng performed a daring left-turn by opening their talent agency, QOW Entertainment the year after. The move enabled newfound liberty for the couple with a complete set of self-authority in managing their future works and those of other artists.
Though QOW Entertainment takes them to task in building their own careers from now, it also highlights the sneaking candidness under a commercial surface that radiates from their relationship. Their kinship transpired in 2014 when JJ posted a Tweet on Thanaerng in her acting debut on Hormones: The Series Season 2, just as he was entering the start of his acting career. While they were both eventually signed to the same entertainment company, the two have never met before that encounter. "Our relationship began as friends," describes JJ.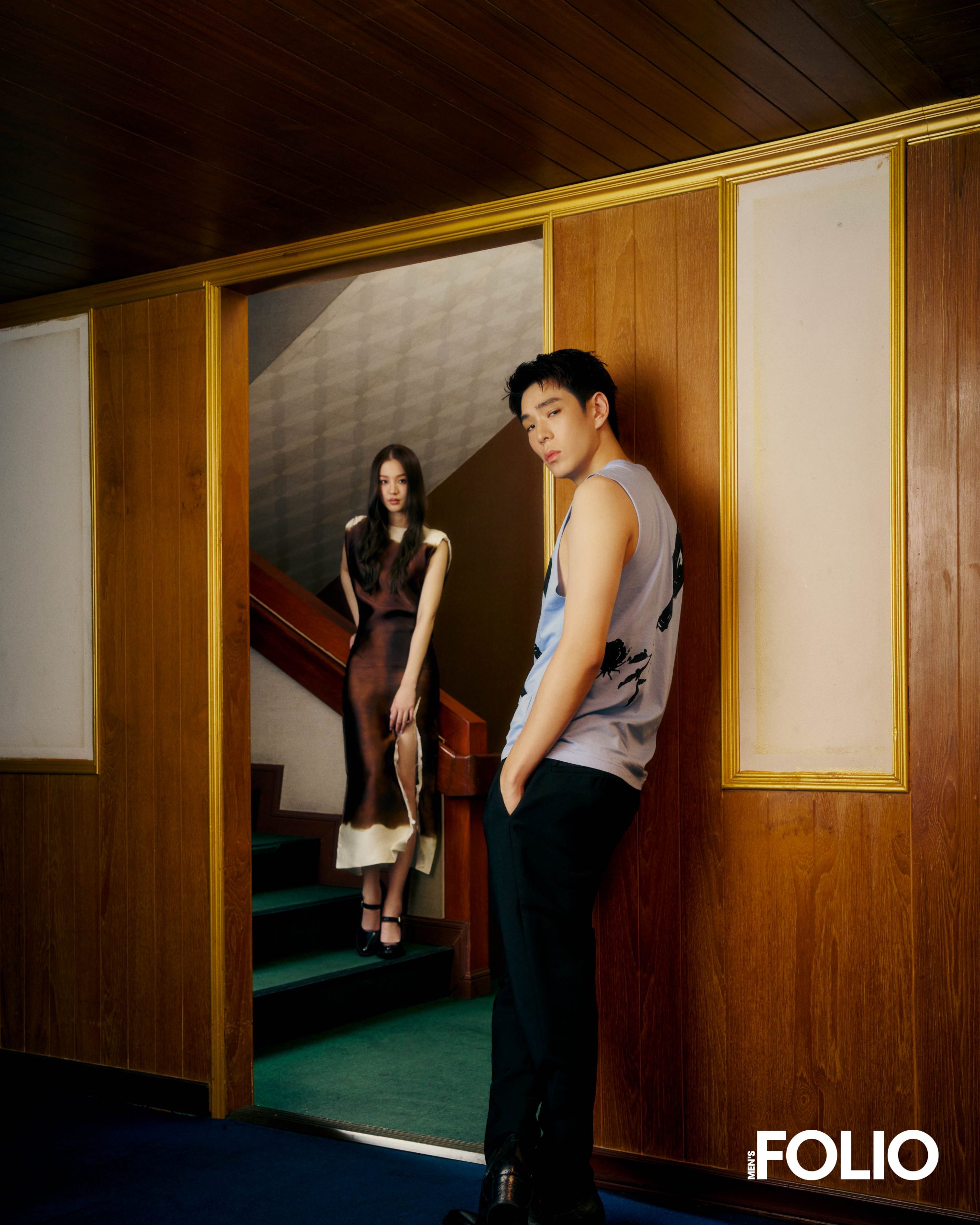 (On Thanaerng) Prada Silk satin dress, leather mary jane boots (On JJ) Prada Cotton top, wool pants, leather derby shoes
"I first knew Thanaerng from Hormones and thought that she was really talented and outstanding as an actress. That was when I first began to have a keen interest in her. It was only when I moved to Bangkok for both school and work that I was given the opportunity to hang out with her and her friends from Nadao Bangkok. Our relationship has gradually developed since then."
Thanaerng's shot into stardom was noticed after attending an open audition for Hormones, an experience she describes as "opportune". Hormones' influence has bubbled over into the popular consciousness over the last decade as one of Thailand's best and her role as the lead character aided her journey into stardom. Through Nadao Bangkok, her career was further guided to expand her acting vocabulary in popular shows such as Kiss Me Again (2018) and My Ambulance (2019). "It definitely feels like this year has gone by quickly and has been full of fast-paced events and changes, which can make it feel "fast and furious" for sure," Thanaerng shares when asked how the new year has gone compared to previous years.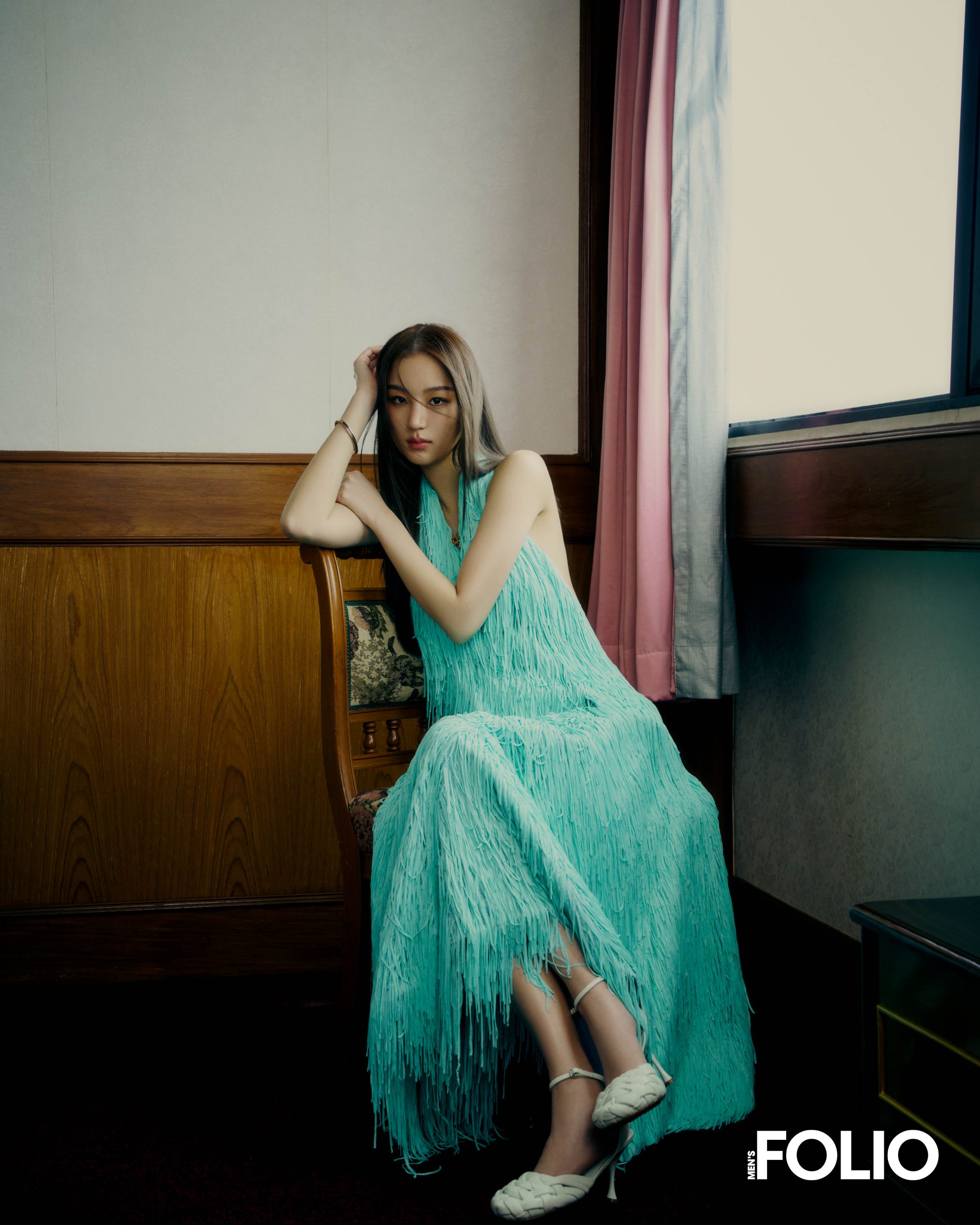 Bottega Veneta Leather dress with fringe details, intreccio weave leather slingback heels; Bvlgari B.zero 18kt rose gold bracelet with black ceramic band, B.zero1 Design Legend 18kt rose gold necklace with pendant
On the other hand, JJ saw his life taking a turn when he was just 13. He spent his youth moving between his birthplace of Chiang Mai and Bangkok. He was first noticed when he modelled at the 20th-anniversary celebration of the Central Chiang Mai department store while he was still in school. It was then he met the director Chookiat Sakveerakul, who allowed him to audition for his 2013 film Grean Fictions — in which Krissanapoom had his acting debut with a lead role. "I started my career as an actor, so I have more experience in that field than in singing and modelling," says JJ. "However, when I began pursuing a career as a singer, I found that my acting skills were very useful when performing on stage. When I'm singing or rapping, I have to communicate my feelings to the audience and that's where my acting experience has greatly influenced me."
They have revelled in a kind of computational geekiness on acting despite having never appeared in a series or film together, which is a possibility they are open to but have not set their careers on. "I would like to appear in a series or movie with Thanaerng one day, but it ultimately depends on the script."
Their creative partnership was put in motion through both of their individual endeavours and the couple views it as a way to inspire one another. "Thanaerng is one of the people who inspires me greatly," JJ describes their relationship. "She works very hard and is very decisive when she has to make a decision. I've learned a lot from her; both when we work together and when I have to make decisions on my own."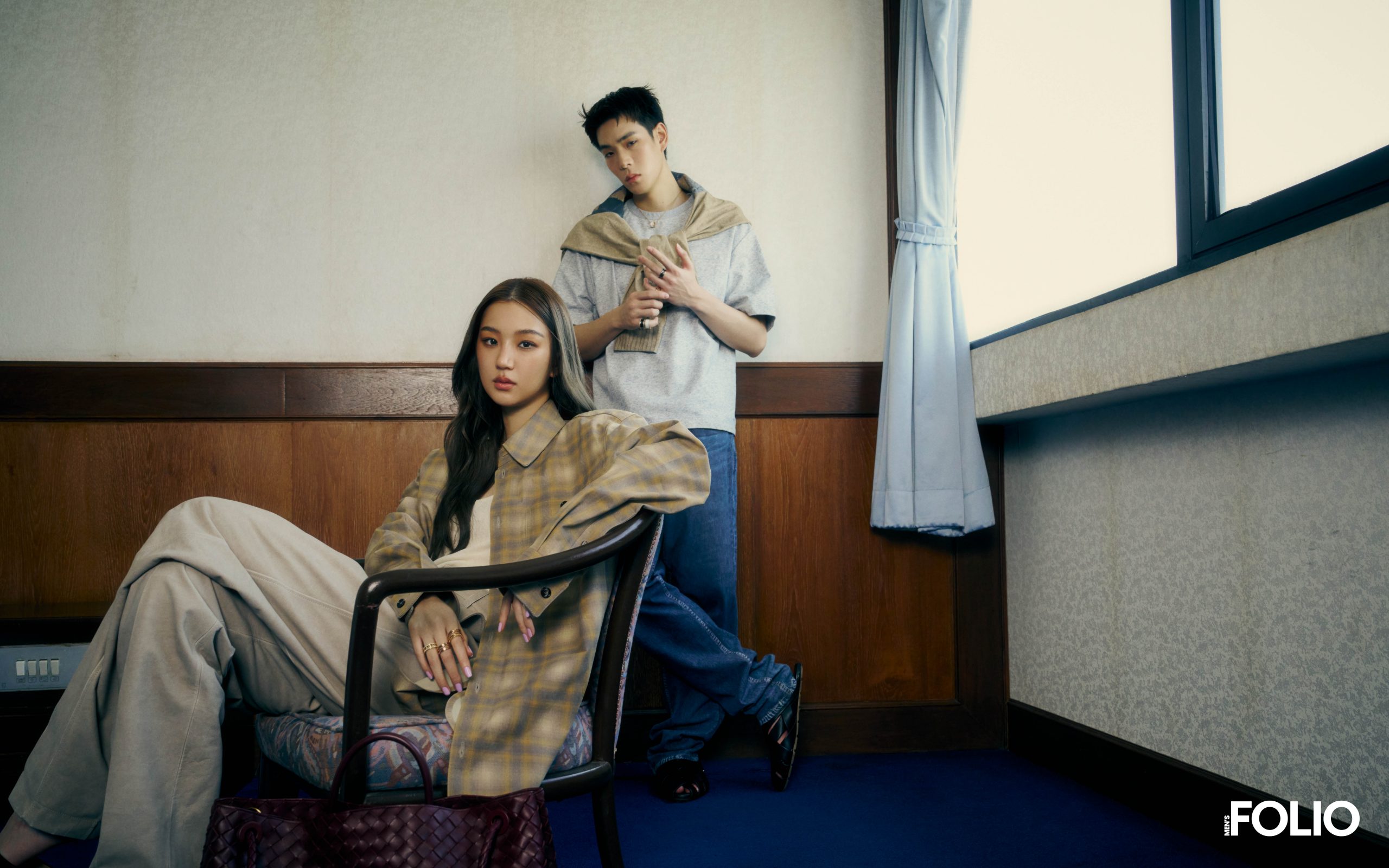 (On Thanaerng) Bottega Veneta Leather shirt, cotton rib tank top, leather pants, Andiamo Intreccio weave leather messenger bag; Bvlgari B.zero 1 Rock 18kt yellow gold one-band ring with pavé diamonds, B.zero1 Design Legend 18kt rose gold three-band rings, B.zero1 18kt rose gold rings with black ceramic band, B.zero1 18kt rose gold ring with white ceramic band
(On JJ) Bottega Veneta Leather T-shirt, leather sweater (worn around the shoulders), leather pants, Intreccio weave leather sandals, Bvlgari B.zero1 18kt rose gold chain necklace with white ceramic pendant
A steadfast devotion between the couple is their eyes on fashion. Both stars have just returned from fashion week in February and March, which marks as a hallmark in their careers. Thanaerng reflects on the experience as one that was fruitful. "It was really fun and to this day it still felt like a great experience having had the opportunity to attend the show in Paris. Attending Paris fashion week for the first time can definitely be nerve-wracking, but it's great that I had Minnie [of (G)-Idle] attend the show with me. She definitely made it more enjoyable and less intimidating."
"I was in Los Angeles last month," shares JJ. "You guys might not believe it, but this show was my first fashion show outside my region. I was very excited about it, and when I arrived at the show I had the chance to meet so many celebrities."
At the show, JJ met K-Pop star T.O.P. — whom netizens have mentioned their likeness for years."Honestly, I've been a fan since I was 10 or 11 years old and have been to his concerts multiple times. He is definitely an OG and he inspires me a lot, so it was very exciting to meet him there."
Having a relationship so open to the public has never made them more vulnerable to the rumours as well, where their personal lives have been made public by the press. But it is a subject that has not pressed them. "Everyone should understand that we're all born different and we should learn to adapt to each other. There are certain things that can be solved and some that are out of our hands. It's just normal." That love affair would see them spend the next few years of their lives both as a couple in the wider public eye and in a separate, more intimate relationship behind closed doors.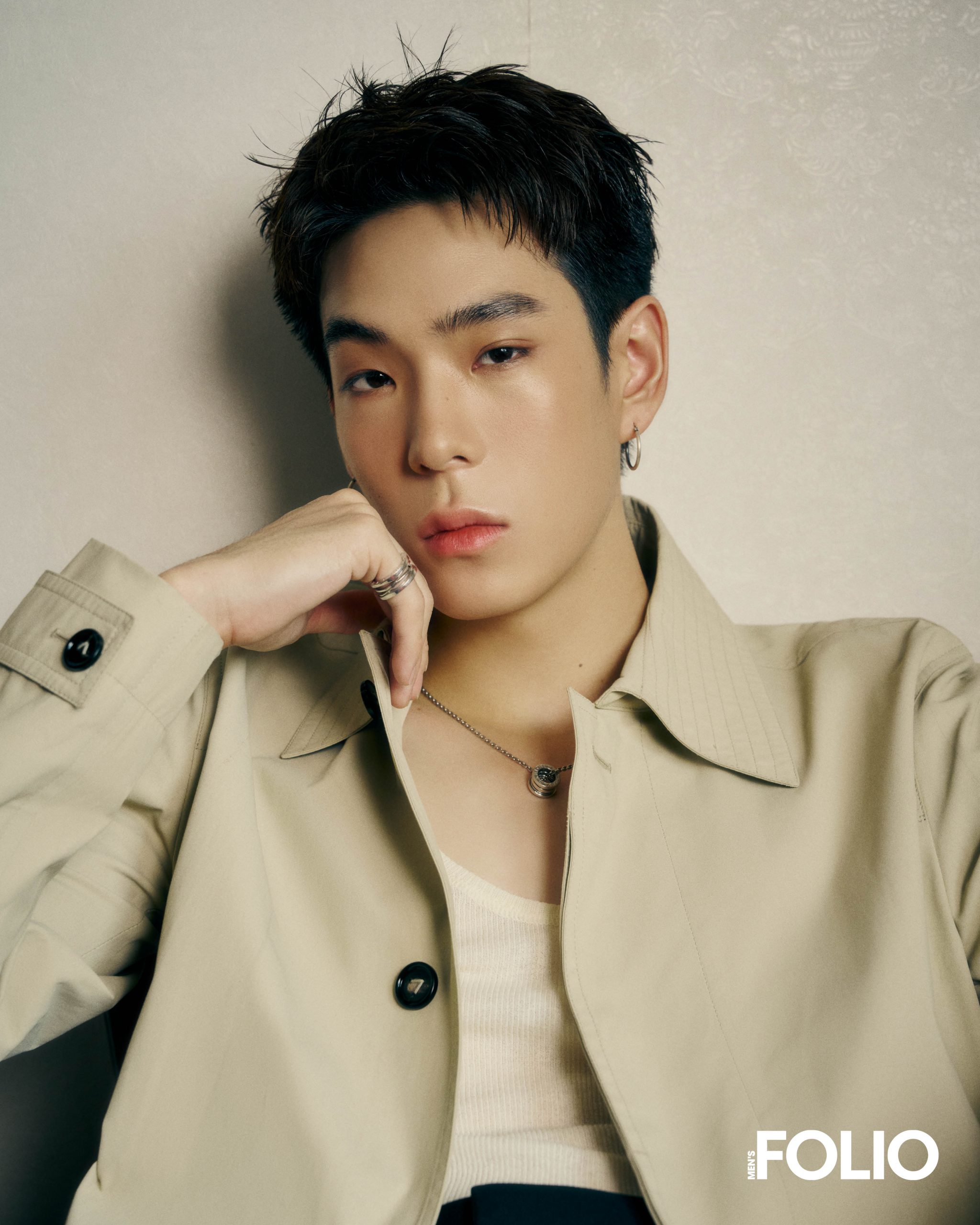 Bottega Veneta Cotton garbadine trench coat, cotton tank top, wool pants; Bvlgari B.zero1 18kt white gold necklace with small round pendant, B.zero1 18kt white gold three-band ring set; JJ's own metal earrings
Towards the end, the conversation veers towards their future. JJ is bound to return to our screens soon, although much of the information on the project is still kept hush-hush from the public. "Last year, I finished shooting a series for Netflix, which is set to be released around the end of this year." At the same time, he wishes to "focus on the music aspect of my career for now as well."
Setting an optimistic tone for the future, Thanaerng looks beyond her own self and mentioned that she sees the world not just by one colour. "The world is not run by one person, one community or one dictator. We can paint it and mix it with as many shades."
Their last message to their fans? "I want to say thank you to my fans for supporting me since day one," they both exclaim. "We couldn't be here without you guys. Love you all!"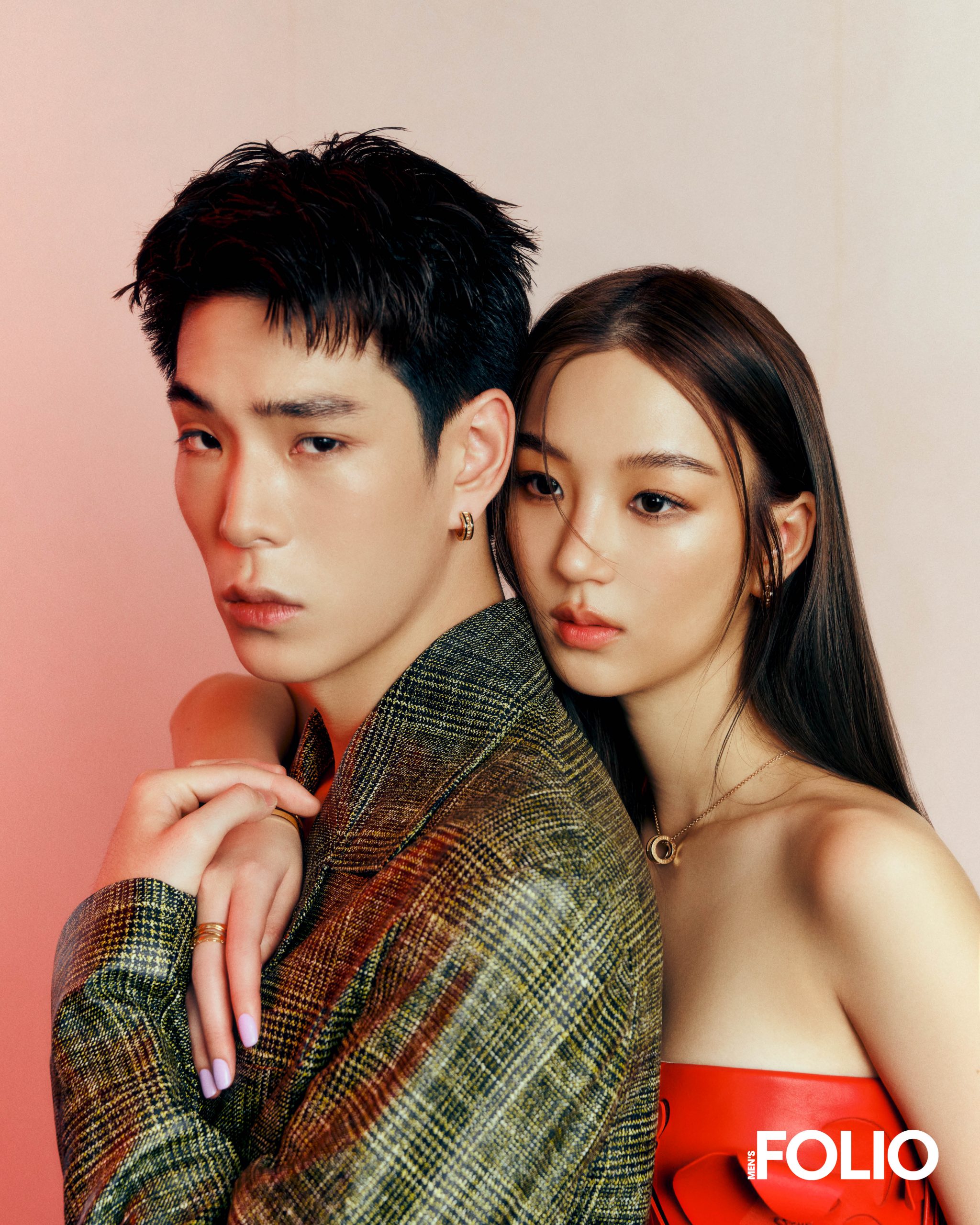 (On JJ) Bottega Veneta Leather jacket, leather pants (On Thanaerng) Bottega Veneta Leather and vinyl embellished dress; Bvlgari B.zero1 Design Legend 18kt rose gold necklace with pendant, B.zero 18kt rose gold bracelet with matte black ceramic band, B.zero1 Design Legend 18kt rose gold three-band ring
Photography Plug Sutthiwat
Creative Direction & Styling Izwan Abdullah
Interview Manfred Lu
Photography Assistants Amnaj Waimalee, Anop Chapakdee, Nattapon Sangsawang
Grooming (JJ) Sutipat Pinchum
Grooming (Thanaerng) Jeera Jareonthamasuk
Hair (JJ) Kongkiat krissakree
Hair (Thanaerng) Pakkarakorn Chantanayingyong
Styling Assistant Ratchada Tuptimphet
Production Manager Aung Apichai
Purchase a copy of our April 2023 issue featuring JJ & Thanaerng here or at major bookstores. Revisit our cover issues here.