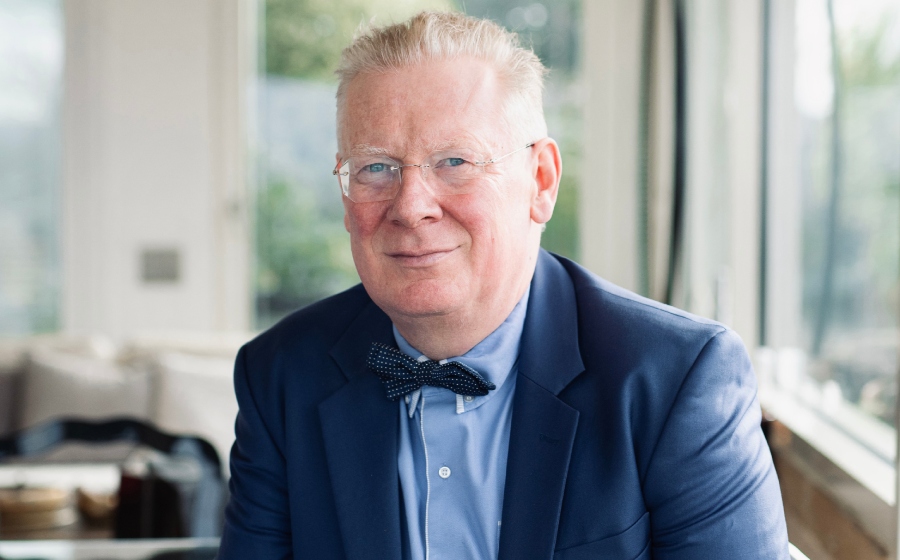 Like most beauty and grooming editors, the first time I heard about Augustinus Bader was when a celebrity plugged it. For most, it was Victoria Beckham who pronounces his name in the most deliciously posh way and for the Tumblr generation like me, we heard it from Alexa Chung who best describes what his products does: "It makes you look very human."
British humour aside, the "human" aspect that comes with the usage of Augustinus Bader products itself (and what the founder will explain later in this interview) is that its technology centres around humans themselves. We all have stem cells within our skin which has one job — which is to keep the skin healthy — and to do that, they need to be encouraged to constantly fix the skin in the most natural possible.
Armed with this knowledge (Bader himself is a biomedical scientist), the good founder launched the brand in 2018 with just two products (it has since expanded to a full suite) with something called TFC8 (Trigger Factor Complex 8) that is a complex of more than 40 different ingredients which includes high-grade vitamins to amino acids that encourages the skin's stem cells to function at their best.
Here, an interview with Augustinus Bader himself and the "tool box" theory of the brand.
Hello Mr Bader! I usually like to start interviews by asking founders to describe their brand in 10 words or less. A sort of elevator pitch if you will so if you could kindly entertain me.
It makes the user happy! The link between emotions and beauty from having more healthy skin is indeed an amazing finding and experience.
To be honest, I first heard of Augustinus Bader as a "celebrity cult favourite" and I was like "oh, okay" but then having tried it out for myself, I realised that it's beautifully formulated and works so well. To what extent do you think celebrity endorsements work for brands?
Celebrity endorsement has been an essential component, however, the fact that so many beauty editors have become convinced is even more essential to our credibility. Last but not least, the repurchasing rates at stores such as Violet Grey in Los Angeles is more than 90%.
This shows that our products are experienced to be beyond the standard and fulfil a need of customers who are among the most demanding in the world with respect to skincare.
View this post on Instagram
The launch in 2018 too with just two products was incredibly smart: brands out there were launching with lower-cost skincare and a lot at one go. Why did you decide to just do two?
We developed everything from the very beginning. It took almost two years to get those two formulations to the stage we agreed to release them.
Speaking of launching, what was the most interesting thing about the skin you realised while doing stem cell research?
The most interesting thing was the development of a concept about how human skin can repair itself based upon innate cellular communications involving stem cells.
View this post on Instagram
With the Trigger Factor Complex, can you perhaps explain it in simpler terms? My understanding is that it has the ability to find out what your skin needs and addresses it exactly.
The smartness of your skin progenitor cells.

I was wondering too about how the products can play well with other brands. I mean, the dream is to use the range entirely but do they work with other products in your opinion?
Any product needs direct contact with the skin surface to work best. In our case the Trigger Factor Complex (TFC) is an essential component for skin repair with all products having the ideal concentration. It would therefore be safe to layer clean products on top of ours.
If done vice versa, a barrier might be created; especially fillers like hyaluronic acid contained in many products whuch would block the TFC from having optimal cellular contact. They fill up every space and would reduce skin cell contact for the TFC.
After cleaning the skin, our products can be directly applied. We created stand-alone products from an efficiency point of view as one product does it all. The reason we created different formulations is that we also believe in mixing and changing formulations once in a while.
The underlying reason is that we have moved away from an ingredient driven concept to a mode of action driven concept.
The TFC is just a tool box, you can imagine like a library. The stem cells look there to do be able to do their job properly independently of lifetime age.
Second shower thought: does the Trigger Factor Complex possibly train the skin to repair itself? This is to say, if someone stops using the product, will the effect still go on?
The TFC as studies show supports rejuvenation and daily repair like a tool box. Once the TFC is not used, whatever has been achieved will stay. However, lifetime progression and some call it "aging" will resume normally again as the capacity for repair is decreasing with lifetime age.
Lastly, another way I love to end interviews: do you know your most played song on Spotify last year?
My top three most played songs are Romeo Santos's "Golden Intro" and "Toyo". I also enjoy listening to Marc Anthony's "Vivi mi vida", "Scorpions", "Rock my like a hurricane", "Winds of Change" and Zucchero's "What a wonderful life".