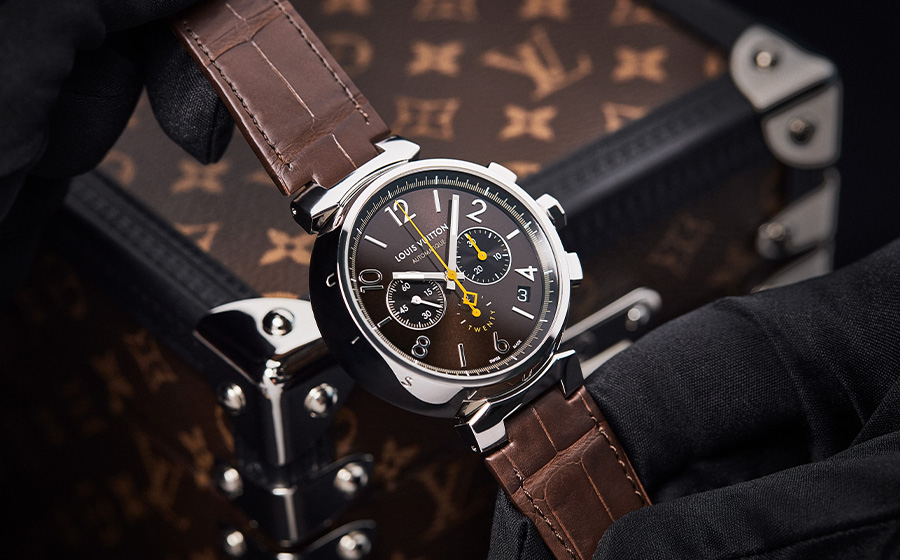 Louis Vuitton unveils the Louis Vuitton Tambour Twenty, a special commemorative edition celebrating 20 years of the iconic Louis Vuitton Tambour.
Throughout 168 years of its storied history, Louis Vuitton journeyed through a century and decades with the art of travel firmly etched in its DNA. Monsieur Louis Vuitton, founding father and renowned trunk and luggage maker, was the Maison's Northern Star with his craft and vision. His insistence on excellence, fine craftsmanship, creativity and audacity has steered Louis Vuitton into the peerless juggernaut it is today.
Louis Vuitton circumnavigated various territories throughout its history, including ready-to-wear, shoes, accessories, jewellery, fragrance, and watches. At the heart of Louis Vuitton's foray into watches was the LouisVuitton Tambour. It was launched 20 years ago as a humble watch; within two decades, the Louis Vuitton Tambour was at the centre of Hautehorology with grand complications or bejewelled stones. As its reputation ascended to the pinnacle of watchmaking, Louis Vuitton's watchmaking hub La Fabrique du Temps grew into a horology tour de force.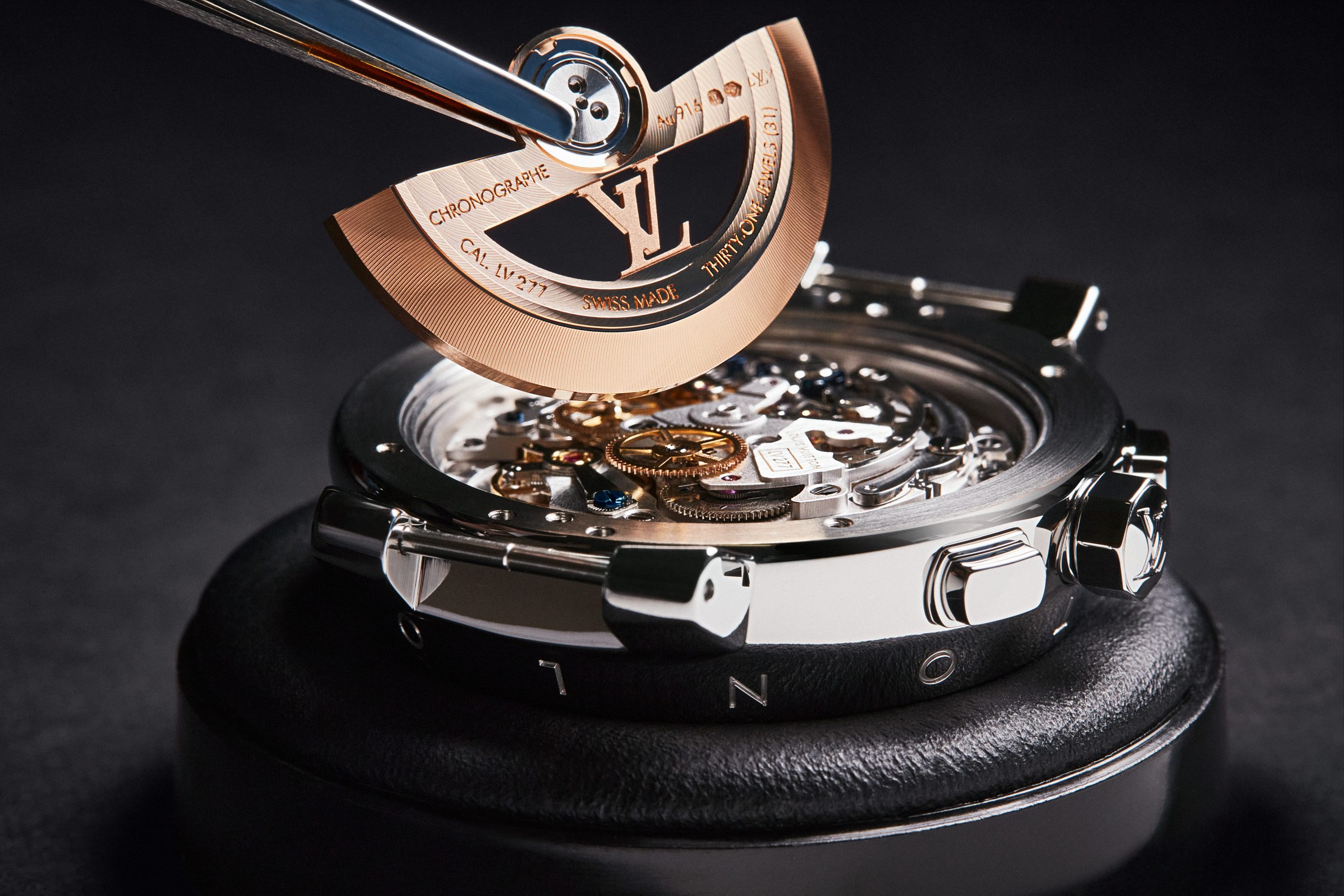 Just as Neil Armstrong left his footprint on the Moon and made his famous quote, anniversaries and milestones are a cause for celebration, recognising progress and advancement. With that, Louis Vuitton celebrates the 20th anniversary of the Louis Vuitton Tambour with a commemorative edition dubbed the Louis Vuitton Tambour Twenty.
Widely regarded as the genesis of Louis Vuitton's watchmaking adventure, the Louis Vuitton Tambour was born in 2002. The new kid on the block stood out amongst its other illustrious luxury watch peers with its unconventional case shape. It was modelled after a drum which explained its namesake and took on a deep, flared shape with its signature applied horns, both sculpted from a solid block of steel.
The engraved Louis Vuitton name on the case side was the finishing touch, the 12 alphabets aligning perfectly with the hour indexes. Call it happenstance, if you will, but it seems destined Louis Vuitton embarked on this watchmaking quest 20 years ago.The exclusive Louis Vuitton Tambour Twenty exhibits all the essential hallmarks of the original watch, as you would expect. A sunburst brown dial harks back to the original reference from two decades ago and is a telling homage to the shade of leather Louis Vuitton uses.Subtle hints of yellow elements punctuate the dial, including the "Twenty" text, which takes a leaf from the threading of the Louis Vuitton leatherwork.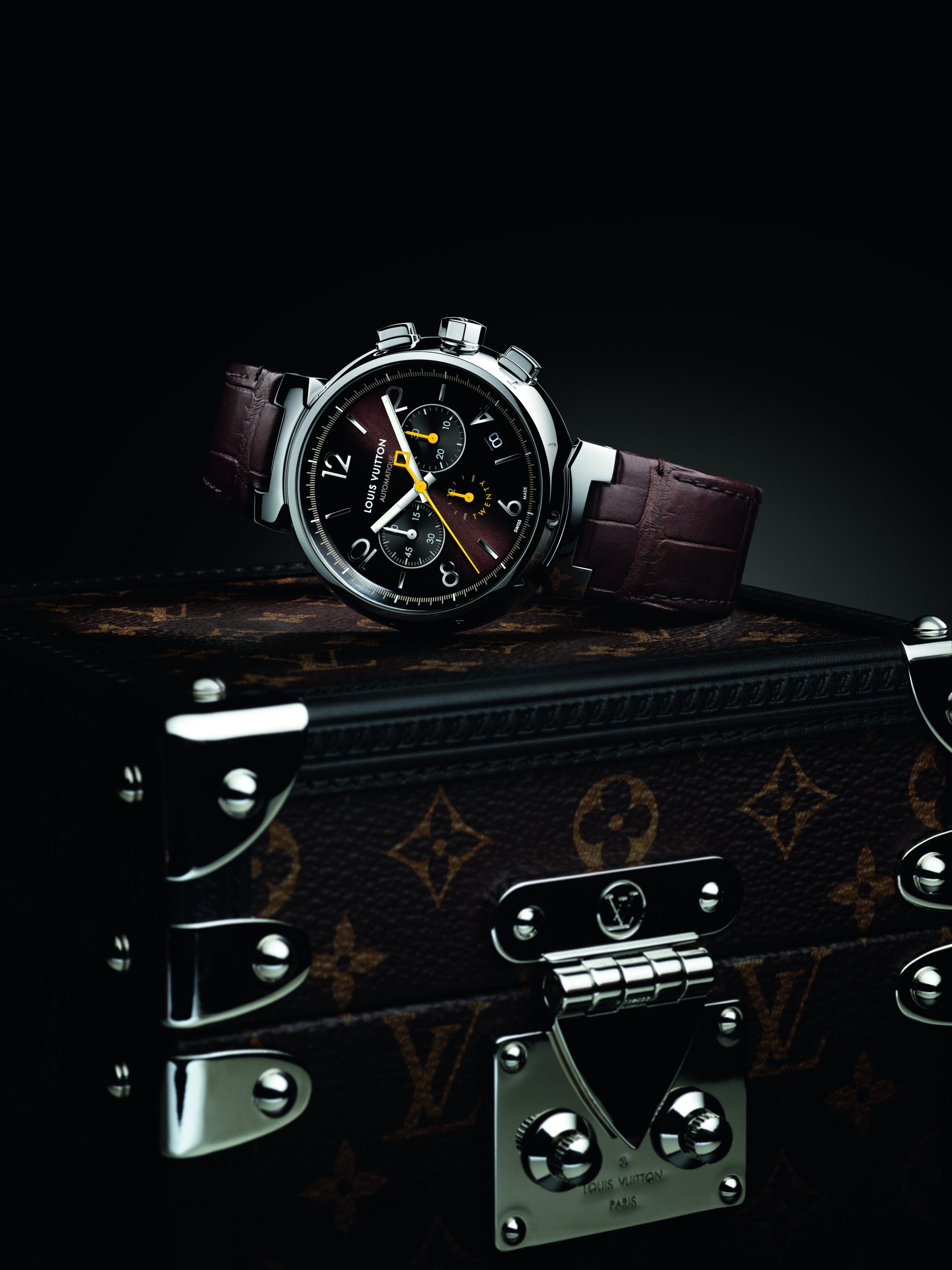 They act as identifiers for the chronograph complication and provide a touch of flair and finesse traditionally associated withLouis Vuitton.
"Watch enthusiasts will recognise all the features that made the Tambour's design so unique. While this limited edition is a true concentrate of everything that made this watch stand out, it also boasts brand new features that will set it apart for collectors,"says Jean Arnault, Marketing and Development Director for Louis Vuitton watches.
"To me, as well as celebrating our anniversary, this watch also paves the way for many future decades of fine watchmaking, staying true to Louis Vuitton's values of creativity, craftsmanship and excellence."
Beyond the faithful interpretation of the iconic Louis Vuitton Tambour, Louis Vuitton and La Fabrique du Temps have one final trick up their sleeves to thrill watch collectors. Powering the 200-piece limited edition Louis Vuitton Tambour Twenty is the automatic chronograph calibreLV277 based on the legendary Zenith El Primero high-frequency movement.
The movement, lauded for its high operating frequency, provides greater accuracy and precision and is exact to the tenth of a second for its chronograph. Turning the watch over, a unique 22-carat gold rotor and fine finishing on the movement combine for a visual spectacle.The Louis Vuitton Tambour Twenty promises to be a collector's pride as La Fabrique du Temps produced 200 pieces to mark the 20th anniversary of the Louis Vuitton Tambour watch.
A miniature trunk in Monogram canvas is the final nod to Monsieur Louis Vuitton's travel legacy that will live on for the many adventures Louis Vuitton will embark on.
Check out the Louis Vuitton Tambour Twenty here.