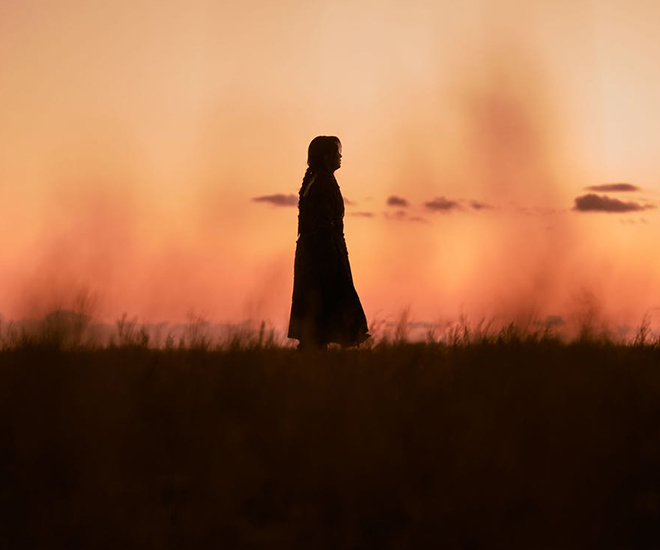 It's not an overstatement to say the Kingdom series is the heartbeat of Netflix Korea. A special episode titled Kingdom: Ashin of the North (킹덤: 아신전), which is dedicated to the curious character who comes across Ju Ji-hoon's Lee Chang and Bae Doona's Seo-bi in Kingdom Season 2's cliffhanger finale, is finally arriving on Netflix to quench our thirst for blood – we mean metaphorically.
Her name is Ashin, and she's played by Jun Ji-hyun. As Season 2 indicated, Ashin is the key to unlock the origins of the resurrection plant and this special episode serves as a missing puzzle of this bloodstained Joseon chronicle as it follows Ashin's story to uncover how she chains the past and future of the Kingdom universe.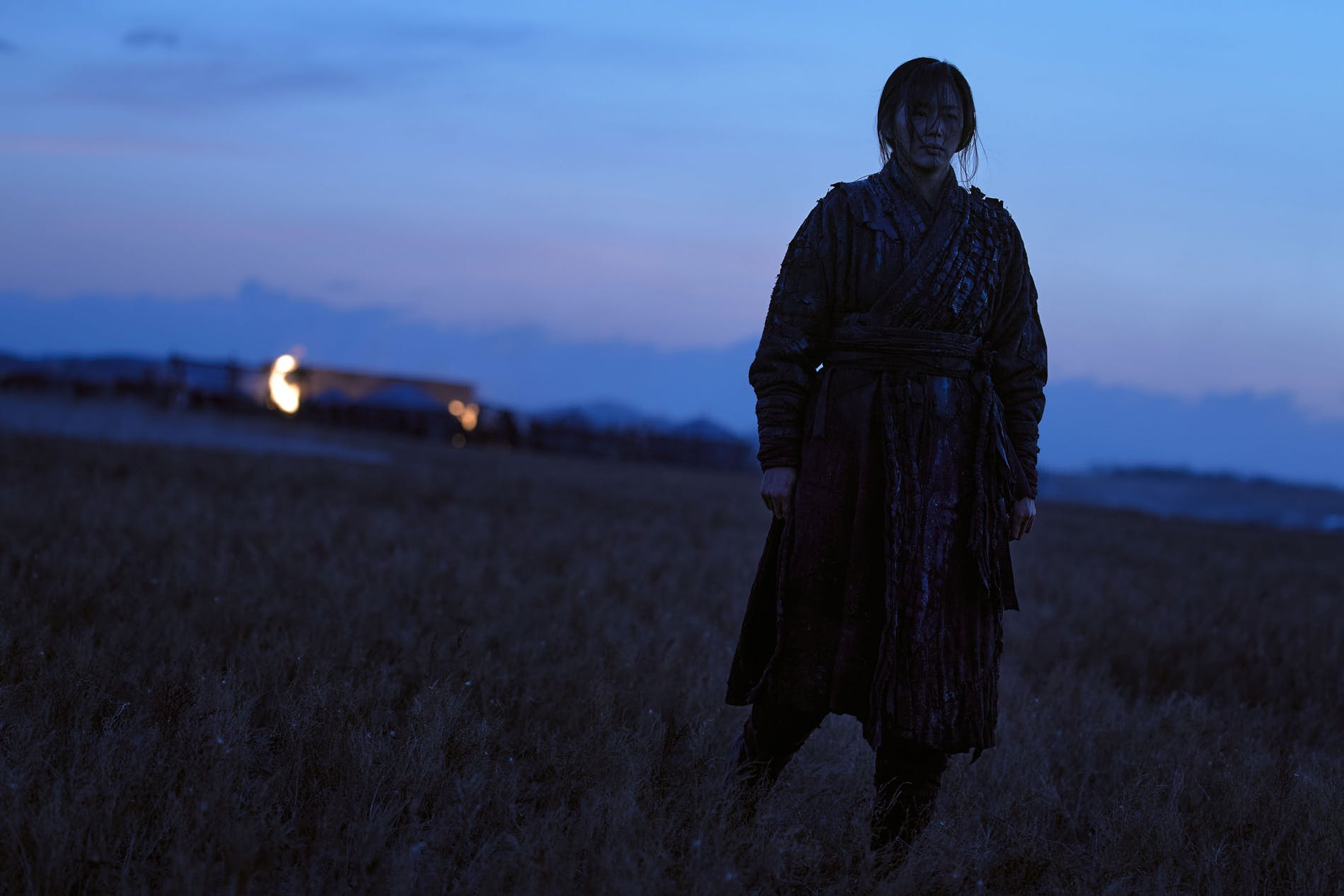 Ashin (Jun Ji-hyun)
The special episode zooms out from Kingdom Season 1 and 2's main stages – the southern end of Dongnae (present-day Busan) and Hanyang – to the cold northern regions of Joseon. A bloodshed brewing, among Joseon's authorities, the Pajeowi, and the Seongjeoyain has sacrificed the lives of those at the border and eventually planted the seed of vengeance.
Jun Ji-hyun's Ashin, who unknowingly and fatefully discovers the resurrection plant, represents 'han' (한), the resentment and anguish in the civilians with a marginalised identity, driving the story towards a catastrophe. Meanwhile, Park Byung-eun's Min Chi-rok, the archer who battles alongside Lee Chang in Season 2 is also tied to the mysterious past of Ashin.
"Ashin makes her first appearance in the finale of Season 2 as a mysterious woman behind the belled undeads and someone who knows the secret of the plague," said Jun Ji-hyun, "There are certain scenes in this special episode that continue to hint at her untold identity and secret, and whenever we were filming those scenes, I feel like threading through the entire Kingdom universe and it gives chills down my spine."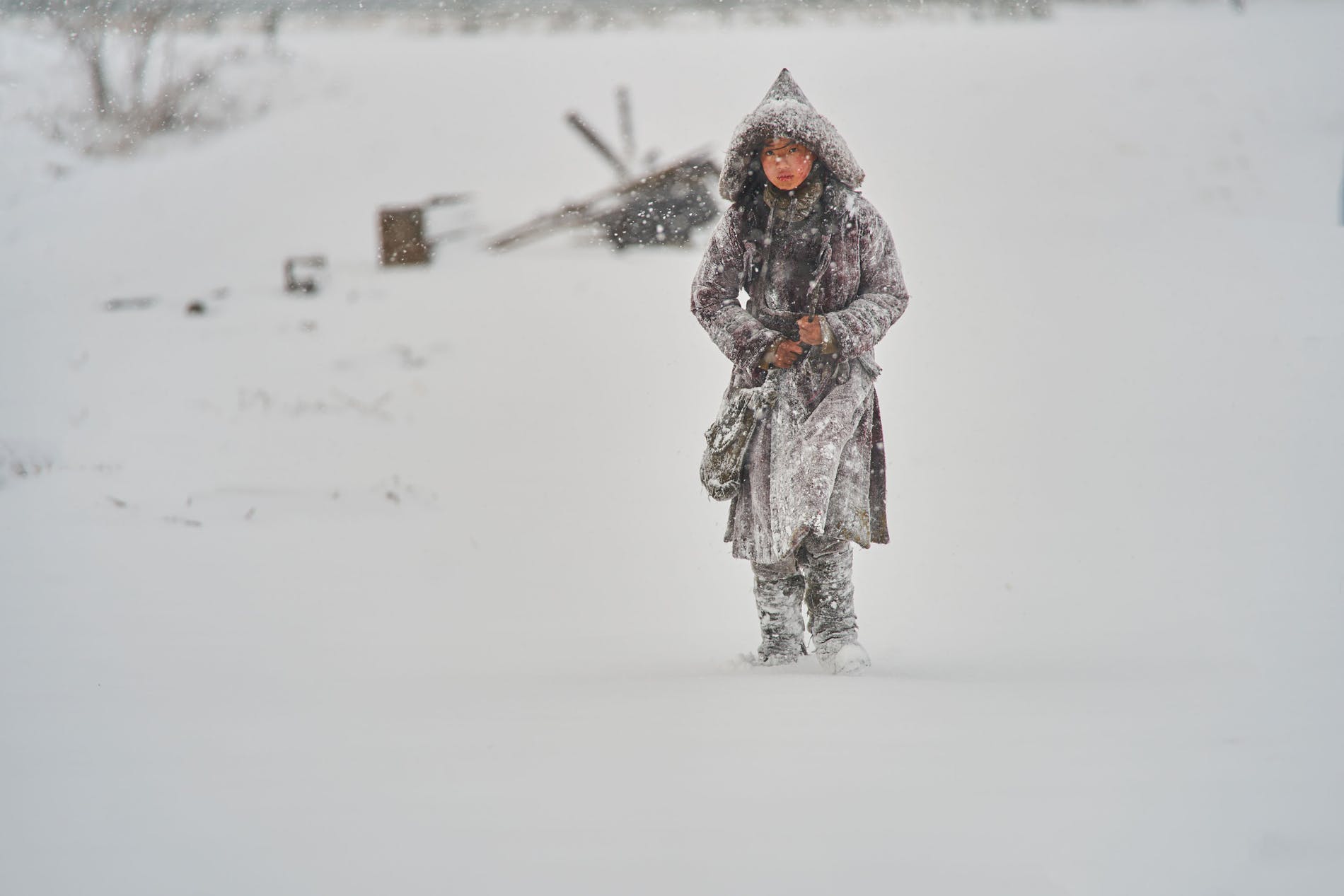 Ashin (Kim Si-a)
The 92-minute special episode runs towards a closing, which writer Kim Eun-hee and director Kim Seong-hun define as "truly sad, tragic, but also immensely charming". While Kingdom: Ashin of the North more or less leaves us craving for more, it also shows the production team's commitment to deliver only the best content of which takes time and endless researches to develop.
The meticulous storytelling deeply rooted in humanistic, top-notch visual effects and mesmerizing art directions grounded by in-depth cultural and historical knowledge, as well as the immersive acting, have come together to testify.
Ahead of the global premiere of  Netflix's Kingdom: Ashin of the North's we caught up with artists Jung Ji-hyun and Park Byung-eun, writer Kim Eun-hee and director Kim Seong-hun over a Zoom call as the crew takes us behind the scenes.
ON THE STORY
Kim Eun-hee: During the early stage of the production of Season 2, I was looking into what kind of story to bring to life for the latter chapter of the season. You know, as I said before the resurrection plant has this certain cold property, I naturally looked into Joseon's northern territories and that's when I learned about the Seongjeoyain, a tribe of marginalised people of the time that didn't belong to anywhere.
I decided to take an interest in that aspect and throughout that process, Ashin, a warrior with internalised pain in search of her root and identity, was crystallised. Director Kim Seong-hun knows exactly what I intended in each scene. In Ashin, there's a scene with the zombies that I'm particularly fond of. And as much as it's a scene very tough to pen, I really wanted to see it comes to life.
Kim Seong-hun: I was lucky enough to read the first treatment of the script while we were working on the second season. Ashin opens to a new dimension where beauty, deep suffering and genre-specific intrigue coexist. If Season 1 is the cornerstone of the Kingdom universe, this special episode is the stepping-stone that will take you beyond it. I told writer Kim Eun-hee that Ashin is most flawless among all her works, for how Ashin delivers the most concentrated and profound form of that deep-seated emotion.
Kim Eun-hee: Chronologically, the story behind Ashin is a complex and overarching one with a long timeline. I feel that rather than incorporating her story into the third season, it would be more conducive to audience's understanding of the complete picture if it were delivered in a standalone episode.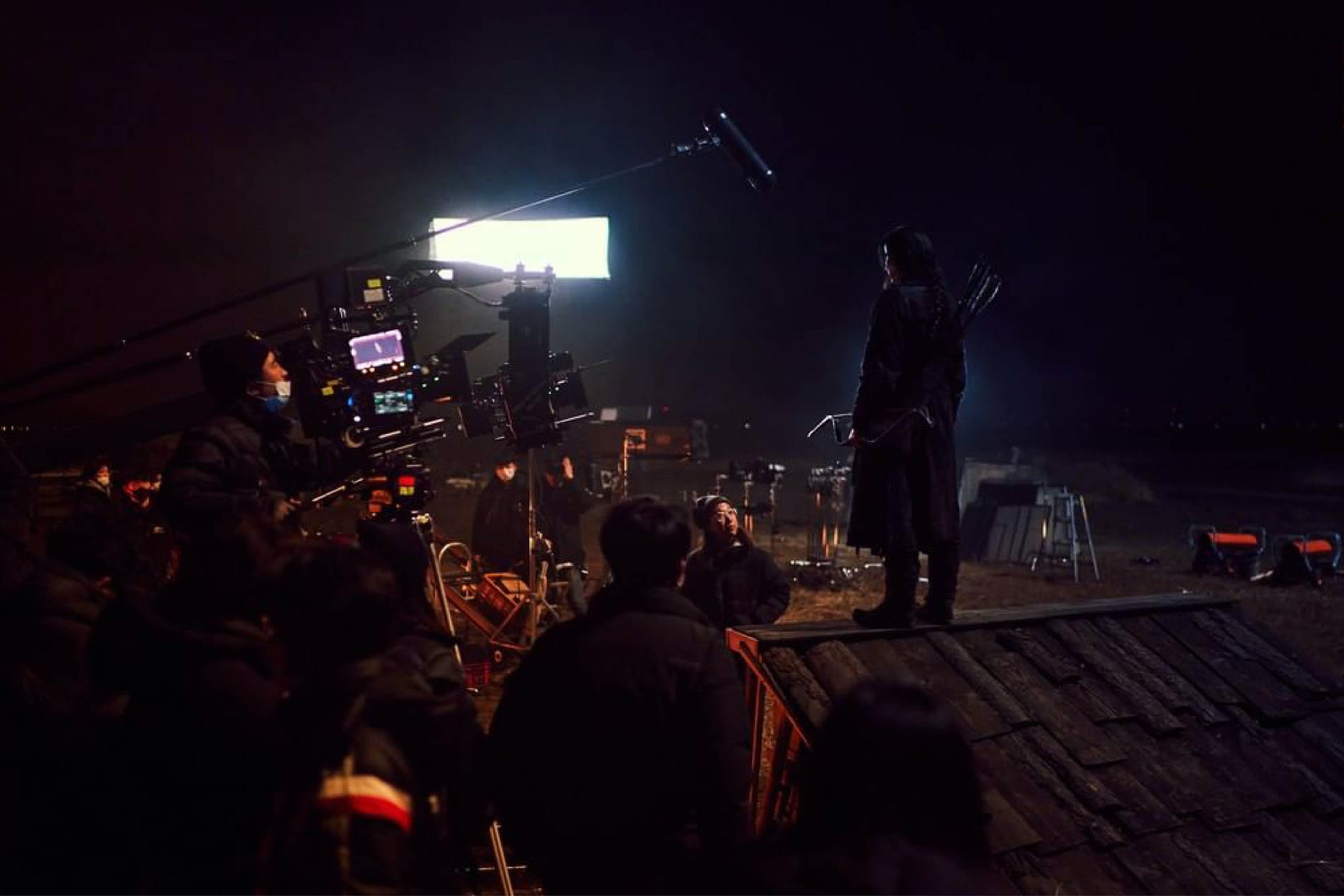 Kingdom: Ashin of the North behind the scenes still
ON THE CHARACTERS
Park Byung-eun: There's this scene featured in the trailer where the young Ashin played by Kim Si-a kneels before Min Chi-rok. It's one of my favourite scenes because Si-a's performance was absolutely fascinating and she delivered such great energy for me to completely immerse myself into my character. It really made me wonder what would this character do and how would he feel when a kid is kneeling before him crying for vengeance. I think that scene captures the character development of both Ashin and Min Chi-rok respectively.
Jun Ji-hyun: In terms of the physical stamina and agility the role required, I was ready before I got into playing the role of Ashin. So, I focused mostly on how to interpret the personal anguish and resentment in her which in Korean we refer to as 'han' (한). I wanted to translate that emotion into the impetus of her revenge on the entire land of Joseon.
Park Byung-eun: Min Chi-rok is someone who is ready to give his all for his country. He's a very loyal soldier and he's also amazing in all kind of martial arts as him being a charismatic head of the Royal Commandery Division in Season 2. However, in this spin-off, I tried to punctuate the relationship between him and Ashin as well as his connection with the resurrection plant, and how all of these end up unfolding into the outbreak of the plague in Joseon.
Unlike in Season 2 where Min Chi-rok does a lot of killing, and you know, getting rid of the zombies,  this special episode puts aside the actions, and gives a glimpse into his mind. (thinks) In Season 2 you've seen my character being an adept archer. And if you pay attention, you will also notice Ashin wielding the bow and arrow. So why all these archeries? Here's a riddle and clue for the audience to figure out.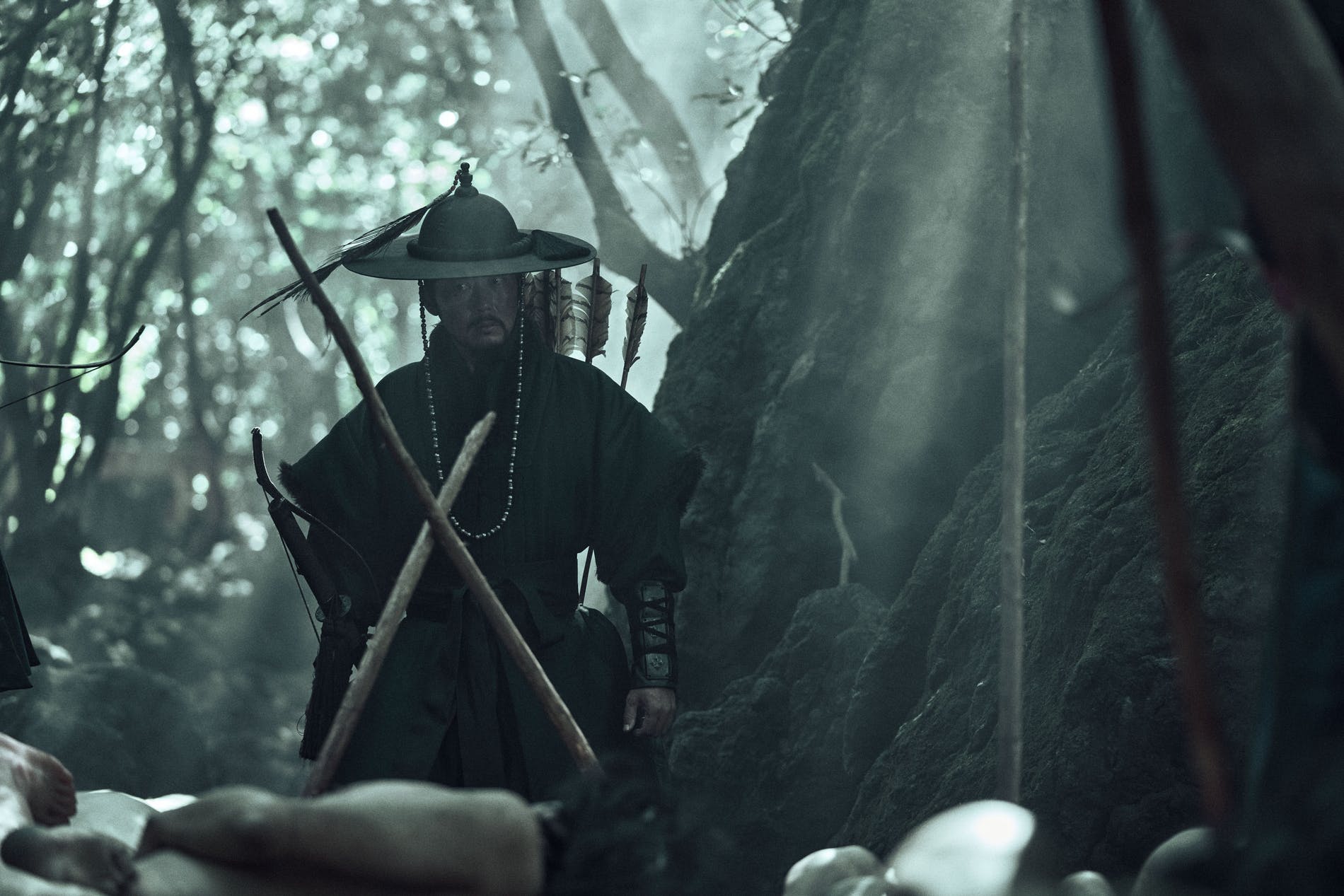 Min Chi-rok (Park Byung-eun)
ON THE UNDEADS
Jun Ji-hyun: Coming face to face with the zombies and the actors who play them was one of the things that I was most excited about, even before we began the filming. When I got there on the set, I realised just how much hassle all the actors and the crew were going through to achieve that very convincing zombie look. I felt bad to interrupt them but I couldn't help myself to ask for pictures with them and show these incredible friends to my friends and family.
Park Byung-eun: We have this scene in season 2 where we filmed late at night in the forest. The actors who played the zombies were covered in blood, and I would spot them having their meal underneath a huge tree in the dark woods at night. And as you could imagine, I was kinda startled to see those scenes.
But things were a bit different on the set of Ashin. I would see these zombies in their full makeup, with the blood and all, and they be on their phones talking to their friends and families. I could hear everyday conversations like "Hey mom, I'm going back after filming, sleep tight." Everything got so realistic before my eyes all of a sudden and I started to think about how life is on the verge of death, and also what are the zombies and undeads. It was a very unfamiliar experience for me.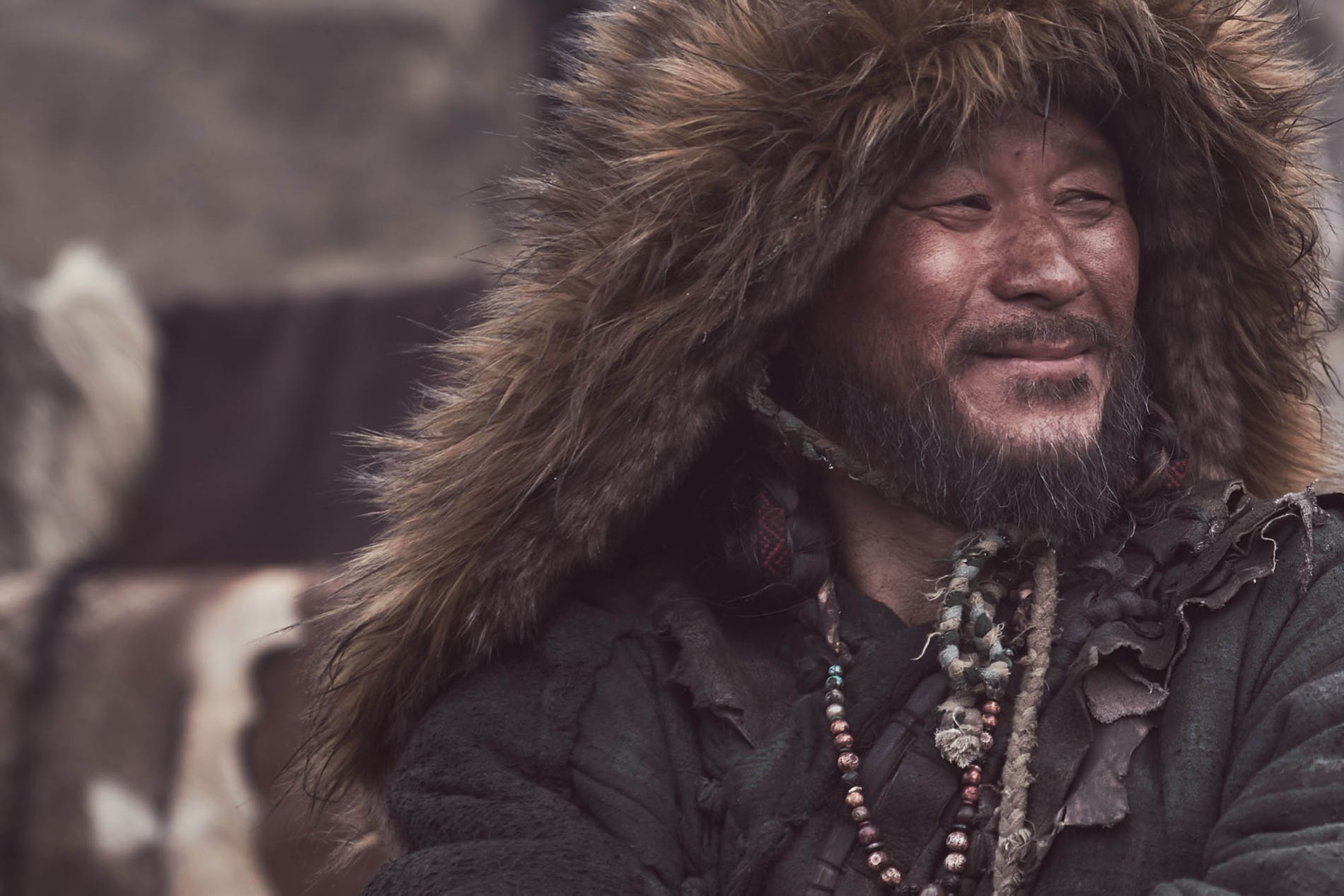 Tahab (Kim Roi-ha)
ON WORKING TOGETHER
Park Byung-eun: I was really excited when I heard that we would be working side by side for this special episode, and I looked forward to the chemistry we could create on-screen. She's an awesome actor and it's such an honour and joy to be working alongside her for this wonderful piece of work director Kim Seong-hun and writer Kim Eun-hee have created together, brought to life by our very talented crew. All I can say is I'm very thankful.
Jun Ji-hyun: Obviously I'm very happy to work with Park Byung-eun again after the Assassination. One thing I can say for sure is that he's definitely a better fisher now. [laughs] Back when we were filming Assassination, he said he's really good (at fishing). He was boasting a lot but we never really got to taste what he caught.
Park Byung-eun: [laughs]We met each other for the first time ever on the set of the Assassination. We weren't that close and there was a little bit of awkwardness between us.
Jun Ji-hyun: So this time I asked for it. We all begged him to bring the catch that he had and we were indeed able to enjoy the result of his wonderful fishing skill.
Park Byung-eun: Most of our conversations on the set were fish and squid, fish and squid… Oh and rockfish.
Jun Ji-hyun: [whispers] Cuttlefish!
Park Byung-eun: Right, I was just taking order, juggling between acting and fishing for these people here. I had a lot of lovely memories of us having squid and yellowtail together in Jeju, where most of our filming had taken place. Okay, I'm gonna leave all the fish stories here.
Kingdom: Ashin of the North is now available on netflix.com