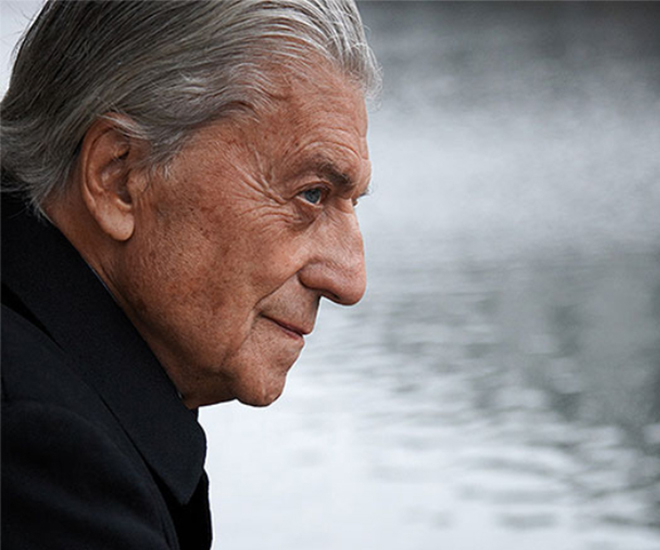 Mens ready-to-wear fashion pioneer Nino Cerruti has died at the age of 91.
A spokesperson for Lanificio Fratelli Cerruti announced Cerruti passed away following complications from a surgery.
"For the family, collaborators, friends and management of Lanificio Cerruti and for Italian fashion today is a sad day because with the death of Mr. Nino the world looses a man of talent, an extraordinary designer, a visionary ahead of his time and a great mentor to whom many are indebted," the statement from Lanificio Fratelli Cerruti read.
Italian news agency La Presse Cerruti died in northwestern Italy, where his family has run Lanificio Fratelli Cerruti, a textile company, since 1881. Cerruti inherited the family business in 1950, upon the death of his father. He got into clothing production in the late 1950s, using his experience from producing high quality fabrics and textiles.
His first menswear company, called Hitman, was launched in 1957 and its clothing was deemed groundbreaking for its time. Under the Hitman label, Cerruti is credited with creating the first deconstructed jacket for men. It was here that Giorgio Armani was hired as a young talent in the mid-1960s.
Cerruti then launched his luxury menswear fashion house, Cerruti 1881 in 1967 in Place de la Madeleine, Paris. The headquarters for Lanificio Fratelli Cerruti was also relocated to the same area to be closer to the international fashion capital – production, however, was maintained in Italy. It was not long before French film stars such as Jean-Paul Belmondo became fans of Cerruti 1881, thanks to its use of colours, innovative designs and dedication to tradition. The fashion house's popularity spread across the Atlantic as well, garnering famous Hollywood fans such as Michael Douglas, Jack Nicholson, Richard Gere and Robert Redford.
Cerruti sold the company in the early 2000s, but he never turned his back on the fashion house. The last collection he designed was for Spring-Summer 2020. News of his death has sent waves throughout the fashion industry, and many have paid tributes.
Armani, who got his first big break with Cerruti, spoke fondly about the fashion icon. "Even if our contacts thinned with the years, I have always considered him one of the people who have had a real and positive influence on my life," Armani said in a statement. "From him, I learned not only the taste for sartorial softness, but also the importance of a well-rounded vision, as a designer and as an entrepreneur."
Carlo Capasa, president of Italy's fashion chamber, also acknowledged Cerruti's impact on Italian fashion. "He was the first to understand the importance of creativity in menswear and to give space to a young designer of immense talent like Giorgio Armani, changing the very criteria of how to dress," Capasa said. "He was one of the first to have a strong international presence, representing to the world that unique combination of creativity and quality that came to characterise and still characterises Italian fashion."