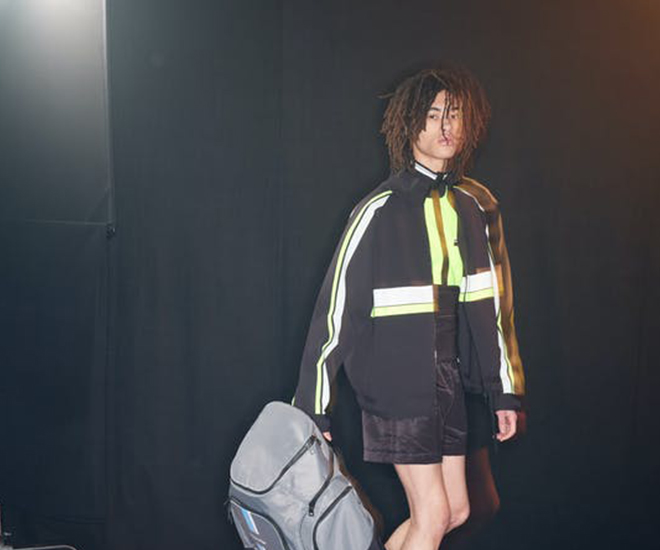 Clicking into this article, one must be wondering if this is clickbait — since a fashion magazine and a fashion label are calling it an "UNFASHIONSHOW". It indeed is the name of the above Onitsuka Tiger Fall Winter 2021 digital film and rightfully so. Featuring performer M¥SS KETA, dancer Garbiele Esposito and visual artist Ozmo, the "UNFASHIONSHOW" not only just reflects the three core pillars of the Onitsuka Tiger brand personality — music, movement and art — it peaks on the brand's principle of functionality instead of the here-and-now fashion.
Other than the collection's entitled name, it was also an exciting foray for the Japanese label to present for the first time at Milan Fashion Week. Why Italy? Firstly, creative director Andrea Pompilio's home and studio is based in Milan. Also, Onitsuka Tiger recently opened its flagship store in the city on 18 December 2020. Therefore, the culmination at Milan Fashion Week was a natural step for the brand's design theme of "East meets West".
Onitsuka Tiger Fall Winter 2021 continues on its trajectory on tailoring (as seen on February' 21 cover star, Henry Lau). Pinstripes are added in this collection to build a breathable arsenal of semi-formal Zoom outfits.
The inspiration for the collection comes from the Himalayas and 1970s trekking combined with minimalist design elements in black and lead grey nylon. The key detail is in the special fleeces worked with nylon radzimir inlays for keeping warm during winter mountaineering. Bright tones such as orange, yellow and neon blue are also used to bring forth the recall of the 1970s. Naturally, the shoes fit the wardrobe to make any trekking that much more stylish and comfortable.
The collection also features a collaboration with designer and artistic director of textile graphic brand "nowartt", Toyoki Adachi that sees his textile graphics of nature incorporated onto down jackets, pants and backpacks. Not forgetting Onitsuka Tiger's signature tracksuit, the PAW line interpreted in 1970s polyester acetate is updated with contrasting vintage-inspired piping to highlight two contrasting concepts — "vintage x art" and "analog x digital".
Here's all the looks from the collection.