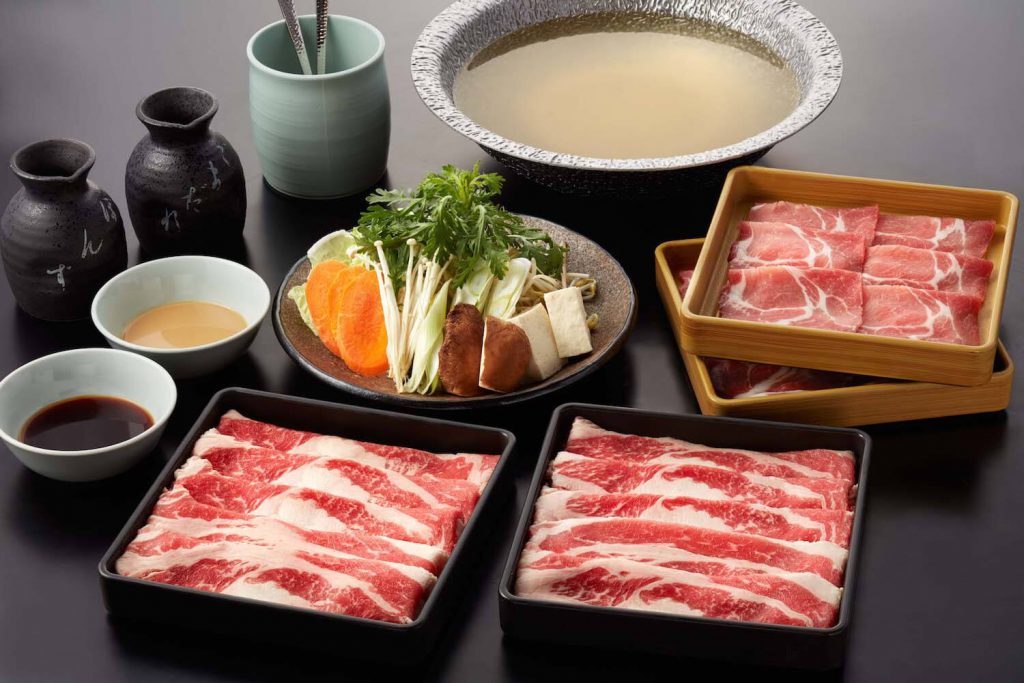 Not a secret: if you're on the quest for a good Japanese meal in Kuala Lumpur, head over to the J's Gate Dining food court in Lot 10, Bukit Bintang. Chances are, you'll find something that tickles your fancy, be it platters of drool-inducing sashimi or bowls of slurp-worthy ramen. But if you're looking to spend some time catching up with friends over a leisurely meal that's equally hearty and filling, why not share a hotpot at the recently opened Mo-Mo-Paradise? Originally from Shinjuku, Tokyo, the Lot 10 outlet is the first of its kind in Malaysia and offers foodies the opportunity to indulge in authentic Japanese hotpots without travelling out of the country.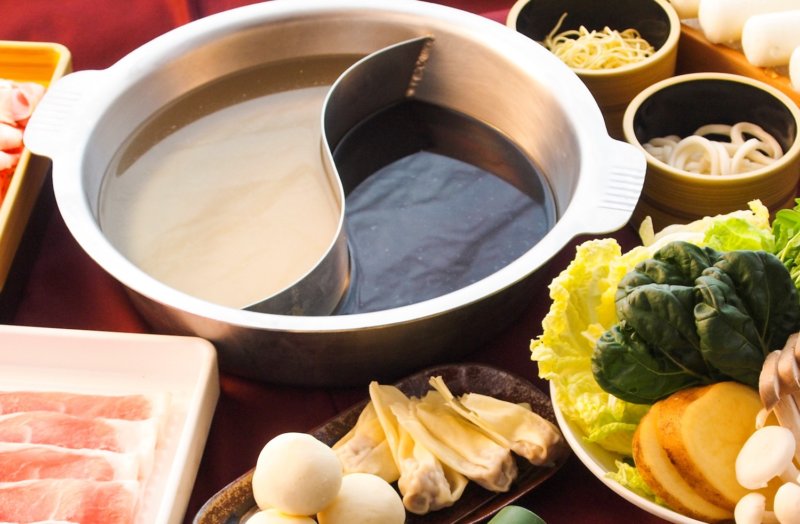 During our recent visit, we opted for the mixed pot, a yin and yang interplay of the clear shabu-shabu and darker sukiyaki broth. If you're uninitiated to the gastronomic offerings of Japanese hotpots, rest assured that there's more which sets these two apart besides the soup flavourings. For starters, each dish is prepared and consumed in a different way. With shabu-shabu, for example, you're meant to put the meat into the broth and whisk it gently with chopsticks till it cooks. Steal a trick from Japanese diners if you're unsure how to prepare the meat: say "shabu-shabu" three times while allowing the meat to skim along the surface of the broth before fishing it out. Fun fact: did you know the name "shabu-shabu" is an onomatopoeic term derived from the swishing sound the ingredients make while being cooked in the pot? The cooking method for the sukiyaki, on the other hand, is a lot more straightforward: just place all the ingredients into the pot simultaneously and let them cook.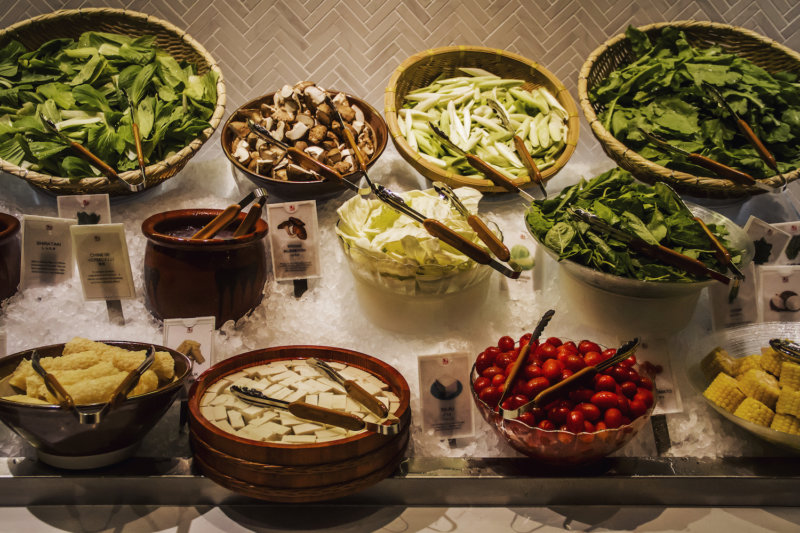 At Mo-Mo-Paradise, diners can select from a wide range of ingredients; the standard fare of broccoli, bok choy and corn was on offer, but what really caught my attention was the mushroom selection (comprising enoki and shiitake), as well as shungiku (chrysanthemum greens) and various types of tofu (such as fu chuk). You'll be spoilt for choice when it comes to protein options too: the wagyu beef is flown fresh from Australia, while the Sakura pork is sourced locally.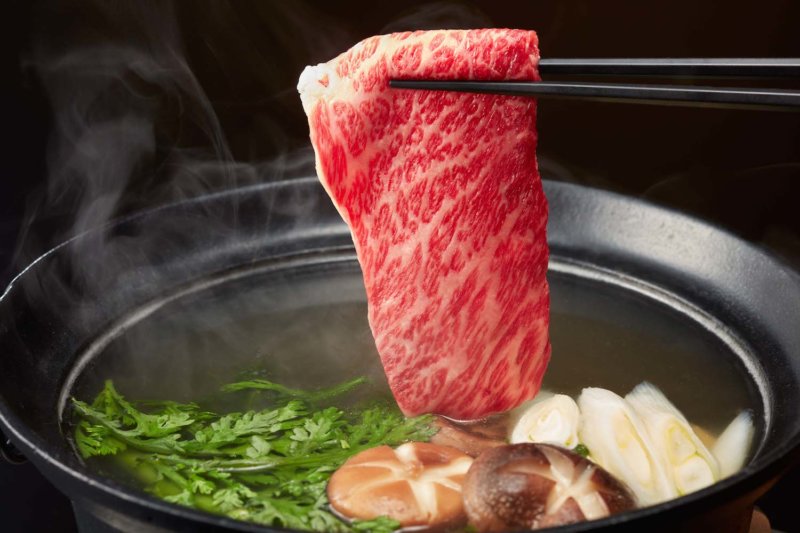 Eager to try it for ourselves, we piled our plates high with raw ingredients for the shabu-shabu and sukiyaki pot. I balanced a strip of beef between my chopsticks and dipped it into the simmering shabu-shabu pot. The beef – paper-thin and marbled with streaks of translucent fat – cooked almost instantly. My mouth now watering with the delectable aroma wafting from the pot, I dipped my meat into the ponzu sauce and took a bite. The beef was utterly tender and it disintegrated in my mouth without much resistance, while the ponzu lent a citrusy pert to the meat's natural flavours. I repeated the process for the next slice, this time with the gomadare (sesame) sauce, which tasted slightly nutty.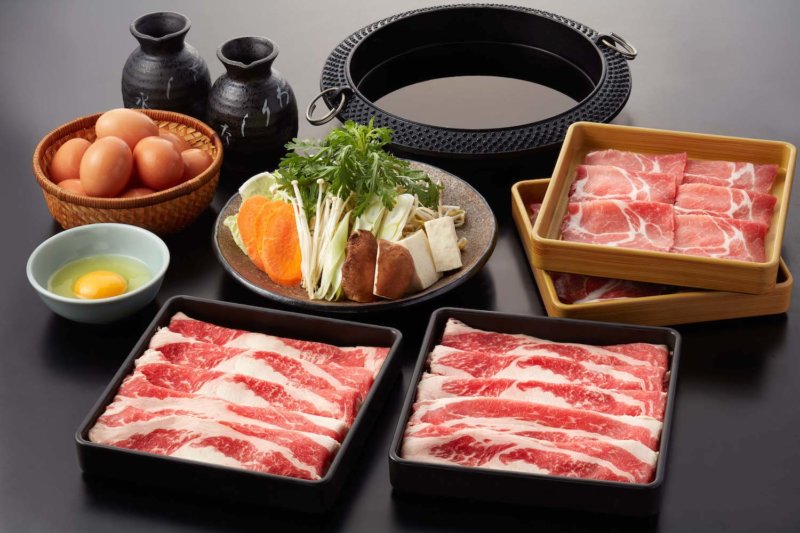 While my friends and I had been occupied with perfecting our shabu-shabu skills, the contents of the sukiyaki pot had stewed and was now finally ready. In Japan, sukiyaki meat is traditionally dipped into a beaten raw egg and Mo-Mo diners are given the opportunity to do so with the kampung variety. I admit – the thought of consuming raw egg might not be for everyone – but I'd been curious to try it for myself, just for the novelty of the experience. The beef had been infused with the sweet-salty taste of the sukiyaki broth and the egg's neutral flavours, coupled with its cool, creamy texture, had made the meat slick without numbing its taste points.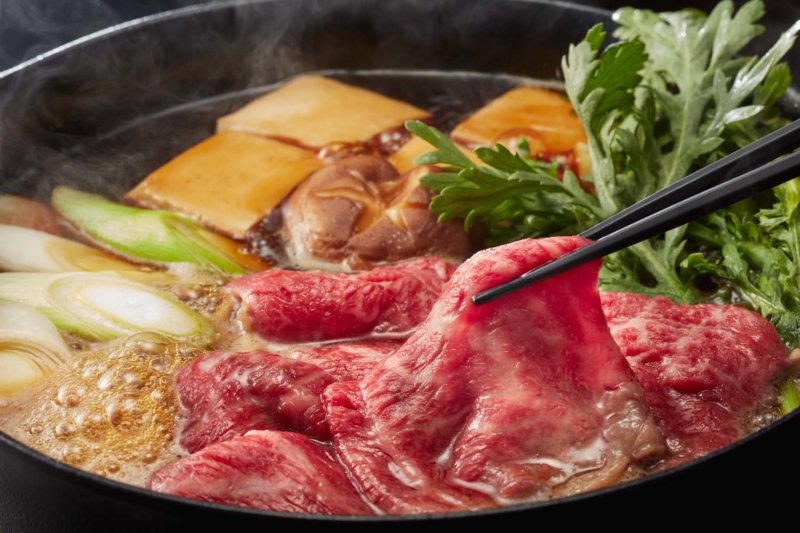 I'd initially found the shabu-shabu to be a touch bland, but as our allocated 100 minutes halved and threatened to approach single digits, its flavour notes steepened, allowing all its subtleties to blossom into an absolutely divine umami. "I can't stop drinking the soup," my friend gushed as she scooped another ladleful into her bowl. If you still have the capacity for another bite (or two, as we had that night), you can savour the hotpot till the last drop by finishing off your meal with ramen or udon noodles.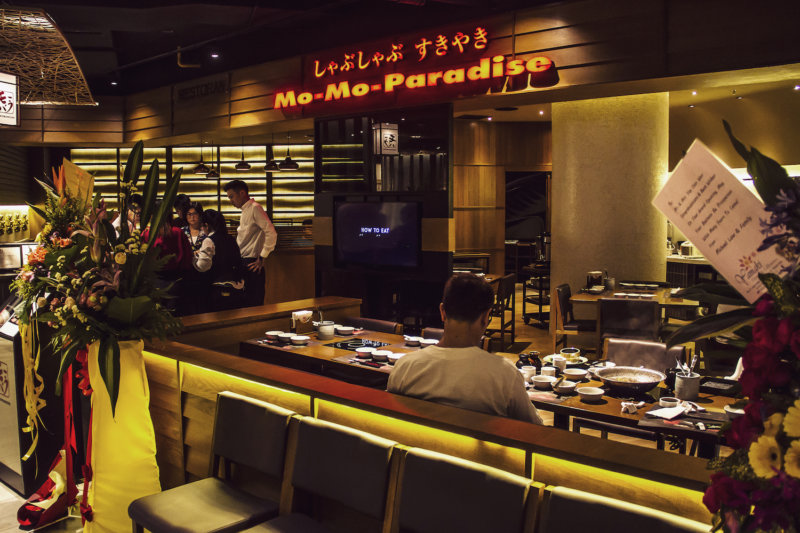 Here's a comical conundrum most food lovers are able to attest to: ever realise no matter how full you might feel after a good meal, you're almost always able to help yourself to some dessert? The Japanese have long rationalised that this curious phenomenon is due to the fact that we're equipped with a "betsubara" (separate stomach) specifically for dessert. Although we were pretty stuffed after basking in over an hour of hotpot goodness, we found that we could still make some space for matcha (green tea) ice cream that night – the perfect ending to a wonderful dining experience.
The single pot (shabu-shabu or sukiyaki broth only) costs RM68++, while the mix pot (shabu-shabu and sukiya broth) costs RM76++ per person. All meats and vegetables are refillable within the 100 minutes time limit. To make a reservation or for more information, please call 03-2110 3588 or visit www.facebook.com/momoparadisemy.